Legends of Fear is New England's #1 Halloween Attraction (5 stars PLUS)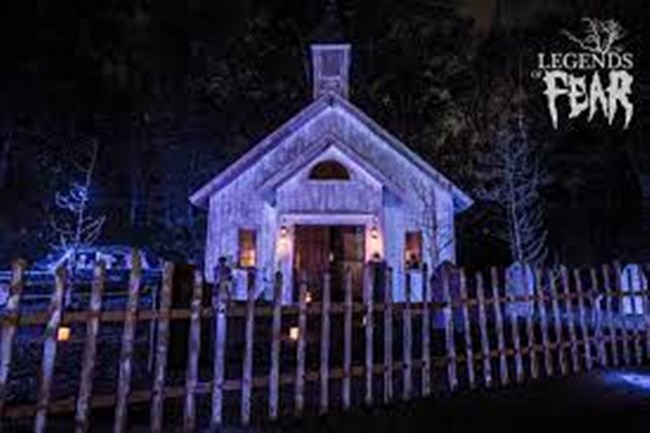 Legends of Fear is this year's #1 Halloween Attraction in New England!
It's based in Shelton, Connecticut, which is a 2.5-hour drive from Boston and a 1.5 hour drive from New York City, on a family farm, Fairview Tree Farm. They sell Christmas Trees and pumpkins and this is their 25th year of having a hayride. This was my second visit, having previously given them 5 stars PLUS in 2019.
The destination has two primary attractions, an extensive walking trail and a hayride, which despite COVID is open this year.
While it's not extensive, it's nice that Legends of Fear has a common area with fire pit, where you can hang out with friends before or after the attractions. Of course they have gift shop, and there's a snack shack selling popcorn, mini donuts, hot dogs, hot drinks, soda water, lemonade, and candy.
If you have to choose, the hayride is the featured attraction. It is 29 minutes, the longest in New England, and that's not counting any time boarding or driving into and out of the hayride's scares. Just the scares on the hayride are 29 minutes long! Amazing.
The VIP tickets are recommended, which get you right to the front of the line. But even without them, while you're waiting there's a fire spinner doing a live show!
I've never seen anything like this hayride, which makes no concessions to COVID except masks and a lack of hay.
First, there's a big introduction by an animatronic skeleton with flames shooting up around a barn. Actors playing monsters climb onto the hayride and startle you, and they all have real lines to say and real scenes to act out.
Every scene that you ride through has dioramas on both sides, so that you've got a great view whether you're sitting on the left or the right. And the dioramas are built on stages raised above the ground, so that you can see them easily despite the railings of the hayride. (Pro tip: sit on the left to get the best view of the cemetery.)
It's so extensive and creative. You won't see anything that looks obviously bought from a Halloween store. Entering you'll see fog effects, haunted scarecrows, and you ride through a real cornfield.
Then there's a haunted motel scene where you're attacked with a fog cannon. There are far more animatronics here than the walking trail, including some giant ones like giant pumpkin heads. There's a whole diorama of hanging skeletons and pumpkins, hanging in the air as though floating, around a tarot card reader.
They make good use of video projections and also special effects like air blasts. You'll go through a clown town with plenty of actors, wielding chainsaws. They also have hand puppets to reach up and over the hayride railings to startle people. I've never seen that before!
Then — this is so unbelievable but it's true — you ride past an entire, full-size pirate ship with a sail. A giant outdoor laser lake makes you feel a little like you're on the ocean. (And just think how much fog you need to make to fill an outdoor space!)
I was a bit concerned that there are a lot of lit torches in the forest, but I guess if there's been rain lately that the trees are not likely to catch fire. There's an old church that is not very well lit from the outside, but it's part of the walking trail that you'll do later.
The special effects are so thrilling. There's a cone of laser light, a laser tunnel so to speak, which makes you feel like you're riding into an unnatural, ghostly hell. There's an entire witch scene, with animated cauldrons and floating soap bubbles that burst revealing a visible mist like from a fog machine. I've never seen that before — a truly magical special effect. The entire hayride of guests just spent a couple of minutes in awe, popping the bubbles and seeing the fog come out.
The hayride ends with a haunted drive-in movie theatre with zombies, flame effects, and air guns shooting puffs of air.
The walking trail doesn't have so many animatronics, but the woods are naturally scary, and it comes with so many creative "houses" to pass through. Staff told us that they try to make it fun as well as scary. So it's more Harry Potter scary than gross, which I personally love.
Highlights include the witch house where the bottles have eyes, a creep dollhouse with a ballerina, and more. There's an evil carnival with a mirror maze, and I love the room where you get trapped, and Pickles the Clown makes you choose which door to go through. There's also Melonhead Village, which is based on melonhead legend, a real local legend of "melon head" creatures that locals that seen in the forest. You'll see plenty of two-story building facades, and delightfully a haunted church where evil nuns come out!
The creativity and work that has gone into Legends of Fear is off the charts. While it doesn't quite have the production value of Headless Horseman, the other top attraction in the US Northeast, Legends of Fear is set in a more natural setting rather than a man-made outdoor setting. For example, you'll find tons of real, carved pumpkins instead of plastic pumpkins. It's a real family farm, not a theme park.
I also love the Haunted Graveyard at Lake Compounce, which was previously #1 in New England, but Legends of Fear is just bigger, with no need to pack into a tight amusement park space, and which allows attractions such as a hayride. For example, there's no need to rush on the walking trail, because it's wide enough (unlike Haunted Graveyard) that you aren't holding up the groups behind you if you linger for a moment.
So Legends of Fear is my choice for #1 Halloween attraction in New England! 5 stars PLUS.
For more, see the Legends of Fear website.