Legends of Fear at Fairview Tree Farm is Creative, Theatrical, and Large Enough for a Whole Evening (5 stars PLUS)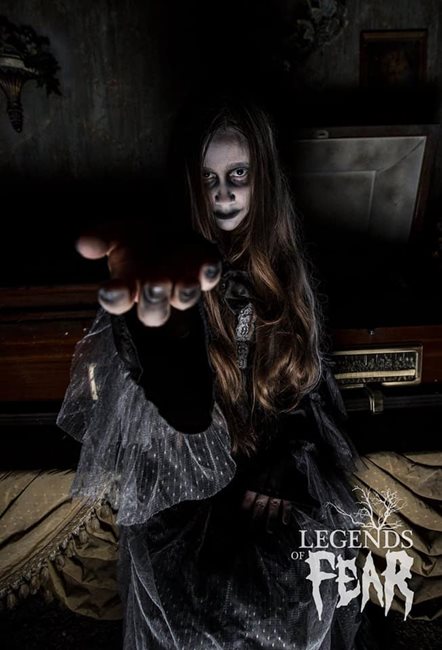 Legends of Fear is a Halloween attraction at Fairview Tree Farm, a third-generation family farm in Connecticut that is open to the public. During the day, you can visit the goats, take a hayride, or go pumpkin picking, and for the holidays they sell Christmas trees, and you can take a hayride with Santa. They also provide a number of services to their community such as landscaping and snow removal. During Halloween, Legends of Fear is a Haunted Hayride and The Hallow, a trail with 5 attractions strung together: Melon Head Revenge Trail, Haunted Hemlock Manor, Pine Hills Parish, The Dark Harvest, and the Funhouse of Fear.
Parking is free but spread all over. Don't forget where you parked your car! The entrance is a comfortable place just to hang out. It's decorated with tiny red farm sheds, decorated with pumpkins, corn stalks, hay bales, and orange and purple string lighting. You'll see an old-time horse-driven coach hearse hitched to a skeleton horse. There's a snack shack selling popcorn, mini-donuts, hot dogs, hot drinks, soda, water, lemonade, candy, and a central area with a bonfire and plenty of tables to eat. Of course there's a cute gift shop, selling critter ears, glasses, baseball caps, holiday ornaments, t-shirts, masks, and more. Just walking the grounds, it's lovely to be out at night, with the wooden fencing, Christmas trees, and so many crickets chirping.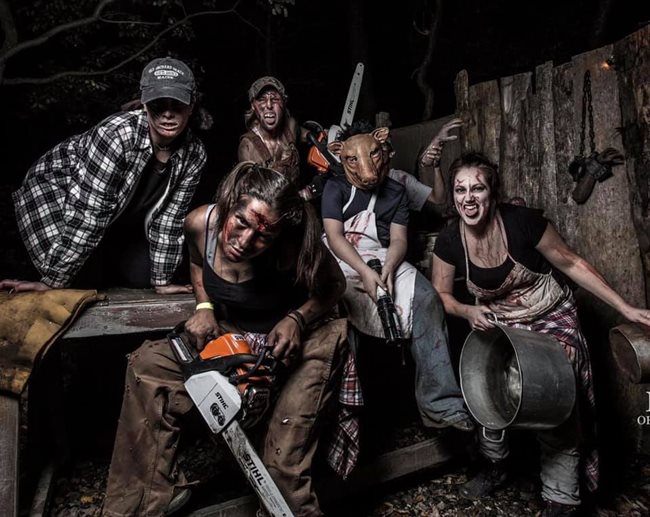 The Haunted Hayride is thankfully efficient, with short movable stairsteps that help you get on and off. They have two pick-up points and separate drop-off point. Not counting the boarding process, it is a 31-minute hayride, which makes it the longest in New England, followed by Fear at the Farm at McCray's Farm (27 minutes, 5 stars), Field of Screams (21 minutes, 4.5 stars), and Spooky World's Nightmare New England (18 minutes, 4 stars).
On the ride, you sit on hay bales and the sides of the ride have tall metal scaffolding. Watch your head as you get in! Then you're pulled by a tractor through the forest to various spooky installations. Pro tip: don't lean back against the cage for back support, because the cage shakes too much. The attractions are spaced far enough apart that you can take in the night, with the crickets chirping, and admire the night sky, where you'll see stars, being far from city lights. Delightfully, the stages are not just simple plywood, but real sets, designed and built. They're all set on raised platforms, so that you can see them from the hayride easily — some hayrides put their attractions on the ground, which can be hard to see. And every monster diorama you encounter is on both sides of the hayride, so everyone gets a good view.
The hayride officially starts when you pull up to a barn, where an animatronic skeleton leans out and heckles you. Then the entrance shoots two flames into the air and in you go! Everything is top tier at the hayride. You'll get a ton of actors, good staging, and theatrical scenes. One actor has a toy electric cattle prod that buzzes. Another blasted us with air from a CO2 gun. That really cooled us down! The route has plenty of fog and mood music. Actors had real lines to say, instead of just growling, and staged vignettes for us.
For example, the hayride pulls up to a stage with a hospital scene. The ride stops, mental patients jump onto the hayride to taunt you, and then guards show up shooting fake machine guns. Wow! You'll see giant animatronic boar's and wolf's heads. There's a blacklight area with glowing skulls and pumpkins, and evil butcher shop, where pig monsters jump onto the hayride, and an unthemed shack with chainsaw monsters. Thankfully, the actors had speakers to amplify their voices, so that we could understand them better and they didn't have to shout so much. I was concerned to see many open flame torches, and a coffee can of flaming oil, lining unstaffed portions of the road. Real flames are beautiful at night, but unnecessary and presumably a fire hazard, if the tractor passing close by were to knock one over?
We also passed into a scary clown town, with a Jack-in-the-Box animatronic clown. These are hard-working actors! They stayed on the hayride for a minute while we drove off, meaning that they have to run back to greet the next hayride over and over all night.
Just when I thought, "This is solid, but I've seen spooky hospitals and clowns before. Are they going to take it to the next level?" they took it to the next level!
First was a laser lake, something I've never seen before on a hayride! You shine a laser through a cylinder so that its single point of light spreads out into a plane of light. Then you add fog, so you can see the laser clearly. It creates a "lake" of light. I've seen this before in walk-through attractions, but never a huge one that you can drive a hayride through! Too much fog was escaping for the full effect, but I'm sure when conditions are right that it is magical.
Then we entered a witches' village with pagan symbols, two-story housing with prisoners in cages, and a 10-foot-tall animatronic pumpkin. Very creative! Then we passed into a cemetery with an animatronic devil god worshipped by live actors playing ghosts, while ghouls were projected against the sides of the mausoleums. Cultists or ghosts (ghost brides?) were all dressed in white, with veils, holding candles. Wow! That's deliciously spooky and original.
The woods walk was also excellent, a 28-minute trail through the forest with wide pathways, no tripping hazards, and clear lighting when needed. I couldn't tell when we passed from one of the five attractions to the next one, except at Pine Hills Parish, which has a large sign and a spooky nun makes you wait in line for a moment, releasing groups one by one so that they don't all get bunched up. (When you get bunched up in a Halloween attraction, you can see the monsters scaring the group ahead of you, lessening the surprises.)
Walking along the trail you occasionally encounter a shack or other small building, many just made from painted plywood, but a step above the usual set design. You'll find a witch boiling someone in oil, zombie animatronics, a creepy doll house with mobiles turning in a circle, a glowing orb with eyeballs, and a clown carnival with a tilting funhouse. The scenes were short, but the actors had real lines to say instead of just shouting to startle you. The clowns play games with you. Some kids pretend to be prisoners, screaming "Help me!". Some of the installations were mainly filler, but some were well-designed. There's a chainsaw guy with metal rock music. Much of the time you are just walking through the woods in-between settings and can admire the night sky — but watch out for monsters on the pathway!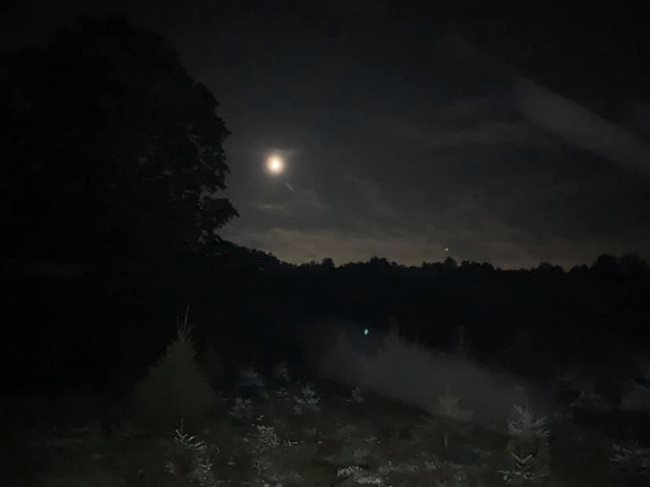 I loved the vampire home, a two-story plantation style home with columns on the porch. This is a next level attraction, with vampires in caskets, a hearse, and more. Then Pine Hills Parish, a spooky church with nuns, features a spooky funeral service with demons jumping around, an upright square of laser light with fog — I've only seen laser lakes that are horizontal, not vertical! — like you're passing through a portal to another work. They also feature a two-story skeleton archway, and a 'black widow' laser cone of fog that is some 15 feet tall. You'll pass through a cemetery with ghosts including a monster who drums, and a spooky cornfield with a pumpkin king. Then you exit to a big fire pit and plenty of benches for sitting and chatting with friends. It's always nice when a Halloween attraction gives you more to do, an area to socialize, so that you could stay a bit longer and take in the evening.
Legends of Fear has professional staging, plenty of actors, real theatrical scenes, animatronics and special effects, plenty to do for a whole evening, and some genuinely creative, unique concepts — even for an enthusiast like me who has reviewed 60 Halloween attractions! I'll give Legends of Fear at Fairview Tree Farm my rare 5 stars PLUS, which I've only ever given to two other destinations, The Haunted Graveyard at Lake Compounce, a theme park also in Connecticut, and Headless Horseman Hayrides and Haunted Houses in Eastern New York.
See the Legends of Fear website.