Enchanted Forest Water Safari is New York's Biggest and Best Water Park (4.5 stars)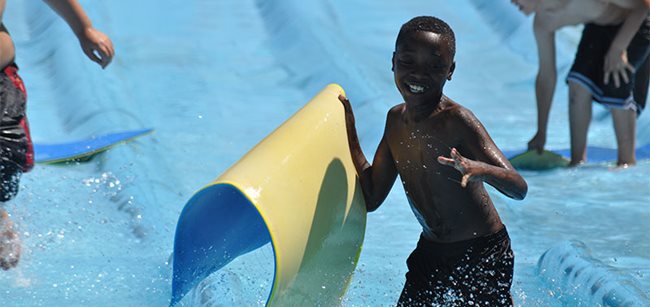 The largest water theme park in New York, Enchanted Forest Water Safari, is based in the Adirondack Mountains in the eastern part of the state. It's part of a complex, Water Safari Resort, that also includes Old Forge Camping Resort, Calypso's Cove Family Fun Park, and the Water's Edge Inn. We visited the water park and the inn, and had a great time.
When you enter, you can explore the rides near the entrance, and walk around taking photos with the Paul Bunyan statue and quirky fantasy tale dioramas. I recommend that, instead, you take the train ride to the far end of the park, and then work your way back to the entrance as you visit the attractions. That being said, the train is unnecessary — just walking the park from end to end is no burden.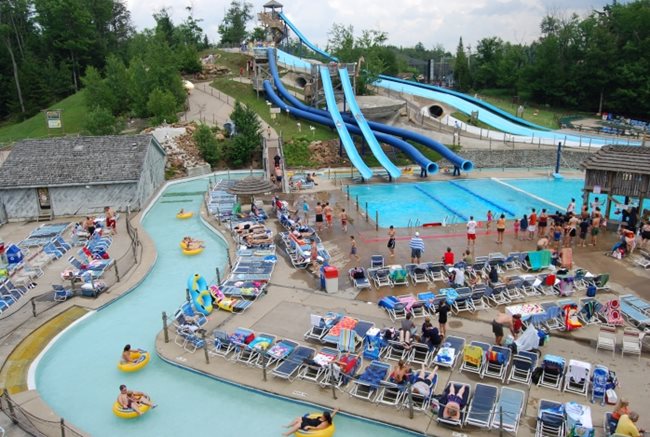 The train ride goes fast and runs through a real forest, past cute, 1950s-style dioramas. I appreciate a theme park with plenty of real parkland! Trees are everywhere, not just on the fringes of the park, making you feel like you're in a natural place. So it's unlike Six Flags, which is all concrete and corporate. At Enchanted Forest Water Safari, they make their own homey-looking signs, which keeps the branding low key and not so salesy. And don't try to squeeze you for money everywhere. For example, parking is free. Instead, the water park feels warm and comfortable, as if you're friends with the owners.
There are two areas where you can rent inner tubes, either a single seater for yourself, or a double to share with a friend. We got the tubes but, similar to our experience at Six Flags New England, were confused as to exactly which rides needed tubes and which didn't, and which had fast lanes, which let those you've paid for tubes go to the front of the line. Either way, even on an August weekday the lines were not a problem. Guests were, of course, mainly families with kids, but we didn't encounter anyone screaming or running dangerously. Throughout the park, they play throwback music over the speakers.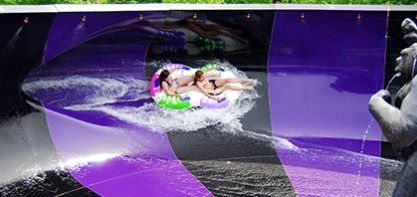 Enchanter Water Park Safari has a variety of kiddie rides, some of which take adults as well. Everyone there seems happy. Rides require bare feet, but if the sun-beaten walkways are too hot for bare feet, you can hold your sandals in your hands on the rides. At places in the park, you can get a photo professionally taken. Of course they have an extensive gift shop with the usual sunglasses, mugs, key chains, and shirts.
The park has the usual slides such as Killermanjaro, tubes like the Black River, and thrill rides such as The Curse of the Silverback, in which essentially you go down into a giant drain. However, with the fanciful dioramas, forest train ride, and other creative attractions, it's got a personality, rather than being generic. There's a live snake that you can pet, a petting zoo barnyard, and a museum on site that gives the history of the park. Remarkably for a water park, they also have a house band, which performs in Klondike Kate's Saloon. They also have a circus show, which was remarkably good and did not cost any extra. Performers balanced on each other's shoulders, juggled with their feet, and swung on trapezes.
At the end of the day, the water park hosts a family barbecue buffet, which is all-you-can-eat for only $13 for adults and $7 for kids. Importantly, park staff man the buffet, keeping bugs away and keeping the stations sanitary. They serve macaroni and cheese, russet potatoes, potato salad, hamburgers (a bit burned), chicken just swimming in barbecue sauce, watermelon, hot dogs with rolls, free condiments, and Pepsi beverages including water. The food was buffet quality, but filling, and a good value for the price.
Signage was good and staff managed the flow of visitors well. Our only disappointment were the two lazy rivers. These are slow-moving loops of water where you don't have to worry about the thrill of near death. Just relax and loop around and around. Unfortunately, you're required to stay in your inner tube, instead of swimming around and standing, which gets in the way of flirtatious intimacy or platonically goofing around with friends. Well, at least needing to sit in the tube above the waterline kept my sunblock on for longer.
The Enchanted Forest Water Safari is a comfortable place where you can spend hours on exciting rides, enjoy yourself while staying dry, or just lie down by the water. You can also walk across the street and visit the natural lake.
Directly across the street, the Water's Edge Inn is the most convenient hotel to the fun park and water park, and you can get discounted rates at the park for staying there.

Our room was a typical hotel room, modern and clean, not creative or distinctive, but it was attractive, and set right on a lake. It's was just 20 feet from the edge of the water, the western tip of First Lake. From the hotel you can see boat rentals and happy people boating and playing on the shore. The view is lovely, and there's even a private entrance from the hotel room to get to the lake. Pro tip: park on the side of the parking lot closest to that door, instead of going out through the front.
The room was also large, with a stand to put our suitcases on, a work desk, with a freezer and a refrigerator. The hotel also comes with a pool, an arcade room, a gym, and a laundry. Warning! They all close pretty early, 9pm I believe. The front desk closes at night, too, though you can ring to get a night manager. We didn't see them, but they also have a sauna, a large gathering room with a fireplace and balcony, and if you come in by boat you can tie it up at their waterside dock. Our room was right next to a pier on the water with chairs, where you can and enjoy the view, which is beautiful and natural, with plenty of trees.

The bed was comfortable, with plenty of pillows, and with a television in the room. In the morning, a continental breakfast is included, with yogurt, cereal and milk, coffee, muffins, bagels, toast, English muffins, juices, and waffles that weren't completely cooked. While not impressive, it was free.
We were glad for the chance to interview Katie Wojdyla, Director of Marketing for Water Safari Resort.
Events INSIDER: What do you want people to know about Water Safari Resort?
Katie Wojdyla: Our most exciting thing recently is that we've been named one of the top ten water parks in the country by Trip Advisor through the Traveler's Choice Award. We've gotten an award the past five years, and this year we made the Top 10.
Katie Wojdyla: So, that's pretty exciting for us. We're a long-standing family business. My dad bought the park in '77 when he was 25 years old. Now it's him, my sister, and I that run the business now.
Events INSIDER: Wow! So you grew up with this then.
Katie Wojdyla: Yeah. Yeah. It's been neat. We're a unique location in the Adirondacks. You've got the hotel, Water's Edge Inn, across the street. We also own a campground, just up the road, Old Forge Camping Resort. [Which has a private lake, and is stocked with bass and blue gill for fishing, no license necessary.] And then Calypso's Cove, which is the family entertainment center right next door. It's a unique destination spot in the Adirondacks.
Events INSIDER: Your guests seem so happy and relaxed. Nobody's shrieking. How do set the tone of the park?
Katie Wojdyla: They're mostly families. We pride ourselves for our safe, clean, family fun. Being where we are in the Adirondacks, not in a big metropolis area, people have a sense of security. For example, everyone from the owners down to the front line team members pick up trash we see as we're walking around.
Events INSIDER: Can you tell us anything about the dioramas? They are quaint and old-timey.
Katie Wojdyla: Those have been here for over 50, well, 60 years now! They were built when the park opened in the 50s.
Events INSIDER: Thank you.
Although parts of Water Safari Park show their age, the water park is large, has creative twists, is not too corporate, and incorporates real parkland. The hotel is nothing out of the ordinary, but we were glad to find its pool and other amenities, and if you're a sit-still type of tourist, the lakeside views are great. I'm glad to give Water Safari Park 4.5 stars, not quite on the level of Orlando, Florida's attractions, but certainly the best in New York.
See watersafari.com and watersedgeinn.com.