Summer at Sugarbush Resort Combines Active Hiking and Mountain Biking with Relaxing Luxury Housing (5 Stars)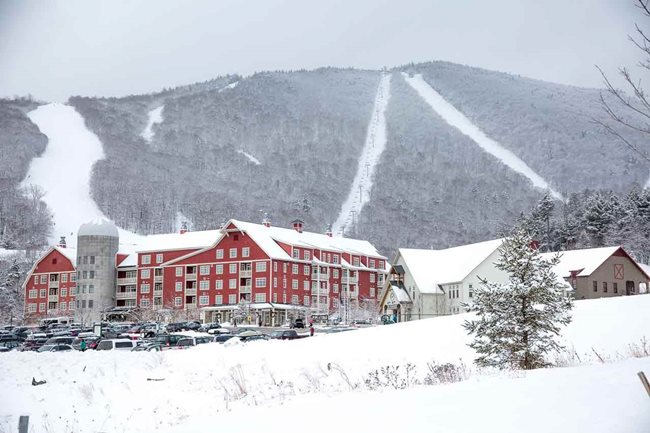 Sugarbush in Vermont is foremost a ski resort, but from May to October they also feature a golf course, hiking, a zipline, disc golf, scenic lift rides, a bungee trampoline, and more. They also rent mountain bikes and give lessons. (You take the ski lift up with your bike, and then it's downhill mountain biking, which is not meant for beginners.) All year 'round, you can enjoy their health and recreation center, restaurants and bars, tennis, and special events. The resort is independently owned, so it may feel more homey and creative to you, less corporate and lowest common denominator.
It's well-integrated with the beautiful town of Warren, Vermont, and the Mad River Valley, not far from Vermont's capital, Montpelier. Mad River Valley is known for its arts. You'll find glassblowing, pottery, theatre, sculpture, and beautiful buildings: Vermont has the highest number of architects per capita in America, except for Colorado and Washington state. We visited Sugarbush in August to see summer at its peak.

Summer Ski Lift
The highlight of Sugarbush is of course the mountain. Sugarbush is actually a set of several mountain peaks, but in the summer just one lift is open, the Super Bravo ski lift, which takes you up 8 minutes to Gadd Peak, at 3,150 feet. You have great views going up, but — wow! — going down is the best view, where you can see mountains for 50 miles. On top of Gadd Peak is Allyn's Lodge, which is open 24 hours a day, with comfortable seating, a fireplace, and a cafe that in the wintertime serves sandwiches, chowder, chili, brownies, hot drinks, bottled drinks, wine and beer, and more. From there you can hike down 45 minutes, or hike around the summit.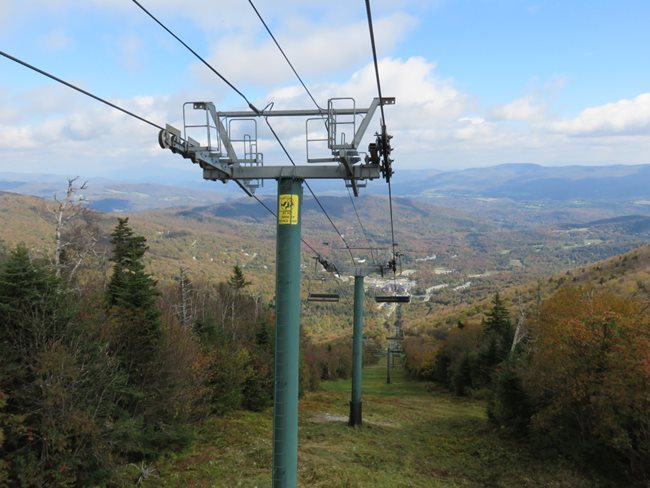 Because of tree coverage, you get long views in only a couple of directions, but it's breathtaking to see it. From high enough, you can see that the mountains come in waves, like an ocean. Pro tip: the lift operator at the top has binoculars you can use. And note, the lift closes in the late afternoon, to make room for weddings and other private events.
Lodging
There's plenty of lodging at Sugarbush and in the surrounding Mad River Valley, including the Sugarbush Inn, Rice Brook, and resort condos, which you can rent or even purchase. If you stay in town, there's a free shuttle service to the resort, with ski and bike racks, which of course is especially useful in the winter with its snowy roads.
We stayed at Clay Brook, luxury condos that gave stunning comfort. As a travel writer, it takes a lot to impress me, but there really is no better mountain accommodation. Clay Brook is built to resemble a New England farm, with red paint and even a faux silo built into the appearance. Clay Brook comes with an outdoor pool (which is year-round, so it must be heated in the winter), and two hot tubs from which to bask in the sun or admire the night sky. If it's not cloudy, of course there are plenty of stars out at night, this far from city lights, and it's very romantic. There's also a gym and a game room. Because there's no lake nearby, you'll find fewer bugs than you'd expect.
Of course all the condo units are slightly different. Some units can house an entire family, and others are just for couples. Ours was a two-level home that came with a full bath with a jacuzzi tub, a half bath, a fireplace, a large bathroom with a king bed, a patio looking out over the pool, air conditioning, and plenty of seating to host a party. Its full kitchen includes a stove, oven, microwave, dishwasher, a full-size fridge that made ice cubes, and an island countertop.
There's even a clothes washer and dryer in the unit. In the unit! That is next level. Pro tip: keep a tight grip on the big metal handles in the bath, which may be slippery. When you rent, as in a hotel, you get a daily cleaning service. This is just what a weary traveler needs, and when it rained for half a day, we felt nurtured and at home there, instead of boxed in. We sat on the patio admiring the hills.
Attractions
We visited the Sugarbush Health and Recreation Center, which is open all year and much bigger than it seems from the outside. You'll find indoor and outdoor pools with lots of cute kids, indoor and outdoor tennis courts, rooms for squash and racquetball, a room just for cycling, a hot tub, steam room, and sauna, and more. They offer massage and bodyworks services. The exercise room has a complete set of machines for cardio and weight training, and you can get a personal trainer or take an exercise class. There's a room just for climbing, with 15-foot-tall rock-climbing walls, with 'paths' marked where you should step and hold on. There's a kids' adventure zone with a trampoline, bounce house, basketball, ping pong, games, and toys. We were told that somewhere at Sugarbush is a saltwater pool, whose salinity keeps out bacteria, so you can swim without the acidic burn of chlorinated water.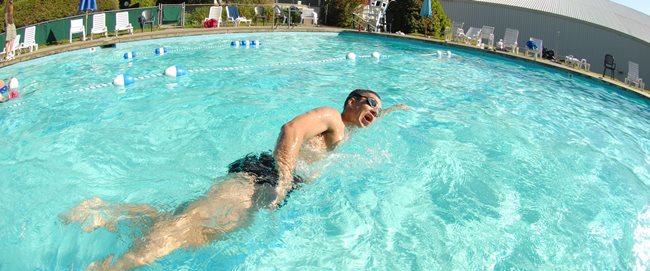 Elsewhere, visit the golf course for lovely views of the mountains. We were told that the golf course is very 'technical', meaning a good challenge. The golf club itself was humble, seeming to be a converted home, but there's a restaurant there, Hogan's Pub. There you can sit inside or sit on the outdoor deck with flowers on the railings, watching people golf as you eat. It's a beautiful place just to rest. You sit at an all-weather table with metal chairs, taking in the pine trees, birds chirping, and light rock music. You can see for miles and miles.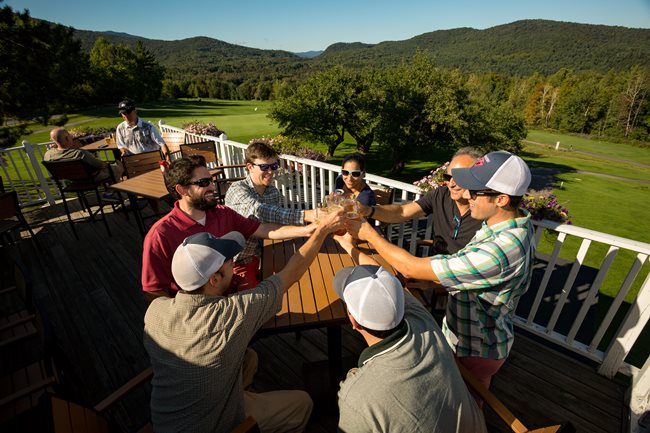 Hogan's Pub
You can expect ski resorts to have smaller menus in their off-season, the summer. Because this is Vermont, the Hogan's Pub menu comes with cheese and a touch of Canada, and is cow country, so you can trust the steak. You can get a Hawaiian-style Poke, which is raw Ahi tuna with soy sauce and wontons, three types of salad, Smoked Salmon Tartine, or a vegetarian Bean Burger. There's a Green Mountain Steak with caramelized onions, roasted red peppers, and local blue cheese. Kids can get just a grilled cheese sandwich or the Hot Dog Platter. Of course they have a variety of draft beer, bottles and cans, house wines and classier wines, and craft cocktails including the Vermonta-Rita and Green Mountain Julep which come with maple syrup flavoring.
We tried the Southwest Egg Rolls, which come with jack cheese. They were too fried, but had a great ground beef mouth feel, like spicy taco meat. We were glad that the Crispy Chicken Wings didn't come lathered in sauce, and weren't greasy. Instead you could taste the meat. The sauce it did come with, the Maple BBQ, was so sweet and wholesome that there was no need to dip it in its blue cheese dressing.
The also tried the Smash Burger, with garlic pepper fries. Its hamburger meat was high quality, a hearty dose of protein. Like the wings, it didn't need any kind of topping to accentuate it, though the American cheese did take it higher. The garlic fries were well-seasoned and lightly fried, so that the potato taste popped. We appreciated the high energy of our server, and I didn't mind being playful. When she expressed her enthusiasm for the menu with tiger noises, I made them right back! But when she wanted to dab some ketchup off of my face with a napkin, and I recoiled, and she insisted, that was too much.
Special Events
In the winter, Sugarbush is one of New England's largest ski areas, with two mountains, six peaks, and three terrain parks (that's where snowboarders go to ski on rails and make rad videos, yo). And they have the third largest vertical drop in New England, which means more time skiing down between ski lift rides up. They have dozens of special events, including fireworks for major holidays, a dog parade, and nighttime torch parades, where you sit at the mountain base while staff ski down the slopes holding torches. Look out for the Eastern States Cup Enduro & Downhill Mountain Bike Race in July, and the Bear North Festival, a music festival with camping and beer, in August.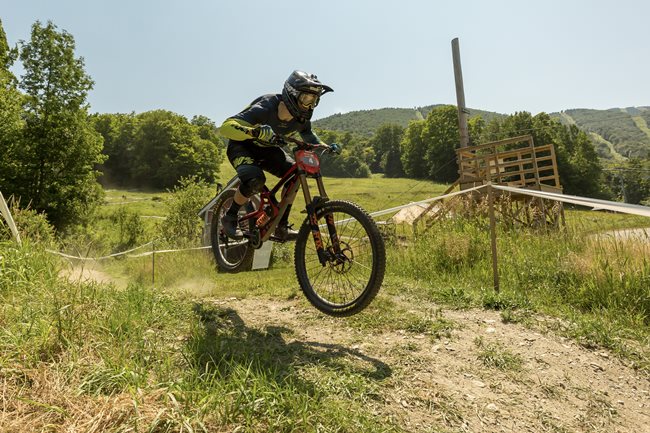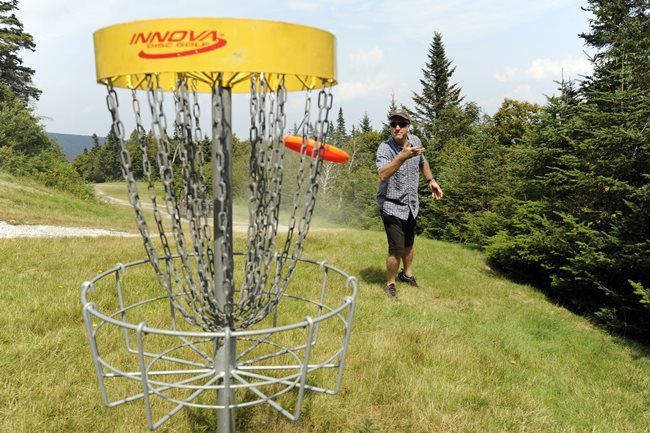 Interview
Although our visit was in August, we got a sense of Sugarbush in the winter from John Bleh, who handles press and wears other hats, and kindly allowed an interview.
Events INSIDER: How is Sugarbush different than the many other ski areas in New England?
John Bleh: If you know anything about the ski industry, you'll know that it's consolidated in the last decade. Vail Resorts and Alterra Mountain Company [both in Colorado] have started buying up resorts on the East Coast. They're two big players, and they buy a resort and then change it. Vail homogenizes it. But Sugarbush is independently owned and operated. That independent mindset trickles down.
John Bleh: People tend to choose this mountain [Sugarbush] for the terrain. There is plenty of beginner and intermediate terrain, but to get here, you have to pass a lot of ski areas. So the people who come here actually want to be here. People don't just show up here to get wasted… [At Sugarbush] you won't be crowded by people who take only a passing interest in skiing.
Events INSIDER: So Sugarbush is not so much for dabblers, but for enthusiasts? But Sugarbush is one of the largest resorts in New England, so you must have room for beginners, too?
John Bleh: When you think about experienced skiers, it means an appreciation for the terrain, which can mean safer. So you don't get a lot of out-of-control people causing danger to a number of people. You'll find that at peaks farther south. But we do have blue trails [intermediate level] from the summits of both mountains, and some green trails [beginner level].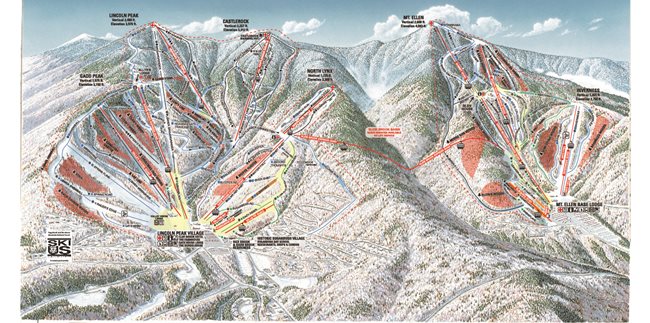 Events INSIDER: With the ski school that we saw.
John Bleh: Yes! The director of our ski school came from Mad River Glen. We do women's specific camps, group lessons, private lessons, seasonal programs, and teach kids ages 3 and up. There's a day care center for guests and employees. There's a whole building dedicated to kids' programs, and there's also another building with the adult ski school. With our big seasonal programs, you drop your kids off in the morning and pick them up at the end of the day.
Events INSIDER: Do you have specialized slopes, too?
John Bleh: We do have a couple of terrain parks. Our big one is over at Mt. Ellen, and it's served by its own lift, so you don't need to take a summit lift to get there. Another, Castlerock Peak, is like a mini Mad River Glen, where we don't do any grooming and don't make snow there.
John Bleh: And we do cabin cat skiing. That's in a big snowcat, a big groomer, the big machines that you use for grooming snow. This one has a 12-person cabin, so it's like a snow taxi. We use it for a bunch of different things. We take people up in the morning for skiing before the lifts open. We do sunset rides to the top, where you don't ski but you get out [and look around]. The coolest thing we do are fireside dinners at Allyn's Lodge. We light a fire, it's all candlelit, they cook up there, and you ride the cat up. We do a three-course meal there, and then people ski down under the moonlight. You can also rent a driver and one of the cabin cats to drive up for your own ski day when lifts aren't going.
Events INSIDER: What are you building next at Sugarbush?
John Bleh: Our next big building will be a hotel and conference center, which is still in the planning phase. We don't want to build out so much that there's no reason to go out into the town anymore, and then over time, the town sort of dies, because everyone's up at the resort. We don't have any interest in running any businesses in the valley out of business. Could we do cross-country skiing here? Definitely, but there are two cross-country skiing areas in the valley. Could we do ice-skating here? Definitely, but there's an ice skating rink in the valley.
Events INSIDER: We've seen a lot of summer activities here. What can you tell us about that?
John Bleh: Tennis, you'll find, is down at the recreation center. There are indoor courts and outdoor courts. We host New England Tennis Holidays there, a camp that gets consistently ranked Top 5 in the country. [See it here.] So they do a really good job with our tennis camps, and with clinics for adults. The courts are beautiful, with views of the mountain.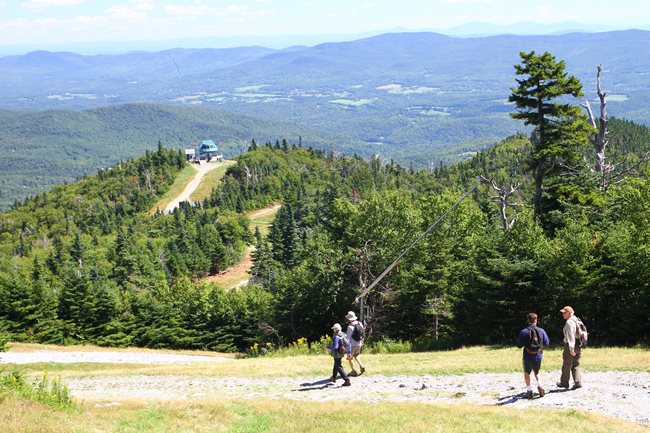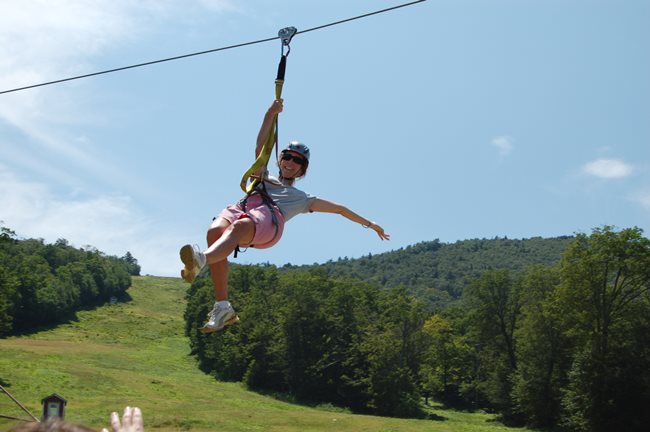 John Bleh: The golf course is a Robert Trent Jones Sr. designed golf course. It's beautiful, hilly, and difficult, with great views of the mountain. It's a tough golf course. We host a bunch of tournaments, clinics, and camps there, too.
John Bleh: If you drink, there is excellent beer in Vermont. [ And Vermont has the most breweries per capita.] There is a brewery in town called Lawson's Finest Liquids. They opened a brand-new branch in town and they created a special beer that is for Sugarbush, Mascara Mountain Brut. Sugarbush used to be called Mascara Mountain back in the day, because it attracted the jet-set New York glitterati, so they made it a little champagne-y. Here, Castlerock has an extensive beer list, with 25 Vermont beers on tap, and our Wünderbar was one of the first ever ski bars.
Events INSIDER: Thank you.
Rumble's Kitchen
While at Sugarbush, we got to eat at Rumble's Kitchen, which is connected to the Clay Brook Hotel & Residences, so you needn't go outside in cold weather to get there. It's one giant room with a tall domed ceiling, and large windows that let in plenty of sunlight.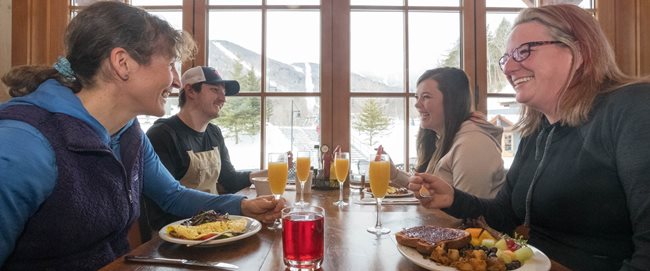 One corner is a buffet area for breakfast, and the remainder are two concentric circles with drapes that can partition off the center for a private function. Tables are pub style with dark wood chairs, comfortable, with quite a bit of seating at the full bar. Sit outdoors if you can, where a roof overhang protects you from sun and rain, and you'll get amazing views of the mountain. Indoors, a couple of televisions playing sports are placed so they won't distract you from conversation unless you want them to.
While we enjoyed dinner at Rumble's Kitchen, keep in mind that in the summertime, the off-season, they won't have as broad a menu. So, in August, we actually were more impressed by their breakfast. For breakfast, they have everything and more. They serve orange, cranberry, and apple juice, decaf and regular coffee, and hot water for tea. They make their own granola, which you can add to the maple yogurt and plain yogurt, and have blueberries, strawberries, and mixed fruit. They have a few cereals, including a granola crunch cereal, and toast with jam and peanut butter or cream cheese. One table is a buffet with sausage, bacon, oatmeal, and home fries. Best of all, a live chef can cook you pancakes, French toast, or omelets, which a server will bring to your table if they aren't too crazy busy, so you needn't stand there waiting. The omelets can come with spinach, roasted red peppers, cherry tomatoes, ham, sausage, bacon, goat cheese, or cheddar cheese. That is an amazing buffet breakfast for just $15.
And I haven't even told you about the blueberry muffins. They're soft, with fresh blueberries and a bit of sugar from the crumble on top. They are made in-house and so good that we asked our server to compliment the chef, and our server told us that happens all the time. The omelete was so good that I didn't even think about adding salt and ketchup, my usual go-to, until I had entirely eaten it.
At dinnertime, in the summer, Rumble's Kitchen serves some unusual dishes. In addition to the Grilled Ribeye and chicken wings, you'll find a Watermelon & Argula Salad, Pork Belly Tacos, and meals ranging from the meat-free Quinoa & Roasted Vegetable Tofu Bowl, to the meat-heavy Three Little Piggies Panini, a sandwich with bacon, ham, and pulled pork. If you're lucky, you'll catch their occasional special, when meals are 50% off. (Make sure to tip your server as though you'd paid full price.) Naturally you'll find draft beer, cans and bottles, white and red wine, and 13 specialty cocktails, many based on locally made gin, whiskey, or beer. The lemonade was a bit weak, but the server kept those free refills coming. The service was friendly and fast.
The presentation of the food was excellent, with interesting oblong dishes in a farmhouse style. The way the food is served, each course is like a little piece of art. I recommend the Vermont Pork Egg Rolls appetizer, which came deeply fried, with a mango sweet and sour sauce drizzled on top. Its meat is packed with spice, and with distinct flavors and mouth feel to the ground pork, like a meatloaf. I made no move to share this appetizer with anyone else at the table. The Empanadas appetizer was also served decoratively, with sauces drizzled underneath, with an avocado cream sauce. It was less noteworthy, and as with all empanadas, heavy with dough.
We tried the Salmon, Corn, & Red Potato Chowder appetizer. Although it came a bit watery rather than viscous, it came filled with so many elements that we looked past that, filled to the brim with potatoes, salmon, corn, green onions, and carrots. Salt seemed to be its only seasoning, and the oyster crackers had gone stale.
The Vermont Cheese Burger had heart to it, and layers, rather than being a homogenous slab. It came with fingerling potatoes that were not too heavily fried, and delightful string beans, served on a very big plate. While not notable, it was satisfying.
The Baked Mac-n-Cheese came with a small side salad that was not drowned out by dressing, and we loved the texture of the sunflower seeds. It also had arugala, cucumbers, and tomatoes. The mac-n-cheese itself was less appealing, and we did not finish it. With cheese already in the macaroni, it did not need cheese in the breading as well. The cheese was too "Ritz Crackers" tasting, and hid the taste and texture of the pasta.
The Creme Brulee was a custard with a thin caramel top, and was too sweet for me. The cobbler also seemed too sweet to be paired with its ice cream (which has to come sweet), and its blueberries were chewy, not cooked into a compote. The cobbler crust was thick and not as flaky as one would hope, perhaps lacking butter.
Overall
Overall, Sugarbush is a giant ski resort with a full range of lessons for kids and adults, but appealing more to enthusiast skiers rather than dabblers. They have a wide though not the largest range of summer amenities and activities, including their health and recreation center, mountain biking, and a ski lift open in the summer. While the off-season restaurant food varied, the on-season is bound to be different in the wintertime, and the Clay Brook was a cut above other ski resorts: truly great.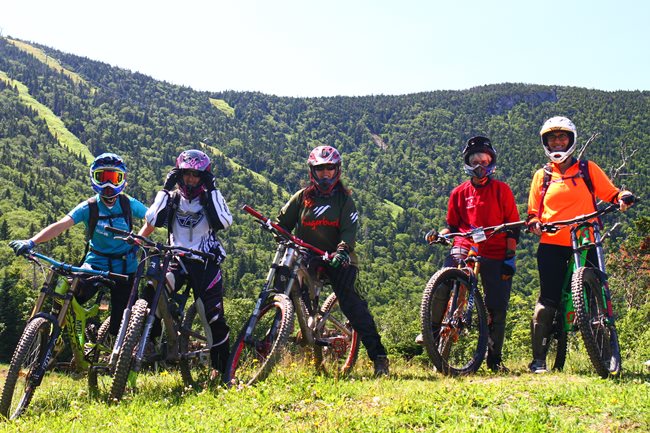 You'll have a great time with your kids at Sugarbush, but if you don't have kids, compared to Smuggler's Notch, where howling youth were a bit unbearable, you'll get more peace of mind at Sugarbush. You can have a go-go-go athletic experience at Sugarbush, but not wanting to race down a mountain on a bicycle, and too worn out for hiking, we decided to take it easy, riding the lift up and down and relaxing in the hot tub. For that purpose, it was perfect.
So I'm glad to give Sugarbush a full 5 stars, and check out their Community Weekend & Family Oktoberfest in October, with pumpkin carving, scenic lift rides, and live music.
See sugarbush.com.