Spooky World's Nightmare New England Adds a Hayride and Fun Park to Halloween (4 stars)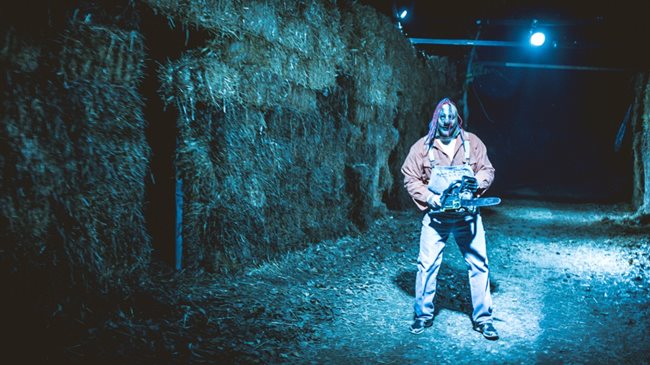 Nightmare New England is presented by Spooky World, perhaps the best known brand name in New England for Halloween scares. Spooky World was my very first Halloween attraction in 2003. Now they are set up in southern New Hampshire, just an hour's drive from Boston on the Litchfield Fairgrounds.
They have a carnival midway with food and gift vendors, 5 spooky attractions including a hayride, and you go next door to Mel's Funway, a funpark with nighttime batting cages, go karts and more. Mel's Funway is really a separate attraction, but you can get combination tickets.
The carnival midway is a dirt field, but is well kept and outdoorsy looking. It's extensive, and we were pleased to see costumed actors spooking and entertaining people waiting in line or just socializing. You can buy food from several vendors, with a giant tented seating area to eat. They have the largest campfire I've ever seen at a Halloween attraction, to warm your hands, and carnival games including that one where you throw darts at balloons on a wall. You can even get your photo taken, 2 for $10. It's disappointing that they have palm readers there. Palm readers are cheats, con artists, who first take your money and then get you to make big life decisions on superstition. That's why it's illegal in many places. To the side are a few vendor tables selling merchandise, and you'll find plenty of portable toilets on every side of the fairgrounds.
Spooky World's attractions vary in quality and you'll want to first go to Brigham Manor and the Haunted Hayride. There are saving graces to The Colony and Festival of Fear, but not Carnage and Zombie Paintball, so you may want to just stop at that point, enjoy the food and campfire on the midway, and then leave to go next door to Mel's Funway for go karts. 
Brigham Manor is a one-story attraction that is built separate from, but contained by, the large horse show ring at the Litchfield Fairgrounds. It's a maze of corridors, open at the top, for fire safety. Sometimes it's difficult with unpainted plywood walls to pretend that you're in a manor, but elsewhere the theming is good, with wallpaper and paintings on the walls. Some pictures seem to be holograms that change as you walk past, but the lighting was too dim to see them. Actors dressed as monsters try to spook you, with one having real dialogue about death. Bookshelves and kitchen stuff is not very scary, but we liked the dining room with skeletons at the dining table. Lighting was too dim to see the dioramas well, and we did not see animatronics. The attraction takes 4-5 minutes. 4 stars.
The Haunted Hayride is the best attraction at Spooky World. You get onto a flatbed pulled by a diesel tractor that doesn't have an exhaust smell. Conveniently, they have built wide stairs so that you can step up to and off from the hayride quickly. You sit facing inwards, facing visitors sitting across from you, but instead of having real seats, you sit on the floor. This is a good approach because, although you'd have better back support with real seating, the higher you sit the harder it is to look down and over the heads of the people facing you, to actually see dioramas at ground level. Sitting on the right side will get you the best views.
Much of the hayride trail is unlit, so the tractor uses its headlights. There's plenty of time in-between spooky dioramas to enjoy nature. It's nice to be outdoors at night, and if it's not cloudy you'll see stars in the sky. You see the silhouettes of the trees and breathe in the crisp night air.
You pass through a plywood village, pass two flaming crucibles, and through a cemetery with statuary and gravestones. Actors wear mainly street clothing with limited makeup. They scare you by sneaking up and touching visitors on the back. Unfortunately, this didn't work so well for a couple of reasons. First, there's a speaker on the back of the tractor. Thankfully, it plays ambient sounds, not rock music, which would totally kill the mood. However, the ambient sounds are too loud at times — crows and a murder scene — taking you out of the woods, not putting you in it. We need to be able to hear the monsters, and speakers placed in the woods would be better. Second, only some people are scaredy cats, so how do you know which ones to tap on the back? Elsewhere, hayride monsters shout and run up with energy. This reveals which ones are going to shriek, so that actors can focus on them. Touching backs is a clever in theory but wasn't effective in practice.
We passed through an unimpressive village of plywood and blacklight effects. Real buildings don't have amateur artwork and words painted on them, so it didn't immerse us enough. A loud bang made my ears ring, and should be removed. Then we came to an impressive "primitive village". It's a two-level set of thatched huts both on the ground and in the trees, including candles and a crossbridge. It's a compelling set design.
We passed between rows of mannequins and blue LEDs, expecting that some of them would be real actors, but none of them moved. Similarly there were no actors on a log wall with hung mannequins. Then we returned to a compelling set design, a pumpkin town with dozens of carved pumpkins hanging from above and set below. Even though we were sitting in every corner of the hayride, blocking entry, some actors with energy managed to climb up onto the hayride and run around scaring us. That was fun. A single chainsaw guy haunted only one side of the hayride. You pass through a haunted campground, where not much happens or is seen.
The hayride has highs and lows. The lows were a "village" of wooden cutouts and walls with only drawings of monsters, and elsewhere, sheets ripped into unconvincing "cobwebs". But you'll also find two giant flame effects shooting up, a man on a noose who gets thrown directly at the hayride from above, laser LED nightclub lighting for pine trees, a downed airplane with corpses and a 15-foot tall fire effect, a startling air blast, and animatronic giant spiders. Clowns come out with great energy, and it's lovely to be in the forest at night.
Lighting was too simplistic during the ride. When mannequins are hung from trees, lighting from above reveals the strings, so these should have been hung with fishing line and lit from below. The cemetery and other areas were not lit theatrically but just with floodlights, creating zones too bright and zones too dark to see the dioramas.
The attraction takes 18 minutes. I very much want to give the hayride 4.5 stars for its special effects, the long length of the ride, and the primitive village, but there were too many low points, and save a couple of exceptions the actors seemed ineffective. 4 stars.
You are safe to skip Zombie Paintball. It's a small shooting range, a wooden arena with a stage that you stand on, where paintball guns mounted to stalls. There's no Halloween theming to the arena. It is just plywood. The actors wear motorcycle helmets and hold in front of them, rather than wear, hockey padding. The targets are too close to the paintball guns and, because the actors don't have energy, it's not fun to shoot them. I just feel bad for them and hope they are well paid. I had the same thoughts in my 2013 review and I am shocked that this attraction has not improved at all in 5 years. Let's face it; they are not even trying. This attraction is not included with admission. It costs $5. 2 stars.
The Colony is a woods walk where you'll encounter small shacks. I love walking outdoors in the woods at night. It's naturally spooky to be amongst the trees, and beautiful, too. There's a stream not far from the walking path that could be lit and given fog. Unfortunately, The Colony flips the script by having its actors and decoration mainly in the shacks, rather than mainly along the forest path. You'll find actors mainly in street clothing, and the shacks made of unconvincing wood and filled with props such as kitchen pots and pans. In one shack, I walked into an electrical wire, which hit me in the face. I stopped and hooked it back up over the doorway. The dirt pathway has been cleared of rocks and tree roots, but perhaps due to rainfall there are a couple of depressions, think of them as forest potholes, which one could stumble over. Sending us through as a group of 10 is too many — when a monster scares the first person in line, the rest of us can see it and so it's not a surprise, but we're also not close enough to join in being startled. Our group got bunched up with groups in front of us and behind us. Something on the path banged so loudly that it made my ears ring. Despite my reservations, if you have time the path is worth walking, because they have a large laser lake effect. That's when you have a fog-filled room with lasers making a plane of light 3 feet off of the ground. Actors then can hide "beneath the surface" and pop up. It's my favorite special effect at Halloween attractions. The pathway is 9 minutes. Actors are fewer here than the hayride and manor, and there are no animatronics. 3.5 stars.
Carnage is an attraction that you should bypass. It's made from junk yard components. They assembled garbage bins, a school bus, trucks, old cars, tires, and wooden forklift pallets into pathway walls. It's unattractive, all filler such as rope netting instead of set design. Actors are few but we appreciated the actor with one eye popped out and dangling from her face. Her makeup was good and she had some dialogue. The chainsaw guy was clever too, sneaking up on us. There are no animatronics. The high point to Carnage is one that you can view from outside it: a big burning torch that jets up into an exploding flame every few minutes. The low point, a squeezy corridor, where the left and right walls are inflated balloons that fill the walkway, requiring you to push through them with your face and entire body. I always wonder whether these get cleaned and how many other faces I'm sharing germs with. No animatronics and few props. Groups get let in as large as 12 people; this makes it more challenging for actors to surprise more than just the people in front. In one place there's an oil drum placed so that it's easy to stumble over. The pathway is 6 minutes. 2.5 stars.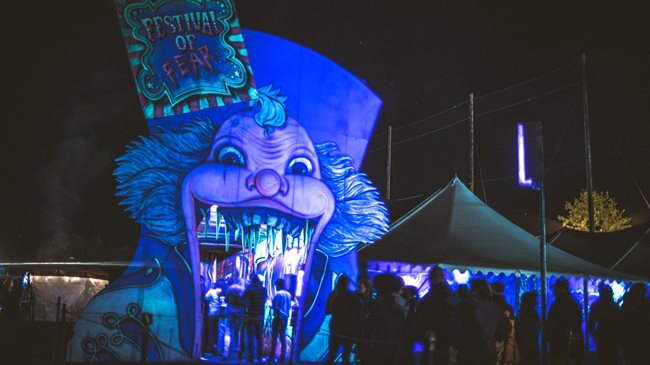 The Festival of Fear is a 3D maze, sometimes called a 4D maze, with a clown theme. They give you glasses with prisms built into the lenses, which shift certain frequencies of light. When what you're seeing is shifted differently in your left and right eyes, it creates a stereoscopic effect. Certain colors jump out, appearing to be nearer or farther away. The set design is unfortunately basic, mainly plywood walls with splattered paint, murals, and drawn flames. Unfortunately, a real circus — even a circus madhouse — isn't decorated this way, so it's hard to suspend disbelief. It's the opposite of good set design, with no furniture and few props. Filler such as hanging air hoses make up part of the attraction. That being said, actors had real makeup, the best we saw at Spooky World, and better yet, actors really knew where to hide to jump out and startle you. The high point is a "Vortex", a room-sized cylinder of cloth that spins around you as you walk over a bridge through its center. The entire room appears to spin around you! Thankfully, unlike many Vortex rooms, there are no tripping hazards going in or out. 3.5 stars.
Spooky World's Nightmare New England is an extensive campus with a midway, and a fun park included in combination VIP tickets. While some of the attractions seem lazy and need a theatrical makeover, animatronics, and more actors, the hayride and manor are high points worth seeing. When I visited Spooky World locations in 2003 and 2007, they seemed more like well-marketed cash cows than theatrical experiences with artistic visions. That mindset still seems to hold back the potential of this attraction. However, there's so much to do now at Nightmare New England that the attraction has improved. Unfortunately, competitor attractions have also improved, so I'll give Spooky World 4 stars as I did in 2013, but gave long thought to 4.5 stars. Reaching higher is theirs for the taking. Their marketing shows that they have money to spend; they could make the attraction more creatively fulfilling if they wanted to.