South Beach Parasail is the Easiest and Most Awesome Water Sport in Miami (5 stars)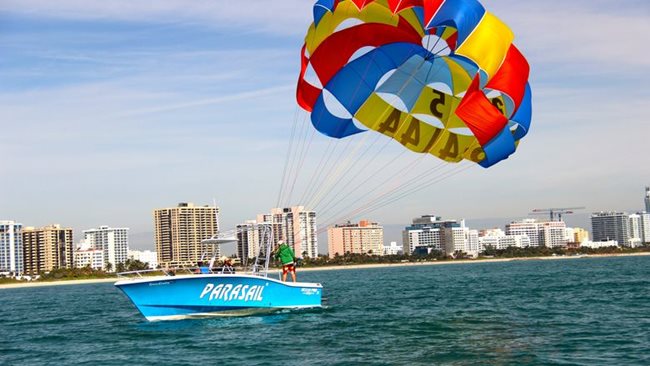 When you visit Miami, you want to do something adventurous that looks on Facebook to your friends like you're a superhero, but is actually easy to do. Parasailing is for you with South Beach Parasail.
They watch the weather carefully, so you must have flexibility in your schedule. Hopefully, skies will be clear, though on the day I visited, we did hold three hours for safety. Then they give you a floatation vest, pick you up from the beach in a small boat, and sail you out to the larger boat that has the parasail drifting behind. It's essentially a parachute that hangs off the back of the boat.
Surprisingly, you do not start or end in the water. It's possible that you won't get wet the entire time! Instead, two or three of you sit in straps at the front of the boat and at the right time, the parachute lifts up the straps and you both with it. Then at the end, they settle you right back down onto your butt on the boat again. You don't even have to stand up to try parasailing, but it makes you look like an athlete, especially if you pay for professional photos. They have a perfect safety record.
The ride up is remarkably stable and smooth. So you can wear a hat and sunglasses, and even hold a camera (use a death grip) without bumps that may make you drop it, but best to have a wrist strap nonetheless. Don't forget when you are shooting photos to just take a break and relax, to enjoy the views!
Looking down, well, it is a bit scary, but the water is so clear that you can see rocks, seaweed, and even fish in the ocean. Up some 300 feet in the air you are completely alone and it's a good time to bond with your romantic partner or friend.
The crew are supportive and friendly. They answer all your questions and don't make you feel like you have to be macho. We even had a good time just waiting on the beach because they let us use their chairs and beach umbrella, so we didn't have to rent our own, and this was on a blindingly sunny day.
It wasn't exactly life-changing, but it's a bucket list item that you didn't even know you had, and creates an "in the trenches" moment between two people that will bring you closer together. Your time in the air is a long-seeming 12 minutes, and it's no burden to wait for the other 2 or 3 groups to go up also before you all return to shore.
It's an easy 5 stars for South Beach Parasail, and could have been my rare 5 stars plus if they had some creative twists. For example, they could have combined parasailing with an oceanography tour, so we felt like we were learning something. Or they could have included a picnic lunch and refreshments, turning it into a party. Or they let us fly kites from the beach while we were waiting, or anything in additional to just getting us out, up, and back to shore.
It's a must-do opportunity in Miami. Don't be afraid. Just get out there and try it!