The Smoke Shop BBQ Goes the Extra Mile to Offer Delicious Options to People Of All Backgrounds and Tastes (5 stars)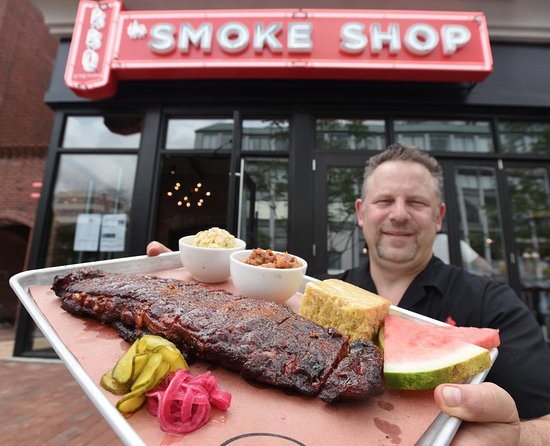 The Smoke Shop BBQ has great range. It's a happy, open environment not too packed with tables that you can relax in casually, but it's got upscale, classy selections on the menu such as catfish and fried cauliflower that make it stand out from other BBQ destinations. They have locations in Kendall Square in Cambridge, Assembly Row in Somerville, and Boston's Seaport District.
We visited the Seaport location, an attractive spot that has a full bar, track lighting, wooden tables, and booths with padded leather-lined seating. There's an American flag on the wall, but the place is open and bright with big windows instead of loaded up and oppressive with random kitsch as many restaurants are. There are televisions if you want to keep tabs on the game, but thankfully, they're placed out of your eyeline so that they don't steal your attention from the person you are dining with, unless you choose to look at them. Every table has plenty of napkins and three sauces: Sweet Victory, Gold Medal, and Hot Streak.
On the menu, you'll find BBQ mainstays such as BBQ Pulled Chicken, Baby Back Ribs, Friend Chicken, Prime Brisket, and Smoked Turkey. Then they add delights such as Mac and Cheese Bites, which come with bacon and spinach, Fried Green Tomatoes and Pork Belly, Hot Links (sausage), Gram's B&B Pickles, and Ultimate Fried Catfish. Even the collard greens come with bacon and molasses, a delicious combination. You will need to get yourself collard greens. And corn bread! It comes out hot and sweet, falling to mush and great mouth feel as you chew. You'll find selections for vegetarians (who don't eat meat) and meat-atarians (who only eat meat). On one end of the spectrum, you can get a Zucchini Salad, Tofu, or BBQ Bowl with Kale, and on the other end, order a "Whole Hog" that feeds 10-14 people!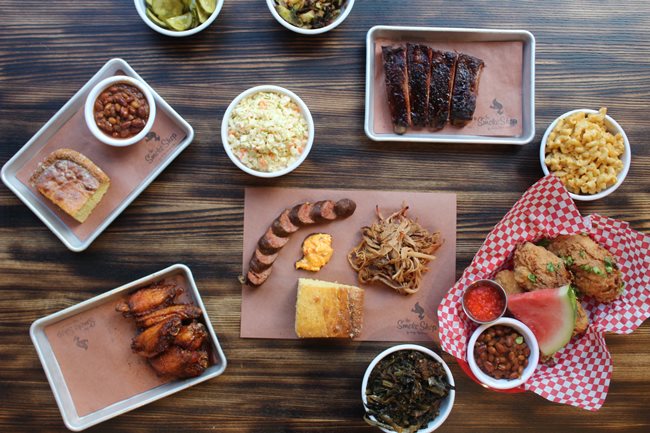 They variety of drinks is also extensive, with your choice from dozens of wines or local draft beers whose selections rotate, and fancily-named cocktails such as Dragon on the Boulevard, Ipswich Zombie, and The Mad Man. They have beer and shot combos, too. Service was friendly and fast, and our server graciously took questions and made recommendations. Delightfully, she refilled our water and cleared the table without interrupting our conversation.
We tried the Smoke Shop Lemon-Limeade, which was tart and just right rather than sicky sweet. The BBQ fries come in a basket, with pit beans (meaning baked beans that are slow cooked in a smoker, the "pit", along with meats), and are the perfect substrate to try BBQ sauce. The fries have a good potato taste, not being overly fried, but with too much cheese sauce. We also tried The Smoke Shop BBQ's Famous Hot Wings. You'll need to order double because those wings will be gone in sixty seconds! We were grateful that the wings come with spices but the hot sauce isn't overdone, so that the underlying meat is not covered up, and you can experiment with the BBQ sauces.
From the selection of BBQ Plates we tried the BBQ Pulled Chicken, which comes with your choice of two sides. Do yourself a favor and ask for the corn bread and collard greens, but you can't go wrong with the . The chicken is perfectly cooked, with that hearty rich protein feel that meat at a BBQ house is supposed to have. Out of left field, we tried the Tofu Basket. The tofu comes lightly fried and spiced, a great adaptation of a vegetarian meal that you'll add BBQ sauce to.

With convenient locations in Greater Boston, an attractive decor that invites both ripped jeans students and fancy lawyers, excellent service, and a delicious menu that ranges wide, includes non-meat options, and several clever surprises, I'm glad to give The Smoke Shop BBQ a full 5 stars.
See thesmokeshopbbq.com.