PopUp Painting is the London's Group Painting Party (4 stars)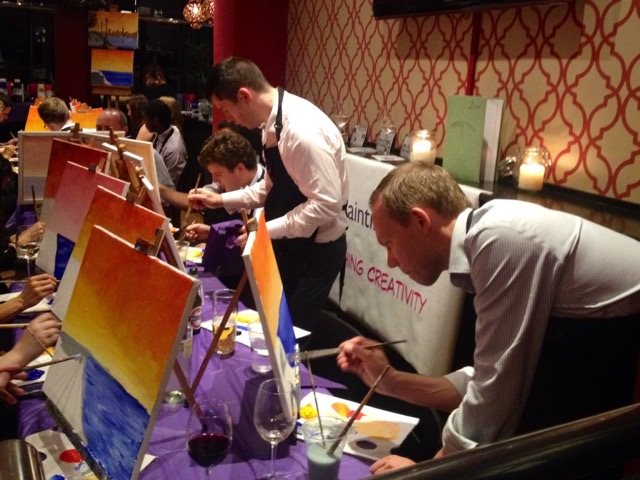 PopUp Painting is more than an arts class. It's a social event where you feel no pressure to perform, led by a real artist but taking place in a bar or restaurant, in London, Birmingham, Manchester, Leeds, or Liverpool. Just in London you can find a dozen events a month. There is always something happening!
The event that I happened to go to took place at The Castle Farringdon, a restaurant in London that serves alcohol with a full dinner menu. We hadn't eaten yet and the barkeep kindly brought our meals to us, upstairs in a private event room that we shared with about a dozen other people.
Anna, a trained painter, ran the show, with Gareth giving support and encouraging everyone to let loose and have fun. We mingled a little but it didn't seem to be a full-on singles scene or just-friends mixer. In our separate groups, we got each a canvas, some paint, and went at it. Although Anna had a demonstration painting that most of us painted, we were free to paint whatever we liked. At the end, you can take your canvas home if you like. The entire experience takes a little more than two hours. They played rock music to give each of us a bit of verbal privacy and to keep the energy going.
Anna wore a microphone, thank goodness, and gave clear instructions that left no one in the dark. She and Gareth also walked the room giving individual attention. Midway through we took a break for the paint to dry and of course to buy more drinks. It was relaxed and easy. If you have ever thought about painting but been too afraid to try it, this is the "art entertainment experience" for you. Of course you can rent out an entire night for a private party or corporate event. I for one would love to try a "Street Art Workshop" where you make a mural outdoors!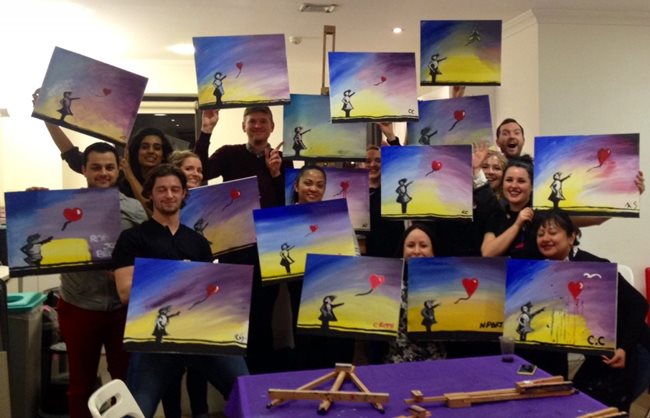 It was fun but not life changing. It came without a surprise twist such as body painting, glitter, glow-in-the-dark paint, projecting an image onto your canvas so you can trace the outline, a competition, a juggler, sharing a canvas as a way to get to know a stranger, a "placard" full of art gibberish written just for your painting, or paying $15 to have the pro touch up your amateur canvas. A good night out and something easy to do spontaneously because there are so many dates to choose from. Four stars.
See their remarkably active calendar at popuppainting.com.