Performer Interviews at Cirque du Soleil: Luzia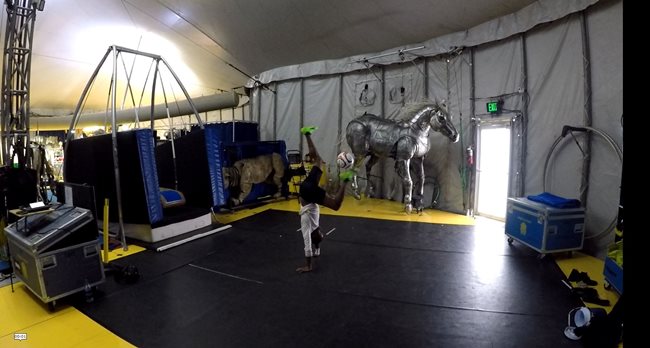 by Megan McCurdy and Johnny Monsarrat
As part of the tour of Cirque du Soleil's Luzia through Boston, three of their performers kindly agreed to interviews. Publicist Francis Jalbert also answered questions.
Abou Traoré performs Football Dance in Luzia. It's a series of stunts and dances with a soccer ball performed individually and as part of a group. Abou grew up in Guinea and moved to Paris at the age of 8. Due to an injury at age 22, he took a year off and learned freestyle football. Within 3 years, a casting scout at Cirque du Soleil discovered him to create the first football dance in any Cirque du Soleil show.
Events INSIDER: How did you get a start into football stunts?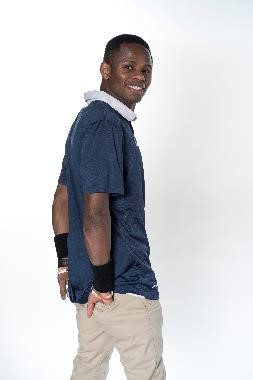 Abou Traoré: In my family, everybody played soccer, so I started when I was really young. I was four years old when I started to play in the park and everywhere. Then I asked my father to bring me to football team, the club, so I started practice there. One day, I had an injury, so I had to stop the football in the field. Then I started to practice football dance indoors.
Events INSIDER: One stunt that I saw you doing was when you hold a straw in your mouth and spin the soccer ball at the end of it. How in the world do you do that?
Abou Traoré: I learned it years ago because I saw other people do it on the basketballs with their finger, so I started turning it on a stick, and I proposed to introduce it in the show. I like it.
Events INSIDER: Does the water affect your performance at all? I'm pretty sure it rains at one point during yours?
Abou Traoré: Right, in my act, we use the water only at the end, so it does not affect the act so much. So it's fine for me and I can do my act, with the water, so it's cool, I like it.
Events INSIDER: I'm curious, is the water cold?
Abou Traoré: Sometimes, it depends.
Francis Jalbert: The water is heated to 100 degrees Fahrenheit when it falls from the ceiling, but as it falls, it loses 20 degrees by the time it touches down so it's about 80, 85.
Events INSIDER: That's not bad.
Francis Jalbert: But sometimes, you know it'll ice outside, so we try to keep them warm as possible, but for sure, but every night is different.
Abou Traoré: We're only in a tent [ separating us from the temperature outside ].
Events INSIDER: You used to do street performance. Is this new for you to perform with others on stage?
Abou Traoré: Before, I was performed only with my brother. I started with him, then I started to do a lot of the street performance alone. Then when I came here, for me it was new to play with someone else. So it was a big challenge for me to adapt. But we worked six months together in Montreal to create this show and it works fine now.
Events INSIDER: It must be impossible to control the ball at all times. Do you have a little joke that you do if you do drop the ball?
Abou Traoré: When I drop the ball, I try to kiss my ball and show it to the people. It can happen, but you keep going, and people don't know what you do, exactly, so should the ball fall, just keep going and people don't notice or forget about the mistake.
To learn more about Abou, his official Cirque interview is at http://cirk.me/LUZIA_Abou, and follow him on Twitter at @abousoccer.
Nya White, a trapeze artist, studied at the National Circus School in Canada, which happens to be across the street from the Cirque du Soleil headquarters. Rosa Tyyska, from Finland, performs with a Cyr wheel, a giant circle like a hula hoop that you can stand inside and spin while it spins. Cirque du Soleil's contemporary circus performers come from different backgrounds, some from gymnastics and some from traditional circus.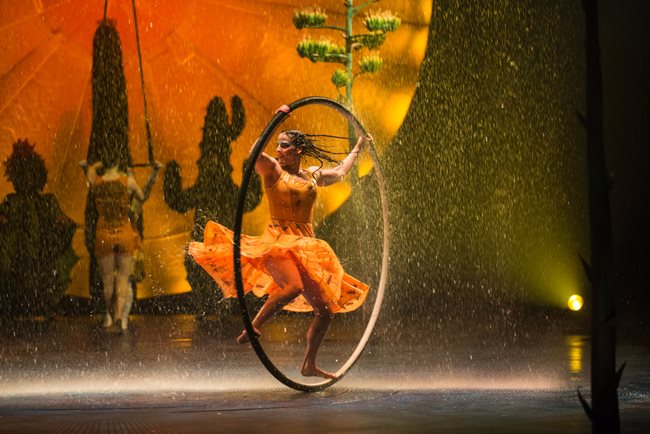 Events INSIDER: When your trapeze is raised and lowered, do you control that?
Nya White: We have a general manager that is in charge of following all the cues. I set up in positions that gives him the go. It's like giving the thumbs-up, so I'm ready to go, you can call the cue to bring me up or down. And then of course he has to check the to make sure there's space for me to ride up on stage. The cues mostly come from me, because sometimes I'm going to be a second late, so everything is a second late. So we always have to look at each other and make sure we're all good. Then another guy presses a button when the general manager tells him to.
Events INSIDER: So that you could perform while it rains on stage, you put tire treads on the outside of the Cyr Wheel. Did that change anything for you?
Rosa Tyyska: Yeah, it feels quite a lot different. Normally we use PVC plastic on the wheel, but with the water we have to be safe, so the wheel has to be more sticky. It was surprisingly easier than I expected actually!
Events INSIDER: Would you mind telling me a little bit about yourselves?
Nya White: I started circus when I was nine. I am from Montreal and Canada, and started to take classes on Saturdays for fun with all the other kids and then I really fell in love with it. I started taking more classes and then I got into the college program at the National Circus School in Montreal. And I did then three years there, and then I got my diploma, and then I got offered a job with Cirque du Soleil. I've loved Luzia since the beginning and I've been loving it.
Rosa Tyyska: I have quite the same background. At age ten, in Finland, I practiced there for once a week, just for fun until I was 20, and then I went to Sirkuksen Circus School in Finland. It's a quite small school, and I did three years there, then I graduated five years ago. So since there I've been working as a freelancer and a solo artist, and now I've jumped into Luzia. So I'm quite a new artist in the show. It's really nice to work with other people on the stage after the five long years alone.
Events INSIDER: So many circus acts are solo. How is it working with other people?
Nya White: For sure it's different. I've always worked solo because in trapeze, its always alone. So, to work with two other people it's a lot. We have energies that are different, but we always have a lot of fun. Even on not super good days, there are two other people who can cheer you up, so it's going to be fun. And we do so many fun things for so many people in the audience. It's great.
Find Nya White on Instagram as @blacktrapeze, and Rosa Tyyska on Instagram at @rosatyyska.
Cirque du Soleil's Luzia tours Boston through August 12! For tickets, see https://www.cirquedusoleil.com/usa/boston/luzia/buy-tickets and see my review, Cirque du Soleil: Luzia Amazes with Mexican Feats and Feelings (5 stars plus).
Here's a video preview that they kindly allowed us to shoot!