Noir, the Pub/Cafe to See Celebrities in Boston (4 stars)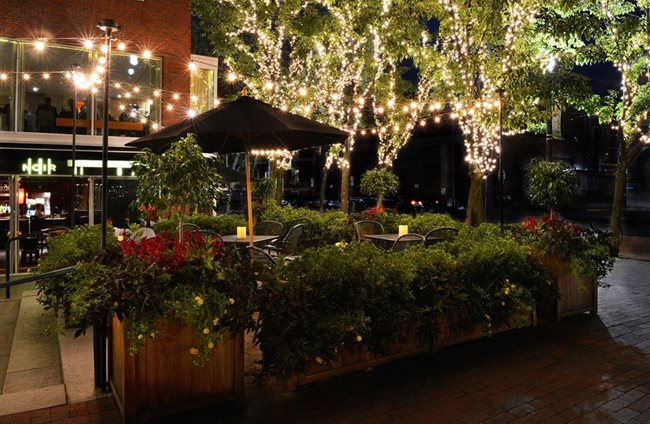 So this is where you go to see Dan Aykroyd, whose daughter goes to Harvard. He likes the Crystal Head Vodka. And practically every foreign dignitary who comes to speak at Harvard stays at the Charles Hotel and may stop by. But don't say hello. Part of Noir's mystique is its darkness, its discretion. People don't come to Noir to be seen. They come to lose themselves in its chic and you are expected to play by the rules.
Because I don't drink, I don't review bars, and I almost walked into Noir and right out again on the assumption that they wouldn't have much of a menu, but the manager stopped me. Noir's kitchen is the same kitchen as Henrietta's Table, the tip-top brunch and dinner place you bring your high rolling consulting clients to, or your parents when they visit from out of town and you need to explain the C's and D's on your report card.
So later I've returned to Noir, here in the lower level of the Charles Hotel, to do a review. I like the swinging curtain of beads in the front. If the place weren't so classy I would stand there swooping my hand and watching them swing back and forth.
It's dark, noir dark, noir being French for "black", even though when I arrive at 5pm there is still some fading daylight. It's going to get darker. But Matt Joy, the general manager, points out that for those who want light they have an outdoor patio from April to October.
The space, which used to be a flower shop, was turned into a bar a decade ago, and has drifted into being more of a martini lounge lately. The upscale decor has 50 seats, including bar stools, and there are tables and circular booths for groups as well. They have black cocknail napkins that say Noir. Classy. Funky jazz and soul music plays on speakers. I feel a little out of place wearing jeans here.
Matt points out a pull-down screen and says that they play 1950-style movies here sometimes, without sound, as a backdrop. Thankfully there are no televisions in the place. This is an elite retreat, not a sports bar. They have a spring and summmer cocktail list that don't interest me because I don't drink.
They have a "Noir Bites" menu, a selection of three appetizers that are discounted when you buy a drink, and a separate food menu that's small, but covers every category from appetizers and soups to salads and dessert. In the middle, they have sandwiches and "grilled flatbreads", which is how they say pizza at Harvard.
I try the BLT Sandwich with Avocado on Sourdough Bread ($8). It's standard, but tasty, and comes with toasted bread. It's served juicy and warm, with bacon that Matt tells me is locally raised. It has a real ham smell to it, and it's thick, salty, and has a real chew. So it's not just a strip of grease like most bacon. The mayonaise is flavored like dijon mustard. It comes with All Natural Kettle Chips, the kind you buy in the supermarket, which are unnecessary. There's enough grease in the mayo and bacon to want chips as well. How about a side plate of carrot sticks?
The Warm Chocolate-Chip Cookie ($2) is worth the $2, and it's nice that it comes warm. I'm not sure why it was suggested to highlight the Noir menu.
Then all thought is erased by the Grilled Flatbread with Dried Peaches, Proscuitto, Argula, and Goat Cheese with Balsamic Reduction ($10). Holy Hamburgler and Mayor McCheese! So this is what brought Jesus back from the dead after 3 days.
Just the bread would be delicious on its own without any toppings. It's spicy, like an Indian naan, and Matt says they make their own dough on site. Then you add fantastic goat cheese from an organic farm in Western Massachusetts. Although it's somewhat small if you wanted a real dinner, you would not be here at Noir if you wanted a full dinner. The juicy toppings and soft pizza crust are then accessorized by bacon and dried peaches. As if that weren't enough, they then add a garnish, basically lettuce, with a balsamic vinagrette. The result is a warm, cheesy pizza that is competely hidden by layers of unique toppings that go great together. It's like a salad on a pizza.
So, is Noir more than just a bar? Can I rate it high in the pub/cafe tier? Can someone who doesn't drink enjoy Noir? Absolutely. Many bars edge into the world of restaurants, but sharing a kitchen with Henrietta's Table puts Noir on the map as far as a light dinner is concerned, although the menu is too small for a perfect 5 stars. Although the bar is small, and personally, I prefer to see the people I'm chatting with, so darkness isn't my thing, I'd love to enjoy their outdoor patio, one of the few in Harvard Square, to sit under the stars with some friends. I recommend it as a spot to come to with friends after the show, as an alternative to Finale (though note, it closes for food at 11pm).
And if you see Benicio Del Toro sitting darkly in the corner ("He came in and he wasn't even staying at the hotel!"), don't say hello.
For more, see Noir.