Newport Art House Anti-Gala is New England's #1 Art Party (5 stars PLUS)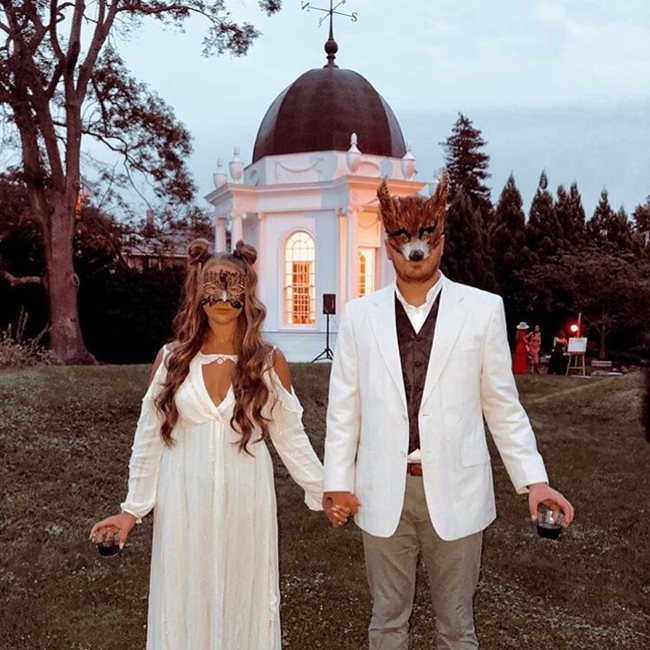 Finally, I found it. Through 14 years writing Events INSIDER, I've been on a quest to find the weirdest and most creative events in New England, and it doesn't get better than the Anti-Gala at the Newport Art House (which by the way seems to be an arts organization, not a building, and not to be confused with the Newport Art Museum). It's an outdoor party inspired by pagan celebrations like the faeries in the woods of Shakespeare's play, A Midsummer Night's Dream. It's part Sleep No More, part Eyes Wide Shut, and part The Wicker Man. It's like visiting the parties of the Newport Mansions a century ago, but interpreted for the artistic tastes of today, like how they used modern music for the old timey nightclub in the film Moulin Rouge! (2001).
I've always been fascinated by masquerades and other classy costume parties, such as the Haunted Speakeasy at Bull Mansion in Worcester, the Marvelous Party in Cambridge, and the Roaring Twenties Lawn Party at Castle Hill on the North Shore. But the Anti-Gala gets the psychology and community right to create something that goes beyond a party to become a phenomenon.
First is the joy of discovery. It's magical to turn a corner and encounter something beautiful that was hidden but you only needed to look to find it. It's a metaphor for life. The party takes place at one of Newport's mansions, and is entirely outdoors, across a few acres of lawn. There's some seating, but you'll be primarily standing, which encourages people to move around. Rather than having long views, the space is broken up by gardens, trees, and walls into intimate niches. You'll encounter a long food table, lorded over by a papier mache ram's head, with cheese, fruits, olive oil and bread, and nuts, and 30 performances, of painting, singing, dancing, poetry, shadow puppets, and more, in eight locations on the grounds.
Art installations are placed standing, or hung twinkling from tree branches, all over. You'll find a painter painting a model, and a pool with actors dressed as a mermaid and a sailor, talking together, or swimming. After dark, I spotted a live rabbit on the lawn and spent five minutes delightedly pointing it out to passersby, before it hopped away. I discovered an Asian-seeming percussive performance using soft mallets to caress the rims of metal bowls, making them hum.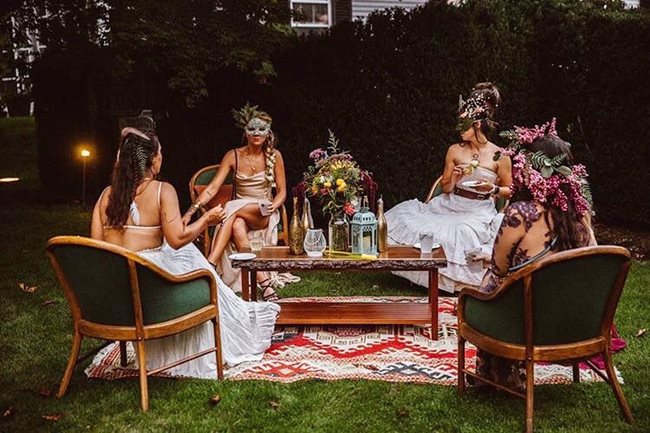 Second is a sense of intimacy. The performances stages were quiet and spread out enough that you could still enjoy the stillness of the night, hearing crickets chirping. The performances were intended to be ambient, adding to the party conversation rather than stealing your attention from others. You can walk off with a friend or romantic partner to one niche and have it all to yourself for a moment. You'll walk along gravel pathways and past grass lawns to see fountains everywhere, including a Japanese garden with lily pads, a bridge, and stepping-stone rocks in the water. There's a pathway leading under the branches of a giant tree, where you'll find yourself in a private forest of artwork and nature. There's a gazebo where artists perform poetry and spoken word. One path leads you walking under a long trellis archway.
Third is a sense of theme. The Newport Art House was lucky that their community "got it" about the event and came to create an environment full of ancient pagan power, evoking mischief and even playful danger. Guests were asked to come dressed "funky and fresh", and showed up in suits and dresses with a primal theme, half with an animal-themed mask or headdress. No one came dressed like a robot, or Elvis. I'm not sure how to describe it. I've been to costume parties — think Halloween or Comic Con — where each person dressed to impress, to create a sensation that's all about themselves. Boston is also full of "masquerades" for the come-to-get-drunk crowd who just don't get it at all with their plastic masks and street attire, or fundraiser parties for the wealthy that I can't afford and probably aren't any more creative. At the Anti-Gala, the guests seemed playful, to get it that together they created an experience, not so much as individuals. "Let's create a short theater scene together," they seemed to say.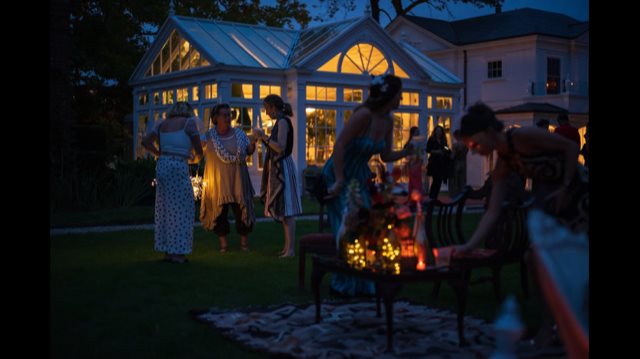 Perhaps that's why, fourth, the Anti-Gala was more social than a typical party. I've been to parties where there is not much mingling, or the mingling sticks to small talk. But the Newport Art House community seems genuinely more open to befriending newcomers, something I appreciated since I happened to come alone without even any acquaintances at the event to latch onto. Because everyone dresses unusually, it makes it easier to approach a stranger. Your opening line is ready-made: compliment or ask them about what they are wearing. I asked someone whether he was The Mad Hatter from Alice in Wonderland, and was right. One woman had a dress with LED lights. Others asked me about my own get-up. There was a good mix of ages, though not as much racial diversity. I encountered a group sitting by a pool at a table, and asked, "Is this a performance or just a group of friends sitting?" and one of them said, "Oh, we should have a seance!" Great idea.
This was the party's first year, and a couple of hiccups will no doubt be smoothed over in the future. The sun set quickly into the event, so a professional photographer with a fancy night camera would have been a delight. In a couple of places, an electrical cord could have been a tripping hazard. As the sun came down, the lighting was kept low, to further that sense of intimacy and mysterious, ancient, pagan power. But that made it harder to see the masks and costumes that the guests were wearing, my opening to approach new people, or to make eye contact with them, lowering everyone's innate sense of stranger-danger. A central light would have flooded the space too much, but distributed low lighting would have helped.
Tracy Johnsson, the founding director of the Newport Art Museum, kindly agreed to an interview. (Tara Gragg is the current director.)
Events INSIDER: What a party! How would you even describe this?
Tracy Johnsson: We love Newport for what it is, a very bright and vibrant arts community. I'm a historic preservationist, so the history is very important, and I thought it would be really cool to bring those two elements together: The Gilded Age backyard element and contemporary art. That's something that nonprofits in town are starting to move towards. So it just made sense for us to bring young, vibrant artists, patrons, and people who are just interested in knowing Newport from a different angle, into one place.
Tracy Johnsson: By bringing our parties to Bellevue Ave, we wanted to create a conversation between the Bellevue Ave crowd and the Broadway crowd, which is where the artists are, mainly. So we decided on a theme that would bring out the weirdest contemporary art that we could think of, but also create opportunities for networking and conversation. We all appreciate these types of settings, the gardening here, but all of us are appreciating something new and talking.
Events INSIDER: There's plenty to have a conversation about.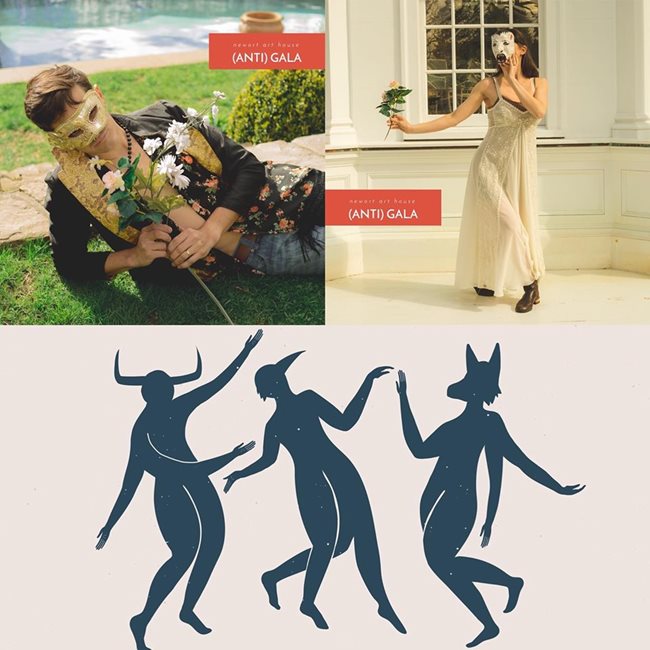 Tracy Johnsson: We wanted people to create their outfits, and a bacchanal is a definition of letting yourself be what you want to be. It's a pagan concept. Just being in Newport, in a setting that you could consider restrictive, or elitist, but it doesn't have to be. Ron Fleming, the owner of this property, built it to have art parties. As a historian, I know that most of these mansions were built to host weird art parties. So if you look into the history, that's a very prominent part of what people did in the summer. It's turned into this less weird thing, but I think if Newport is anything, it's always a place where artist colonies have come. Then patrons have come afterwards, to hire artists to hold the coolest parties ever.
Tracy Johnsson: It's a themed party, but you don't normally go to a party and see a performance… To have it all together, and I don't know what it is about the people who come to Newport Art House events, but they're very open and talkative, and intellectuals. So you can get into a group of people, get into a really great conversation with a 21-year-old, and be in your late 60s in a different place in life, but the venue itself and the experience creates a commonality that you can communicate and connect over.
Events INSIDER: Thank you.
The Newport Art House Anti-Gala is the welcoming, intellectual art party that you've been searching for. You'll find small installations of wonder, great conversation, and after an hour of exploring, I still hadn't found all the hidden niches. I'll give it my rare 5 stars PLUS, making it a must-see for like-minded people. Check out the other events at the Newport Art House including storytelling nights, performance art inspired by Newport's history, and a "NewPorch Live Sessions", where you walk around town seeing performances on local porches and in public spaces.
For more, see the Newport Art House online.