New England's Largest List of Halloween Haunted Houses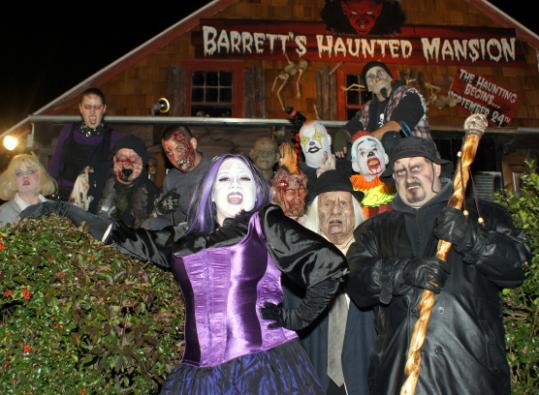 Hey Events INSIDERs!
Halloween brings so many engaging, interactive haunted houses, theme park attractions, corn mazes, haunted hay rides, scary woods walks, ziplines, zombie paintball, and other adventures! So don't just go to a bar that offers a costume prize hoping that you'll do all the creative work and get drunk. Live life to the fullest by exploring New England. (And don't base life decisions on visiting a psychic or ghost hunters. You guys know that's BS, right?)
Events INSIDER has reviewed nearly 50 Halloween attractions in Massachusetts, New Hampshire, Maine, Vermont, Connecticut, and Rhode Island. And we track nearly 200!
Here is a fraction of the attractions, the ones that are open in the next week.
Halloween Attractions
Boston Metro
Mon
9/24
Tue
9/25
Wed
9/26
Thu
9/27
Fri
9/28
Sat
9/29
Sun
9/30
The 715 Haunted House (4 stars)
The Village shoppes Canton, 95 Washington Street, Canton, MA. The715@yahoo.com
They have not-so-scary kids' afternoon events.
x
x
Ghost Ship Harbor (3 stars)
739 Washington Street, Quincy, MA. 617-479-7900. Twitter @ghostshipharbor
x
x
South Shore
Mon
9/24
Tue
9/25
Wed
9/26
Thu
9/27
Fri
9/28
Sat
9/29
Sun
9/30

Barrett's Haunted Mansion (5 stars)
1235 Bedford St, Abington, MA. 781-871-4573
x
x
North Shore
Mon
9/24
Tue
9/25
Wed
9/26
Thu
9/27
Fri
9/28
Sat
9/29
Sun
9/30
Witch Mansion Haunted House (4.5 stars)
Museum Place Mall, 2 East India Square, Salem, MA. 978-825-1300. Twitter @witchmansion
Dead and then became an escape room?
x
x
x
x
x
x
x
Frankenstein's Castle
Salem, MA
Run by Salem Wax Museum
x
x
x
x
x
x
x
Cry Innocent! (4.5 stars)
Old Town Hall, 32 Derby Square, Salem, MA. 978-867-4767. Twitter @historyalive
One of many performances by History Alive! More Salem history than spooky.
x
x
Haunted Happenings Harbor Cruise (3.5 stars)
Pickering Wharf, Salem, MA. 978-825-0001. Twitter @MAHICRUISES
2018: 90-minute boat cruise with spooky stories. Formerly "Haunted Harbor Cruise". Do they still have facepainting?
x
Southeast Mass
Mon
9/24
Tue
9/25
Wed
9/26
Thu
9/27
Fri
9/28
Sat
9/29
Sun
9/30
Fear Town (5 stars)
Seekonk Speedway, Seekonk, MA. Twitter @FearTownHaunt
x
x
Worcester
Mon
9/24
Tue
9/25
Wed
9/26
Thu
9/27
Fri
9/28
Sat
9/29
Sun
9/30
Sleepy Hollow at Old Sturbridge Village (5 stars)
Old Sturbridge Village, Sturbridge, MA. Twitter @oldsturbridge
Outdoor theater show in old-time living history village museum
x
x
x
x
x
x
Lowell
Mon
9/24
Tue
9/25
Wed
9/26
Thu
9/27
Fri
9/28
Sat
9/29
Sun
9/30
Witch's Woods (5 stars)
79 Powers Rd, Westford, MA. 978-692-3033. Twitter @witchswoods
2014: Haunted house. 6:30-10:30pm. Hayrides 7pm-close .
x
x
x
Springfield
Mon
9/24
Tue
9/25
Wed
9/26
Thu
9/27
Fri
9/28
Sat
9/29
Sun
9/30
Fright Fest at Six Flags New England
1623 Main Street, Agawam, MA. 413-786-9300. Twitter @sf_newengland
Haunted house as part of largest amusement park in New England.
x
x
DementedFX
123 Union Street, Easthampton, MA. Twitter @dementedfx
2018: 20,000 square feet of giant monsters, hollywood quality sets and props
x
x
Monster Mash Screampark at McCray's Farm (3.5 stars)
55 Alvord Street, South Hadley, MA. 413-533-0775
160+ Acres of haunted trails plus indoor attraction. Lots of actors.
x
x
x
Rhode Island
Mon
9/24
Tue
9/25
Wed
9/26
Thu
9/27
Fri
9/28
Sat
9/29
Sun
9/30
Haunted Labyrinth (3.5 stars)
Rejoice in Hope Youth Center, 804 Dyer Avenue, Cranston, RI. 401-942-6571 or 401-943-8686
Catholic charity. Dance parties on Saturdays.
x
x
x
Scary Acres
Confreda's Greenhouses and Farm, 2150 Scituate Av, Cranston, RI. 401-827-5000. Twitter @ScaryAcres401
Family farm with 30-minute haunted corn field maze and 20-minute haunted trail walk.
x
x
x
13th World
4097 Diamond Hill Road, Cumberland, RI
Outdoor trail.
x
Haunted Hill at Diamond Hill State Park
4097 Diamond Hill, Cumberland, RI. 401-728-2400 or 401-334-9996
x
Factory of Terror
3 Bridal Ave., West Warwick, RI. 508-324-1095
Flashlight nights scarier with much lower lighting!
x
x
Berkshires
Mon
9/24
Tue
9/25
Wed
9/26
Thu
9/27
Fri
9/28
Sat
9/29
Sun
9/30
13 Nights at Jiminy (4 stars)
Jiminy Peak, 37 Corey Rd, Hancock, MA. 413-738-5500. Twitter @13nightsjiminy
Tours, Soaring Eagle, and Giant Swing.
x
x
Ghost Tours at Edith Wharton's The Mount
2 Plunkett St, Lenox, MA. 413-551-5111. Twitter @TheMountLenox
2 hours. Bring a flashlight. Partly outdoors. Museum tour with a ghost theme. Two tours a day. Fridays only. And an annual Halloween Dog Parade.
x
New Hampshire
Mon
9/24
Tue
9/25
Wed
9/26
Thu
9/27
Fri
9/28
Sat
9/29
Sun
9/30
Spooky World / Nightmare New England (4 stars)
454 Charles Bancroft Highway (RT 3A), Litchfield, NH. 603-424-2292. Twitter @spookyworld
2018: Special "Lights out" event in November
x
x
Fright Kingdom (5 stars)
12 Simon Street, Nashua, NH. Twitter @FrightKingdom
6 attractions. They have a not-so-scary day for kids.
x
x
Ghoullog Halloween Haunted Chairlift Ride
1 Skimobile Rd, North Conway, NH. 603-356-5544
Board the ski lift for a Halloween experience on the ride up and on the peak! One night is a "Lights Out" event.
x
x
Canobie Lake Screeemfest (5 stars)
85 North Policy Street, Salem, NH. 603-893-3506 or 617-653-5959. Twitter @CanobieLakePark
Canobie Lake Park is the 2nd biggest amusement park in New England, and while its attractions are bad (Merriment: C+, Dead Shed C, The Village C, Cannibal Lake C-, Demons of Darkness D), being at a giant carnival at night is glorious, thus the "A"!
x
x
x
Connecticut
Mon
9/24
Tue
9/25
Wed
9/26
Thu
9/27
Fri
9/28
Sat
9/29
Sun
9/30
Witches Dungeon Classic Movie Museum
Bristol Historical Society, 98 Summer Street, Bristol, CT. 860-583-8306
It's not a haunted house, but it's seasonal – a wax museum of horror movie icons
x
x
x
The Haunted Graveyard (5 stars)
Lake Compounce, 186 Enterprise Drive, Bristol, CT. 860-583-3300. Twitter @LakeCompounce
Multiple scenarios (including a graveyard!) 2014: Fri, Sat & Sun 5pm to unknown.
x
x
x
Hale Homestead Haunted Corn Maze
Nathan Hale Homestead, 2299 South St, Coventry, CT. 860-742-6917
Corn maze at night with some Halloween dioramas
x
x
Stew Leonard's Halloween Hayride Spooktacular
Stew Leonard's Danbury Store, 99 Federal Road, Danbury, CT. 203.790.8030
Daytime hayrides. Not-so-scary, for kids.
x
x
x
Pumpkintown USA
93 East High Street, East Hampton, CT. 860-267-0143
Hayride through "town" of pumpkin dioramas. Daily. Non-scary, for kids. Pumpkintown Village where over 70 pumpkinhead people and animals enjoy life in their old-fashioned village complete with a church, post office, saloon, and more. Weekend activities include a huge Moonbounce Pumpkin, face painting, and a unique Sling-a-Ding game.
x
x
x
x
x
x
x
Haunted Isle at the Shore Line Trolley
17 River St, East Haven, CT. 203-467-6927
Trolley carries you through haunted woods.
x
x
Fright Train at the Essex Steam Train
Essex Steam Train, One Railroad Ave, Essex, CT. 860-767-0103
The attraction is still open but seems to have dropped their Halloween themed rides.
x
x
x
Legends of Fear at Fairview Tree Farm
484 Walnut Tree Hill Rd, Shelton, CT. 203-944-9090
Trail and hayride, but Sundays they don't have the hayrides. 7 attractions.
x
x
Sonny's Place Harvest Happenings
Sonny's Place, 349 Main Street, Somers, CT
Fun park. Carousel, VR, laser tag, mini bowling, rock wall, rides, mini golf, ziplines, go karts, arcade, batting cages. Halloween theming is light: pumpkin mini golf, zombie laser tag, crafts, spooky music. But they have a Hayride of Horror. Daily, but hayrides Fri-Sun only.
x
x
x
Evidence of Evil
240 Spring Street, Southington, CT
x
x
Fright Haven
41 Barnum Avenue Cutoff, Stratford, CT
Three attractions including a woods walk.
x
x
Nightmare on Wolcott Street
1058 Wolcott St, Waterbury, CT. 203-754-5000
Indoor Haunted House with 55 rooms of terror.
x
x
x
New York
Mon
9/24
Tue
9/25
Wed
9/26
Thu
9/27
Fri
9/28
Sat
9/29
Sun
9/30
Headless Horseman
778 Broadway, Route 9W, Ulster Park, NY. Twitter @Headless_H5
Haunted house. Outside New England but a "Top Ten in USA" haunted house according to the industry magazine. 9 attractions.
x
x
So don't just sit around this week. Get out and have some fun!
See more interactive, outdoorsy events at bostonevents.org, and follow on Facebook and Twitter for giveaways and events news!