Miners' Table Restaurant at Herkimer Diamond Mines Has a Creative, Unique Menu and Decor (5 stars)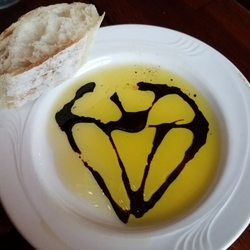 On a recent visit to Herkimer Diamond Mines (5 stars) in central New York, we also reviewed The Miners' Table, their upscale restaurant, which is a pizzeria and steakhouse with local specialties. It's an easy walk from either their campground or mining fields. The Miners' Table is unique, a mining-themed restaurant that creatively employs a diamond motif in the decor, with real rocks from their mine used to build the supporting structure for their brick pizza oven. With dark wood, it feels upscale, but welcoming rather than pretentious. There's even a wall, filled with signatures and thank yous, where you can add your own note with a marker.
Of course they also have a function room, which holds catered events for up to 275 people. It's spacious, almost as big as the main dining area, with a platform for pubic speakers. Then there's a full bar and indoor seating for another 200. Happily, while they have televisions over the bar, it's not oppressive, so one can easily ignore it to have quality time with friends and family. The play light music from the '80s.

Courses at The Miners' Table are presented creatively, on white plates of circular, rectangular, or star shapes. For example, with the warm bread they offer a plate of oil for dipping, drizzled with balsamic vinegar in a diamond pattern. We tried the Caprese Salad, which features homemade mozzarella. The wide array of other appetizers spans tastes from motorcyclist to Volvo driver, including Hammer and Chisel Nachos with "beer cheese", fried mozzarella in diamond shapes, meatballs over polenta (boiled cornmeal), shrimp cocktails, calamari, and several salads. Our garden salads were unusual, mostly made of greens.
The pizzas and main courses have signature themes as well. The Vodka Pie Pizza is prosciutto, peas, and a house vodka sauce, or try the Prospector's Buffalo Chicken Pizza, which has banana peppers, buffalo sauce, and bleu cheese. Veg Out Natural Wonder has eggplant, roasted peppers, broccoli, olives, mushrooms, and two cheeses. Take it to the next level with their Cheddar Stuffed Bacon Wrapped Meatloaf, or try the New York Strip Steak, Veal Chop, or enchiladas. You'll find daily specials on the menu as well.

We tried the Pork Osso Bucco, which is braised pork (rather than veal) in a mushroom wine sauce. Its presentation is unique, a pork shank that's served inserted upright, like a monument, into a generous serving of pasta. The pork has a great mouth feel to it: delicious, dense, and satisfying with its protein. It comes with a cream sauce. With the heavy carbs of the pasta and the richness of the cream sauce, and with the distinct wine flavor (I don't drink alcohol), this meal was too rich for me.
Local twists from nearby Utica, New York are included in the menu. For example, we tried the Utica Greens with Pizza Crust, which is crust from their wood-fired pizza oven with salad greens. And we devoured the Chicken Riggies, another local specialty. It's chicken, mushrooms, hot peppers, rigatoni noodle pasta (thus "Riggies"), and a cream sauce that is more tomato-y than other white sauces. It's spicy, with quite a kick that hits you after you start eating. The sauce could perhaps use a touch more tomato but is scrumptious. (My guest ordered this meal, and then I ended up "sampling" three quarters of it.) It's also generously portioned, making the $15 price even more a value. Really, either of these meals could be split into two, and we did get to-go boxes at the end of our dinner.

For more of a single-serving meal, order the Pepper Jack Pulled Pork Burger, which is only $11 and comes with onion rings or potato chips that are freshly homemade. It tastes like pulled pork sandwich met a well-done burger and after a fantastic honeymoon they had a baby. It's savory, filling, and hearty, without being dry, the perfect amount of meat and garnish.
My favorite of the meals that we sampled was the Pig Roast BBQ Pizza. Hot damn! It is top-quality BBQ pork, which could be its own meal, and then they put it on a pizza made in their own wood-fired oven, served steaming hot. Just the smell was delicious. The pizza itself might have been cooked more to a crisp, but the crust was tasty and not dry, and the BBQ sauce was spicy but not a meltdown.
It's a miracle that we ate all that food, but it was too good to resist, and we got some to go. Somehow, our hosts convinced us to try dessert and we were glad we did.
The presentation on the Resort S'mores dessert is so cute that it's more of a gift than a meal, a literal treat. You get small packages of graham crackers wrapped with Twizzlers, and marshmallow goop on the side, which has peanut butter and chocolate. It's a powerful combination of flavors, perhaps too potent, so eat slowly. Of course the peanut butter sticks in your mouth, so order water to go with it. We also sampled the Wood-Fired Apple Crisp, which was a bit too chewy and sweet for me, a kid's dessert. On the menu you'll also find Cannoli Shooters and Bourbon Bread Pudding. Dinner ends with diamond-shaped chocolate after mints.
Elegant but comfortable, creative in decoration and menu, and with a wide range of dishes, Miners' Table is a restaurant of a level you just don't find in a theme park or camp ground. It deserves a full 5 stars.
See minerstable.com and read my review of their Herkimer Diamond Mines (5 stars) main attraction and review of their Herkimer Diamond KOA Campground Resort (5 stars PLUS).