The Massachusetts Museum of Contemporary Art (Mass MOCA) Must Make Your Next Berkshires Trip (5 stars)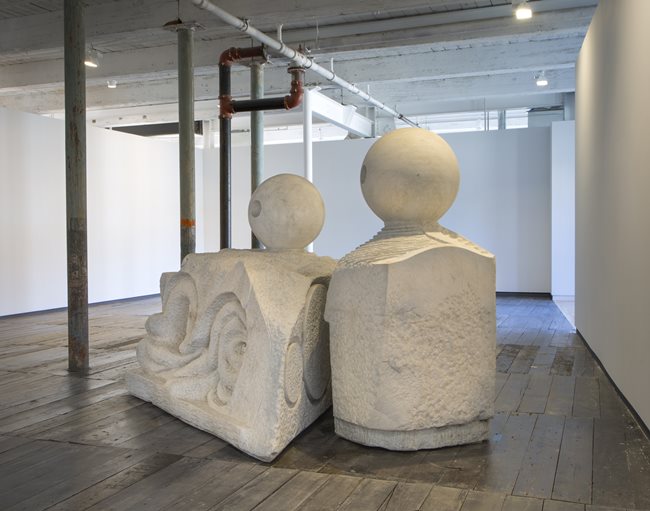 My favorite museum in western Massachusetts is Mass MOCA, The Massachusetts Museum of Contemporary Art, out in the northwest corner of the state, a hop from both New York and Vermont. One of the blessings of living in Massachusetts, the most densely populated US state (after New Jersey and Rhode Island), is that Massachusetts has enough people to support world-class arts organizations outside of its metro areas. The next time you're in the Berkshires or heading out to New York, make Mass MOCA part of your trip.
As a modern art museum, and it's 20 times larger than the Institute for Contemporary Art in Boston, you'll always find something striking at Mass MOCA that you've never seen before. If you find modern art hard to get, it's the perfect destination because they have so many exhibits that you're bound to find something accessible to offset the exhibits that may be too edgy. The exhibits are always changing, but the museum kindly allowed a visit in August 2018.
Our favorite exhibit was a huge one, Liz Glynn's The Archaeology of Another Possible Future, which inhabits a two-story warehouse-sized space. You'll find towering pyramids of wooden warehouse pallets and metal shipping containers, and also dioramas of everyday objects including toys, then abstract constructions of cement and wood. It's strange, but also beautiful, and large enough that it forms its own otherworldly landscape, a place that you can explore and make discoveries inside. In one shipping container, you'll come across a one-man band playing an accordion, next to a set of turning gears. Then you'll see hospital gurneys, neon colors, and tools with plaster hands added to the handles. This is the kind of crazy thing that you come to Mass MOCA to see. It's engaging, truly weird, but interesting instead of off-putting.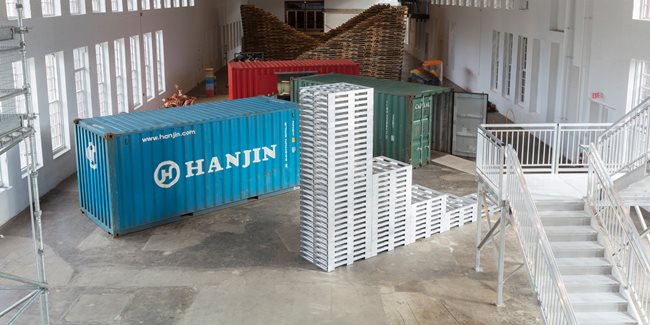 Another exhibit, The Lure of the Dark, features mysterious photographs and paintings whose subjects are set in darkness, and Pitch, by Allison Janae Hamilton, is a fantasy woodland, complete with tree trunks, another landscape that you can explore.
Thumbs Up for the Mothership, by Dawn Dedeaux and Lonnie Holley, is surreal, inspired by ancient Rome and Egypt, medieval Europe, with a wrecking ball and ghost images cast onto a wall.
Into The Light, by James Turrell, plays with light, including holograms and outer space shapes. It's remarkably serene. One room is filled with light so bright that you really can't see anything except just the light itself. It's a white room whose rounded edges cannot be seen, filled with a light purple aura, a work of art created wholly from light.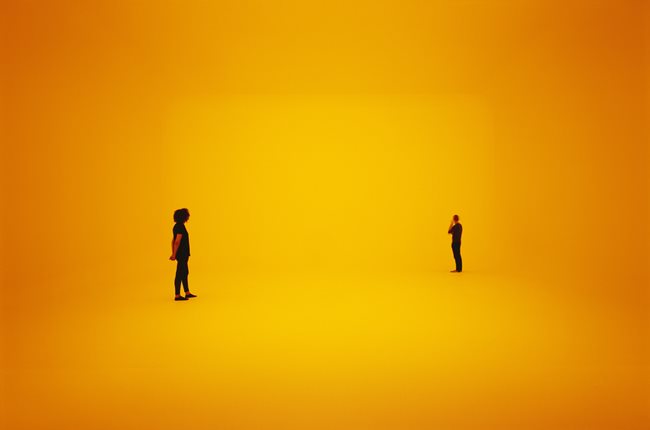 Perfectly Clear (Ganzfeld), 1991 Gift of Jennifer Turrell


© James Turrell, Photo by Florian Holzherr
Mass MOCA is extensive, a campus of numerous buildings, with 250,000 square feet of gallery space, so you'll need to pick up a map. (Even with a map, I'm sure we missed some exhibits, which are both indoor and outdoor.) You'll find an exhibit on a meteor crater that's been artistically decorated, giant sculptures of what might be limestone, as if found at the beach, and two figures holding each other with infinitely long metallic arms that wind around and around their bodies. There's a radio dish shaped piece made of mirror pieces that reflect all over like a fun house mirror.
Not every exhibit will engage you. We found quite a few inaccessible, artistic concepts whose form or purpose we could not ken. We must reward artists who dare to do something truly unique, but sometimes the push for the new interferes with making a connection with viewers. For example, the exhibit against torture seemed uninteresting artistically, with some pieces simply being enlarged military documents. Its strident tone made its important message undigestible visually, and we didn't learn anything either.
We got turned away by two virtual reality exhibits that we didn't know must be scheduled in advance. However, we did like the dark VR cave setting with blacklights making the graffiti on the wall glow. We were amused to find that Mass MOCA had drawn a contribution by naming an emergency exit after a donor.
As an extra incentive to get you out the nearly 3-hour drive from Boston, Mass MOCA hosts a full calendar of indoor and outdoor events, including music and comedy festivals, theatre, dance, film, and the unclassifiable. For example, they'll perform one of Edgar Allan Poe's horror stories in November, with puppets and projections. Another upcoming performance comes created by actor Jon Hamm. (Will he be there? The event description leaves it unsaid.) And they have straight up dance parties, too, I believe.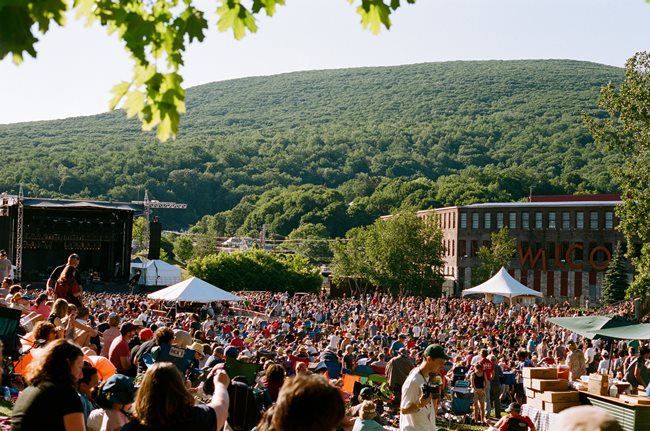 Of course you can eat at the museum, which has a cafe and a coffee shop. Parking is free, and you'll find classes for kids and adults. Your purse can come in, but backpacks are not allowed. As part of your trip to Northwest Massachusetts, go hiking, biking, drive to the top of Mount Greylock, or visit the other museums and performance venues in this artistic community. It's a bit far from Boston but a must-do if you are in the area. 5 stars for The Massachusetts Museum of Contemporary Art.
See massmoca.org and explorenorthadams.com.