Make Life-Changing Friendships with Animals at Miami's Jungle Island (5 stars PLUS)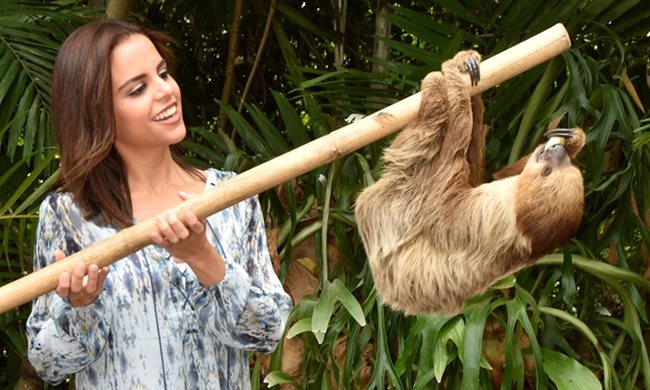 Jungle Island is an eco-adventure park and wildlife sanctuary in Miami, a combination animal park, adventure park, and water park. Closed last fall after Hurricane Irma hit, the park is now open again.
CEO John Dunlap kindly agreed to an interview, saying, "We've built a jungle on an island.", and they really have, taking up half of Watson Island Park, which is directly next to downtown Miami. "Many kids who come," he said, "haven't ever seen a wild animal except a squirrel. And now here they're climbing, jumping, swimming, and learning about a nature." It's the mission of Jungle Island to get people out of their urban environment and to help with "Nature Development Disorder", a primal craving that all humans share to bond with nature. Many of the animals on display are endangered, with Jungle Island also serving as a biodiversity preservation park. (I hesitate to call it a zoo. It's like a Super Zoo.)
All the animals and animal encounters are open, including petting barns and a replica of the Florida Everglades. Soon their add a zipline and in 2019 they'll open the Crystal Lagoon, a human-made lagoon with water that's clear enough that you can see all the way to the bottom. You'll be able to rent a paddleboat and look through the clear water at the wildlife and rocks.
We got to see but not experience SuperFlight, which is now open, an outdoor simulation of skydiving. Instead of going up in an airplane, a fan set at ground level blows air upwards and you "skydive" by riding on this upwards air. Unlike other destinations I've reviewed for skydiving, at iFly Orland (5 stars) and SkyVenture New Hampshire (5 stars PLUS), which are indoor, enclosed vertical wind tunnels, the forthcoming SuperFlight is entirely outdoors and without walls. Instead, giant nets protect you from venturing outside the fan's air. It's going to be a whole new level of fun.
What we did see were the animals. You can go on your own and take on dozens of animal encounters, like putting a parrot on your shoulder for photos, or petting kangaroos up close and in person. But we took the VIP tour, which costs extra, where a park leader personally takes you into visit the animals. It was a life-changing experience, even for someone like me who has swum with dolphins at Discovery Cove in Orlando (5 stars PLUS), which was great but highly chaperoned and choreographed, and had monkeys climb on our car at Longleat in the United Kingdom (5 stars PLUS), but didn't touch them.
Our guide was Ryan Jacobs, who heads up VIP tours and is either head zookeeper or close to it. His mother brought orangutans into her home when he was a child, letting them go anywhere indoors. Now she runs the orangutans and surely more at Jungle Island, and Ryan started the VIP tours from his experiences watching how people change when they interact with an animal. Trust me, there is no place you will get closer to exotic animals.
Our first encounter was also the best. They let lemurs climb all over you! You walk into their cage, take a seat, get some apple pieces, and then lemurs jump all around. Lemurs are adorable monkeys, and these little angels have no claws. Instead, like humans, they have soft hands and feet. They will climb on your lap, your shoulders, and your head. I've never had such fun at an animal encounter. You may wish to do this last, if walking around on a hot day smelling of lemur will bother you.
We also met Darnel, the most dangerous animal at Jungle Island, an alligator that is penned in alone because she killed all the other alligators and crocodiles that they tried to mate her with. That's what I call a bad date. They allowed us to stand just 4 feet away from Darnel, offering her meat on a long pole, which she grabs, allowing you to feel her strength. She is a lot faster than she seems, we are told, but fortunately we didn't have to witness her do more than ominously and slowly crawl. It was thrilling and the crew made the safety rules clear so that we never were in real danger.
We saw baboons and orangutans — they are huge! — in cages, but they have a very stimulating environment with toys and obstacle course items to play with. So the animals are kept engaged and not just caged. For example, they get to paint with paint brushes or their fingers, and we saw that they are given human grade food to eat. We saw ibis birds and the blue amazon, the world's rarest bird, which is an albino parrot. We got to feed and pet a sloth and her baby! Sloth baby!! We hear they have snakes you can hold, too.
We got to pet ancient tortoises that were 150 years old, and to feed them, too. We pet kangaroos, which anyone can do, but on the VIP tour you get to feed them as well, which makes them pay attention better. Next year they'll have a porcupine and a honey bear on the VIP tour that you'll be able to interact with.
It's the world's only place where you can pet a giant condor. We also pet a hairy pig, and got to see up close the nearly extinct cassowary bird, which is the closest living descendant to the velociraptor, and has the dinosaur feet to prove it. The cassowary is the most dangerous bird on the planet, and it's huge, only smaller than the ostrich and emu. They showed us the cassowary as part of a bird demonstration where the audience was stunned by birds of prey flying overhead and doing tricks on stage. They make it look easy, but it was the most impressive birds exhibit that I've seen. You get so close to the birds, far closer than the birds of prey exhibitions at Warwick Castle (5 stars PLUS) and Leeds Castle (5 stars PLUS) in the United Kingdom that I reviewed last month.
Jungle Island goes far beyond most theme parks in having comfort and class. It's not heavily commercialized like Six Flags, where photographer bother you for a paid photo. It's also not snooty like Discovery Cove in Orlando, where they try a bit too hard to make you feel rich — a nice idea, but when the animal handlers are servile, you don't bond with them (and the animals) the way you do at Jungle Island. We left thinking of Ryan as a real friend, and the entire time he spoke openly and honestly with us, not from a script or schedule. You are family at Jungle Island.
Even the elevators at Jungle Island have air conditioning, and air conditioning is a good reason to check out the gift stop. They have a ballroom that can be rented out for events and plan to build out 200,000 square feet of event space. You can even rent out the entire park, as Beyoncé did for her daughter's birthday. The park hasn't yet completed its new website, with the current one not doing it justice.
Their food options go beyond the nachos that you expect at a theme park. I was delighted to find so many healthy options available. They offer local craft beer, or you can order a steak sandwich, baby back ribs, a burger & fries, fried pickles, jalapeno poppers, and much else. We tried the BBQ beef ribs, which were excellent, though the black beans and wild rice deserved spice. We also tried an excellent chicken sandwich, which was juicy. The meals felt healthy and nourishing, wholesome. They added to our energy instead of sapped us on a hot day. Even the french fries were only lightly fried, leaving real potato in the center. The pickle fries were top of the line. Try the lemonade too, which wasn't not sicky sweet but rather delicious and quenched our thirst. It's exactly what we needed to get our energy back on a hot day. Since Jungle Island had only recently re-opened, I'm sure they'll work on the ordering and cooking speed, which was too slow.
As if that weren't enough, you can ride in a "hurricane simulator", a phone booth sized device that spins air like you're in a hurricane. And since we visited, they opened NEOSplash, a water park with four jungle-sized slides as high as 65 feet, with more slides planned for the future.
It's astonishing. Just the animal encounters are so remarkable. You are really making friends, not just passing by glass enclosures. It's by far the best super zoo I've ever been to. Jungle Island goes the extra mile to bring you in touch with animals in a creative, novel way that is also safe.
Then you add the water park, the zipline, the outdoor ground-level skydive experience, the classy food, and so much more. Sometimes I give a rare 5 stars PLUS to an especially good attraction like Jungle Island's regular admission. I wish that I had a 5 stars PLUS PLUS rating for Jungle Island's VIP tour. It is the first place you should go in Miami, which says a lot for a vacation land that has the Everglades. You get all the nature you need at Jungle Island, in a curated way that is densely packed (saves you time). With such a diversity of animals, Jungle Island is even better than Gatorland, which I rated Orlando's #1 Attraction.
We already miss the lemurs. We'll need to return to Miami soon. Trust me, you need to see this. Get yourself to Jungle Island!
See jungleisland.com.