The Maharaja Has Owners Who Know How to Start a Revolution (4.5 stars)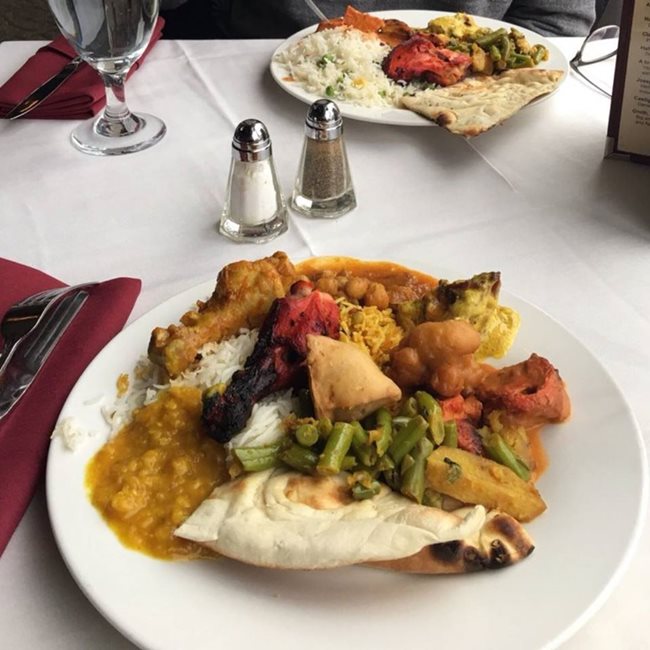 "If my college buddies and I did the things here that we did in India, we would have been sent to juvenile detention," Sajal tells me. Sajal Latka is the co-owner of Maharaja, the Indian restaurant in Harvard Square. He founded the restaurant with two friends from India and he tells me discreetly that they had quite a few antics back in the day.
"Like what?" I ask innocently, pen ready.
"Well, I have kids now," he tells me, "so I don't want them doing any of the things I did. Maybe we shouldn't talk about it."
"Right," I chime in. "Of course." I let my pen and pad drop low enough that they are under the table and less obvious. "So… like what?"
It turns out that their college, one of India's top schools, had a mandatory attendance rule. If you weren't in class 75% of the time, you couldn't take your final exams. You would fail all your classes. But Sajal and his friends lived the student life that is the same everywhere in the world. Classes started at 8am and that was still hangover time.
So, come final exam month, they were in trouble, and even bribing teachers with bottles of rum wasn't working. And instead of studying, they were goofing off.
"Both my friends' father and my father were retired army officers, tough guys, so we couldn't tell them how much trouble we were in," he says. "We had to think of something."
The master plan they contrived was to stage hunger strike. To hear him tell the story, it sounds like Sajal may not have gone on strike personally. Instead, he and his friends recuited kids to go on strike instead, starting on their local campus and soon spiraling to include schools in other cities. The students protested that they hadn't been given enough notice of the mandatory attendance rule. It snowballed out of control, becoming a sensation in the news, and then the political movement of the month nationwide. It was a lot of revolutionary fervor from one tiny desire to get out of trouble and a lot of hype.
I decide that this is awesome. Hey, if smart kids did well on exams, it shouldn't matter whether they went to class.
So, in conclusion, if Sajal's kids are reading this, stay in school. Stay in school, kids! I'm glad we have that straight.
Okay, back to his story. Sajal and his friends dreamed of running a restaurant but didn't have any money. But they did move to the United States and work in hotel management. Finally in 2002 they had the cash to buy the existing India Palace restaurant in Manchester, NH, and then opened branches in Nashua, NH and Chelmsford, MA. Soon they were ready for the big leap to Cambridge.
Despite searching for years for a space in Harvard Square, they found this new location almost accidentally on Craigslist. "We shit in our pants when we saw the rent," Sajal tells me. Without daring to think too long and let the place get taken, just acting on instinct, they grabbed it, hoping to serve the previous customer base of the Bombay Club restaurant that used to be here. Maharaja opened in March 2011.
"So why does Cambridge need another Indian restaurant?" I ask. We have 4 that I can think of and a few that I can't. Sajal replies that Boston lacks a "destination" Indian restaurant, one that is luxurious. Maharaja certainly fits that description. The walls are covered with ornate woodwork, and each table is a pane of glass covering small trays of spices and designs. Even more than India Pavilion, which I think I could argue is a "destination" competitor in Central Square, Maharaja is opulent.
Their cuisine is unsual, too. Sajal tells me it's called "Royal Indian Cuisine", made of dishes collected from the Royal palaces of India. That's what Maharaja means, royalty. Sajal was an army officer's son, and the family was moved many times from town to town. His partner Rohit's father was a retired Brigadier General with a passion for seeking out cooking as well. When you move to a new town, you find that the army base in the middle of nowhere has great amenities, like a golf course and swimming pool. So the local VIPs all want to go to the army base, and you get to know them — and their cooks! Thus, their experience with Royal Indian Cuisine.
For example, they offer Murgh Wajid Ali, "a royal delicacy from the kitchen of Wajid Ali Shah, chicken breast stuffed with paneer and nuts simmered in a creamy saffron sauce." Sounds very royal, and Sajal points out a number of completely unique meals on the menu, none of which mean much to a White Boy like me.
I think on this for a while. Is "Royal" an authentic cuisine, or is Sajal playing another joke on society, hyping a phrase and hoping it snowballs into a revolution? Sajal confesses that he and his friends did make up the term. But it doesn't matter. If the food is good, and is modeled from the royals, then this is how new cuisines are founded. I think it's a great idea.
Sajal tells me that based on customer feedback, they plan to reduce the menu considerably (75%) to just the favorites, and then add a lunch menu and a dessert menu later. (They do at the moment offer a lunch buffet and have a case of Indian sweets out front.)
I try the Lollipop Chicken ($10), an appetizer that is "a very popular Indo/Chinese snack, chicken wings, stuffed with seafood, sauteed with vegetables and finished in oyster sauce". Wow! It's wondrous, like some genius has taken Buffalo Wings, removed the greasy sauce, stuffed it like a turkey, and added a drumstick handle so you can eat them without getting your hands messy. It's delightfully moist, and has no skin. It comes with a dry slaw that is basically shaved lettuce and carrots.
The Chicken Tikka is a more mainstream meal ($18), chicken breast pieces marinated in yogurt and spices cooked on skewers in the tandoor. Tandoor is supposed to be dry, but the chicken is especially dry, too much so for me, despite the rich, potent smell.
The Khatta Dhuandar Gosht ($19) is lamb cubes and ground lamb smoked and cooked with pomegranate seeds in a piquant sauce. It's delicious, a combination of smooth mouth feel from the ground lamb with a very easy chew of lamb chunks. While it's not quite a "wow", I love the sauce. It was definitely oily, though — see the lower right photo. (Indian cuisine is often oily, and I love it, but there can be a price to pay later.) Sajal tells me that this meal is completely unique, not to be found elsewhere.
The naan (bread) was soft, but I let it sit for a while and it loses its heat, perhaps because it was served in a room temperature metal bowl (metal conducts heat away quickly).
Unfortunately, I'm not offered anything else on the menu, so I'm left without a complete sense of its range. Normally I can rate a menu with some confidence. Here I am not so sure. Compared to other places in our "Dining Experience" tier, Maharaja's prices are low. Compared to other places in our "Restaurant" tier, it is pricey — and this is the tier for Maharaja, because despite the amazing decor, you don't have to dress up to go, and there's no live music or cocktail party chic. Sajal tells me that they are aiming to keep it student-friendly, which I'm not sure is compatible with the aim of making it a destination.
As for pricing, most entrees range from $16 to $25. I'm okay with steakhouse pricing, but that sets certain expectations. Does Maharaja rise above the average $18 meal based on taste and portion size?
Based on the only three items I tried, it is hard to be sure. Despite having only the appetizer be a "wow", I am impressed. You absolutely cannot beat the atmosphere here, and Sajal gives every sign of the savvy entrepreneur who will refine the menu towards greatness. I'm going to stretch Maharaja to 4.5 stars out of 5 based more on promise for the future than for where they are now, and look forward to returning to find out if I was right!
As for pricing, there is a 15% discount for students. So grab a student on hunger strike to come with you to Maharaja and pay.
For more, see The Maharaja.