Life Alive is the Non-Preachy Vegetarian Restaurant That's Filling, Tasty, and Safe for Meat-Eaters! (5 stars)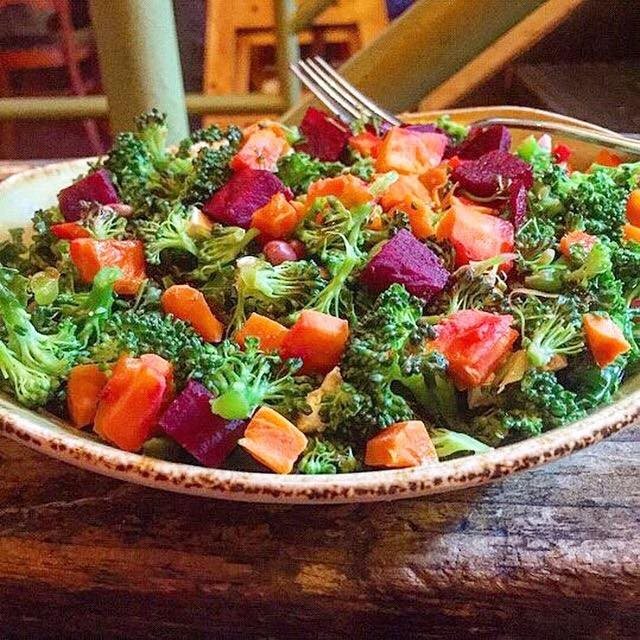 There aren't that many vegetarian restaurants near Boston, although some like The Elephant Walk have a sizeable vegetarian menu, and there's a reason why: most of us aren't crazy. Err — most of us aren't vegetarians, I mean. Did I say crazy? I meant special. Specially tempted to use words like "cleansing" and "holistic", or even worse, "animal testing" and "PETA".
When I meet Bratt Fermeglia, the manager of the Cambridge location, which opened in October 2010, he does use the word cleansing, and describes Life Alive as fast food but healthy, with a cuisine that's "California macrobiotic". I sort of roll my eyes mentally while trying to keep a straight face. I've learned that organic food is sort of a corporate cult. You believe it's healthier because it's marketed that way, in spite of scientific evidence that it isn't.
But I have Life Alive all wrong. "I'm a meat eater," Bratt confesses, and so is Heidi Feinstein, the owner, who founded the cafe and has run its other location in Lowell for 7 years. "Although the menu is all-vegetarian, and mostly vegan, most of our clients eat meat every day."
"So you're saying that I'm safe here," I ask, nervously looking around and only half-joking, "as a guy who doesn't use drugs and can't pronounce 'namaste'?"
To my great surprise, Bratt says yes. "I've worked a lot of places, and this is the truest, the most no-nonsense place I've ever worked for," Bratt says. "The employees all share a role in the creative growing of the business, but we don't have a political agenda to promote or a clique to police. We just want to serve comfort food, whole food, and have customers who say they feel better when they eat here."
In other words, Life Alive is really accessible, a gateway to the vegetarian world for those who want to explore it, while also being a real home to those already in the lifestyle. I believe it. For example, Bratt has no problem with my joking knowingly about a certain local coffeehouse where the staff play music that's so indie it drives out anyone older than 25, and you may find yourself sitting in cramped quarters next to a loitering, drunken homeless guy that the staff is too liberal ("we are all citizens of Planet Earth!") to ask to leave. And there is a certain trendy cafe in Davis Square where the staff get irked if you don't realize it's pick-up and ask them to walk 10 feet to drop off your meal. At Life Alive, while there's no table service, each meal is brought to you, even if you're downstairs.
So Life Alive is different, and the music and interior design mirror that intention. It's two-level, with a cafe feel upstairs and a lounge in the basement with a performance space that doubles as a large play area for kids. Parents will be enthusiastic to hear this because few restaurants — I can only think of one in Cambridge, Full Moon — have such a space. And Life Alive's playspace is larger than Angora Cafe's in Boston, if anyone is keeping track. Life Alive is well lit, with modern colors that blend together. It feels very much like, you know, in the 1960s people had such a boom of creativity that they went off the deep end with swirls and flowers that became garish. Now, in the 2010, the liberal movement is more established, and we're not only creative, we're classy. I was sad that the Hollywood Express, the video rental place, was gone, but seeing this place I have recovered. Life Alive practically pulses with happy energy, and you have got to check out the paintings. If this place doesn't cheer you up, consider medication.
The cushions and chairs in the basement lounge are comfy but the space is more brightly lit and has more back support than the cushions at the nearby Elephant Room. They play trance and ambient on the speakers, happy music, and they have live music Thursdays, which range from funk to reggae to down tempo music. Although the live music can sometimes be loud, they don't use amplifiers, so if you sit upstairs, you can talk and treat the music as background anytime.
One feature of the upstairs "bar" — they serve beer and wine, but aren't allowed to serve coffee because they share the same building with the 1369 Coffeehouse — is an entire display of fresh vegetables. I comment to Bratt that I never buy vegetables because by the time I get around to the chore of cooking them, half have gone bad in the fridge. "I get you," he says. "I've stopped shopping for fresh vegetables myself, because I don't need to. I can get them here."
"Are you ready to try some food?" he asks. I'm not exactly sure what kale is. I brace myself. I am ready.
Unlike the entrees, where the juxtaposition of different flavors adds counterpoint, the drinks come completely blended and with no real texture. I have one word for the drink called "Life Alive": no. It's decorative, with a red on red swirl that's worthy of a Tim Burton movie, but I guess I am just not hip enough for beet juice. It tastes like a massive beet that someone has mistakenly juiced instead of a fruit. It's awful if you are expecting a sweet drink like lemonade. But if you are expecting a V8-style vegetable drink… it's still pretty bad: bitter and without salt or spice.
However, the Vibrance Alive, while an acquired taste you have to get used to, was wonderful. It's frothy like a room temperature smoothie. The main taste is ginger, but it's got distinct, complex layers to it, like an art film you have to watch several times to get all the hidden meanings. It's possible that with practice I'd get used to the Elvis Alive, a mix of peanut butter and cocoa, but I found the peanut part of the mix too sharp and dominant.
Phew. So far, so California macrobiotic. Let's try some entrees. Every entree here is served warm and has a whole grain base, mixed with vegetables and sometimes a sauce or nuts, which you can get as a half-wrap, a full wrap, or a bowlful. Every entree includes root vegetables (going down into the ground) with stalk vegetables (standing right up), and has the right balance of protein and whole wheat. "There's more protein in one of our sandwiches than a chicken sandwich at most places," Bratt tells me. That sounds too good to be true, but who knows? It might be. I decide not to spoil the illusion by asking him for the numbers.
The Adventurer is the local favorite, and it's mine, too. It tastes like an Asian rice dish, but with interesting, hearty whole grains that taste better than brown rice. It has a soy sauce that's not too salty, and it's served warm and crunchy with beet cubes that don't dominate. Hot damn! This is where I start to be truly won over by Life Alive.
The Healer is the most basic of the dishes I tried. It smells great because it's sprinked with lemon rind dust, and it's slightly blander because it comes with no sauce, but you can really taste the healthy, wholesome grains. This kind of pure taste is what Bratt was talking about when he used the word 'cleansing'. It's a word I might start to use too. I do get the idea that I would feel better eating here than at Subway Sandwich Shop, Jared notwithstanding.
The Goddess dish comes with a creamy sauce and is crisper, with chunks of carrot. The Swami — wow! — I just like smelling this dish! It's delicious and filling, like eating a real meal. I can't recall ever having a vegetarian option that's made me feel completely satisfied before. There are several here.
As well as huge salads, and some sides like raw fruit, tofu, and nuts, Life Alive serves grilled tortilla wraps. I try one, the Hot & Healthy Bachelor, which includes eggs — that's meat in my book! — and it has a pure, great smell. This smells just as good as an egg muffin from Dunkin Donuts but it tastes so much better, like it won't sit like a brick in my stomach and I won't feel regret about this later. The broccoli is perfectly chewy, neither too raw nor overcooked, blended and moist, a wonderful combination.
I have to admit that I'm floored by Life Alive, and I don't seduce easily. I just reviewed the Rosebud Diner in Somerville, and said that their good intentions fall short because they just aren't crafting masterpieces of food. I felt guilty about that, but coming to Life Alive, now I know that I was right. Everything I try here (except perhaps the drinks) feels crafted, with a taste and texture that are masterfully mixed, shaped with a deliberate direction in mind. The chunks were just the right size and had just the right variety for the mouth feel, chew, and crunch to blend.
In short, even though I'm a meat eater, I might start coming back to Life Alive — a lot. When I reviewed Angora Cafe, a similar place, they earned 4.5 stars. Life Alive deserves a perfect 5 in my "cafe/pub" category (about our ratings), pegging every single category while at the same time avoiding being preachy. Please, Heidi, will you buy out the 1369 Coffeehouse, too? I think we need more places like Life Alive in Cambridge.
For more, see Life Alive.