Backstage Interviews at Cirque du Soleil: Luzia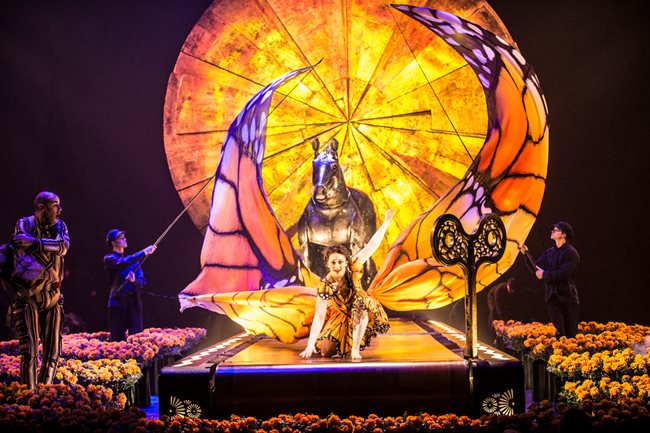 by Megan McCurdy and Johnny Monsarrat
As part of the tour of Cirque du Soleil's Luzia through Boston, their "PR Ninja" Francis Jalbert kindly agreed to an interview. He first joined Cirque du Soleil in 2010.
Events INSIDER: How is Mexico incorporated into Luzia?
Francis Jalbert: Luzia is inspired by Mexico. You're traveling in an imaginary world inspired by the colors, the sounds, the mythology, and other aspects of the Mexican culture that was very meaningful to the creators of the show. Luzia is the first Cirque du Soleil show to travel and to integrate water under the big top. We have 1,500 gallons of water integrated into the show, so we're going to have rain come down and pour on some of the performers. We have pooling under the stage.
Events INSIDER: How did you deal with the rain and how it affects all the different performers? I can only assume it makes things more slippery.
Francis Jalbert: There was a lot of R&D, research and development, to get to that. So first of all we wondered, was even possible to do to have acrobatics under the rain? Then we figured out that by tweaking some of the acrobatic equipment, we were able to make it happen. For example, the trapeze that is used under the water has ropes that come from sailing boats. The bar is made out of wood instead of metals: it's less slippery. The stage was treated as well. We added sand all over before we painted it, so that it has more grip. In the center of the stage, there's 94,000 holes on the surface of the stage, so the water just goes through. So there's no water actually pooling on stage, which allows them to be able to spin and to do the acrobatics.
Francis Jalbert: As with every Cirque du Soleil show, we try to bring new elements to the table, to make our audience travel to a different universe. All the acts that you see in the show are presented in a way like you've never seen them before. For example, we have two performers that are doing an act based on soccer. So they are juggling and dancing while playing with a soccer ball. We never seen that at Cirque du Soleil before.
Events INSIDER: We're going to meet them today, I believe.
Francis Jalbert: You are going to meet them and see them during all of it. We have hoop diving acts we have taken onto gigantic treadmills. So the acrobats actually running on treadmills and going faster towards their hoop as they're diving through it. It's set on a stage that rotates as well so it almost creates a new take on of this traditional Chinese circus.
Events INSIDER: It must have taken a while to get used to compensating for the movement of the conveyor belt!
Francis Jalbert: It did a lot, so with a show like this, it's about two years in the making. The first year and a half will be spent on shaping the ideas, creating a storyboard of the show and other inspirations for it. The performers arrive in the last eight months, so then we start rehearsing, learning to work with the treadmill and figuring out what's possible. We try to find with trial and error what works and also what works for the audience, because sometimes acts that are very difficult don't look impressive.
Francis Jalbert: We also mix in all the other performing arts to our acts. Although there may not be speaking, there's physical acting and dance, mixed with costume art, set design, and technology. So that's what circus really does, we're basically mixing the acts with all the components that make theater plays what they are.
Events INSIDER: I'm impressed that the seating, in a semi-circle around the stage, is so close and intimate. There isn't a bad seat in the whole place.
Francis Jalbert: There isn't! There's 2,600 seats in the middle, but only 26 rows of seats, so even sitting in the back you'll have a bigger, better overall view. If you're close to the stage, you can see all the emotions and see the sweat. Because the stage is always moving, you're looking at the action from different angles.
Events INSIDER: Oh does this rotate? Of course it does.
Francis Jalbert: [taking us backstage] Here we have a full gym, so the artists can come do their own training programs. If they ever need a training program, this can help them with that as well. And here is the wardrobe department, where all our costumes are. We have 1,000 costume pieces in the show and we carry the same number of backups. So that's 2,000 costumes traveling with Luzia! We have three permanent wardrobe staff on tour and we hire locally for people to help them out.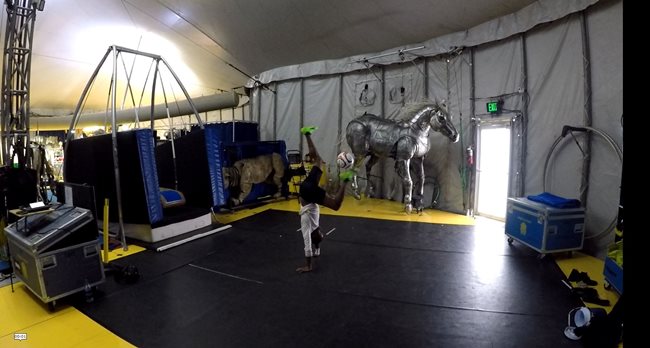 Francis Jalbert: Our costumes are handmade in Montreal, with 80% of our fabric being white Lycra. We do all the hand painting and the hand dyeing in house as well, different colors and everything. For Luzia, there's also a lot of natural fabrics for some of the costumes. The show is timeless, so you don't know where in the past it is or if it's in the present as well, so the costumes are a pallet of all these things.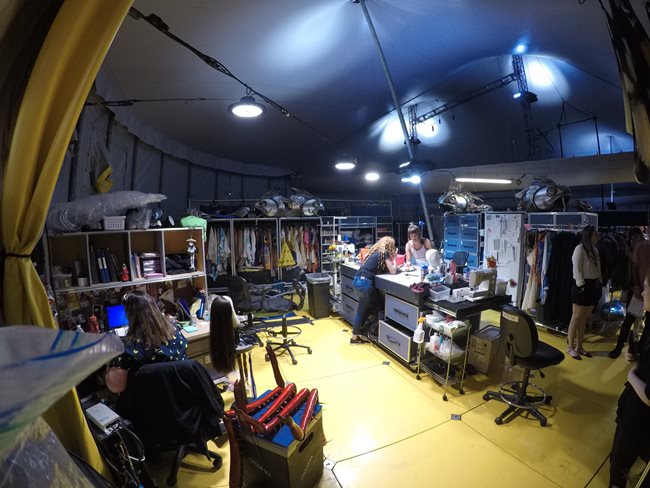 Events INSIDER: It's a dreamworld, right?
Francis Jalbert: It is a dreamworld. The butterfly is one of the lead characters at the beginning of the show. We call her the running woman, and she has 40-foot-long butterfly wings. So we need to iron them and get them ready and prepped. Some of the costumes also mix animal inspirations with everyday clothing so they're half animal, half human.
Events INSIDER: How is does your use of water on stage affect the costumes?
Francis Jalbert: The fabrics that we use dry quickly, so we dry them right away and then put them back on. We don't wear those costumes for the whole show, so right after each act they costumes are put in the drying machines and can be worn again soon.
Events INSIDER: Thanks so much!
Cirque du Soleil's Luzia tours Boston through August 12! For tickets, see https://www.cirquedusoleil.com/usa/boston/luzia/buy-tickets and see my review, Cirque du Soleil: Luzia Amazes with Mexican Feats and Feelings (5 stars plus).