If You Don't See Cuisine & Confessions, You Are A Damned Fool (5 Stars PLUS)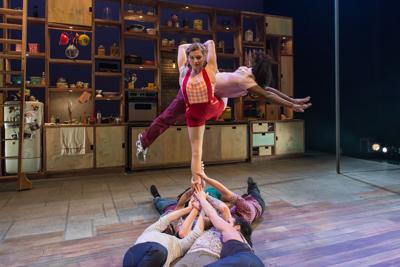 Cuisine & Confessions, July 12 to August 7, 2016, creation and staging by Shana Carroll and Sebastien Soldevila, with Sidney Iking Bateman, Mishannock Ferrero, Anna Kichtchenko, Camille Legris or Heloise Bourgeois, Nella Niva, Emile Pineault or Anna Kachalova, Matias Plaul or William Underwood, and Pablo Pramparo. See www.artsemerson.org.
Montreal has more than one circus, I discovered this week. The new entrant is called the 7 Fingers, and they play at ArtsEmerson through August 7 this year. They are perhaps the opposite of Cirque du Soleil, the other circus from Montreal, which I reviewed last month. Cirque du Soleil goes big, big, big with its staging and costumes, and features deliberately strange and creepy characters. Some of the acts have stories, but they are about fictional characters the performers are portraying. With acts done in silence, perhaps to make it easier to travel internationally, they rarely speak to the audience.
Cuisine and Confessions, by the 7 Fingers (there are actually nine performers on stage), instead is warm and personal. They put you at ease right away. Arrive early, a half hour before the show, and you'll find performers walking through the audience, introducing themselves and serving tea and candy. I even got invited up on stage by a very friendly Melvin Diggs, who throws people more than is thrown in the show, and whose grace made me wonder if he had ballet training. The first thing I noticed was that the stage was springy. They had covered it end to end with floor-colored mats. He introduced me to others in the cast, too. Dressed in everyday clothing, the performers want to make you feel at home. 
No, it's more than that. They are actually inviting you into their home. The stage is literally set up as a kitchen, as though a home, and during the show they invite audience members up on stage to help with the cooking. At the end, they serve pasta and banana bread to those who want to approach the stage. As though the show was created by someone cooking in the kitchen and dreaming about the circus, the kitchen theme and environment enters all the acts.
They toss eggs to each other, and even into the audience. They throw flour around, making smoke clouds. They juggle eggbeaters. Although some of the stunts are clearly set up, others just look playful and improvised, as though the nine of them are just hanging out on stage, throwing things to each other, and tumbling. Obviously it's all choreographed, but I found it remarkable how natural it seemed. Melvin told me it was controlled chaos, and the acting is perfect. Even something that we're used to, such as Anna Kichtchenka's aerial silk dancing, is transformed into a scene where she seems to be just doing the laundry but is then lifted into the air to dance.
The stunts will make you gasp out loud at times, and there were several times when the audience was so stunned that they forgot to clap. But the troupe doesn't aim for big, big, big. Instead it's more of an arty dance, very elegant, the music ranging from hip hop, to classical violin, to classical piano, to 1940s crooning. With the exception of the aerial silk, all of the stunts are done brute force, with sheer strength rather than with machinery, My favorite was when they climb and do stunts up and down on a 25-foot pole. I don't want to spoil it, but it's both impressive and dramatic.
I say dramatic, because as if the above weren't enough, then they tell you their personal stories on stage. Often all nine performers were tumbling at the same time, or throwing each other bodily. The show was mostly acrobatics, and it was mostly uplifting and sometimes dramatic how they wove in personal stories, almost all stories of shared family dinners in the kitchen, or assaults in the home that is centered on a kitchen. I sensed that it wasn't manufactured, that they really were telling either their own stories (or real stories from the people who wrote the show). These stories were then told interspersed with circus stunts and juggling.
It was easy to see why they've won so many international awards and why they return to ArtsEmerson every year. I have to admit, I came into Cuisine and Confessions not really getting it. They're going to cook on stage? Then I felt ashamed for doubting the show. If you have your own doubts, dispell them. Events INSIDER is a labor of love, one that we do because we work to support the arts and help draw you to events that you will love. This is one of them. It's great for kids, too. I enjoyed it a bit more than Cirque du Soleil, actually. It wasn't as big but I almost feel like I made some friends. As well as the food, in the brochure to take home with you, are the recipes for what we made together.
My only regret in giving Cuisine and Confessions five stars is that I do not have six stars to give. Take it from someone who knows good from bad, and loves interactive experiences. Drop your mixing bowl and apron, and go see Cuisine and Confessions before it ends August 7. It is the best show of the summer so far, and I look forward to seeing them again next year. If you don't see Cuisine & Confessions, you are a damned fool. I'll give it 5 stars PLUS.
See www.artsemerson.org.