Christmas Holiday Light Displays Near Boston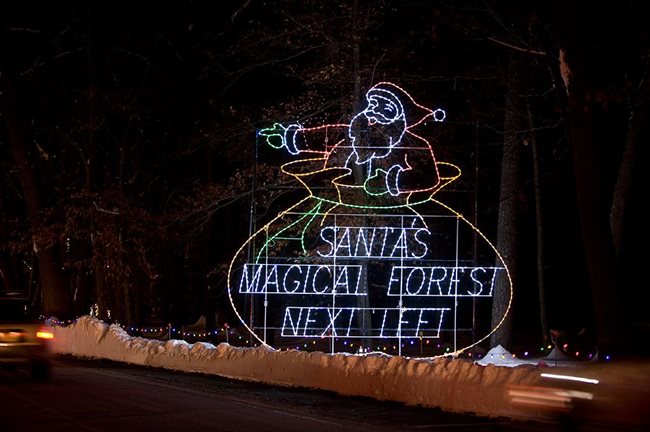 Events INSIDER tracks more than 50 holiday light displays in New England. It's a great excuse to explore and be outdoors at night, admiring the stars and thousands or even millions of holiday lights. Destinations are sometimes very religious, like the La Salette Shrines, but are generally pretty secular and often inclusive of other faiths.
Here are some of the ones open this week closest to Boston! An "S" indicates that something special is scheduled for that night, such as caroling or a visit from Santa.
Holiday Light Display
City
Sat 12/9
Sun 12/10
Mon 12/11
Tue 12/12
Wed 12/13
Thu 12/14
Fri 12/15
Sat 12/16
Stone Zoo's Zoolights
Stoneham, MA
x
x
x
x
S
x
x
x
Holiday Landscapes – The Lights at Gudzevich Residence
Stoneham, MA
x
x
x
x
x
x
x
x
The Sachs Family Light Display
Bellingham, MA
Lighted Winter Wonderland & Santas Big Party at Charmingfare Farm
Candia, NH
x
x
x
x
Gift of Lights at New Hampshire Motor Speedway
Loudon, NH
x
x
x
x
x
x
x
x
Christmas Lights at La Salette Shrine & Center
Enfield, NH
SS
x
x
x
x
x
S
SS
Candlelight Stroll at Strawbery Banke
Portsmouth, NH
x
x
x
Christmas at the Newport Mansions
Newport, RI
x
S
x
x
x
x
x
x
Pawtucket Winter Wonderland
Pawtucket, RI
x
x
Edaville Railroad's Christmas Festival of Lights
Carver, MA
x
x
x
x
x
x
x
x
La Salette Shrine Festival of Lights
Attleboro, MA
x
x
x
x
x
x
x
x
Leicester Christmas
Leicester, MA
S
x
x
x
x
x
S
S
Christmas by Candlelight at Old Sturbridge Village
Sturbridge, MA
x
x
x
x
A Christmas Journey at the Worcester Ecotarium
Worcester, MA
x
x
Winter Reimagined
Boylston, MA
x
x
x
x
x
x
x
Cape Codder Enchanted Village
Hyannis, MA
S
x
x
x
x
x
x
S
Heritage Museum Gardens Aglow
Sandwich, MA
x
x
x
x
Holiday Lights at Lake Compounce
Bristol, CT
x
x
x
x
Santa's Trains at Look Park
Florence, MA
x
x
x
x
S
x
x
x
Six Flags New England Holiday in the Park
Agawam, MA
x
x
x
x
Bright Nights at Forest Park
Springfield, MA
x
x
x
x
x
x
x
x
Santa's House
West Springfield, MA
x
x
x
x
x
x
x