Heritage Museums and Gardens is My Favorite Cape Cod Destination (5 stars)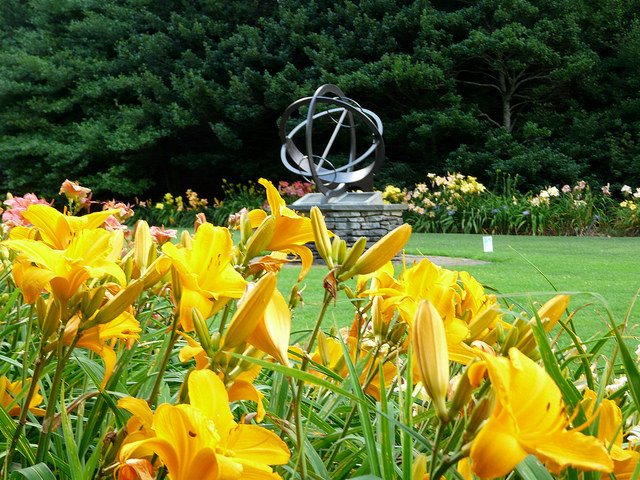 Heritage Museums and Gardens is my favorite destination on Cape Cod, proving that you don't need to come just for the beaches. In the spring and fall, the "shoulder months" surrounding peak summer tourist season, it's a fantastic centerpiece for your Cape Cod weekend. It's based in Sandwich, Massachusetts, the entranceway to Cape Cod and as close as you can get there to Boston. And now it's across the street from an athletic treetops ropes course with ziplines, Heritage Adventure Park, and make sure to stop into the Sandwich Glass Museum nearby where you'll see real glassblowing.
At Heritage Museums and Gardens, you'll find the largest garden in southeast New England, 100 acres for walking and sitting. The signage is good, so you'll never get lost, and you can learn the names of the plants and trees. It's remarkably well groomed; they make it look easy. The flawlessly beautiful pathways are a mix of convenience, including paved pathways for baby carriages, but also natural-seeming. They carry you around unexpected turns until you find a pathway made of blue flowers, a delightful twist, bringing a sense of awe and the feeling that you've made a discovery. The gardens reward exploration, unlike (to me) somewhat dull Boston Common. The attraction is full of little grottos such as The Flume, a water transit with waterfall, and the Hidden Hollow, which has a tree house and a sand pit for kids to play in.
The venue is also alive with activity. They have a summer camp where kids can learn science and technology skills, school break programs, a performance venue, and a remarkable series of creative events including auto shows, flower shows, a Halloween special, festivals, and Holiday lights. You'll often find someone giving a lecture, and volunteer tour guides are plenty to answer your questions.
As if that weren't enough, then you have a world-class museum, with a focus on American art. You'll find the history of automobiles, wonderfully curated with videos and interactive exhibits, accessible to both kids and adults. We were impressed especially with the museum of Americana. Oh, it's horrible to say this out loud, but I sometimes find a museum to be one hallway with paintings, one hallway with vases, one hallway with statues. I'm thinking for example of the Norman Rockwell Museum in Stockbridge, another Americana museum, which is worth seeing but too homogenous and not creatively curated (as of the last time I was there, 15 years ago). I was glad to find at Heritage a remarkable variety in their exhibits. It's just engaging, balanced, interesting to walk past quickly or to take a deep dive into. If your legs are tired, the museums have plenty of seating.
And then visit the indoor, all-weather carousel, which you can ride and with an exhibit on how carousels are made. You can easily spend an entire day at the Heritage Museum and Gardens, especially if an event is happening. What a wonderful gateway to Cape Cod, in any season of the year. It's an easy 5 stars, not quite a must see, but well recommended.