Haunted Speakeasy Takes Masquerade Balls to the Next Level in a Real Mansion (5 stars)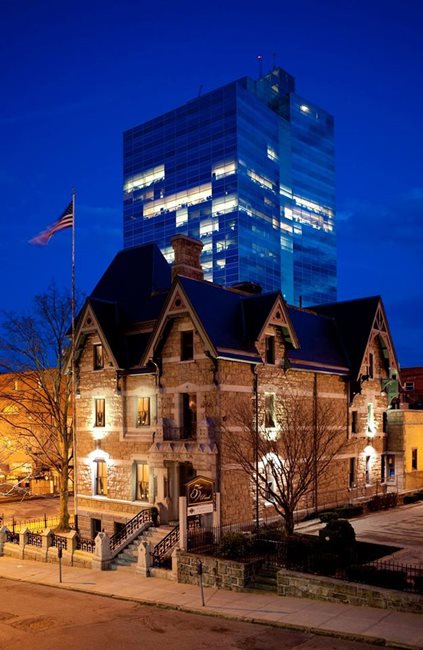 I love to dance and to meet new people, but regular nightclubs bore me. It's too loud to speak with anyone, and no one seems to know what to do. But there's a fantastic series of parties an hour's drive west of Boston run by Haunted Speakeasy, a production company, that brings out your theatre geek. They're themed costume parties with performances, in a nightclub setting that's part of Bull Mansion, a three-story mansion that has a restaurant on its first floor.
Past themed parties have included Mobsters and Molls of the 1920s, and a Haunted Night of Spirits, but the party I reviewed was "Playbull Mansion", a reincarnation of the Hugh Hefner smoking jacket and Playboy bunny outfits. We ate first at the Bull Mansion restaurant on the ground floor, which has free private parking and is separate from the nightclub space. Service was having a tough night, but the marbled glass and wood set an upscale atmosphere without breaking our wallet. The "New American Bistro" serves humble hamburgers and veggie soup up to deviled eggs and a center cut filet. The food was delicious, layered, and came with a good presentation. They have beer and cocktail menus as well.
The actual party was on two levels upstairs. We were pleasantly surprised to find how many arty and daring guests dressed the part! Unlike most nightclubs, where the dance floor is the only space, they had a large ballroom for performers and offshoot rooms. One had nostalgia vendors selling back issues of Playboy from the 1960s, similarly-themed posters, and sex toys. Another was the VIP room, where they served food. Then upstairs you could get a professional photo taken for free, and a mingling room with a Foosball table and sofas.
The decoration and music set the 1960s mood, and we saw many burlesque performers entertaining the crowd. Those in attendance seemed classy and respectful — this was not a frat boy environment of gawkers, and we didn't see anyone drunk or acting out.
The setting was not perfect. If you weren't at the front of the crowd, it was hard to see the performers, who were not on a raised stage, and the performances took the crowd's attention so much that there was less mingling than we'd hoped for (everyone was paying attention), and the music wasn't the most danceable, not that you'd want to dance when you're watching a striptease anyhow. We suspected that few even knew about the photo room upstairs, or there would have been a long line there.
However, unlike most nightclub experiences, in the offshoot rooms the music wasn't so loud and you could really talk amongst yourselves and with others. The mingling room, sometimes called the "makeout room", was comfortable and the mansion setting was classy. The theatrical spirit of Haunted Speakeasy and its costumed attendees, put us perfectly in the theme of the night — far more so even than a delightful but generically-themed "masquerade". It's a remarkably fun way to express yourself creatively and meet some people. I think it could even be extended with a party game that would give guests, who may be too shy to start a conversation, something to talk about at first.
This was an early attempt at the Playboy theme, and I'm sure there's even more polish to their other events. So 4.5 stars for Haunted Speakeasy but call it 5 stars for their originality and potential.
Find the Haunted Speakeasy on Facebook and other events at Bull Mansion including a Clue! Murder Mystery Night this Friday.