The Dreamland Wax Museum Has More than 100 Wax Celebrities, from Boston and Beyond (5 stars)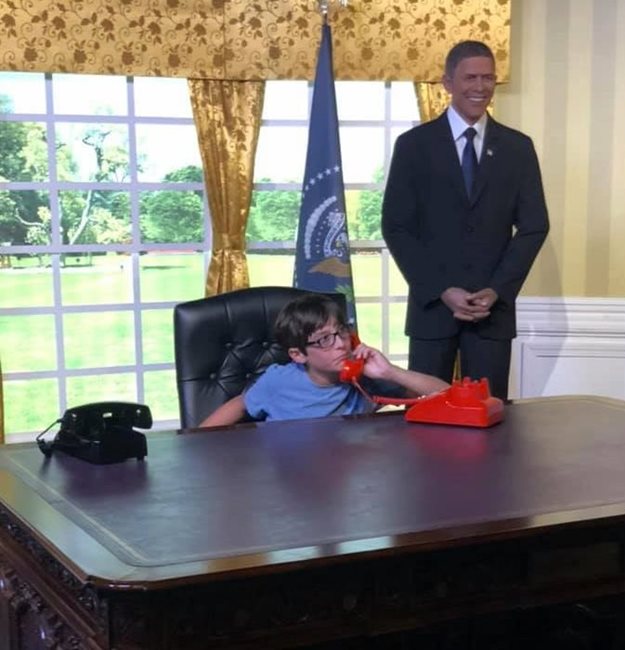 New England now has a wax museum! While you can find many museums with mannequins, including the New England Pirate Museum, Whydah Pirate Museum, Mashantucket Pequot Museum, and Salem Wax Museum, and the Witch's Dungeon Classic Movie Museum in Connecticut has some horror movie figures, now there's a genuine celebrity wax museum, in central Boston. It's the Dreamland Wax Museum, set near Boston City Hall Plaza where Paul Revere's silversmith shop once stood. That's a convenient location to every subway line, and other tourist destinations, that's a short walk through more than 100 wax figures of celebrities, politicians, and other icons. It was opened in 2017 by direct descendants of Arthur Fiedler, the long-time conductor of the Boston Pops Orchestra.
It's important to set your expectations before you go. It's exceptionally hard to make a wax figure that looks identical to a famous person. Any wax museum, even the famous Madame Tussaud's, does not get it perfect very often. What they do get right is to give plenty of space around each wax figure for you, or even a group, to take a photo. Dreamland offers Wi-Fi and even an augmented reality mobile app to accentuate your visit. Most of the figures come with a diorama setting to give a realistic 'background' to your photo, and some have props, too. While there's not much 'museum' education, there's a Boston exhibit that describes local history from Native Americans to the American Revolution and beyond, which has Dreamland's only computer monitor display.
You'll find a reasonable likeness of Ben Stiller, Matt Damon, and Whoopi Goldberg. The Tom Cruise was not so good, but I got it on my first guess. And there's a fascinating exhibit with every American President, each with a placard that tells you about his term. Just the hall of presidents is worth the price of admission! My favorite was Martin Van Buren, who has the craziest old-timey hair. LBJ is the one that looks the closest to real life. It was so interesting to read about the various presidents, and to take in the overwhelming lack of diversity.
At the end of the presidents exhibit, you can sit in a replica White House Oval Office, and get your photo taken with either Donald Trump to the left or Barack Obama to the right. (Mercifully, both diametrically opposed presidents are equally off from realism. I don't think my heart could take it if Trump looked perfect and Obama didn't.) It's just $13 for a printed photo or digital photo on a flash drive. There's also a lectern with the Presidential Seal where you can stand pretending to be president giving a speech. Elsewhere, you can get your photo taken against a green screen, to what purpose I'm not sure.
There's a religious area with a Pope Francis, Gandhi, and Dalai Lama, a British royalty exhibit, where the Queen Elizabeth is quite good, and you can walk into a British phone booth. Even the statues that don't perfectly match a celebrity likeness are often perfectly life-like. A couple of times I thought to myself, if that's an actor posing, and he moves, I'm going to scream. Many of the sculptures have bare arms and you can see their veins. Most of the wax figures are standing, but you can sit on a chair next to Oprah, as though she's interviewing you.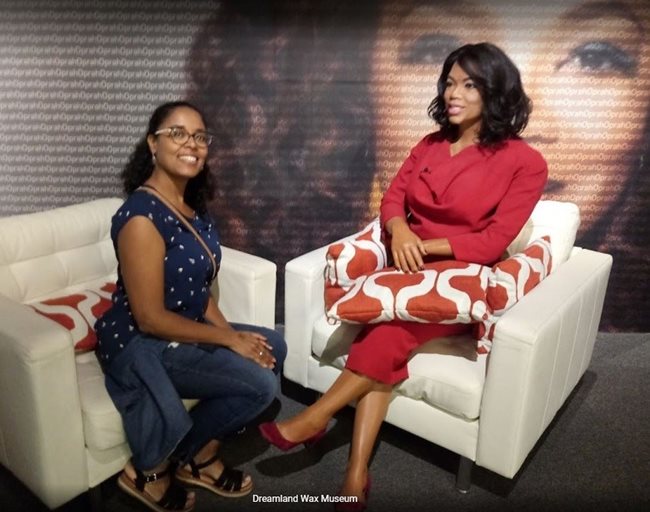 Dreamland is smart to have celebrities for all ages. For the old, you'll find Audrey Hepburn, James Dean, and Marilyn Monroe. For the young, you'll find Peter Dinklage from Game of Thrones, Justin Bieber, and Katy Perry. In the middle, you've got Al Pacino and Michael Jackson. My favorite likeness was Snoop Dogg, who's sitting menacingly on a bench, and when you turn the corner he's just there. Wow!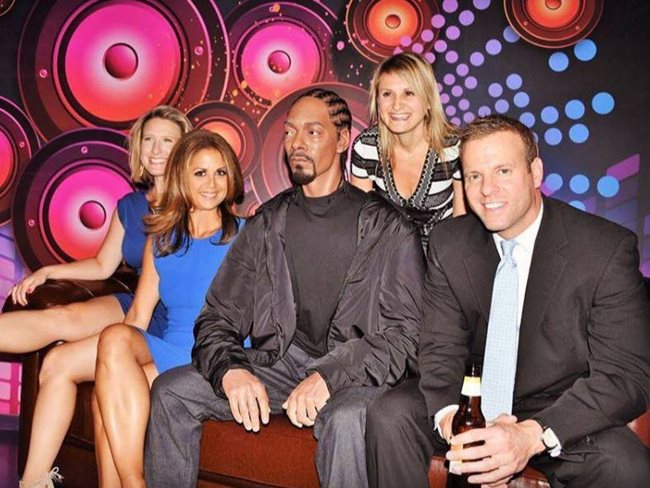 They've also got a sports area with Tiger Woods, Muhammad Ali, and Boston Celtics and other local heroes, and a high-tech area with Einstein and Bill Gates. The Mark Zuckerberg figure looks creepy, but he looks like that in real life. On your way out, they take out the big guns with figures including Brad Pitt, Will Smith, and Leonardo DiCaprio.
I've read that the figures at Dreamland were made from photos (I mean, you have to start your museum from somewhere by quickly building a critical mass of figures!), but they plan to add 5 new sculptures a year taken from live measurements that will gradually increase the average quality of the museum's likenesses. Of course they have a gift shop, with bobbleheads, soda, mugs, shot glasses, candles, branded both Boston and Dreamland Wax Museum. Their bathrooms are spacious and clean. I read that they bring some wax figures over to Faneuil Hall Marketplace in warm weather for attendees of their outdoor movies, and that they plan to add a Conan O'Brien. The gender and racial diversity of the wax figures is acceptable. Of course you can rent out the museum for special events. They have group rates, and you'll find coupons and tourist deals if you look.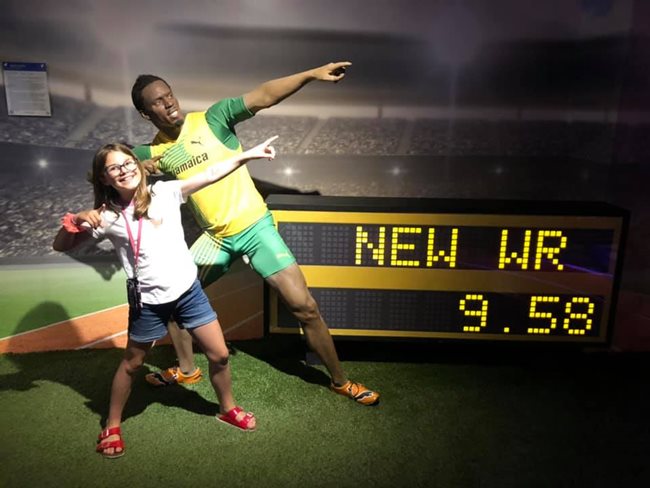 There really is something for everyone at the Dreamland Wax Museum. It's just a 20-minute experience, call it 30 minutes if you take a ton of photos. But it's highly worth it: the only wax museum in New England! The hall of presidents is so unique and informative, and there's nothing like the Oval Office photo opportunity. There are so many celebrities of different types that everyone who visits is bound to find a couple of sculptures they are thrilled to get their photo taken with.
I'm sure that as time goes on that they'll add more museum wall text, video, or interactive exhibits to keep guests on site for longer. And unlike wax museums you'll visit while traveling, there's a high level of Boston representation among the celebrities. It is a Boston original, and we are lucky to have it. I'll give Dreamland Wax Museum a full 5 stars.
For more, see the Dreamland Wax Museum online.