Cranmore Mountain Resort Has a Theme Park in the Sky (4.5 stars)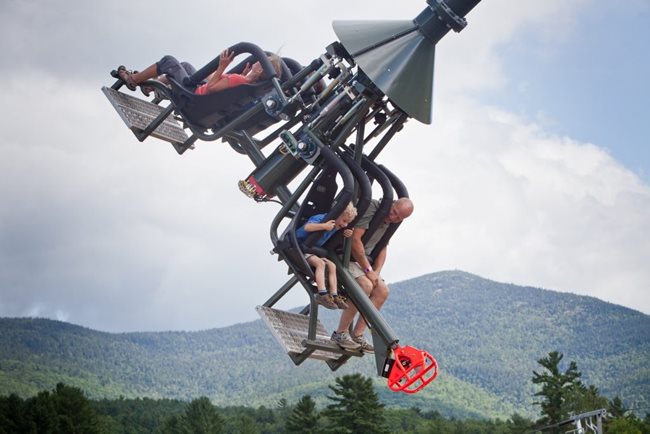 In the winter, Cranmore Mountain is one of New Hampshire's many ski resorts. Then in the summer and early October, you can visit them for hiking, a chairlift ride to the peak, and and other outdoor adventures.
While Cranmore is only 1,667 feet tall, far shorter than Wildcat, Cannon, Loon, Waterville Valey, and other nearby mountains, their permanent attractions are superior, a small theme park. Wonderfully, their attractions are not kids' rides. Adults will enjoy them, too. But they also aren't larger-than-life thrill rides at Six Flags, which (at least to me) require too much courage and can cause nausea. They are all in a comfortable middle.
The mountain coaster is a roller coaster built into the slope of the mountain. You race up to 25 mph, but it feels much faster because you're racing just a couple of feet off of the ground! It's a smooth ride that won't rattle your bones like many roller coasters. Or try the Soaring Eagle Zip Line, which first pulls you up the mountain slope and then drops you. It looks scarier than it is, thank goodness! There's also a giant swing, which only goes backwards and forwarding, so is less nausea inducing than rides that spin. Our favorite was the summer tubing, where you sit on an inflatable tube and soar down a slope. You'll get damp but not soaking wet.
Find also the Aerial Adventure Park, where you walk through an obstacle course set into the trees, crossing from tree to tree on rope bridges and other hanging supports. Expect an athletic challenge to take this on.
Just for kids, there's a sluice for "mining" dirt to find gems, a climbing wall, and an obstacle course bouncy house. (Actually, as an adult I tried the obstacle course. Great fun!) With "Knockerball", you wear an inflatable bubble like you're a sumo wrestler and bounce off of other people. We were pleased to get WiFi coverage everywhere in the attractions.
So we were already having a great time and hadn't even gone to the summit! The chairlift to the summit seats 4 people, and is open air, so you feel more like you're bonding with the environment than in an enclosed gondola. It is slightly scarier to be out in the open, but there's a safety bar over your lap, and you wave to the people heading down as you head up.
At the summit, you can walk around taking in the sights. Of course you may hike up or hike down. They've got a little restaurant, the Meister Hut, where you have to order from the counter, though they will deliver to your seat. You'll find "Sunday Brunch" on their events calendar, but it's just, at the counter you can also order breakfast foods.
Of course you can stay on site in their resort, or reserve a site for a wedding or other private function. Not as tall as its competitors, but with plenty of great activities, Cranmore Mountain is a great destination. I'll give Cranmore Mountain's summer activities 4.5 stars.
See cranmore.com.