Cafe Amici May Be the Best Restaurant in Charlotte Amalie, St. Thomas (5 stars)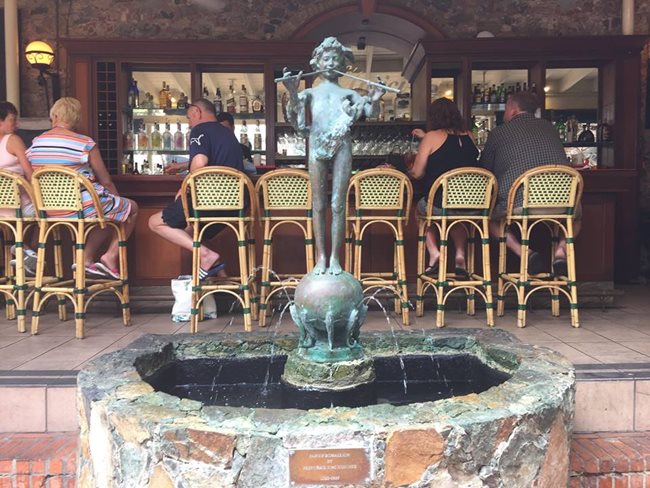 Cafe Amici is an Italian and pizza restaurant in the heart of the shopping district of Charlotte Amalie, the capital of St. Thomas. At Events INSIDER, we are more explorers than shoppers, getting out into the countryside for outdoorsy activities and the arts. But we came into the city just to try Cafe Amici, passing the outdoor bazaars with handmade crafts, cute gift shops, and a surprisingly large population of jewelry stores.
It's an outdoor restaurant, but with plenty of shade and ceiling fans overhead, sandwiched into a narrow pedestrian alley that prevents any view except for vines on the alley walls, the many shops, and a glimpse of water at the very end of the lane. We sat on the restaurant porch, raised slightly above the alley walkway, at a circular marble table with comfortable seats. The upscale casual look includes walls of brick and stone, and there's a bar with an extensive array of drinks. It's fun, inviting, and attractive, but not pretentious. Even the drink glasses are interesting. They play light pop music.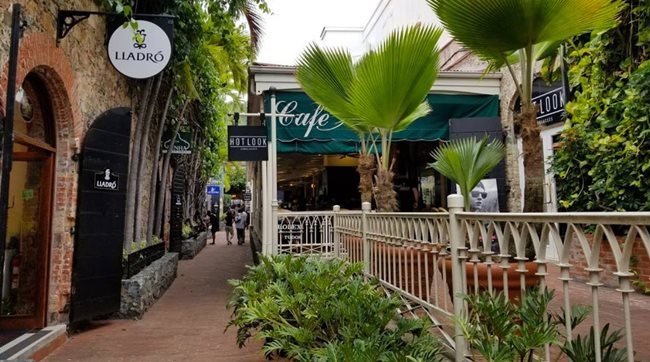 On the menu, you'll find an array of wines and specialty cocktails including an Island Sangria, Raspberry Limoncello, Caribbean Blue, and Spicy Mango Tango. For an appetizer, try the Sausage & Peppers, Stromboli Bites, or Bruschetta Flat Bread. They also offer wraps, paninis, and salads including Sicilian, Caesar, Greek, and the Amici Carpaccio, which is thinly sliced ribeye, with greens, parmesan cheese, and garlic, in a balsamic sauce. They make their own pizza dough on site, and you can get a Quattro Formaggi (Four Cheese) Pizza, a Chicken Pesto, or a Tony Russo, which is Italian sausage, spinach, artichoke, and mushroom with a vodka sauce.
We got a strawberry smoothie, which was delicious, not sick-y sweet. It came generously sized and served smooth and cool in a decorative glass. We also tried the BBC, the Bailey's, banana, and coconut. It looks like a blended ice cream soda, really sweet, and you don't taste a tart alcohol taste. The coconut gives it a nice tropical feeling. They were each perfect drinks to cool down.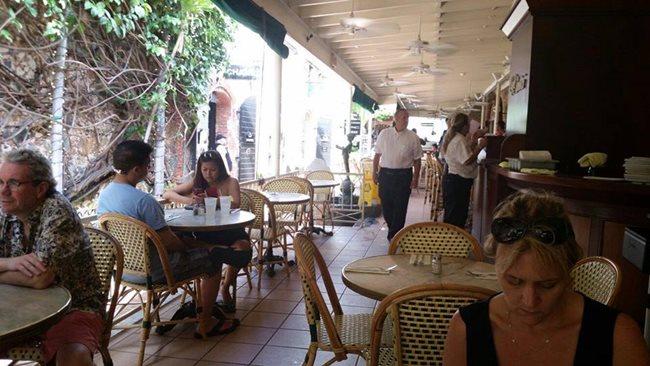 We tried the Mama's Meatballs appetizer. They are heavenly! They are three big meatballs with Italian herbs and cheese. The meat is high quality, dense, and complex. The sauces is not too greasy, but instead really hearty, with such a powerful, tomato taste. It tastes home-y, like your Italian grandmother made it, if you don't have an Italian grandmother.
I'm not used to saying "wow" over a salad, but wow! The Caprese Salad came presented on a long, rectangular white tray, with a ring of cherry tomatoes and cheese offsetting each other. Its balsamic reduction glaze is viscous and high impact, and the cheese is a good substrate for the more potent salad tastes. You would not fill up at all with either appetizer, and a slightly larger size might have been nice.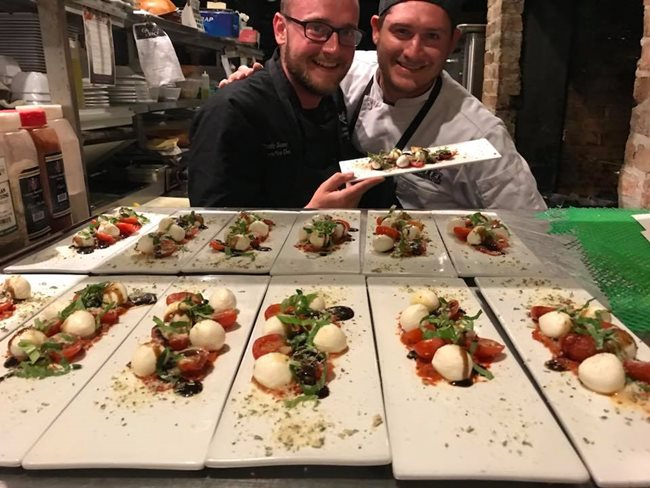 Service at Cafe Amici was outstanding. Staff answered our questions and our food came out quickly. We took a moment just to admire the pizza before digging in. Just their smell was delicious! The BBQ Jerk Pizza has pineapple and spicy jalapenos, and wow, it's got a real kick to it! The jalapenos do slightly bury the taste of the rest of the pizza, but this is no average barbecue chicken pizza. It's an original, signature pizza. The pizza dough is dense, but thin enough that there's no problem finishing it. We were glad that they didn't dump cheese on it or make it super thick or greasy.
The Wild Bella Pizza was also unique. Usually, when you have tons of arugula, then all you taste is arugula, but with this pizza it's actually helping. It adds more texture to the pizza. It comes with mozzarella sprinkle and roasted garlic on top. It's not spicy, and has too much cheese to call it energizingly hearty. It is great tasting, though, and the pizza dough is perfect. It has been cooked properly, but it's light and airy instead of wet. It's easy to chew, and not so dense that you need to sip water just to get through it. The crust is like eating garlic bread, and the red pepper flake and cheese shakers on our table were not needed at all for either pizza.
Although the menu and view weren't as extensive as elsewhere in St. Thomas, the unique, signature dishes through appetizer to entrees make Cafe Amici an easy 5 stars. Without having explored much the restaurant scene of Charlotte Amalie, it's tempting to speculate that Cafe Amici may be the best restaurant in the capital region.