The 39 Best Exhibitors from the Boston Travel & Adventure Show (4.5 stars)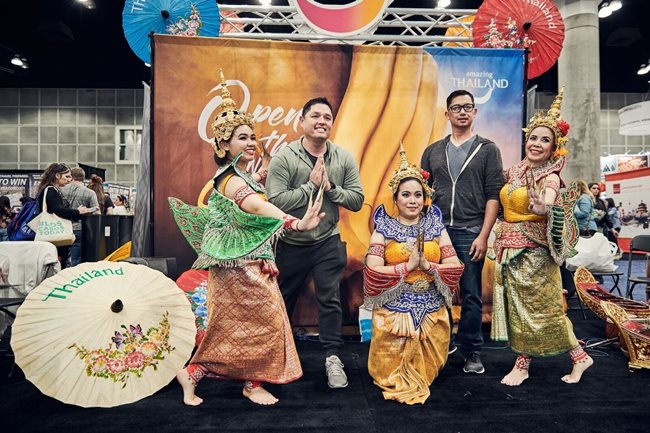 Boston's only travel show, The Boston Travel & Adventure Show, happens each January, bringing you nearly 100 exhibitors, iarncluding speakers where you'll learn savvy traveler tips, and stage performances where you may see, for example, Thai dancers who inspire you to visit Thailand.
At the exhibitor tables, you'll meet tour companies and tourism offices representing destinations all over the world, and if you're feeling an impulse, you can even buy a vacation package on the spot. There was plenty of creative energy, and I'm glad to give the show 4.5 stars.
Here are some of the tourism organizations that I spoke with, and you can see the rest on their expo hall map. These are professionals who believed so strongly in the value they offer to Boston that they traveled here to have a presence. They are worth your taking a look.
David McGuffin's Exploring Europe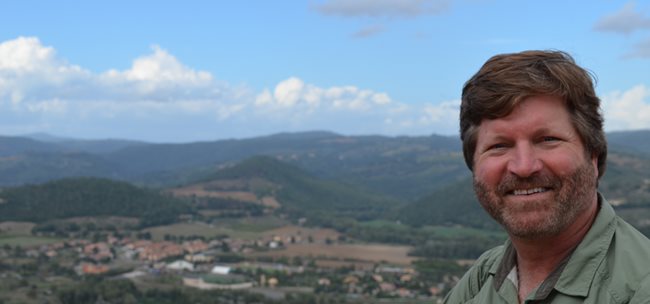 These tours attract a fun-loving group of people who want an active travel experience offered in an approachable and worry-free manner. Their tours cover all of Europe, from Ireland to Greece. They believe all travel is an adventure that leaves lasting positive memories, empowering you with the knowledge, guidance, and confidence to embrace the adventure, seize the moment, and have fun.
David told me, "I've been doing this for 20 years now, where we take small groups of 6-18 people all over Europe. I've got connections everywhere we go, know the destinations like the back of my hand, and have friends all over the place. We like to connect our new travel partners with those friends and give them an authentic experience in Europe."
Their tours let you encounter real locals outside of the tourism industry. "Let's say you're on a tour through Tuscany. We go to a little town called Volterra," David continued. "It's off the beaten track, a little hill town, where we visit with a young lady named Claudia who owns a small vinyard and restaurant. You tour the vinyard, do a cooking class with them, and in September we even help them harvest grapes for their wine."
See David McGuffin's Exploring Europe for more.
TravDek (Asia)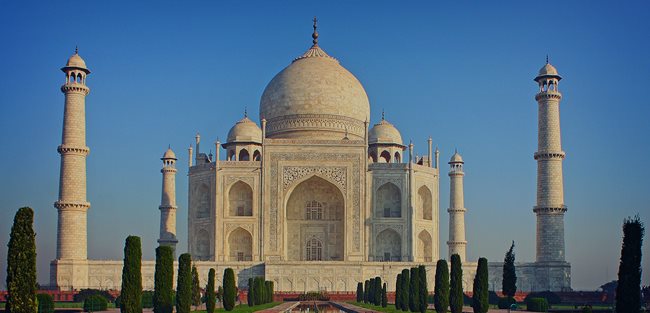 TravDek runs tours in East Asia and South Asia, and with a limit on 11 destinations, their competitive edge is expertise. Sandeep Talwar, President, told me, "We know our destinations, unlike competitors who really don't know. Our trips are more varied. We do have fixed date tours, where you want to just check off the must-see destinations. Then we have trips where you can modify them to better suit yourself."
Each trips follows one of several different themes that include architecture, heritage, culinary festivals, wildlife, yoga, trekking, photography, and spiritual. According to Sandeep, "Any itinerary that you pick up is 80% geared towards the theme, and the remaining 20% is the check-off-list. For example, if you do India, you'll want to see the Taj Mahal, which is fine, but it will be geared towards for example, your culinary taste. You'll learn the cuisine of each of the cities that you visit, all the local tastes that you get. You can understand the food and the culture. Or our architecture trip, which runs all the way from the ancient Indus Valley civilization up to modern architecture."
"Instead of sightseeing," Sandeep said, "we call it sight doing, depending on what your interest is. For example, if you're interested in photography, we'll get a photographer who will sit with you and talk with you about local things. And for culinary, we present the cuisine of India through the history of invasion of India. As you know, India has been invaded by the Persians, French, Dutch, British, so you take for example the samosa, one of the most celebrated dishes of India, but it was actually Persian originally."
For more, see TravDek.
Poseidon Expeditions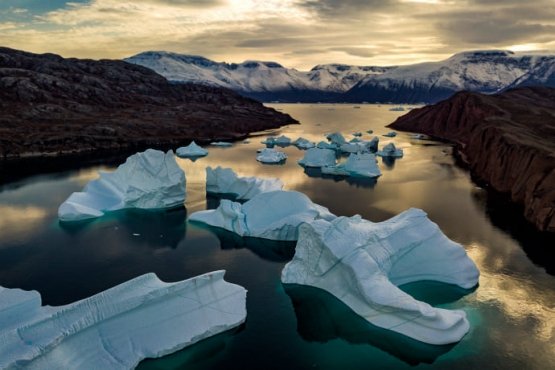 Poseidon Expeditions, with its US office in Providence RI, is a relative newcomer to New Englanders as a small boutique cruise operator. What sets the travel company apart is its focus on the polar regions – Antarctica, the high Arctic and even the North Pole. Imagine traveling aboard the nuclear-powered Russian icebreaker 50 Years of Victory as it plows through nine feet of frozen Arctic Ocean to achieve it's goal of 90º north latitude, the Top of the World. Along the way, visit Franz Josef Land, an archipelago of 192 islands in the Russian high Arctic, one of the newest frontiers of polar adventure cruising.
Other Arctic destinations, May through September, include East Greenland, with towering fjords, icebergs and its indigenous Inuit population; and Svalbard – land of polar bears, whales, and remnants of the Heroic Era of polar exploration. With Poseidon, you'll travel with polar specialists – marine biologists, ornithologists, historians, geologists – who will guide you ashore at daily landing sites, and provide insightful presentations aboard the comfortable 114-passenger Sea Spirit.
In the Southern Ocean, explore the Antarctic Peninsula – home to millions of breeding penguins as well as seals, whales and otherworldly landscapes – as well as South Georgia and the Falkland Islands. The Antarctic season ranges from late October through early March. Poseidon is a top-notch rated company on the third-party review site TrustPilot where it scores 4.9 out of 5.0. Small ship polar cruising with Poseidon is the best way to explore these frozen ends of the earth.
For more, see Poseidon Expeditions.
Cruise Travel Outlet

Based in Southern New Hampshire, Cruise Travel Outlet is one of the the largest cruise retailers in the country, and an affiliate of Cruise Holidays, the idea being that the larger your travel agency, the more power you have, and therefore the better discounts they can wring out of cruise linse. Cruise Travel Outlet came to the Boston Travel and Adventure Show with banners from Viking Cruises, though I see on their website that they can book you witih 19 different cruise lines, some of them giant ocean cruises and some of them smaller river cruises.
Amy Delia, Luxury Cruise Sales Specialist, told me about their river cruises through Viking. "Viking is a great cruise line, a great way to see Europe, and river cruising is a completely different experience than ocean cruising, like a boutique hotel that travels. They run small ships of about 100 guests that travel through the intricate rivers of Europe, so you wake up in a beautiful new city every day. All of the guided tour shore excursions are included, and beer and wine are served with dinner."
Amy implied that these river tours won't make you feel so jostled as an ocean cruise where passengers explode into a destination town and take it over. "With small, boutique ports of call, you really immerse yourself in the culture. There's a lot of time in port, so that's the focus. You'll get off and enjoy where you're at. On board, there's also always plenty to do, and the staff get to know their guests. There's a real sense of community once you're on board, with a great guest-to-staff ratio."
Their website says, "We will never be undersold by the Internet Giants and you will never be under-serviced."
For more, see Cruise Travel Outlet.
Audley Travel (Worldwide)

I once went to rural Mexico planning to write a book that would be set there. I never wrote the book, but chasing this strange goal gave me such a rich and off-the-beaten path experience there. Today, I might choose Audley Travel for a completely customized itinerary. They design trips they say, "don't come off the shelf, there's no set recipe".
Tyler Reilly told me, "We design completely customized vacations, with a cultural focus, to all areas of the world, about 80 countries at the moment. We are a UK company that's been in operation for 25 years. The experience for a traveler would be to have a conversation with one of our travel destination experts. From that conversation, we'd end up with an itinerary, and we'd tweak it until it's perfect.
"We encourage our guides to take people away from the hordes in whatever destination it is. And we encourage you to use the information we give you to go off and do a little exploring on your own, but with our support. In some locations like Rome, escaping tourists is sometimes a challenge, but you can use the queue skipper so you don't need to stand in line for an hour. A customized tour does not stick you on a bus or have you follow a tour guide with an umbrella. It's something that you'd be independently doing with the travel guide that we've made for you, or with a personal guide, to locations all over the world."
For more, see Audley Travel.
Coddiwomple Journeys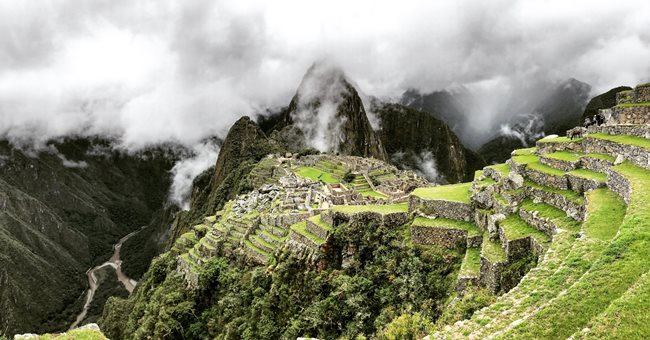 To "coddiwomple" is to travel with purpose, but without a specific destination. You wander; you search. Coddiwomple Tours can take you to the highlights of East Asia and South America, even to Easter Island and the Galapagos Islands. Spend 10 days in the Amazon Rainforest of Ecuador. Or explore the mountains of Peru and visiting the ancient Incan ruins of Machu Picchu.
With their emphasis on education, with Coddiwomple you'll learn about the history, culture, nature, and culinary scene of the country you visit. You'll find unforgettable experiences, and every itinerary has personal touches just for you. They are based in Hopkinton, Massachusetts, just west of Boston. They are somehow affiliated with Immersion Journeys, which covers Africa and South Asia.
For more, see Coddiwomple Journeys.
Indonesia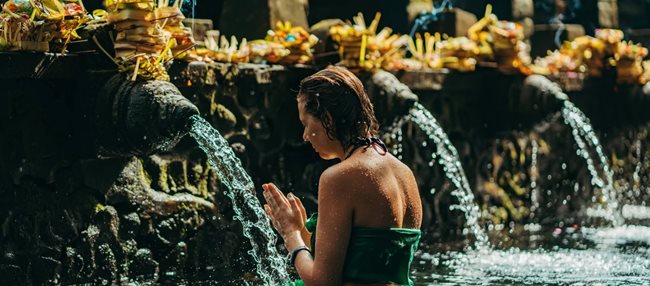 If you're thinking about an exotic island vacation, but want to get to know a new culture, Indonesia with its 267 million people could be the place for you. The government of Indonesia attended the show, in the form of Willa Utami, who came from the Consulate General of the Republic of Indonesia, New York, to speak with visitors about the archipelago in Southeast Asia.
She told me, "In Indonesia, you have everything. Look at our map of islands: if you want to see culture, if you want to see nature, if you want adventure, or to see modern things, they are all in Indonesia. Granted, it is a lot of travel, about 24 hours. But Indonesia is the world's 4th largest country by population. It is worth considering for a trip, by itself, or combining it with visiting other countries in the region."
I learned that the easiest regions for an American to visit in Indonesia are Bali, Java, and Tenggara, because the cities are closer together, giving many transportation options.
For more, see the Official Website of the Indonesia Ministry of Tourism.
American Samoa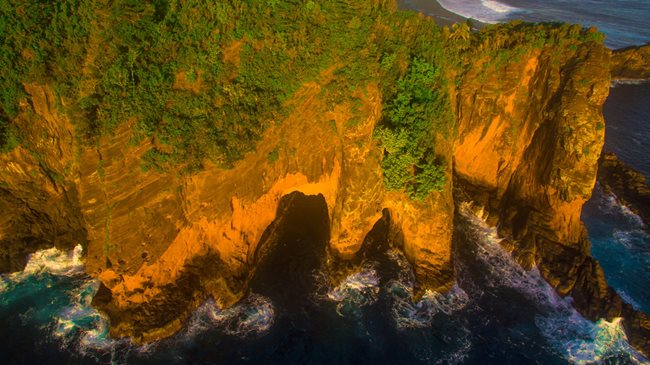 You may know American Samoa as the birthplace of Democratic presidential candidate Tulsi Gabbard. With a population of only 55,000, it's an island in Oceania, part of America even farther away than Hawaii, on the route to Fiji and New Zealand. Unlike Puerto Rico and the US Virgin Islands, Americans do need a passport to travel there, but you don't need a visa.
Because American Samoa is a US territory, even though it's an island, it's familiar and comfortable to Americans. They use US dollars, they speak English, and it's less built up, making it like the Hawaii of 50 years ago. It's unspoiled, not so commericalized. American Samoa caters to those who want to go on adventures, hike, snorkel, dive, swim, and to experience the culture. They consider themselves a "living cultural site", and still practice old Samoan traditions.
For more, see the American Samoa Visitors Bureau.
Tahiti Tourisme (French Polynesia)

Tahiti is just one of 118 volcanic and coral islands that make up French Polynesia. Based in the South Pacific Ocean, it's about as remote as you can get on Planet Earth, thousands of miles in along a line between New Zealand and Hawaii. According to their website, "The Islands of Tahiti are a mythical destination. The mention of Tahiti calls to mind visions of an idyllic island paradise and once you visit, you'll discover that your imagination isn't too off the mark." Go swimming with whales, diving or snorkeling, sailing or surfing, or explore the unique culture of Tahitian music, dance, flowers, tattoos, traditional beliefs, and crafts.
For more, see Tahiti Tourisme.
Saint-Pierre et Miquelon Easy Stay (France)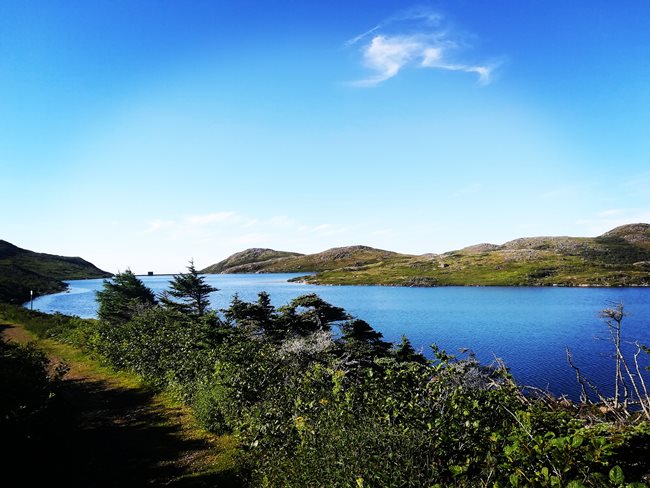 This one just stunned me. Maps of the United States end with Maine, but occasionally I remember that Canada extends beyond it to the North. At the Boston Travel and Adventure Show, I learned that, just off the coast of Newfoundland is a part of France. This is not like Quebec, which is Canadian with a French cultural influence. The island of Saint-Pierre et Miquelon (SPM) is politicially administrated by France.
That makes it the easiest way to visit France! It's only a three-hour flight from Boston, passing through Halifax, Nova Scotia, which is actually shorter than flying to Quebec.
SPM Easy Stay is a travel agency that can organize your stay, "finding a home away from home where life feels good is our priority." A travel agent told me, "It's only 6,000 people, so you'll meet everyone. Everyone is friendly and calm. It's a great place for a vacation with family or friends. It's all about nature, French culture, fishing history, and even prohibition history, because Al Capone used to send all his alcohol through Saint-Pierre et Miquelon."
For more, see Saint-Pierre et Miquelon Easy Stay.
French Canal Boat Company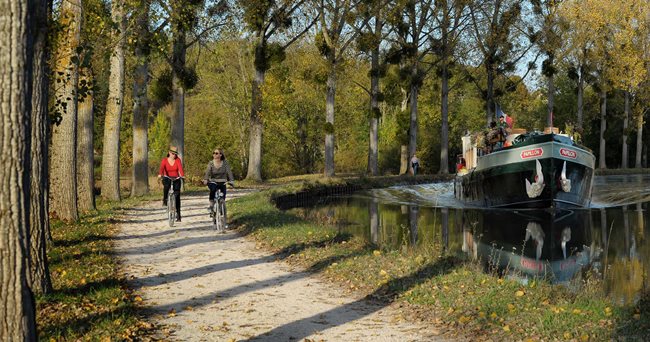 The French Canal Boat Company runs small river cruises where you live for nearly a week one boat. According to their website, "There is an enormous sense of 'living history' and an even bigger passion for keeping the past alive."
Kim Dickey told me, "We operate and own two luxury barges that cruise on the historic waterways of France, one barge in Burgundy that carries 4 passengers, and one in the Loire Valley that carries 6 passengers. All barge cruises are six nights, Sunday to Saturday. What's really unique is that we're on the canals rather than on the big rivers. So as we're cruising in the mornings, as we're passing slowly through the locks (how a boat passes from one water level to another), you can hop off, take bicycles, and walk along towpaths that are amazing. Then walk through the old villages. It's a lovely way to spend a morning."
"These are hotel barges, the opposite of an ocean cruise. It's more intimate and classy. Everything including food and wine is all inclusive. Because it's a small number, it's very relaxing. You really can just unplug and relax. We go to your schedule. And we immerse our guests in the best of French food, wine, and history. Typically your meals are on board, and we have our own chef. So at the end of the vacation of six nights, you've tasted at least 24 wines and cheeses."
For more, see the French Canal Boat Company.
Alpenwild (The Alps)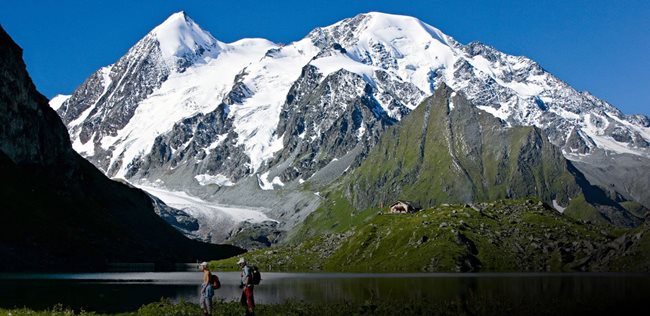 Alpenwild hosts hiking, walking, and trekking tours in the alps, including the Julian Alps in Slovenia, Swiss Alps, Italian Alps, and the Dolemites. They offer a range of tours.
Greg Witt, CEO, told me, "We're the leader in active travel in the alps, specializing in hiking and walking tours. There are so many trains and cog wheel railways too, so you can hike as little or as much as you want. For those who don't want to hike, the scenic alps by rail includes features like the Glacier Express, the Gornergrat railway, which has spectacular views of the Matterhorn, and the Jungfraujoch railway, which tunnels through the Eiger to arrive at the highest railway station in Europe, where you can look over the longest glacier in the alps."
According to their website, the Alps are "our passion and our expertise, and has been for over three decades. We know the trails and the towns inside and out. We know the hoteliers and their rooms, and restauranteurs and their menus. We don't guide on any route we haven't done many times before. Our expertise gives you a richer, more enjoyable experience, and makes better use of your time, whether you're on a guided or self-guided tour."
Everything is included in one price, and they'll take care of shuttling your luggage around and making your hike stress-free.
For more, see Alpenwild.
Cruise Planners (Worldwide)

If you want to become a travel planner, Cruise Planners is the nation's largest home-based travel franchise! When you join, you get training, support, and credibility. Perhaps most importantly, because there's power in numbers, you get the leverage to negotiate the lowest prices for your clients.
Dan Hicks told me, "We have 3,000 franchisees, who do this as a hobby, or part-time, or full-time. It depends on where people are in life. Sometimes it's people looking for an encore career.
"We create what we call un-googleable experiences. Our franchisees are looking for the best deal based on the lifestyle of the client. There are so many different cruises, and so many different choices, what's best for my family? We're going to match the right experience with the right family, to make sure that they have the best experience possible.
"We take the planning part away because it's tedious. We're going to do all that for you and get you the best deal. And we have pre-vetted top suppliers around the world."
To join up, or to locate one of their travel agents near you, see Cruise Planners.
Bahamas

After Canada and Mexico, what nation is closest the US Continental 48 states? It's the Bahamas! The chain of islands is just a 40-minute flight from Miami, Florida. They have nonstop air flghts from Boston on Jet Blue and Delta almost every day, to Nassau, their capital. Then Grand Bahama is the second most visited island. There's a domestic air service that goes back and forth between the islands, and while they do have the Bahamaian Dollar, it is pegged 1-to-1 to the US Dollar, and US dollars are exchanged freely everywhere. Amerians need no visa to visit, but just a passport.
Vandia Sands, from the Bahamas Tourist Office in New York, was eager to explain a misconception. It's true that, as you may have heard in the news, that Hurricane Dorian last summer affected the two northenmost islands of the Bahamas, The Abacos and Grand Bahama Island. But those islands are open for tourism again, and the other dozen islands of the Bahamas were not affected at all. They are fully open for tourists, and in fact your visit would help the economy of the island that is still mourning the loss of hundreds of people, and dealing with the slump in tourism caused by the bad news. So it is a good cause, and not for nothing, you are likely to get great deals there.
According to their helpful handout, Andros, which is the largest island in The Bahamas, is home to the world's third largest coral reef, drawing snorkelers and divers from all over the world. Great Inagua National Park, on the island of Inagua, is home to more than 60,000 flamingos. On Grand Bahama Island, there's nonstop activity and entertainment, on Nassau / Paradise Island you'll find historic forts and British colonial buildings, and Rum Cay / San Salvador was Columbus's first landfall in the New World, and a scenic refuge. Everywhere, you'll find eco-friendly adventure, historic villages, and pristine beaches.
For more, see the Bahamas Tourist Office.
Divi Aruba and Tamarijn Aruba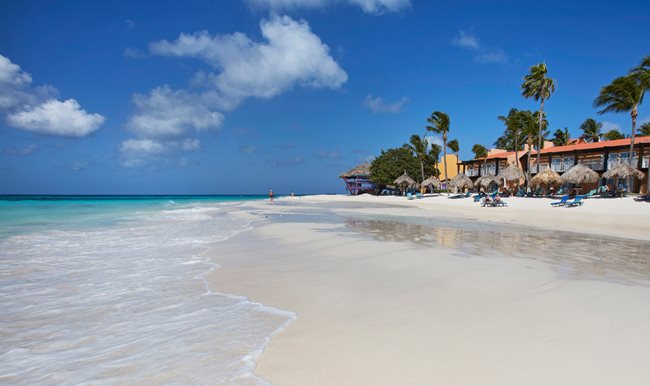 al
Divi Aruba and Tamarijn Aruba are sister resorts in the island country of Aruba, in the Southern Caribbean Sea, south of Puerto Rico and just off the north shore of Venezuela, and which is administrated by The Netherlands. The resorts have 10 dining options, 8 bars, 4 sparkling pools, where you can "enjoy exciting activities from volleyball to kayaking and snorkeling in the daytime to salsa dancing and carnival shows to spice up the night." It's a beach paradise, and their beach was voted 5th best in Aruba on the world's largest travel site, TripAdvisor.
For more, see Divi Aruba and Tamarijn Aruba online.
Elite Island Resorts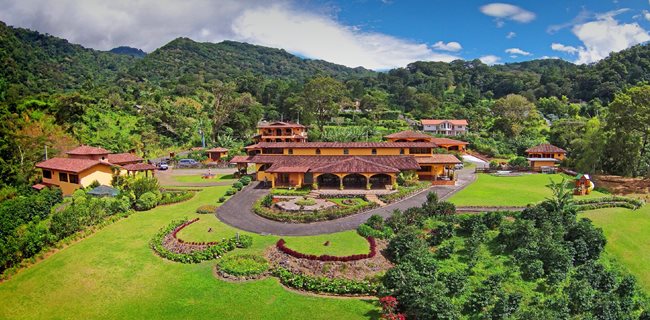 Elite Island Resorts represents eight all-inclusive beach resorts in the Caribbean and in one in Panama. Their Galley Bay Resorts and Spa in Antigua was named in the "Top 100 resorts of the World" and among the "Top 10 Best Resorts for Romance in the Caribbean" by the readers of TripAdvisor. Their St. James's Club Morgan Bay resort in St. Lucia, near the the world's only real drive-in volcano. And at Los Establos Boutique Inn, in Panama, you'll find a "private mountainside Valhalla of lush valleys and cascading waterfalls on the grounds of a century-old coffee plantation, 16 breathtaking acres of rest & relaxation." And there's much more at their other locations.
For more, see Elite Island Resorts.
InnSeason Resorts (New England)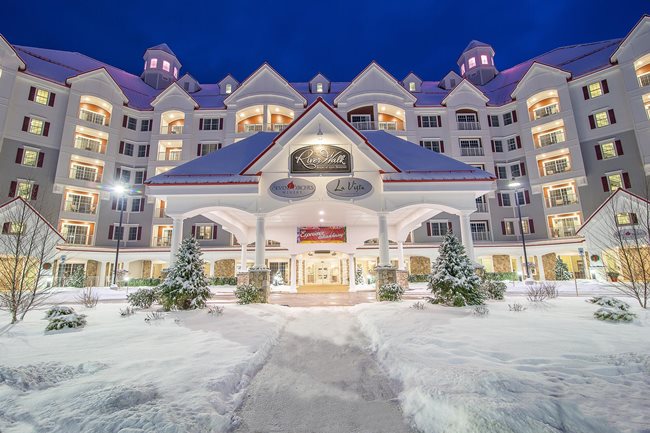 InnSeason Resorts is a family-run operation, managing resorts across New England, in Ogunquit and Jackman, Maine, Cape Cod, Massachusettsand Lincoln, New Hampshire. They were promoting rentals and even ownership of their suites. Their six different locations, comprising more than 1,000 suites, is a bit overwhelming for me to easily pull information from their website, but from what I've read, their locations are luxurious, and come with full amenities.
For more, see InnSeason Resorts.
The Essex Culinary Resort & Spa (Vermont)
I've reviewed some of the fanciest resorts, and The Essex Resort & Spa near Burlington, Vermont is one of them. But they are especially outstanding for their people. The service you get creates a perfect environment for a relaxation vacation. And in addition to being a resort with accommodations and spa services, The Essex is also a cooking school. They call it a "culinary resort", where you can take cooking classes, and get some of the finest meals at their two restaurants, Junction and The Tavern. The site is a former campus of the New England Culinary Institute, converted into a resort — which must be why their guest rooms have no kitchens. Instead when you cook, you do it in a classroom setting in the professional kitchens on site.
Read our extensive, 4,100-word review of The Essex and for more, see The Essex Culinary Resort & Spa.
Three Rivers Whitewater Rafting (Maine)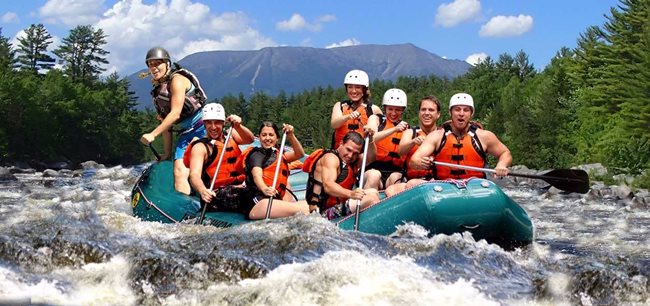 Based in two locations in Maine, Three Rivers Whitewater Rafting is "The Home of Serious Fun", a group that "that cares for the people they serve and strive to exceed your expectations over and above the call of duty."
They run whitewater rafting from the easier Kennebec River to the more challenging Dead River and Penobscot River. Or you can go tubing or on "float trips" on calmer water, a great "out" for small children or anyone in your group who's hestitant about whitewater rafting. They can also connect you (I assume to different tour operators) with skydiving, waterfall hiking trips, guided fishing trips, snowmobiling, and mountain hiking. Their accomodations run all the way from rugged camping, to inexpensive "summer camp" cabins with bunkbeds, to up a luxury inn, and they own their own full service bar and restaurant.
Sean MacCarthy, Marketing Director, told me, "Whether you're coming up snowmobiling in the winter, ATVs, fall foliage tour, we've got it all. We've got everything for anyone. If you want to keep your costs down and get a genuine Maine North Woods experience, you can camp out right next to the river. If you want to do some glamping (glamorous camping) in one of our cabins, that's also an option. Or take it to the next level, stay at Inn By the River, the area's nicest accomodations in The Forks, Maine, and there are great accomodations and camping in Millinocket, too.
"We also do wildlife safari tours and waterfall safari tours. Moxie Falls, Maine's tallest waterfall, is near The Forks. It's one of the area's easiest and most accessible attractions to get to, just a 20-minute walk through the woods, and you're looking at a gorgeous 90-foot-tall waterall. And there's Grand Falls, which is 35 feet high and 100 feet across. That's quite a sight as well."
For more, see Three Rivers Whitewater Rafting.
Massport (Boston)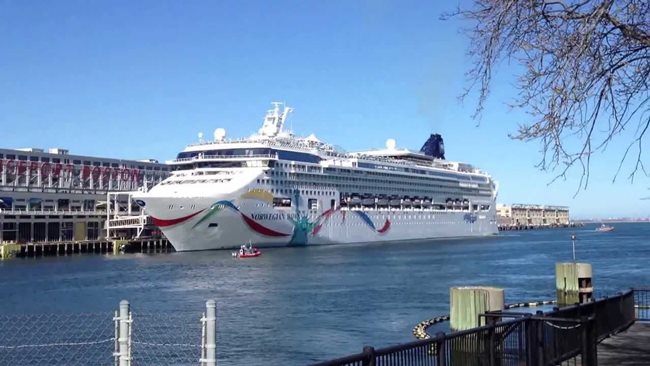 I always thought that Massport was synonymous with Logan Airport, but I learned that they actually have three divisions. One is the airport, but another sells real estate, and the third promotes cruises! While Massport doesn't run their own cruise lines, of course, they're an easy way to see all the cruise lines that come through The Port of Boston, in a single view. That is Flynn Cruiseport which is along Drydock Avenue in Boston's Seaport District. Looking at their website, I'm starting to understand why you might want to hire a travel agency. Or dig in to the many cruise lines and schedules on your own.
For more, see the cruises at Flynn Cruiseport.
Bites of Boston Food Tours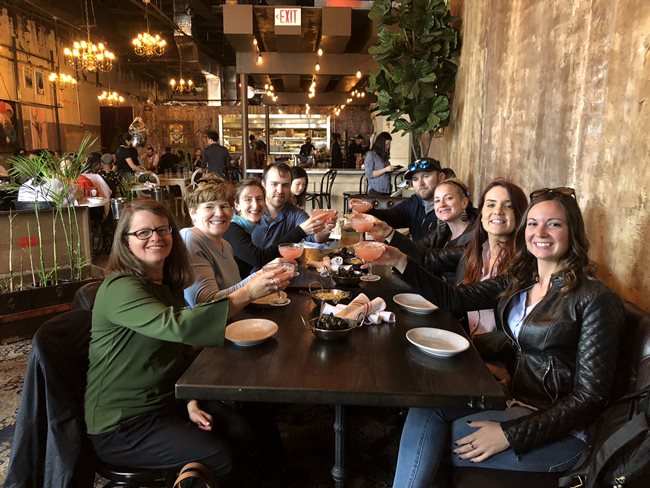 While we love to travel the world, while that's not possible, we can travel the world through its different representations in Boston, including food. The Bites of Boston Food Tours website says, "We are passionate about all things Boston – and the fabulous food scene is no exception… By combining sweet and savory food tastings with fascinating stories, local culture, history and architecture, we have created the perfect recipe for a fun, one of a kind way to explore some of Boston's most vibrant and tasty neighborhoods."
Alyssa Schoenfeld, Founder, told me, "We offer walking food tour experiences in Boston in four different neighborhoods: the South End, Allston, Chinatown, and a classic food tour in Downtown. All of our tours last 3 hours and we visit 5-6 restaurants.
"In addition to sampling a lot of great food from all these places, you learn about the chefs, the owners, and the inspiration behind starting all of their eateries. Then what we're really trying to do is to serve that food in the context of the neighborhood that it comes from. So as we're walking in-between restaurants, we focus on a lot of what makes that neighborhood interesting, historical, architecture, or cultural, visiting points of interest."
For more, see Bites of Boston Food Tours.
Kennebec Valley (Maine)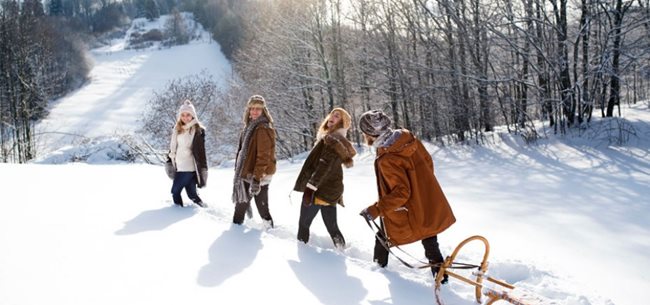 Although most tourism in Maine goes up the Seacoast, to get the ultimate break from tourist traffic, go upstate, for example to Greenville or to the many towns of the Kennebec Valley.
Someone at the Kennebec Valley Tourism Council booth told me, "We are located in Gardner and go all the way up to Jackman, with a lot of outdoor activities that you can do. You can go snowshoeing, ice skating, snowmobiling, ATV-ing. We're known for the two rivers that converage at The Forks, the Kennebec River and the Dead River. Whitewater rafting on the Kennebec is for beginners, and if you're really daring, go up for rafting on the Penobscot River."
According to their website, their region of 5,000 square miles offers, "limitless activities for visitors to experience: trips along age-old waterways, birding, moose safaris, hunting expeditions, mountain biking and hikes to awe-inspiring vistas like Moxie Falls (Maine's highest) and the Attean Overlook at sunset. At day's end, there are sporting camps, lodges, and even backwoods camping to offer you more than just a place to put your head." It's a place "where plunging mountain waterfalls sit just up the river from towns that have elevated the idea of 'small Maine town' to an art form."
For more, see the Kennebec Valley Tourism Council.
Mount Washington Cog Railway (New Hampshire)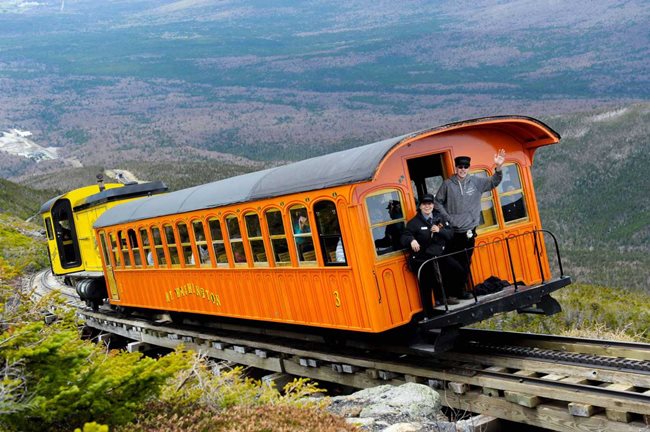 Mount Washington is tallest mountain in the US Northeast, and the place where in 1934 meteorologists recorded a world record wind speed of 231 miles per hour. At the summit you'll also find a gift shop, cafeteria, and the historic 1853 Tip Top House. It has a large visitor center, a US Post Office, and the Mount Washington Observatory with its weather station and extreme weather museum.
You can drive up Mount Washington or take a guided shuttle tour, but the Cog Railway is a truly unique experience. It's a train that goes up an incline so steep that its wheels are gears, or 'cogs'. It is the second steepest railway in the world, opening in 1869, when President Ulysses S. Grant visited!
You'll get stunning views both up and down, and there's nothing like the summit in New England. The lesser mountains stretch in all directions, up and down like the waves of an ocean. Visit in the summer and find breathtaking views that on a clear day may extend as far as 130 miles into Canada. Train trips resume in April.
For more, see the Mount Washington Cog Railway. 
Miami, Florida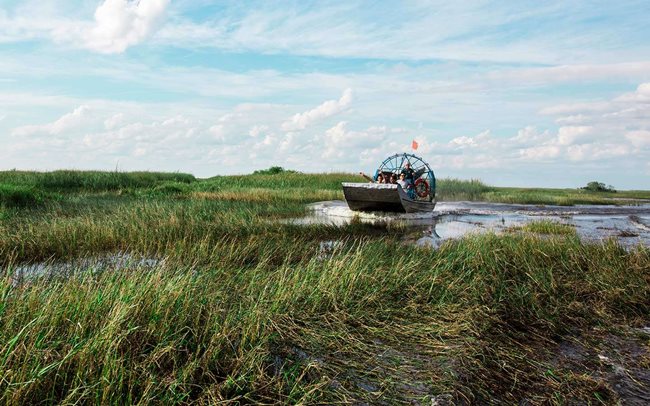 America's 7th largest "metropolitan region" (with Boston being 10th), Miami Florida combines diverse cultures, art, and music along with some of the world's most beautiful scenery, exciting nightlife and unique ecosystems. See our 7 Miami reviews of parasailing, tubing, surfing, and a wildlife park where you touch lemurs, sloth, parrots, kangaroos, and more.
Miami is LGBT friendly, being called America's Gay Riviera. The Florida Everglades and Biscayne National Parks draw 1.5 million visitors every year to explore breathtaking wilderness. Divers find one of the largest artificial reef programs in the world, made from more than 75 ships, combat tanks, and concrete, limestone and other structures that have been sunk off Miami's coast, drawing fish. There's more eco-adventure than you can imagine.
Suzie Sponder, Senior Director of Communications of the Greater Miami Convention and Visitors Bureau, told me, "The number one reason why Bostonians go to Miami is for the year-round great weather. And it's a very quick flight (less than 4 hours). Bostonians are foodies, so they love the culinary scene. Miami has a great arts and culture scene, some of the biggest festivals and events, including the Food and Wine Festival, which is the largest in the country. We have great neighborhoods, interesting diversity, from all over the world, but a very big Hispanic population and a lot of people from the Caribbean. All that adds a lot of flavor to Miami."
For more, see the Greater Miami Convention and Visitors Bureau.
Florida Keys and Key West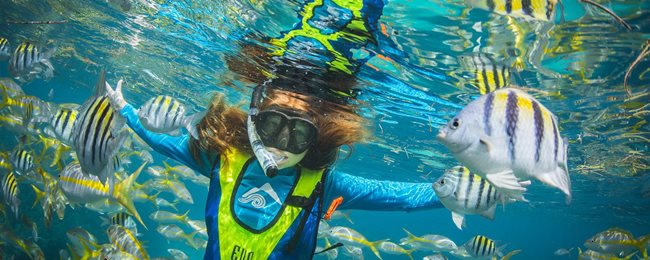 The Monroe County Tourist Development Council represents the southernmost tip of Florida, excluding Greater Miami, but including the Everglades National Park and the Florida Keys. The Florida Keys are all connected by the Overseas Highway, connected by bridges, as seen in the Arnold Schwarzenegger film, True Lies. Located closer to Cuba than to Miami, Key West is a subtropical paradise with "history, climate, natural beauty, cultural diversity, architecture, and unabashed romantic appeal".
With cultural influence from nearby Cuba and the Bahamas, it's like visiting a Caribbean island without needing to leave the United States, with beaches, water sports, and historic destinations during the day, and restaurants and entertainment at night. There you can "pet a shark, explore a curiously comforting cemetery, tour Hemingway's former home and other attractions, discover the riches of a spectacular salvage expedition and enjoy exceptional cuisine."
Sabine Chilton, International Sales Manager, told me, "We're more like a Caribbean island than a big city. Basically, we are a chain of island over 125 miles, related together by 42 bridges. We have also two national parks including the Everglades."
For more, see the Monroe County Tourist Development Council's website, Florida Keys & Key West.
Amelia Island (Florida)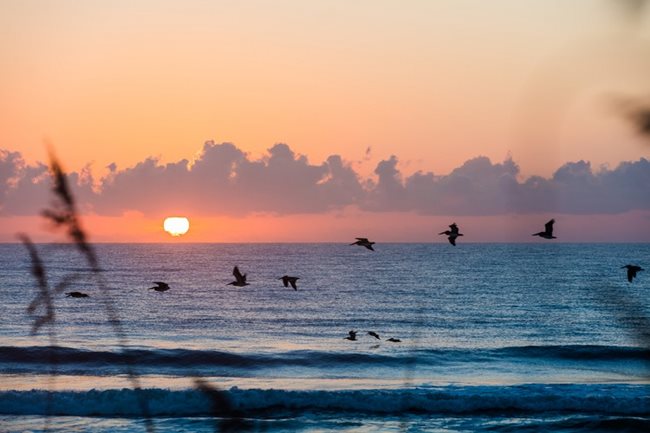 Based in Northeast Florida, just a hop from the state line with Georgia, Amelia Island is a barrier island, just 400 feet from the mainland over a bridge, rather than an isolated island in the Atlantic Ocean. It's 18 square miles (the size of Manhattan) with a Civil War era fort, a 50-block National Historic District, entertainment, and natural beauty including trees draped in Spanish moss. Special events include the annual Isle of Eight Flags Shrimp Festival, Wild Amelia Nature Festival, and Amelia Island Jazz Festival.
Buddy Hightower of Omni Amelia Island Plantation Resort, who joined the Convention and Visitors Bureau of Amelia Island booth, told me, "It's the only destination in America that's been under 8 flags of rule, so you're going to see a lot of influence from different Spanish, American, Mexican, and British cultures. There's a lot of fresh food, it's the birthplace of the modern shrimping, and we have fun pirate heritage. There's a historic port and our historic downtown is filled with locally-owned restaurants and stores. We're not as commercialized as other parts of Florida."
Amelia Island is home to two resorts, Omni Amelia Island Plantation Resort and the Ritz-Carlton, and also includes a variety of other vacation destinations including boutique hotels; inns; bed and breakfasts in historic Victorian homes and camping at the historic Fort Clinch State Park. The island also boasts 13 miles of pristine beaches that are untouched.
For more, see the Convention and Visitors Bureau of Amelia Island and the Omni Amelia Island Plantation Resort.
St. Lucie, Florida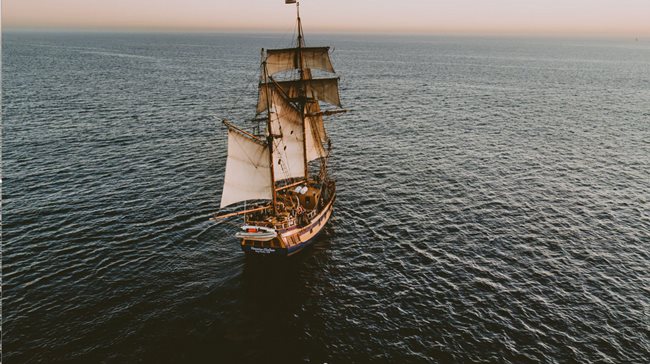 The St. Lucie County Office of Tourism is part of Florida's Treasure Coast, which consists of St. Lucie County, Martin County, and Indian River County. See the birthplace of the Navy SEALs at Fort Pierce, with World War II artifacts, and hike through natural spaces at The Steven J. Fousek Natural Area, Spruce Bluff, Oxbow Eco-Center, D.J. Wilcox Preserve, and George Lestrange Preserve. There you'll find white-tailed deer, osprey, bald eagles, hawks, pelicans, the roseate spoonbill, manatees, otters, alligators, and woodpeckers.
Allison Macdonald told me, "It's different than Orlando. We're in-between Orlando and Miami, an hour south of Satellite Beach. We still have that old Florida charm, with quiet, quaint little downtowns, and more than 70 miles of uncrowded beaches. If you want to relax, rejuvenate, it's a beautiful area to come to. It's not the crowds and the traffic. It just depends what you're looking for."
For more, see Visit St. Lucie.
Fort Myers and Sanibel Island, Florida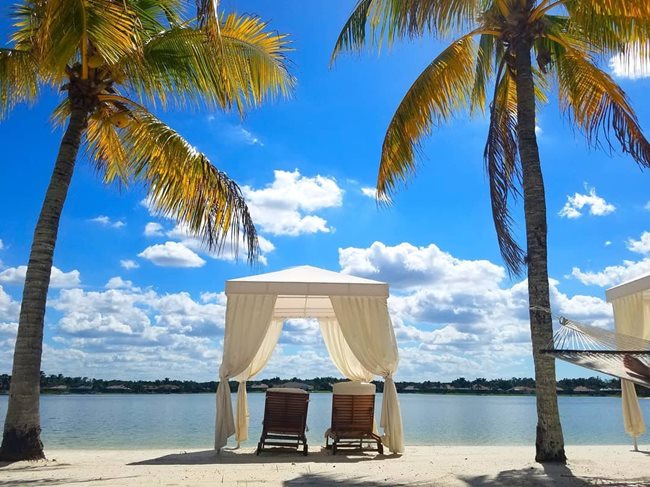 Florida is such a population destination that you may want to get away from the rush at Fort Myers and Sanibel Island, in Southwestern Florida, south of Tampa. Their annual festivals include ArtFest Fort Myers, Edison Festival of Light, Red Sox Spring Training, Fort Myers Beach Shrimp Festival and Parade, Roar Offshore (Powerboat Racing), and the American Sand Sculpting Championships, named one of the top 10 sand-sculpting competitions in the world.
Shelley Crant of the Lee County Visitor & Convention Bureau told me, "Orlando is lovely, but we offer a very different experience. We're very nature oriented, with beautiful beaches and lots of parks and preserves. We're the place where you want to come stick your toes in the sand, have an umbrella drink, and enjoy the beauty of the water, waves on the sand, the wind in the palm trees, experience the wildlife, and then have a lovely sunset dinner perhaps at a restaurant on the beach. We are the quieter side of Florida with not as much development.
"We have a variety of wildlife options, but the biggest one is Ding Darling National Wildlife Refuge. It's 5,000 acres of on Sanibel Island. You can drive through and experience it for yourself from your own car, there are bike paths where you can pedal through if you would like, and then there's a lovely tram tour with a naturalist who will tell you the background and point out the wildlife. You'll see everything from roseate spoonbills, to alligators, to herons, and a big variety."
For more, see the Beaches of Fort Myers and Sanibel.
Polk County (Central Florida)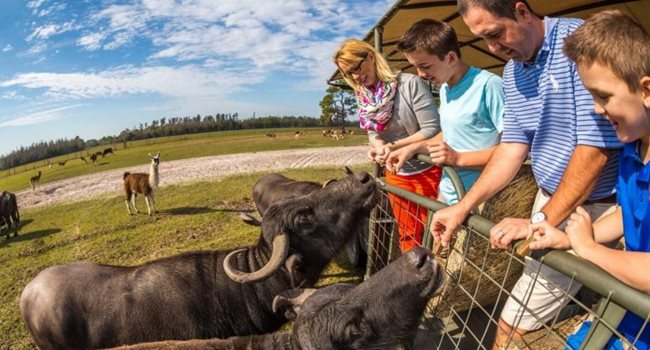 Set between Orlando and Tampa, you'll find "Florida's newest attractions, LEGOLAND Florida Resort and Safari Wilderness; and some of Florida's most historic; including Bok Tower Gardens, Westgate River Ranch Resort (the Southeast's largest dude ranch), and Frank Lloyd Wright's 13 structures at Florida Southern College. With 554 fresh water lakes, the area offers great fishing, adventurous airboat eco tours and exciting water sports."
Safari Wilderness is not a zoo, but a wildlife safari where you drive through or ride a camel, to see thousands of animals from all over the world across 260-acres of Florida wilderness.
For more, see Visit Central Florida.
Tampa, Florida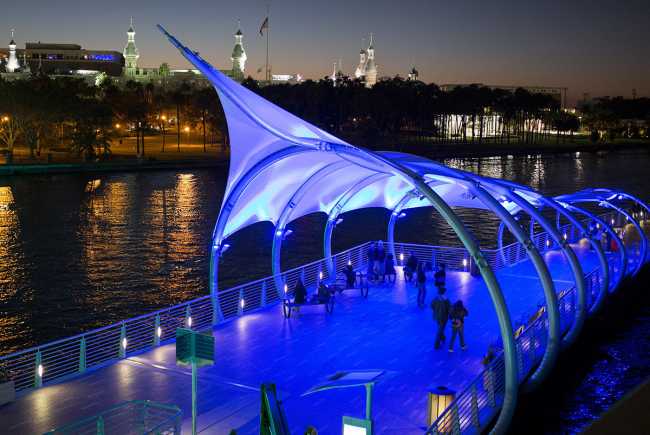 Tampa is the second-largest city in Florida, where you'll find all the arts and culture of a megapolis and all the beauty and nature you expect from a Florida vist, too. It's within easy reach of Orlando if you want to make it a dual vacation. There's the Tampa Riverwalk, the Florida Aquarium, and the Straz Center. Find Busch Gardens, the nature-themed amusement park, indoor skydiving, Croc Encounters wildlife sanctuary, and the Salvador Dalí Museum, with works of the famous surrealist artist. Then there's all the water sports, shopping, dining, nightlife, and so much more!
For more, see Visit Tampa Bay.
Contiki (Worldwide)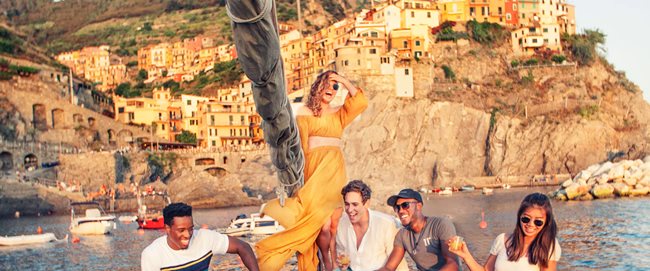 Contiki is a tour company that encourages you to get to know your fellow passengers. Their largest tour capacity is only 53 people, small enough that you can ask questions of the tour guide, and they offer smaller, more intimate tours as well.
Julia Ivey, Contiki Regional Sales Manager, told me, "We're a tour company with a very, very big social aspect. We're exclusively for 18 to 35-year-olds, except for custom tours. So it's young professionals and students, with 350 trips all over the world except Antarctica. We bring travelers together, and we're called social trips, because we exist to connect people from all walks of life who are like-minded, young, fun individuals to experience this amazing thing we call travel, together.
"Usually about 60% of each departure is filled with a solo traveler, and we connect people with a new family. It's just such a magical thing, and sometimes you make a friend you stay in touch with for life.
"For each of the trips we are paired with a trip manager, your go-to for everything. They're going to know the ins and outs of each location and where the hotspots are. We have different kinds of tours, for example if you're eco-conscious or a big foodie. We try to give you authentic experiences. Instead of going to a typical French or Italian restaurant we might take you to a kitchen and you would prepare your own food, learn to French cook, and then eat it after you prepare it."
For more, see Contiki USA.
Holland America Line (Alaska and Worldwide)

Holland America Line is a cruise line with a 145-year history, operating a fleet of 14 modern ships that visit the entire globe. At the Boston Travel Show, a particular focus was cruises serving Alaska. They have cruise-only options that are 7-days from Vancouver or Seattle to Alaska and back. You can also take a cruise but tack on a "land cruise" as well, leaving the ship and going into Anchorage, or into the interior of Alaska. There you can go to Fairbanks, see the Yukon, see Dawson City, Whitehorse, see Denali National Park, or do a 7-day cruise to see the glaciers and whales.
They have "Explorations Central" programs that I don't understand, but by implication are a series of lectures about the destinations you'll visit. They've also partnered with "O", The Oprah Magazine, BBC Earth Experiences, and Microsoft Studio, to bring unique experiences to you as you cruise, as well as live entertainment and a "wide range of delicious onboard dining options", from comfort food to fine cuisine.
See more at Holland America Line.
Palm Springs, California

I wouldn't think of the deserts for my first visit to California, but after you've been to San Francisco and Los Angeles, why not try something new on the West Coast? Some 25% of California is desert. Its three major deserts are The Mojave Desert, The Colorado Desert, and the Great Basin Desert. You'll find natural hot mineral waters, hundreds of old mines and ghost towns, hidden canyons, snowy mountains, and extensive vistas. You'll go hiking, biking, birdwatching, camping, taking photographs, and stargazing. You'll find quirky art communities, dining, and nightlife, too.
Lori Gomer, Travel Industry Sales Manager at the Greater Palm Springs Convention and Visitors Bureau, said "You've got to see Joshua Tree National Park. There's such low light pollution and humidity that the stars look so close that it feels like you could actually touch them, reach up and grab them. And there's a Wild West Feel, at the Joshua Tree Saloon, Pappy and Harriet's, an old biker bar in a place where they normally used to have the pioneer town Gene Autry movies."
For more, Greater Palm Springs Convention and Visitors Bureau.
Currituck County, North Carolina

Currituck County is the northern part of North Carolina, bordering Virginia. In the Currituck National Wildlife Refugs, they have wild horses, the Corolla Wild Horses, that wander the beaches freely, rumored to come from the shipwreck of Spanish explorers in the 1500s! Experience the "world-class golf, watersports, shopping and dining, and beach rental homes".
And drive the beaches on some of America's most secluded shores, named one of the "Best Family Beaches on the East Coast" by Fodor's Guide. And they have plenty of amenities, including an aquarium, a water park, an adventure park, kart racing, and a lot more. Michele Ellis, Public Relations Coordinator, told me, "We're that hidden little treasure with wild Spanish mustang that roam on our beach."
For more, see Currituck County Travel & Tourism.
Freeport, Maine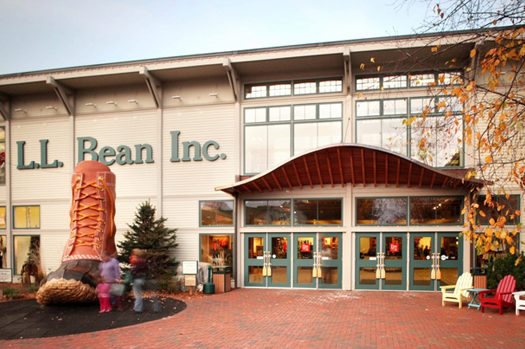 Just north of Portland, Freeport is known primarily as the home of L.L. Bean. It's a little more than a 2-hour drive from Boston, or it's a 3-hour trip on a train that arrives right in the center of town.
Kelly Edwards, Executive Director of Visit Freeport, told me, "It's where L. L. Bean has their flagship campus, with the original store and also the home store, Bike, Boat, and Ski Store, the Outlet, the Hunting and Fishing Store, and then there's a beautiful green space with a stage for concerts in the summer, and fireworks.
"In addition, there's also a community of shops, including a wide range of outdoor outfitters, witih a focus on gearing up to get out into the Great State of Maine. We're right on the ocean in Casco Bay, with Wolfe's Neck Woods State Park, which is a beautiful series of easy oceanside trails, something that the whole family can enjoy. We have Wolfe's Neck Center, 126 acres, a farm with livestock, vegetables, and fun activities for the whole family, to be a farmer for a morning if you want to. There's also Bradbury Mountain, a great little hike. It's a smaller mountain but beautiful from the top, especially during fall foliage season. We have many annual events as well."
For more, see Visit Freeport.
America's Rafting Company (Idaho)
Based in Idaho, America's Rafting Company offers class III or IV whitewater rafting, with multi-day trips where you stay with them overnight for 3 to 6 days. In Hells Canyon, raft on the Snake River through white water rapids, and then swim and fish in the calm waters in between, and camp riverside with delicious meals, beach games, and cushy sleeping pads.
Jarrett von Jess, Co-Owner and River Manager, told me, "There's high volume of water going down through the rapids, and then there's a fair amount of downtime to do fishing, sightseeing, and canyoning. It's a destination vacation, trips that are almost a week long. And beacuse we're on the border of the Pacific Northwest, you could combine visiting us from visiting other parts of Idaho, or Seattle, or Glacier National Park in Montana.
"Hells Canyon is the deepest canyon in North America. We talk about the ecology of the river, the geology, and other sciences. We talk about the history of the Native American tribes, and the homesteading era."
I asked Jarrett if a liberal snowflake from Boston like me would be comfortable in Idaho, and he assured me that it's all about the experience, not politics. They also offer kayak and fishing trips, hiking and hunting trips, and a yoga rafting retreat.
For more, see America's Rafting Company.
Anchorage, Alaska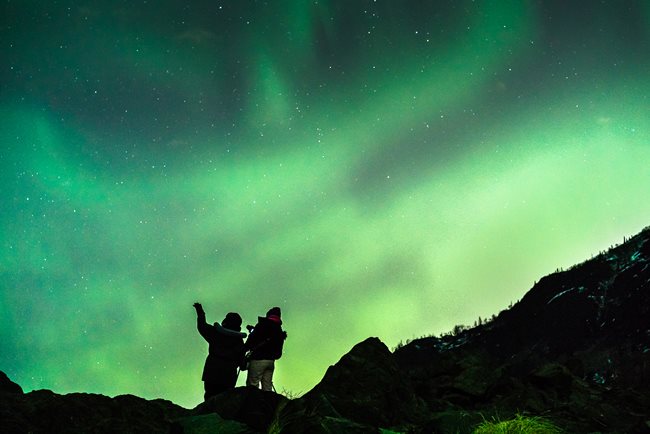 Anchorage is the largest city in Alaska, and it offers opportunities to meet moose, walk on a glacier, and explore a vast, natural park all in a single day. Between mountains and an inlet, filled with urban amenities and Alaska-size wildlife, Anchorage combines the comforts of home with all the adventure of the Last Frontier. You can take a train through beautiful mountains, go "flightseeing" by plane, explore history at the Anchorage Museum, enjoy freshly harvested Alaska cuisine and local brews, watch for whales along the coast, and see the northern lights dance across the city skyline.
For more, see the Visit Anchorage.
Celestyal Cruises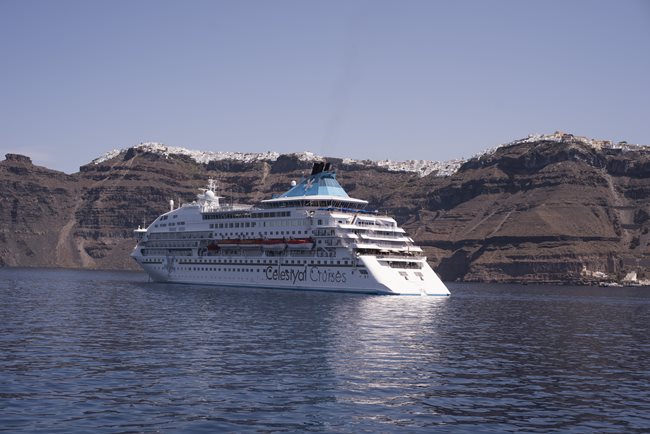 Celestyal Cruises is the preeminent home-porting cruise operator in Greece and the preeminent cruise line serving the Greek Islands and East Mediterranean. The company operates two mid-sized vessels, both are intimate enough to provide genuine and highly-personalized services and due to their size able to visit smaller and lesser-known islands. Every cruise centers on the destination and focuses on true cultural immersion, offering authentic, lifetime experiences both on board and on shore wherever its vessels sail.
The company recently announced new 2020 and 2021 itineraries. Celestyal Cruises has extend its season returns to Istanbul for the first time since 2016 with its new Seven-Day Eclectic Aegean itinerary. This "eclectic' cruise includes an overnight stay in Istanbul and calls at Volos, Greece, excursions to the stunning mountains of Meteora, and to Canakkale, Turkey as well as excursions to Troy and Gallipoli. The Seven-Day Eclectic Aegean will also visit Heraklion and Santorini and, during its call at Mykonos, depart at 2:00 a.m. so passengers can fully enjoy the nightlife of this cosmopolitan island. Celestyal Cruises is also pleased to announce the launch of its Seven-Day "Three Continents" cruises. The Three Continents Cruise calls on Alexandria and Port Said, Egypt, Ashdod, Israel, Kusadasi (Ephesus), Turkey, Limassol, Cyprus, and Rhodes. Shore excursions at each of these ports will give passengers an authentic deep dive into the incredible history and culture of these storied destinations.
Celestyal Cruises has also announced a collaboration with celebrated chef and New York Times leading cookbook author Diane Kochilas, creator and co-host of PBS' "My Greek Table," and an authority on Blue Zone cuisine and its impact on longevity, will lead a series of special events aboard an upcoming cruise focused on Greece and Greek cuisine. The first of these unique events will debut this fall with a special "My Greek Table at Sea with Celestyal" inspired by her TV series: a thematic seven-night cruise onboard the October 10, 2020 "Eclectic Aegean" sailing.
The cruise will feature special lectures on Greek cuisine and Blue Zone eating habits as well as cooking demonstrations led by Kochilas. "My Greek Table at Sea with Celestyal" guests will also have the rare opportunity to take part in culinary-focused shore excursions led by Kochilas in Mykonos, Santorini and Heraklion (Crete) and Volos (Meteora) with visits to local food markets, restaurants and shops specializing in the best of traditional, local Greek food products as well as innovative new Greek cuisine. The cruise also visits Istanbul and Canakkale in Turkey. The "My Greek Table at Sea with Celestyal" seven-night cruise starts as low as $1,259, per person and includes three select shore excursions, lectures, cooking demonstrations and the Celestyal all-inclusive experience with an unlimited standard drinks package, all meals on-board, entertainment, port and service charges and gratuities included in the fare.
In December 2019, Celestyal Cruises was named Best for Service in Cruise Critic's 11th annual UK Editors' Picks Awards. The awards are selected by a global panel of impartial cruise experts from Cruise Critic, to highlight the best ocean, river and luxury cruise lines for UK travelers, across dozens of categories. In June 2019, Celestyal Cruises was honored for its overall contribution and commitment to the development of the cruise industry in the East Med region at the Mare Nostrum Awards in Genoa.
FETI Travel
FETI Travel is the largest Massachusetts travel agency specializing in travel to China, Taiwan, and destinations in Asia. According to your website, "We offer the lowest possible international fares, both Coach and Business Class, for travel to China and other Asian destinations thanks to our close working relationships with most of the major airlines serving Asia… And we can assist you with intra-country airline tickets, tours, cruises, hotel accommodations, car rentals, rail passes, and a variety of other travel-related services to make your journey go more smoothly."
It seems from their website that they also run tours of America, presumably for Asians who come to the United States.
For more, see FETI Travel.
Yarmouth and Acadian Shores (Nova Scotia)

It's easy to forget, with United States maps, that just east of Maine, Canada continues! Yarmouth, Nova Scotia is in the southwest part of Nova Scotia. The have the largest "Acadian" community in Nova Scotia. (This is a different 'Acadia' than Acadia National Park in Maine.) The Acadians are "descendants of French settlers who arrived in the early 1600s, and have maintained their language, religion, and culture." French is their first language, and they have a distinct cuisine. Being almost the southernmost point of Canada, and with the moderating influence of the Atlantic Ocean, they have relatively warm weather compared to the rest of Canada, too.
Charles Robicheau, Tourism Development Officer at the Yarmouth and Acadia Shores Travel Association, told me, "It's a very laid back lifestyle, less busy than Boston, but still with some pretty big cities like Halifax. What's unique about our region is that we've been designated the first starlight reserve in North America, because of our low levels of light pollution. So we're very far away from major city centers so you can do stargazing properly."
For more, see the Yarmouth & Acadian Shores Tourism Association.