The Boston Tea Party Museum (5 stars)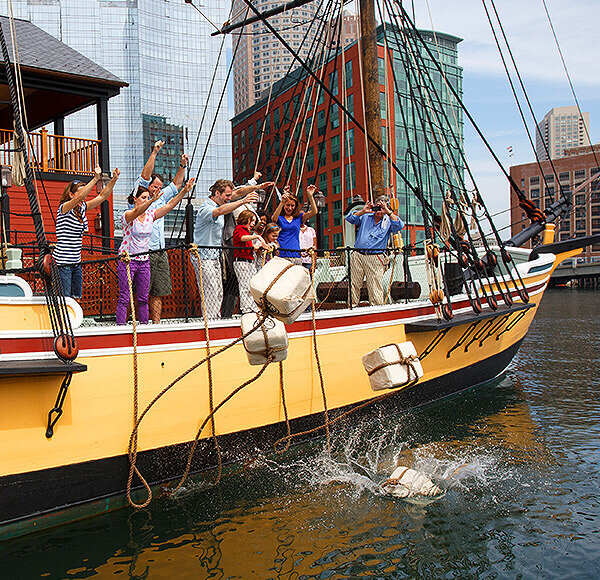 I love historic re-enactment museums, such as my favorites Plimoth Plantation, Old Sturbridge Village, and Strawbery Banke. They're fun, educational, and interactive — you can ask any question you want and get a sense for how people really lived, beyond the facts of a history textbook. But they are all an hour's drive from Boston.
Did you know that you can find a re-enactment museum right here in Boston, near South Station? It's the Boston Tea Party Museum.
The location far outshone my expectations. You get taken on quite an adventure! As a tour group you walk through six areas, each with re-enactment tour guides. First you join a "mob" protesting British taxation, and each visitor is given a card with the name of a real colonial Bostonian and a feather as part of a disguise. The museum made extensive and cutting edge use of multimedia, with videos that will surprise you of colonial figures coming to life. Although they only have one historic object on display, the museum is filled with replica objects and even an entire replica merchant ship.
It's very interactive. You get to shout, stamp your feet, and yell huzzah! They do everything they can to engage you. When you board the ship, you get to throw re-enactment boxes of tea overboard and see how ship life was led. The tour lets you sit a two different points, which will be welcome to every weary tourist, especially those with small children.
That being said, the script itself was excellent. They give plenty of context so that you can really understand the temperament and reasons behind the protesters. Even if you lose attention or miss some of what the guides are saying because of echo, there is enough repetition and context-setting to get you back in place. 
There is something for everyone. As well as learning about specific individuals, you also get the big picture, being taken from from 1773 up through Paul Revere's ride and the start of the American Revolutionary War. It is engaging for children, engaging for adults like me who love history, but also engaging for adults who just want to see it and get on with their lives. I have been to a lot of historic home tours and have to confess that sometimes… they go on for too long. You will not feel trapped at the Boston Tea Party Museum. And you will definitely learn something amazing to tell your friends. For example, they tell you the story of how the protest was done in great secrecy, yet today we know the names of all the participants. And you won't believe how they got their actual box of tea from the event itself.
After your tour, they have a very large gift shop and cafe seating area. I tried the tuna fish sandwich, and it was so good that I went back to thank the staff. The bread was thick and delicious, with notable spices and not too much mayonnaise in the tuna. Stop being so good, Boston Tea Party Museum! You're making other museums look lazy. While they don't serve anything more fancy than sandwiches, you can get tea — lots of tea, of course.
That large dining area serves as a function room for the many events that they hold. Join Samuel Adams and John Hancock for tavern night, learning a historic dance and eating old timey food. They also have revelry night with a full re-enactment of tossing tea overboard, including the all-important December 16 anniversary re-enactment.
I have no reservations in giving the Boston Tea Party Museum 5 stars, but could make a few suggestions. There's too much echo in the town hall meeting room at the start of the tour, and I think actors could be forgiven for using microphones so guests do not miss parts of what they were saying, or perhaps the room could have sound baffles. One of our tour guides was exceptional, with great humor and energy, but another ran through her script too quickly and flatly. This could especially be a problem when tourist visitors don't speak English as a first language.
As a resident Bostonian, I often think of our touristy sites as "for tourists only". For example, I haven't taken the Freedom Trail Tour since the 1980s. The Boston Tea Party Museum is definitely not in that category. I would call it a must see for anyone who is proud to live in The Hub. Shame on me for delaying my visit for so long. It only takes an hour to explore. I am glad to give the Boston Tea Party Museum a hearty five stars.
Visit them at www.bostonteapartyship.com.