You Won't Find Better Food Anywhere than Blue Ribbon BBQ, One Paint Job From a Perfect 5 Stars (4.5 stars)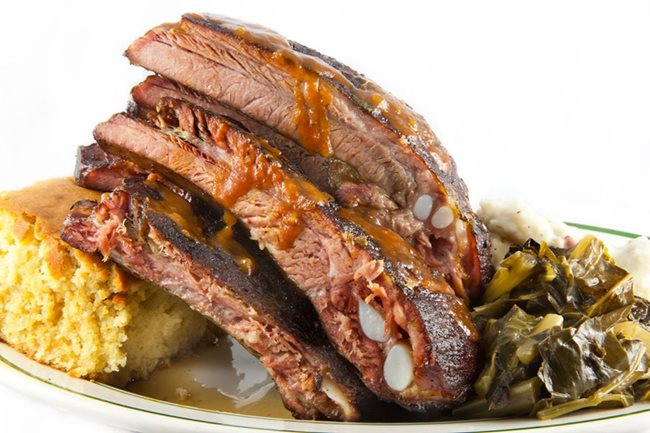 Blue Ribbon BBQ could do with a paint job and scrubbing. "We actually plan to do some painting soon, maybe next week," Jill Garza, the manager, tells me, which is either true or brilliant thing to improvise when I point out the dirty bench, stains on the walls, and flaking paint on the chairs. Country and easy listening music plays on overhead speakers.
Seating only 12 people, with bar stools for 6, the location in Arlington (they also have one in West Newton) is wonderfully kitsch. The brick look is painted on and clashes with an inadequate single coat of yellow paint through which you can see still the previous coat of blue. If this is an artistic pretention to being a 1950s shack in the South, it is flawless. Or have they just let the place go?
Of course, Blue Ribbon BBQ is more of a takeout place, so maybe the decor doesn't matter. Jill is from the midwest, like the restaurant's owners, who then grew up in Boston and one of whom went to college in Virginia and fell in love with the cuisine. They make all their sauces and cornbread batter from scratch, and smoke their meats 12-14 hours, so the fat melts off, giving the meat a lot of flavor. Their business is so popular that they outgrew their own kitchen and have meats delivered every morning from a central commissary.
What sets Blue Ribbon BBQ apart? Jill says that instead of providing a sit down environment, their focus is on really good food served quickly, they have a broader menu than competitors, and they don't fry anything, which keeps the food healthier. "We serve up the genuine traditional cuisine of the underprivileged South," she tells me. But we Northern geeks can order the food with an mobile iPhone application, a nice treat.
My initial skepticism about Blue Ribbon BBQ's decor was overthrown instantly when I ate. The corn chowder is spicy, definitely a soup not a stew, but not milky. The collard greens are like a spinach, served in a warm broth that's almost a soup, that melts in your mouth. Jill says it's okay to add hot sauce to either. I like that. It's like the food is a masterpiece, but it's not sacred. You may season to taste.
The pulled pork is great on its own, with a chewy but soft mouth feel that's very pure. It so good that you want to slow down to savor each bite. The brisket is a little dry, but hearty and totally devoid of gristle, like a chunk of Thanksgiving turkey you can really sink your teeth into, although it's beef of course. The ribs are not fatty but you will definitely want to add sauce on it, because they are plain on their own. Blue Ribbon BBQ also makes their own sweet tea and lemonade, which are invigorating.
The beans are not mexican burrito styled, but have more of a baked beans taste. And the slaw — well, I've always hated cole slaw since grade school, that combination of overly creamy mush with overly sharp vinegar and a few slimy veggies inside. Somehow the slaw at Blue Ribbon BBQ avoids either texture. It's basically a potato salad taste without the potato. It's the only slaw I've ever tried that I've liked. Wow.
The regular & hot BBQ sauces are delicious but not destructively hot. Unlike sauces elsewhere that are blended into a pure but overly processed king of ketchup, the sauces at Blue Ribbon BBQ have individual bits of pepper & spice that you can taste, giving them an interesting texture. Even the triple X sauce didn't blow out my taste buds, for which I was thankful. There's no need in my opinion for food to be served ultra-hot, like in college where my friends and I would compete idiotically to eat the absolute hottest food while pretending it was nothing. The mustard sauce reminds me of the glaze on a holiday ham, sweet and full, probably containing brown sugar.
I didn't care for the jabanero vinegar dipping sauce, which was hot without being interesting in its composure – so hot in fact that I got the hiccups when I took a sip directly from the tiny plastic sauce cup and gasped for air. In hindsight, that was probably a bad idea. That left me unable to taste anything but burning, but fortunately I had already sampled everything else.
Going to Blue Ribbon is like visiting your grandmother's kitchen and having her dote on you. It's uplifting, eye-opening, and you may even see God. It's not just that the meats are good. Every meal seems pure, archetypal, as though they've distilled each dish into the ultimate example of what that dish should be. Then it's your job to take this palette of primal colors and mix them into a masterpiece of your own creation. Now that's good eatin'.
Since it is small and offers no table service, I can't put Blue Ribbon BBQ into the "restaurant" category, but in the "pub / cafe" category (about our ratings) I am glad to give it high marks. You will not find food like this anywhere else, and although you can get a better sit down experience at Red Bones, there is generally a wait there and then you are packed in tight with other customers. Takeout is a great alternative, and my own bag "to go" was still warm an hour later. Since I forgot to ask for the pecan pie, I'll have to return soon and hope to upgrade the place to a perfect five stars. It's where Blue Ribbon BBQ really deserves to be.
For more, see Blue Ribbon BBQ.