Adventure Suites' Fantasy-Themed Rooms Go Beyond Kid Stuff To Compelling and Comfortable (5 stars PLUS)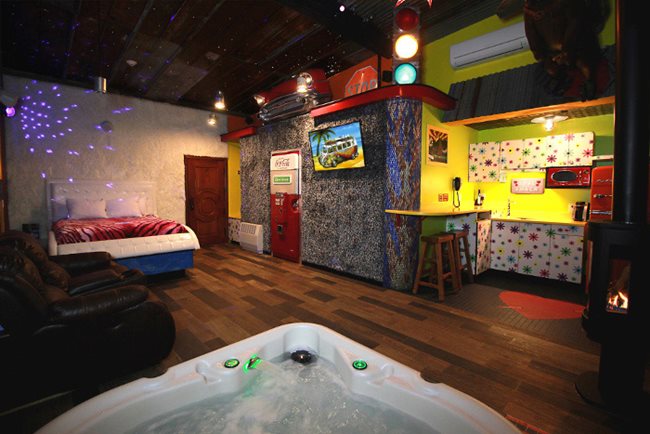 Adventure Suites is a theme hotel, meaning a hotel with a notable style, in the White Mountains of New Hampshire. They have 18 suites available for rent, from smaller rooms meant for couples, to larger rooms for a whole family, and even 'party suites' for 10 people or more, and they also own a horse farm you can stay at. Each room is themed differently around some fantasy. The Log Cabin room looks like a log cabin, the Jungle Room is African themed, and the Love Shack is a 1960s throwback. It's not too hard to get some magazine somewhere to list you in a Top 10, as their website claims with any reference, and I don't know that you could compare Adventure Suites with Caesar's Palace in Las Vegas, but their rooms certainly have notable styles!
You can get a free tour just by asking, and just walking around the grounds is a delight. Their "Victorian Lobby" this October is decorated for Halloween with skeletons carrying a coffin and a steampunk ship made from gears welded together. They have a real fireplace, seating made from driftwood and also plush royal-looking couches, and tons of DVDs, board games, and books for families that get snowed in or aren't sure what to do with their evening. It's creative and interesting.
There's also a tiny gift shop selling mugs, candy, t-shirts, ice cream, drinks, hotel supplies such as toothbrushes, toys, massage lotion, bubble bath, rubber ducks, and more. Their complimentary breakfast nook is cowboy themed, with horseshoes, wagon, and natural wood, serving bagels, eggs, sausage, yogurt, strawberries, waffles, cereal with whole milk. They also have the White Horse Saloon, a bar serving beer, wine, food, and soon mixed drinks, and they have plans to open a restaurant soon, too. Upstairs they have a function room and a spa with two massage rooms and several pedicure chairs.

Each suite has a backyard porch with chairs to sit and admire the backyard, which slopes down to a forest, and in the distance you can see mountains. There you'll find barbecue grills, elephant statues, a hammock big enough for a couple, a fire pit, a wishing well with a sculpture, and a swinging bench. It's lovely, especially at fall foliage time. During warm weather they have lawn games, and during the winter, a snow luge. Of course Adventure Suites can be rented for weddings and they have packages such as birthdays, s'mores, and in-room massage.
I got a tour of three suites. The themes are hokey, and my main fear was that each room's decoration would be kid stuff, garish and cheap, but thankfully I was so wrong. At Adventure Suites, each room's interior decoration and props match well, are laid out well visually, and have a theatrical flourish.
Of course, they're supposed to feel more fun and fantastical than authentic. For example the TreeHouse Suite isn't an actual treehouse, and I'd be surprised if the Jungle Suite had an accurate visual style taken from a particular African country. But this is the opposite of TGI Friday's, where they throw a lot of antique junk on the walls, and it also isn't like nearby Story Land, a theme park that has a lot of heart but has only amateur decoration. The rooms at Adventure Suites have artistic merit that adults will appreciate, too. (And some suites such as the Wine Cellar are clearly intended for couples without children.) They feel homey, inviting, and celebratory. They evoke a sense of wonder. Plus, they are functioning, high-end lodgings with bathrooms, kitchens, and presumably comfortable beds. Every room has a jacuzzi or hot tub.
The Wine Cellar Room, a couple's suite, is decorated with "stone" walls like a wine cellar, rich wood and leather furnishings, with bottles of wine embedded in the walls. A jacuzzi tub with massage settings is the room's central focus, and the bathroom is spacious with an artistic tiled mosaic. Its shower even has a television.
The Showtime Room is a family suite centered around the love of movies. It's got a personal movie theatre with black leather seating that folds down into beds, a heart-shaped hot tub, and a popcorn machine.
The Wine Cellar Room and Showtime Room feel more like "a tribute to wine and movies" with a variety of motifs, rather than, for example, choosing a single setting — sleeping in an actual movie set or an actual Italian villa — which might be more immersive. However, they take the decoration to the next level with the Haunted Castle, a party suite that is only a year-and-a-half old. Rather than a variety of visual themes, they've chosen one: a castle.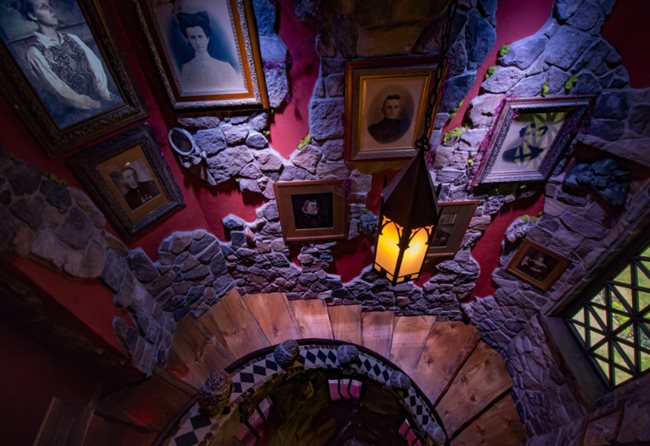 Through Events INSIDER, I've reviewed nearly 70 Halloween attractions, and done travel writing to Disney, Universal Studios, and more. The Haunted Castle really is a Disney-level experience, beyond even 5-WiTS, the premium escape room. It has beds to host 18 people, in a multi-level suite with several rooms including a full kitchen, three full bathrooms with bidet toilets, and an outdoor patio hot tub with a view. It's all castle themed with faux stonework on the walls, gargoyles, a gas fireplace, and more. There's air conditioning and of course an exit to the expansive backyard. The storyline is that the room was accidentally built over an old insane asylum. And a miniature asylum is placed into a nook.
There are a lot of nooks in the space that are fun to discover. Not only is the space densely packed with interesting and spooky decorations that would be fun to look at statically, it has a couple of interactive elements (a chair that spins), and a ton of animatronics. Without spoiling any surprises, I can say that the props of the Haunted Castle will shake, rattle, and pop out. There are numerous, possibly 20, video screens in the walls or places where video is projected against the walls — and make sure to watch the ceiling! — with ghostly sound effects, lighting, and puffs of air that startle you. Some of the furniture shakes.
Its center is the "parlor", a large space with a high ceiling, where random light shows take place all night. At times you'll have red lighting with the loud sound of a beating heart. At others, ghosts will come out. The floor above it has a balcony, so that guests on each level can see each other and interact.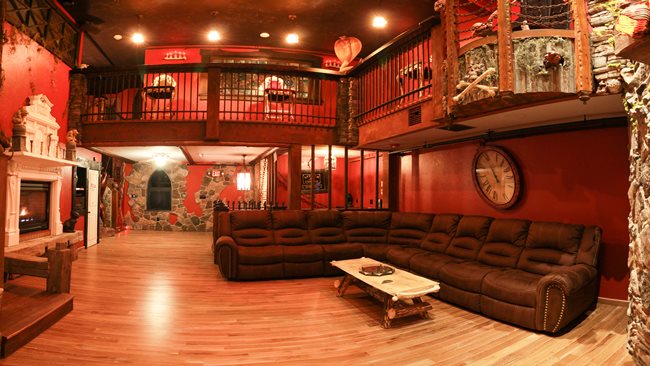 It's just fun. There's a throne with skulls to sit on. In the bathroom, the toilet paper holder is skeletons, and the wall has stone artwork with a raven. Its bunk beds are shaped like wide coffins. Decoratively, it was everything that I'd hoped for, with a lot of variety, but it's not too eclectic. The happenings are random, run by computer, so there's always something going on, and there's also a "kids mode" that is less scary and more just cartoonishly spooky fun. It's okay to bring your own food and alcohol.
A few ideas come to mind about taking it to the next higher level, as the elements are mainly random. They just happen rather than being immersive. Despite its asylum backstory, the room's elements do not unfold in a progression with a storyline, all related to one narrative tale. I would include a game that residents can play, such as murder mystery clues or a scavenger hunt. There could be a checklist of symbols that wouldn't spoil any surprises but could be used to ensure that everyone gets to see everything. Or even give control of the room's surprises to one master guest with an app. There are no live actors, which is understandable if people want their privacy, but I think could be made to work as an option, just as the in-room massage therapist is an option.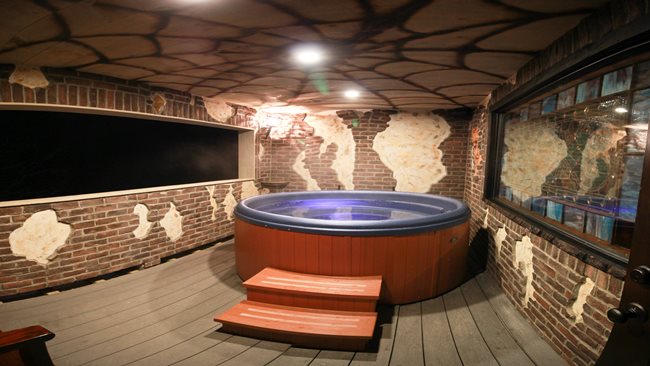 Having not actually experienced an overnight, I wonder about the frequency of the surprises. Too few could be boring, but too many — especially loud ones that interrupt — could get in the way of conversation, watching a movie, or sleeping. I mean, it's fun to be woken at 2am by spooky noises once, but not all night. Perhaps there should be a 'pause' button.
There's nothing like the Haunted Castle accommodation in all of New England. Though perhaps not the only one in the world. The other rooms are interesting, too, going far beyond kid stuff to interesting for adults who are kids at heart, whether you bring kids along or not. They make good tradeoffs between having an immersive environment but one that is kid-proof to guests actually staying there. I'll give Adventure Suites my rare 5 stars PLUS.
For more, see Adventure Suites online.