Adirondack River Outfitters Is New York's Best Rafting Company (5 stars PLUS)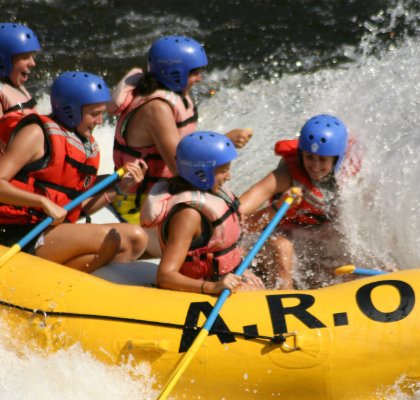 Whitewater rafting is a bucket list adventure that's easy to do and looks great on social media to your friends and family. It's like you're a superhero when all you've done is sit and occasionally paddle, protected by an expert guide in your raft. A great destination for Bostonians is the Hudson River in the Adirondack Mountains of eastern New York.
The destination may be even better than going to upstate Maine. Each is a 4-hour drive from Boston, and each feature Class III and Class V rapids. (In Maine, the Kennebec and Penobscot Rivers, and in New York, the Hudson and Moose Rivers.) However, upstate New York's rafting is in a warmer climate, and closer than upstate Maine's rafting to other tourist attractions (see my reviews of Fort Ticonderoga and Water Safari Resort.)
My recommendation, having done the Hudson twice, is Adirondack River Outfitters. When I was calling around to set up reviews, one of the other rafting companies recommended them to me as well. It's nice for them to have a competitor say they're great! They were founded 33 years ago, making them the longest-running rafting company in New York, but guides' experience vary of course, and guides switch or fill-in for other rafting companies all the time.
At their base camp for the Hudson River, Adirondack River Outfitters has luxury lodging, an aerial ropes course, a paintball field, ziplining, rent inflatable kayaks, and take you rock climbing. But foremost, they run rafting trips on the Hudson, Moose, and Black Rivers. They also rent canoes, paddle boards, with lessons, and in the winter host skiing. We chose the Hudson, which is Class III with a bit of Class IV, making it thrilling but not dangerous.
First we stayed overnight at The Adirondack Riverbeds, which is a short walk to and from the ARO rafting base. It's modern, built from natural unfinished wood, a four-bedroom facility with two a half bath and full bath to share. One room is all bunk beds, as if for kids, and the other three rooms are queen beds for couples. For long stays — I suppose they must get winter sport enthusiasts, too — they have board games, television, and stereo. There's a large common area with plenty of room just for lounging, plus a table for working or eating a group meal.
The space is sparkling clean, with hardwood floors. We were grateful for the blackout drapes, which keep out the rising sun and let weary travelers sleep longer. And I was pleased to find a suitcase stand for unpacking our suitcases, so I didn't have to bend over way to the ground. (Pro tip: suitcases are how idiot tourists spreads bedbugs from one hotel to another, so always keep your suitcase off of the bed. All hotels should have them, for their own protection.)
They've got a full kitchen with a stove, fridge, and freezer. In the back there's a patio with rocks and chairs to sit, a grill, and you can light a bonfire.
There were a few bugs in the space, and flies in the kitchen, but you're right in the wilderness, in a shared space with other tourists who may leave doors or windows open, so you can't blame management too much for that. If they had air conditioning, we couldn't figure out how to turn it on. So we cracked open a window instead.
The next morning, we gathered for the whitewater rafting tour. Pro tip: guides have personalities ranging from quiet to wahoo. Some may take extra care calming you if you're nervous, and some may know more about geology and nature, if you want you learn. So ask for the guide that's best for you. After being mismatched for rafting with the Adirondac Rafting Company (4 stars), we asked for a wahoo guide and got Casey.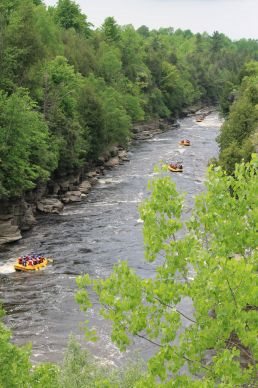 Whitewater rafting guides, who are used to working with kids, have the same culture as summer camp counselors. You can expect comical antics, shouted instructions, and eye-rolling jokes. Casey wasn't crazy — he didn't encourage us to splash or prank the other guides, as I've seen elsewhere — but throughout the day he entertained us with stories and jokes, which made the down time pass more quickly. He also didn't talk constantly, giving us breathing time to take in the wilderness and meditate with nature. A balance is good.
Casey gave clear instructions, telling us what was coming up, which reduced our anxiety and prepared us for when to pay attention or shoot video. Every guide has a different style of instruction, but we liked Casey's system the best of the whitewater trips I've been on. Instead of telling us to paddle until he told us to stop, he asked us for only a specific number of strokes. This made us feel coordinated, a precision team that would not overshoot turns. Perhaps because of this, we were able to hit many opportunities to do something wild in the water such as spinning, aiming for rough rocks on purpose, or "surfing", which is when the rocks create a standing wave that you can ride on while staying in place.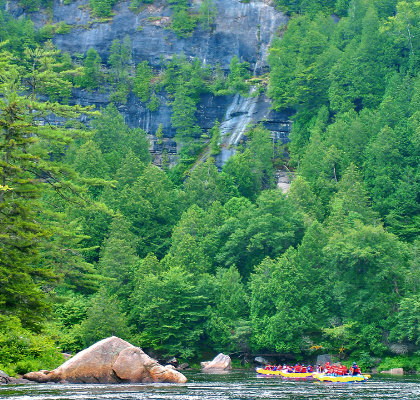 The river has many quiet stretches, with opportunities to get out of the raft and swim alongside it. We didn't see much wildlife, and the views sometimes got repetitive to amateur visitors like us. But we saw rock chasm walls, a waterfall in the forest, and stopped at Elephant Rock where you can climb up 10 feet and jump off into the water.
We were glad that Adirondack River Outfitters gave our safety instructions while we rode the bus 20 minutes from base camp to the river. That saved us some time, and we didn't have to stand up during the talk. We were also glad that, when the trip ended, there was no need for a bus ride back. We landed within walking distance of base camp. Carrying the raft as a group, sailing out, and carrying the raft back when the trip was over, were less bother, I believe, than elsewhere.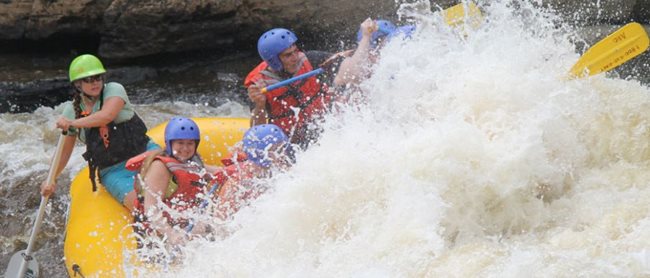 They lunch they served us, a small wrap with cereal, was frankly inadequate to a day's worth of exercise, but afterwards they served an early buffet dinner. You get one grilled chicken breast, a good salad (not all lettuce), two kinds of dressing, macaroni salad, watermelon, and a variety of hard ice cream. It seemed that they carefully counted the numbers, so don't expect to eat seconds.
Out back, we got a chance to see their outdoor activities. They have two short zip lines and one longer one that's 400 feet, all put together into one ropes course, which seems accessible to beginners. That's good to see, because I've visited ropes courses that try to be so cutesy and challenging — think of crossing a gap by stepping on hanging, swinging logs instead of a real footbridge — that it undercut the fun for a guy like me who's not very athletic. (And I'm so tall that my center of mass makes me wobbly.) The ropes course takes 45 minutes, and features the automated belay system with two carabiners that we've seen before. It's so easy and foolproof that you'll feel safe up in the air. We saw their paintball field too, a rocky forest area where up to 20 people can play.
The courses aren't flashy or stylish. The paintball field has no bright colors, animatronics, wooden cut outs of butterflies and zombies, or rusted old jeeps and helicopters to hide behind. Instead it is campground-y, natural, with just rocks, old tires, and hick's backyard junk. But that's adequate. I was glad to see that the paintball field is densely packed with obstacles, so that you spend most of your time kneeling, walking, and shooting, not running around the forest just trying to locate your opponents. (Running crazily is what gets people injured, and hunting for hidden people gets pretty boring, even though it simulates warfare more accurately.) It even has a natural entrance way with rows of stones.
From what we've seen, Adirondack River Outfitters is New York's best rafting company. Our trip was easy, entertaining, adventurous, with a minimum of fuss. I'll give Adirondack River Outfitters my rare 5 stars PLUS.
See adkriverbeds.com and aroadventures.com.