You'll Love to Hate Richard's Cheating His Way to the Throne in Richard III (4.5 stars)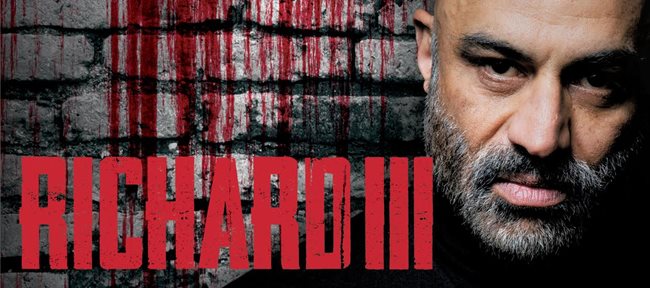 Richard III, by William Shakespeare, Directed by Steven Maler, Scenic and Lighting Design by Eric Southern, Costume Design by Jessica Pabst, Sound Design and Original Music by Nathan Leigh, Fight Director Angie Jepson, Production Manager Renee E. Yancey, and Production Stage Manager Kevin Schlagle, runs free July 18 to August 5, 2018 on Boston Common in Boston, Massachusetts.
When it's warm, I love to be outdoors at night more than anything else in Boston. This summer, the Commonwealth Shakespeare Company again brings a free outdoor play to Boston Common, Richard III. Except for a matinee on August 4 at 3pm, the performances take play gloriously at night. Richard III sits in the middle of Shakespeare's plays as they are ranked by popularity and ease-of-understanding, being neither the best- nor the worst-loved. Without a sense of history, you will find it impossible to understand the plot, based on a true story — at least as those in Shakespeare's time interpreted it. (By the way, with Richard III's lost remains discovered in 2012 and reburied, there is a push to reinterpret his tarnished reputation.)
However, without understanding the history, you can enjoy the play purely for its fireworks, much like you can enjoy Henry V for the St. Crispin's Day speech without having any idea the historical context. (The English won some kind of battle against the French with the odds against them is all that I've ever understood.)
To boil it down, Richard wants to be king and he'll backstab anyone and say anything to get it. People get duped by his oily shenanigans, making liberals like myself think of Donald Trump, and showing that Shakespeare's themes are still relevant to today. Will Richard win the crown? Having won it, will he get a terrible poetic ending? You'll have to attend to find out. It's Game of Thrones from the year 1483.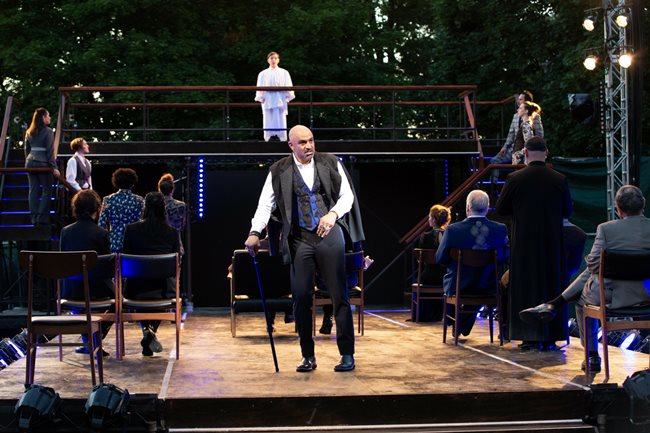 In this case, the fireworks are provided foremost by Faran Tahir, who plays the title role of Richard, and whom you'll know from being a starship captain in Star Trek (2009) and I am fond of from his video recorded role in 5-Wits Tomb, a pioneer of escape rooms in Boston. Tahir makes Richard so much fun to hate! He cackles with glee after he arranges to have someone sent to prison and falsely commiserates with him. He's so gleeful berating a woman to marry him. She spits in his face, he wipes it off with his finger — and then tastes it with a malicious grin. Ho ho!
Kudos to Remo Airaldi for the bewildered Clarence who gets sideswiped in the play, and uses his wits to try to talk his way out of it. His earnestness and truth-speaking make an important foil to Richard. He evokes such pain in his troubles that it heightens the malice of Richard.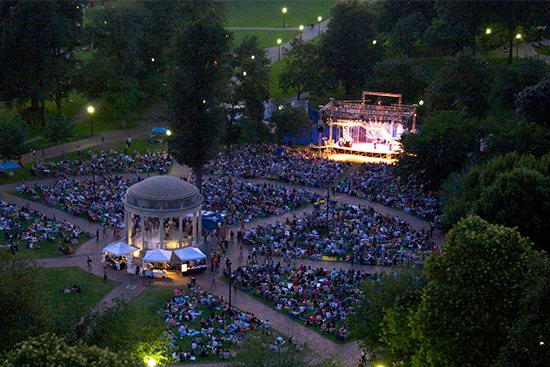 The play is not without flaws. Shakespeare is hard to access at the best of times, and with Richard III, even having studied two synopses beforehand, I found the play hard to follow. Instead of setting up all the characters and their relationships, Shakespeare starts by simply assuming you know the historical figures. They don't call each other by name as much as I would like. Do you know what I mean? For example, in Hamlet, the ghost says "I am thy father's spirit". We get it. The ghost is Hamlet's father. Richard III does not have this clarity, as it is written.
This leaves some questions. Who's in the coffin? I think it's King Edward, but how did he die? This happens before the play begins. And, why does Lady Anne feel forced to marry her suitor? Why does Queen Margaret show up when she does? Wait, there are two queens? Did Richard just order someone's beheading, and why does he have the power to just do that by saying so? The play might have benefited from a longer synopsis, or even a preshow where the actors come out and introduce themselves. I did appreciate the family tree in the show program.
The Commonwealth Shakespeare Company has a strength in bridging Shakespeare to the audience through physicality, for example rolling a hat to indicate what is meant by "bowling" in Love's Labour's Lost two years ago. In Richard III, at one point Richard lies down joyfully on the coffin of his enemy. You really get it — these guys did not like each other! Unfortunately, this production has only minimal staging, just a plain black stage and a balcony with stairs, with plain white lighting. So there weren't that many props or set pieces for the actors to play off of, though kudos to Ross Barron (Messenger) for bounding down the stairs with action-villain energy. Don't break a leg!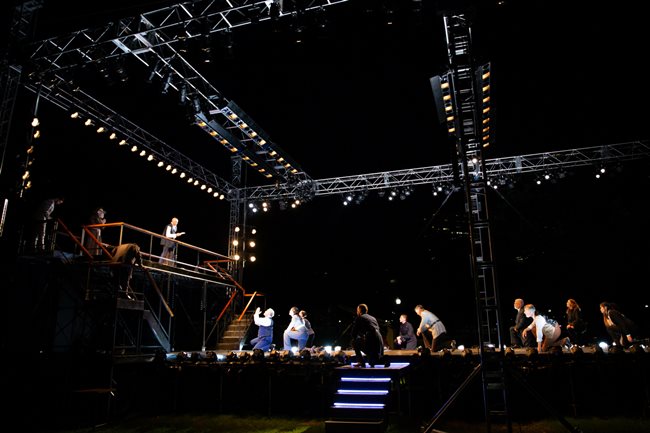 Also, I must mention the costuming. It's easy to overlook the hard work of costume designers in a production, because good costuming blends in with the background. It's like how in baseball you only know the names of the umpires who have made bad decisions. The rest simply do their jobs.
In this summer's production of Richard III, the costuming doesn't serve its function to support the emotional storyline and clarify the characters' roles. It's surreal, with green glitter and metallic strips sewn onto modern business suits and fancy dresses. Why would someone wear a dress with white feathers to a funeral? It was distracting from the dialogue, and, like the staging, unhelpful in clarifying Shakespeare to a lay audience — for example, family members could have been similarly costumed. If there was supposed to be a theme — for example the CSC set their The Taming of the Shrew in Boston's North End in the the 1950s — I didn't get it.
So I was lost through much of the play, despite studying up on it. But as I said, you can enjoy the play simply to see the characters insulting each other, lying to each other, killing each other, and generally reveling in havoc. There are wonderful moments such as when Richard pretends he doesn't want the crown, wringing false modesty to its limits, then commanding, "Those that love me, rise and follow me". Or when Hastings (Mark Torres) says, "They smile at me that shortly shall be dead," and will that prediction come true? At one point, Richard is falsely playing up how enormously devoted he is to religion. "Apologies for interrupting your religious study!" someone says, buying his act. Ho ho! We love to hate Richard, and you will love this performance.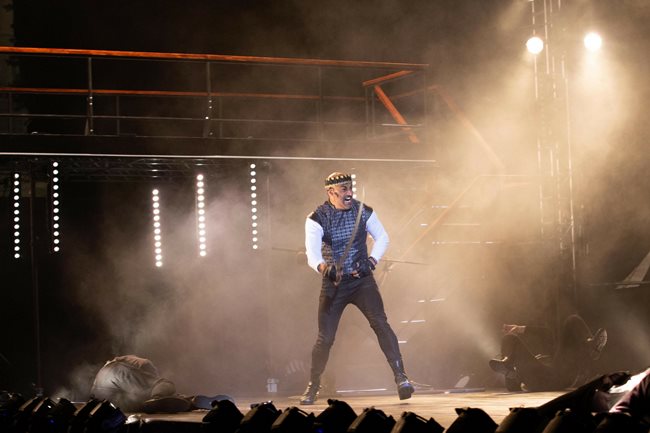 That being said, it is not one of Shakespeare's great plays. The Boston Pops manages to be classy, arty, and cultural, while appealing to a broader audience — by this I mean to include a diversity of people and those for whom a free show might be the only show they can afford all year. I wonder sometimes whether returning to Shakespeare's more accessible and popular plays or even a production of West Side Story or A Raisin in the Sun would tarnish the annual Boston Common event irrevocably or would just be a good idea. Arrive early to get the best view. You can rent a chair for $5. Food trucks and other food options surround you. Park at the Boston Common Garage and get your ticket validated for a discount.
It's a joy to be outdoors at night, the show is free, the acting is great, and that is enough for 4.5 stars. Just come having read up on Richard III or prepared to let go of trying to follow the twists. Richard cheats everyone — that really all you need to know. Then will he get his in the end?
See commshakes.org.