You'll Learn So Much About Marble at the Vermont Marble Museum (4 stars)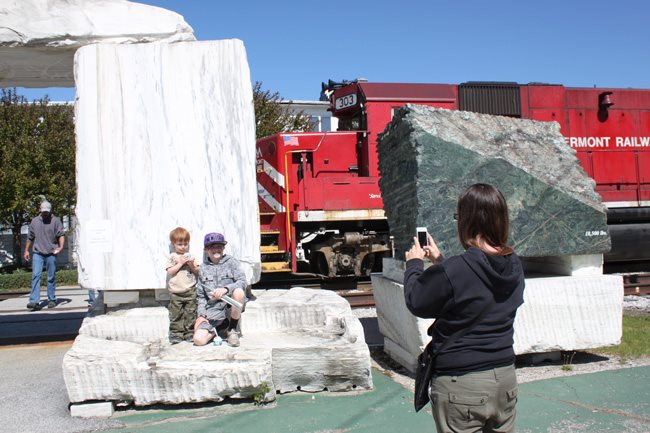 The Vermont Marble Museum is the world's largest marble exhibit, on the site of a quarry that was once the largest producers of marble in the world.
While it's primarily a science museum dedicated to geology, you will find some art. Most of the iconic sculptures and buildings in Washington DC were cut from Vermont marble. There's a display on the Tomb of the Unknown Soldier, and bas-reliefs of all the US presidents, labeled with the states they were from and fun facts. There's a Triceratops skeleton, one of the only ones that is articulated: all of its bones found in the correct positions instead of jumbled up in the ground.

They do have an area with some small sculptures, but only a few stunning pieces like a boy and girl on a swing, and a sculpture of the Last Supper. The rest are more abstract pieces, and there's a showcase model of a marble chapel, a marble kitchen, and a marble bathroom. It was cute to see them in a museum context.
Though its exhibits seem low budget, they show a lot of heart and are surprisingly interesting. You'll see fossils and a display on the layers of the Earth's crust down to its core. There's a faux cave with bubble wrap and papier mache, where you see minerals that glow under ultraviolet light. One exhibit shows the stages of producing of a marble tabletop. To cut the stone from the quarry, they drill a line of holes where I guess it breaks off. Then they polish and cut it to an exact size.
Some of the exhibits seemed random. There's an exhibit with an old office. They may also have a small theatre to show films. You can walk through model rooms, small room-sized displays made of the various types of marble. I had no idea that there were so many types of marble! They have the largest collection of marble samples in the world.

To me, the most interesting exhibit was one that showed how sculptures are made with a 'pointing tool'. First, they make a sculpture in clay. Then they make a plaster mold and a plaster model from it. Then they attach the pointing tool to the plaster model, locking it in place with a thumbscrew. A duplicate pointing tool gets placed onto a marble slab to guide the carving. Each pointing tool showing the distance between points as a reference while they're actually carving the actual marble.
Fascinatingly, they have a sculptor on site certain days, whom you can see at work. Of course they have a gift shop with marble cutting boards, marble-handled knives, salt and pepper shakers, totes, marble flowerpots, and more.
The Vermont Marble Museum was created with great love, and even its stairwell railings are made of marble. However, it does not come with a marble sculpture garden or extensive marble art pieces, and its science exhibits lack modern features such as interactivity or extensive curating. You can walk through the museum in 20 minutes. I'll give the Vermont Marble Museum 4 stars: worth a visit, especially on days when their sculptor is in. Make it part of touring the Vermont Marble Trail, where you can visit quarries and marble monuments all over. 
See the Vermont Marble Museum website.