The Year's Last Week of Holiday Lights Near Boston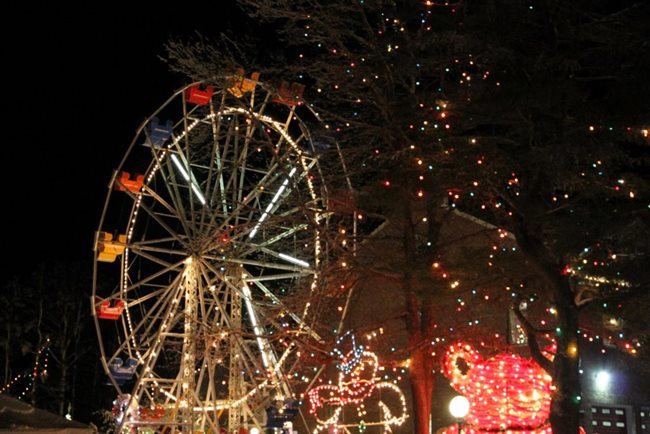 Events INSIDERs, it's a treat to be outdoors at night anytime of the year, but especially when you can explore thousands of twinkling holiday lights! Post-Christmas, there are still several attractions that are still open, but it won't last long! The only attraction I know of that's open past January 1 is the La Salette Shrine in Attleboro, Massachusetts, and that's a very religious destination not suitable for everyone.
So get out and enjoy holiday lights this week, and please don't go out with the goal of getting wasted on New Year's Eve in a bar or nightclub that's doing the same boring thing they do every night of the year. Get outdoors and see fireworks instead. Make it an excuse to travel and stay over to a New England town with a winter celebration that you haven't been to before.
Here is 2018's final list of weekly holiday lights near Boston.
Boston Metro
Wed
12/26
Thu
12/27
Fri
12/28
Sat
12/29
Sun
12/30
Mon
12/31
Tue
1/1
Stone Zoo's Zoolights (4.5 stars)
617-541-5466, Stoneham, MA
Winter wonderland of tree-lined paths lit by thousands of twinkling lights. Animals, including reindeer, and Santa. A magical holiday world filled with fairy tale characters and dancing plush animals.
x
x
x
x
x
x
Metro West
Wed
12/26
Thu
12/27
Fri
12/28
Sat
12/29
Sun
12/30
Mon
12/31
Tue
1/1
Fatima Shrine (C?)
Holliston, MA
Religious Xmas lights.
x
x
South Shore
Wed
12/26
Thu
12/27
Fri
12/28
Sat
12/29
Sun
12/30
Mon
12/31
Tue
1/1
Edaville Railroad's Christmas Festival of Lights (5 stars)
508-866-8190, Carver, MA
Arguably the most-loved festival of its kind, having earned generations of loyal fans. Passengers relax comfortably in warm and dry coaches while riding through a spectacular holiday setting featuring an explosion of lights.
x
x
x
x
x
x
Southeast Mass
Wed
12/26
Thu
12/27
Fri
12/28
Sat
12/29
Sun
12/30
Mon
12/31
Tue
1/1
La Salette Shrine Festival of Lights (4 stars)
508-222-5410, Attleboro, MA
More than 300,000 lights covering 10 acres. Very religious.
x
x
x
x
x
x
x
Worcester
Wed
12/26
Thu
12/27
Fri
12/28
Sat
12/29
Sun
12/30
Mon
12/31
Tue
1/1
Night Lights: Winter Reimagined (5 stars)
Boylston, MA
Daytime and evening lights at this botanical garden, with smores and additional special Christmas events.
x
x
x
x
x
Lowell
Wed
12/26
Thu
12/27
Fri
12/28
Sat
12/29
Sun
12/30
Mon
12/31
Tue
1/1
Winterlights at the Stevens-Coolidge Place (A?)
North Andover, MA
75,000 lights throughout the gardens, orchards, and grounds, with performances and activities for kids and adults. Santa and ice princesses nights, fire dancer, local choirs.
x
x
x
x
Springfield
Wed
12/26
Thu
12/27
Fri
12/28
Sat
12/29
Sun
12/30
Mon
12/31
Tue
1/1
Winter Wonderland Light Display and Santa's Trains (C?)
413.584.5457, Florence, MA
Free. Drive-through light displays, carols, Santa, Mrs. Claus, Breakfast with Santa, miniature villages with model trains, fire and cocoa.
x
x
x
x
x
x
x
Bright Nights at Forest Park (4.5 stars)
413-733-3800, Springfield, MA
Drive-through experience with nearly three miles of lighting displays.
x
x
x
x
x
x
x
Six Flags New England Holiday in the Park (5 stars)
Agawam, MA
New Englands largest holiday celebration in a theme park with more than 50 rides, shows, and attractions.
x
x
x
x
x
x
x
Cape Cod
Wed
12/26
Thu
12/27
Fri
12/28
Sat
12/29
Sun
12/30
Mon
12/31
Tue
1/1
Heritage Museum Gardens Aglow (A+?)
508-888-3300, Sandwich, MA
Garden and museums lit for Xmas. Carolers, fire pit, model trains, Santa in Model T Ford, Mrs. Claus, giant Lite Brites, roast marshmallows, reindeer scavenger hunt, live music, carousel, ice carving.
x
x
x
Cape Codder Enchanted Village (B?)
855-861-4370, Hyannis, MA
100,000 lights with caroling and Santa at this hotel with an indoor water park.
x
x
x
x
x
x
Berkshires
Wed
12/26
Thu
12/27
Fri
12/28
Sat
12/29
Sun
12/30
Mon
12/31
Tue
1/1
Winterlights at Naumkeag (A?)
Stockbridge, MA
110,000 lights throughout the garden rooms and grounds, including the iconic Fletcher Steele-designed Blue Steps, with performances and activities for kids and adults. Santa and ice princesses nights.
x
x
x
x
New Hampshire
Wed
12/26
Thu
12/27
Fri
12/28
Sat
12/29
Sun
12/30
Mon
12/31
Tue
1/1
Gift of Lights at New Hampshire Motor Speedway (B?)
765-664-3918, Loudon, NH
See how over-the-top decorating looks while being able to brag youve driven around the track.
x
x
x
x
x
x
Christmas at Canterbury (B?)
603-783-9511, Canterbury, NH
Candlelight stroll through the Village, old-time magic show, horse-drawn wagon rides, silent film with live organ. Father Christmas, hot cider, fiddlers.
x
x
x
Christmas Lights at La Salette Shrine & Center (3.5 stars)
603-632-7087, Enfield, NH
45,000 evening lights spread across 30 acres.
x
x
x
x
x
x
Candlelight Stroll at Strawbery Banke (5 stars)
603-422-7514, Portsmouth, NH
Guided Holiday House Tours at this re-enactment museum focusing on the 18th century. This event features live music, a bonfire, participatory caroling, performances on period instruments, Masonry, hundreds of candles, a gingerbread house contest, and more.
x
x
x
x
x
x
x
Christmastime at Santa's Village (A?)
603-586-4445, Jefferson, NH
Large Xmas theme park with reindeer, Santa.
x
Connecticut
Wed
12/26
Thu
12/27
Fri
12/28
Sat
12/29
Sun
12/30
Mon
12/31
Tue
1/1
Holiday Light Fantasia (4 stars)
860-742-2267, Hartford, CT
2-mile drive-through park event with 1,000,000 night-time lights.
x
x
x
x
x
x
x
Winterfest and the Tunnel of Lights (B?)
East Windsor, CT
Trolley ride, Santa.
x
x
x
Fantasy of Lights (B?)
203-777-2000, New Haven, CT
Drive-through park with 60 attractions that include 100,000 lights.
x
x
x
x
x
x
x
North Pole Express at Essex Steam Train (B?)
Essex, CT
Train ride with live music, Santa and Mrs. Claus, sing-a-longs, hot chocolate.
x
x
x
Maine
Wed
12/26
Thu
12/27
Fri
12/28
Sat
12/29
Sun
12/30
Mon
12/31
Tue
1/1
Gardens Aglow at Coastal Maine Botanical Gardens (A?)
Boothbay, ME
Outdoor walk through a garden with more than 650,000 lights
x
x
x
x
Northern Lights Celebration at L.L. Bean (B?)
Freeport, ME
Nighttime forest path, tree lighting, model trains, horse-drawn rides, Santa, reindeeer.
x
x
x
x
x
x
Vermont
Wed
12/26
Thu
12/27
Fri
12/28
Sat
12/29
Sun
12/30
Mon
12/31
Tue
1/1
Winter Lights in the Park (B?)
Essex Junction, VT
Outdoor walk through park with holiday lights.
x
x
x
x
x
x
x