Witch's Woods is Boston's Closest Stay-All-Evening Halloween Theme Park (5 stars)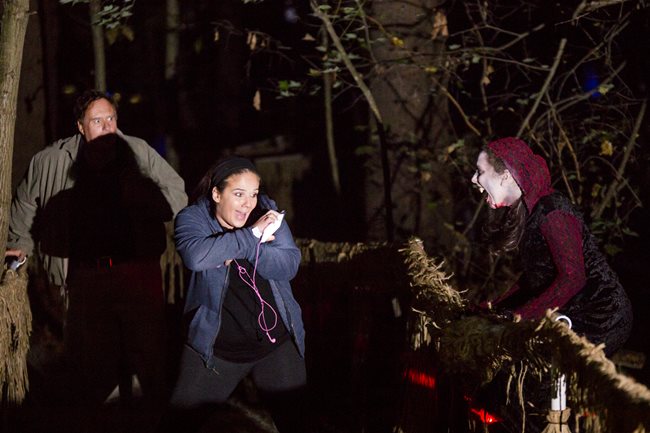 by Johnny Monsarrat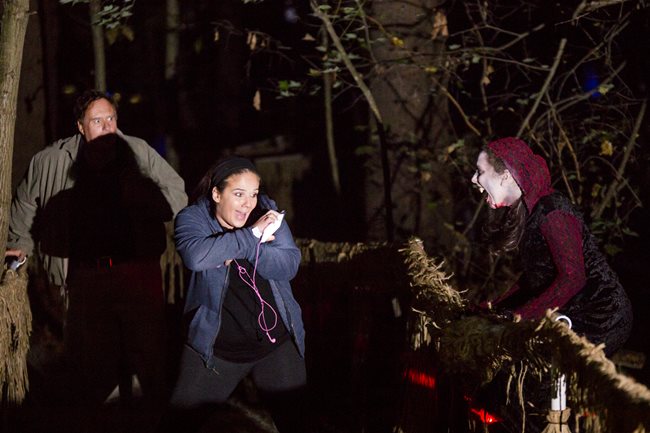 Most Halloween attractions are all too brief. You arrive, you wait in line, the experience is short, and then you leave. But less than an hour from Boston, just past Concord, Witch's Woods is an entire Halloween theme park that you can spend all night at. That makes it the closest stay-all-night Halloween attraction to Boston, with the next closest being in southern New Hampshire.
Witch's Woods is set in Westford on the grounds of Nashoba Valley Ski Area, where you can get a real sit-down dinner, carnival food and rides from Fiesta Carnivals, visit 7 attractions, and stroll up and down the walkway in the beautiful nighttime setting of a forest, ski hills, and pond.
Arrive early and eat at the Outlook Restaurant, with expansive views of the grounds and a rural theme of unfinished wood that offsets Nashoba's suburban location. You'll find a wide range of alcohol and a menu from satisfying to truly great meals. After 10pm, they switch to pub food.
Of the 7 attractions, the star is the Vampire Passage, a forest walk filled with actors who jump out at you. Walking at night in the New England woods is already scary enough. You'll find creative dioramas and stunning animatronics, including giant statues. The final courtyard of vampires leaves you surrounded by high production quality staging and animatronic monsters — and thankfully has no actors, so you can linger and take photos.
Also impressive was the Horrorwood Chamber of Chills, which had the highest production quality of anything we saw. It's a series of dioramas behind glass with creative takes on movie horror films, with animatronics. There are no actors in this or the carved pumpkins of the Jack O'Lantern Jamboree, and plenty of space, so with these not-so-spooky attractions you can take your time and relax between scares.
You'll also find an extensive hay ride. There's no hay, but you sit on a flatbed trailer and get towed through the forest seeing dioramas and having actors rush at you. The theme is that you're touring a summer camp, and of course things go badly quickly! Unfortunately, the narrator's constant patter distracted us from feeling scared, and the comedy felt out of place on this ride. However, we saw plenty of lighting and fog effects.
Added to all of this is a Victorian Mansion, the favorite of one person in our group, the only indoor attraction at Witch's Woods, set in their main ski lodge. You'll also find a 3D maze, where they give you 3D glasses that make the paint on the walls pop out, and a haunted castle.
Witch's Woods has highs and lows. Although we found plenty of actors everywhere, the 3D attraction is a maze of plywood with random murals and paint splatter that undermines suspension of disbelief — it just does not look like a place where anyone would lurk or live. Attractions especially Castle Morbid and parts of Vampire Passage had too much filler such as rags hanging from the ceiling or camouflage netting instead of theatrical set design and storied dioramas. Actors generally had no dialogue or themed role to play beyond startling visitors with a shout. I was disappointed to see a booth for psychic readings. A Halloween attraction is make pretend with ghost stories — harmless fun. Psychics are scam artists who push you to make life choices based on superstition and take your money to lie about your future. That should be illegal.
However, the creativity at Witch's Woods far surpasses Canobie Lake Park Screeemfest and many others I've seen. And the outdoor carnival atmosphere has great energy. The many carnival rides are included with admission and will make you squeal with glee. On some nights they have live music, fire spinning, and even fireworks! Eat fried dough, popcorn, pay extra for carnival games, or go inside the main lodge for a much appreciated healthy salad or a drink.
The venue is safe for mature children. Start them with the least scary attractions: the Jack O'Lantern Jamboree, carnival rides, dioramas, and hayride. You can see a ski lift for use during the winter, but it's not running in October. Win a prize on Halloween night for your costume.
There is so much to do! I cannot resist giving Witch's Woods a full five stars, putting it in my top 15% of all attractions in New England — and certainly the closest to Boston.
For more, see www.witchswoods.com.