Winterlights at the Bradley Estate Has Natural Beauty and Holiday Magic So Close to Boston (4 stars)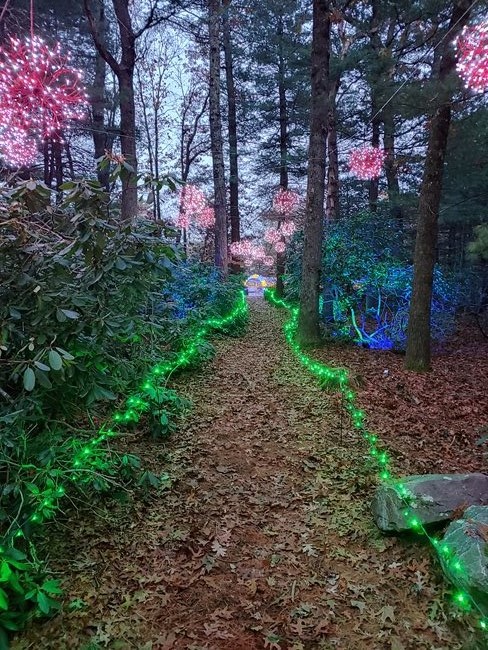 Fall is leaving, and the weather is getting colder, but here in New England, we have holiday lights! Events INSIDER tracks 130 of these outdoor, nighttime installations, where you go at night and either walk or drive past displays and dioramas with thousands or sometimes millions of lights.
One of the closest to Boston is Winterlights at the Eleanor Cabot Bradley Estate. Set in Canton, it is conveniently close to Mattapan and Hyde Park, and (just barely) accessible by public transit. Winterlights also has two other destinations, all run by the Trustees of Reservations, which manages more than 100 attractions, mainly parks and historic homes.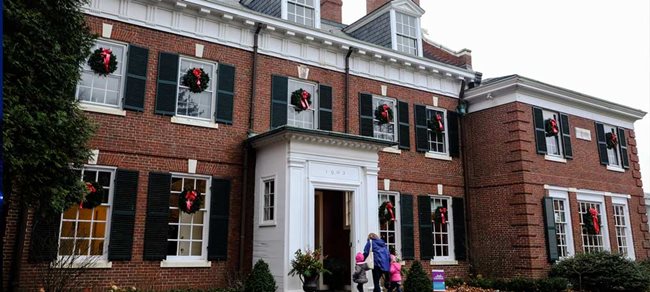 Outside of Winterlights, the Bradley Estate, a historic home from the 1800s, is mainly a wedding destination, and they don't give house tours, but it's free to stroll the gardens, set on 90 acres of land. During Winterlights, parking at the nearby golf course, and then take a free shuttle to see the grounds decorated with 500,000 lights.
It's an indoor / outdoor attraction. Inside, the old estate is made of dark wood with metallic, old-timey wallpaper, decorated for the season with poinsettias and Christmas trees. Most nights they'll have a pianist playing live music. The upcoming movie, Little Women, with Emma Watson, was partly shot there.
Then walk the 20-minute outdoor trail, through the gardens and the woods. The pine forest, with pine needles covering the pathway, has such a great smell to it. The grounds are lovely, even outside of the garden flower season, and you get long views of the grounds and trees. Meanwhile they play upbeat holiday music, including Pachelbel's Canon and Jingle Bells. Everything is secular, with no baby Jesus in the music or grounds, so it's safe for people of all religions, or no religion.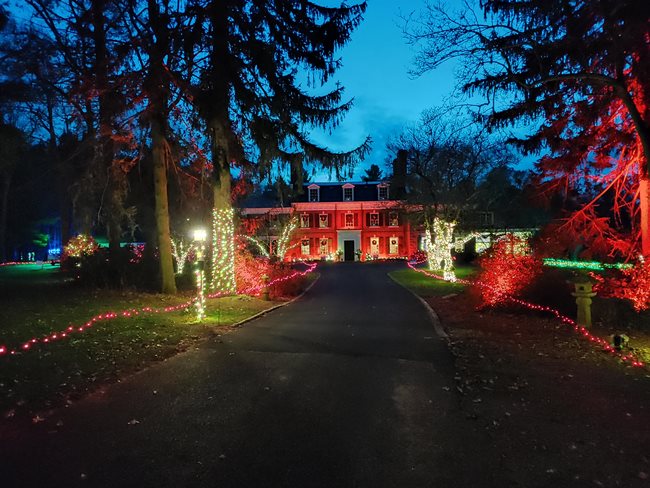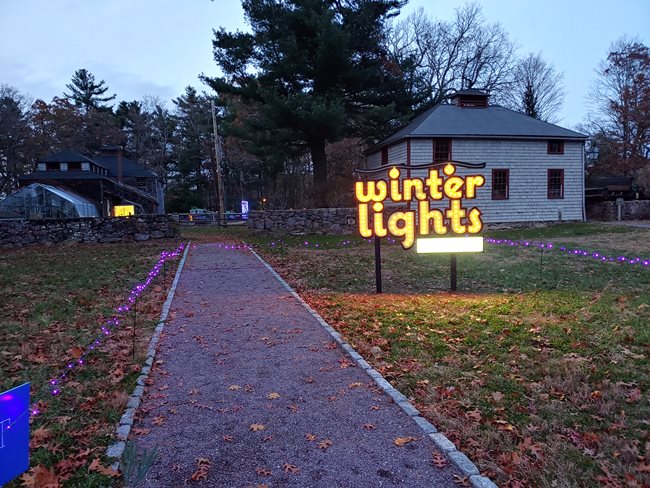 The dirt paths are not completely free of small stones, but are even enough for strollers, and have plenty of lighting, so you won't stumble. You can try funky Fresnel lens glasses that turn points of light into candy canes — a great effect, but the natural beauty of the place is even better. While it's mainly static colored string lights that don't blink, Winterlights at the Bradley Estate has a few special installations, including a tunnel of lights, animated icicles, lighted star balls. My favorite was the "fairy garden", a laser light effect. One section is "Christmas in the Caribbean" with island music and glowing flamingos in Santa costumes. If you look carefully, you might catch Santa taking a nap in a hammock!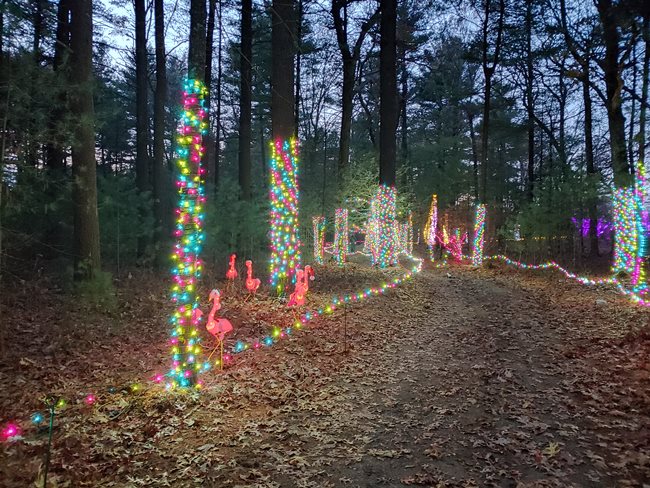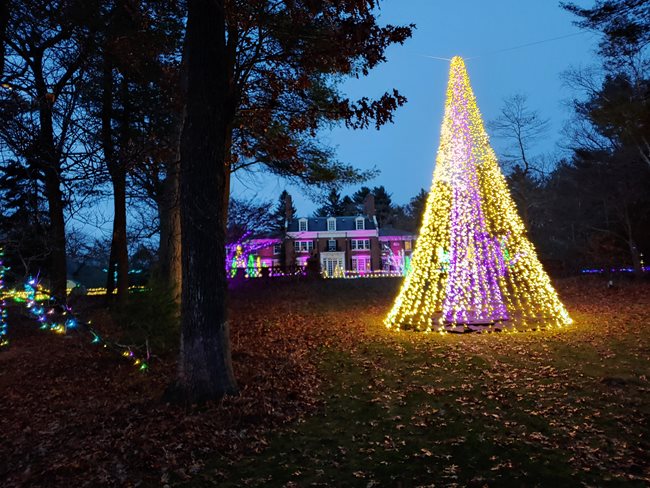 Best of all, the trail ends with a pit fire with plenty of seating. Warm yourself up and get hot cider and cider donuts at the outdoor snack shack. They also sell hot chocolate, and cake pops, and adults can get a shot of whiskey or vodka added. Delightfully, the apple cider was hot and invigorating, not scalding hot like at other places.
Then warm up again inside the estate. There's a discreet gift shop that sells Christmas holiday lights, mugs, caps, poinsettias, ornaments, and more. There's a porch with faux birch trees in "snow", where you can write a holiday wish and tie it onto a branch.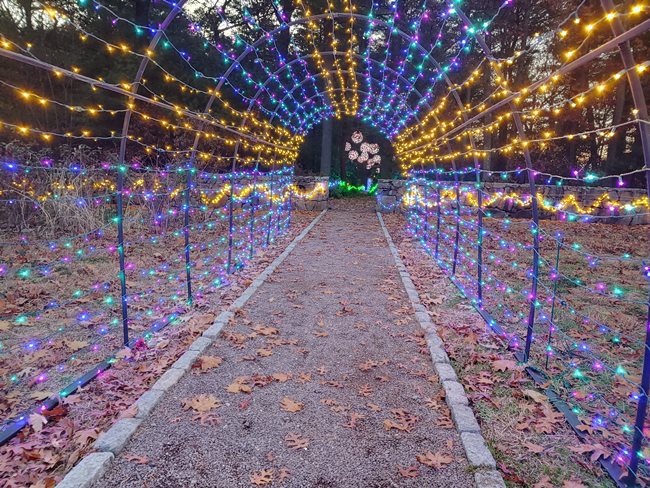 Winterlights at the Bradley Estate is not New England's largest holiday lights attraction, and has no dinosaurs or giant elves made of light. But it's so convenient to Boston and comes with real heart. It is perfectly balanced. It is classy, instead of cheesy, and inviting to all, not snooty. It showcases the estate's natural beauty, indoors and outdoors, and has beautiful decoration without being gaudy. It has creative touches like the bonfire, and there's a scavenger hunt where kids can try to find all of Santa's reindeer.
As someone who is not a Christian, the ubiquity of Christmas can feel oppressive, but with one visit to the Bradley Estate and even before Thanksgiving I found myself humming happy holiday songs. What's better than an outdoor stroll at night, filled with joy and good cheer?
That's an excellent start for just their first year, and I'm sure it will grow. For now, I'll give Winterlights at the Bradley Estate a solid 4 stars.
See all the Winterlights destinations at The Trustees of Reservations website.