Wingstop review!

Wingstop brings the flavor for chicken lovers!
Thirteen is a lucky number is you are a fan of chicken wings.  At Wingstop, they have thirteen different flavors you can try so there is certainly something for everyone.  They are served naked – that is without any batter or coating, so you get the real flavor of the wing without it soaking into the crumbs. 
There are nine wet sauces you can choose from.  These include a sweet Hawaiian, a Spicy Korean and a Mango Habanero.  There are of course BBQ sauces as well such as the Carolina Gold and the Hickory Smoked.  For those that want to truly punish their mouths, there is the Atomic wings.  They boast that these "are the hottest we've got."  If you want a less heat, try the mild sauce or even plain.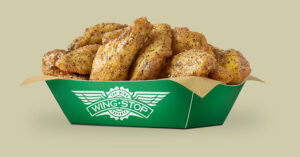 All the rage, dry rubs are also available at Wingstop.  They have four flavors to choose from.  These include Lemon Pepper, The Louisiana Rub, and the Garlic Parmesan.  If you want all the flavor and none of the mess, then give a dry rub a try. 
The classic chicken sandwich is also trendy right now.  Wingstop branched out to deliver you these tasty treats.  The best thing is that you can choose any of the thirteen flavors they offer for their wings and apply it to your sandwich.  Add a dipping sauce for a full flavor meal.  You can also buy a combo and add fries and drink for a perfect lunch.
But what are wings without the dips?  Wingstop has four you can choose from.  They have the all the classics including Blue Cheese, Honey Mustard, Ranch and Cheese dips.  These are not just for wings since you can easily dip your carrots or fries in these as well if you get just a little bit creative.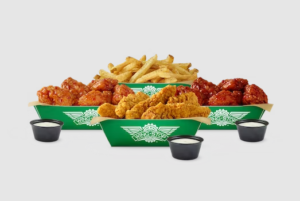 Are you counting carbs?  How about you try the new Ketogenic diet,  Wingstop is the place since they pair wings with another low carb alternative when you order the veggie sticks.  Get a robust side of carrots and celery with a choice of dipping sauce.  This is an excellent alternative to French fries.  Though there is nothing wrong with the fried spuds, it is always nice to have options, especially for those looking for a low carb dish. 
Add to this the fact that chicken wings are intrinsically low carb and that they do not coat them in batter, then you have a great meal for those who chose a new diet for the new year. 
Football season is not over with playoff season almost here.  That means there are plenty of more days to grab wings and settle in.  Of course, for true chicken lovers, you don't need an excuse.  So head to Wingstop to get your fix.  You'll never be bored with the bevy of flavors and options. 
For more information visit www.wingstop.com