Wildplay's Mistrider Zipline to the Falls Takes You Zipping Over Niagara Falls (5 stars PLUS)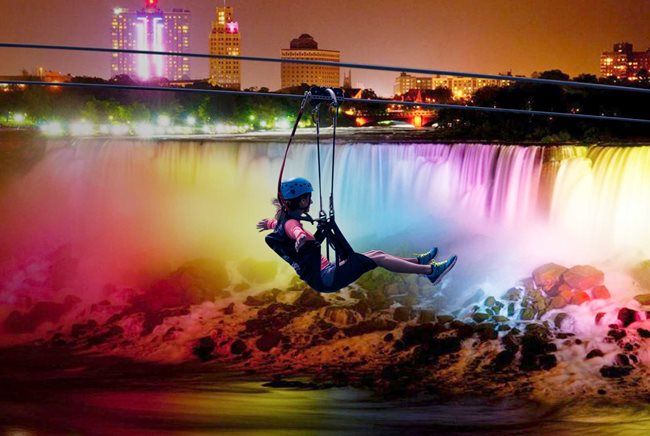 09/07/18 by
Johnny Monsarrat
Wildplay's Mistrider Zipline to the Falls
Niagara Falls, ON, Canada
This August I was glad to visit both the American and Canadian sides of Niagara Falls, where you'll find hundreds of tourist activities and services. On the American side, our favorite was Cave of the Winds, which lets you get so close to a 100-foot waterfall that you can reach out and touch the water. On the Canadian side, which has a Times Square type district of larger-than-life attractions, our favorite was the Mistrider Zipline to the Falls. It's part of WildPlay Niagara Falls, which also has a ropes course at Niagara Falls, and elsewhere in Canada, Bungy Jumping, a giant Primal Swing, and other ziplines and ropes course.

It's a bucket list activity, far better than any other zipline that I've been on in 13 years of reviewing attractions, because you get astounding views of Niagara Falls and the American Falls. You'll feel so sneaky because it's wonderfully easy to do — you literally just have to sit there — but it will look to your friends like you're a superhero. It's an impressive way to live life to the fullest. It's easy with an American passport to cross the border into Canada and back, taking just 60 seconds and you don't even need to leave your vehicle.
It's a popular attraction, priced at only $45 USD (or even less if you come early), so be prepared for a line and a bit of to-do. You'll need to sign a waiver and get weighed in at 275 lbs (124 kg) or less. If you bring a camera, it must be strapped to your body, not hung around your neck. You get a helmet and harness. Kids as young as 7 years old may ride. Of course they'll sell you video on the way out. Staff are professional, knowledgeable, and friendly. They went beyond the call of duty to make us feel comfortable and welcome.
The Mistrider Zipline doesn't actually take you directly over the falls. You zip nearby and across the Niagara River from it. But you are certainly overhead. The water actually falls from the American side, at least the American Falls do, so from the American side you are so up close that you can't really see the whole thing. From the Canadian side, you get a full view. The zipline is quite long and you'll be in the air perhaps 3 minutes.
They have 4 parallel zip lines, so if you come with a friend or in a group, you can descend at the same time. You'll ride 220 feet above the ground, at speeds up to 40 mph, but the ride didn't scare us, feeling completely safe. That allowed us to relax and take in the view.
The Mistrider Zipline has a base camp with a lovely cafeteria, the Grand View Restaurant, that has a direct view of the falls. They offer healthy meals including salads and turkey wraps, but also the fried foods that you would expect from a theme park such as chicken tenders, and pizza. You'll find the restaurant one level down from the zipline launch and welcome center.
You can also take the zipline at night, when the falls are illuminated, and if you're lucky, you might launch during the fireworks display, which only lasts a few minutes.
The experience is too brief for me to write a long article describing it at length, but I wish I could. It is not quite life-changing, but breathtaking, something that you'll be talking about for the rest of your life. Niagara Falls has plenty of cheesy attractions, such as Halloween houses, that are fun for a lark but have nothing to do with waterfalls or nature. You'll forget them quickly. Wildplay's Mistrider Zipline is just the kind of authentic adventure, nourishing rather than cheesy or touristy, that should draw you to both sides of the Niagara Falls.
Here's some video of what to expect!
I'll give Wildplay's Mistrider Zipline to the Falls my rare 5 stars PLUS, making it a must-do.