Whitewater Rafting on the Penobscot River with Northern Outdoors (5 stars PLUS)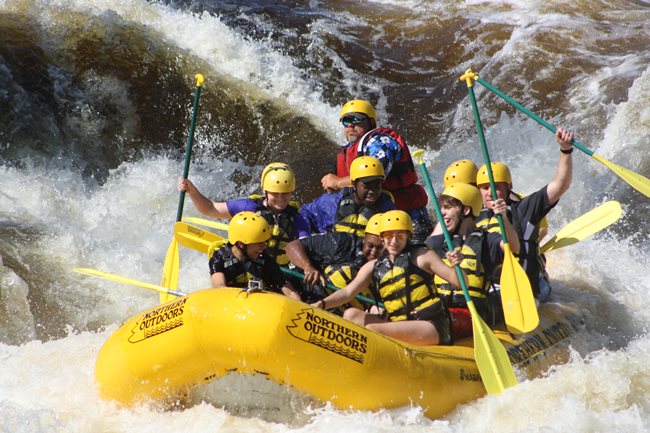 I've been whitewater rafting six times before, but our Penobscot River trek with Northern Outdoors was the best experience yet.
We'd been to Northern Outdoors before, whitewater rafting the Kennebec River (5 stars) and snowmobiling in the winter (5 stars), but the Penobscot River rafting is even more extreme. It is an hour's drive further north into Maine (a total of 5.5 hours from Boston), and the Penobscot is a Class IV and V river, a step up from the Kennebec being a Class III and IV. We were ready for anything, and we got it.
Northern Outdoors has no overnight facilities for the Penobscot River trip, which starts in Millinocket, Maine, unlike their amazing lodges in their Kennebec River location in The Forks, Maine where they have the industry's finest lodging. But perhaps that's because Millinocket is not as remote as The Forks. Millinocket is closer to the highway and has plenty of tourist amenities, not just for rafting but for every outdoor activity near Mount Katahdin, which at one mile tall is the highest mountain in Maine.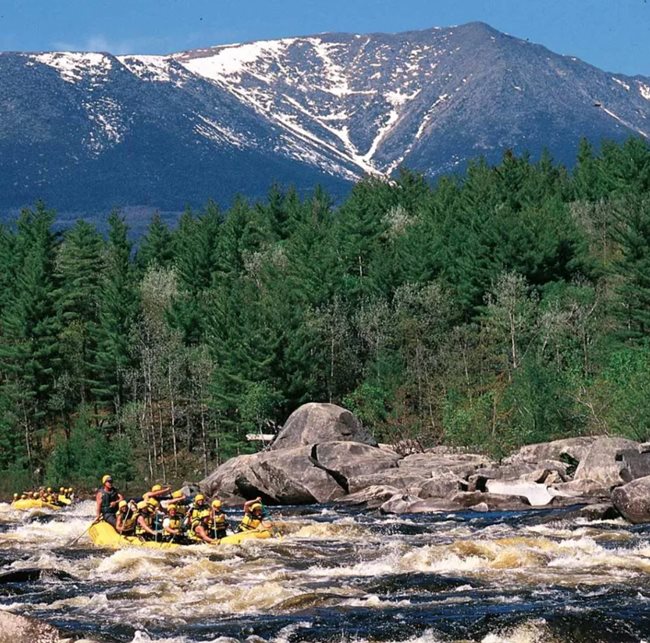 So instead we stayed at the Big Moose Inn, which was comfortable and for breakfast provided a hot breakfast in addition to their self-serve continental breakfast buffet.
We arrived at 7:30am to the Northern Outdoors base lodge in Millinocket, where guides outfitted us quickly and with a minimum of fuss. We were glad to find a real bathroom there so we could wash our hands thoroughly before putting in contact lenses and after putting on sunblock. Staff were kind and empathetic, even when I had numerous stupid questions, such as not knowing how to tighten the straps on my life vest.
Our guide was Todd, who was perfectly welcoming and supportive. He said he thinks of being a raft guide as a kind of performance, where he matches his tone to what his guests seem to want, from quiet to yahoo. Our group was in-between those extremes, so Todd spoke with us at times, even encouraging us to talk amongst ourselves and introduce ourselves — which no other raft guide had done before — but also gave us plenty of quiet time just to take in nature and reflect.
We were hesitant to go out on Class V rapids, which is the highest that amateurs can experience, but with Todd's expert guidance, we got through them easily. As he said, "We try to make the Class IV, which is safer, as exciting as possible, but with the Class V, where you would really hate to take a spill into the water, we tone it down a bit." The most dangerous moment of the day was actually out of the water, at the start, when, as a group, we carried the heavy raft into the water, stepping across a field of round, small stones.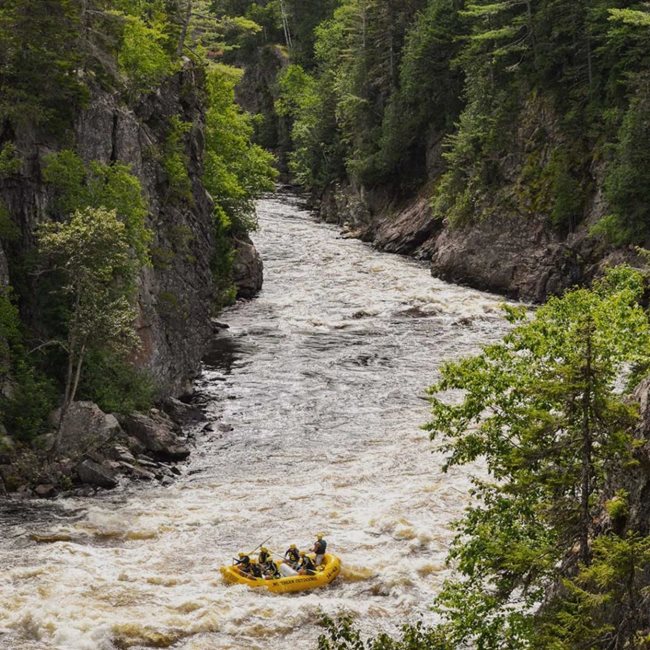 Compared to our Kennebec River experience, there was less paddling for us to do, and the views were even better. Often we got a view of Mount Katahdin in the near distance. We saw an eagle nest, and driving out we saw two eagles flying above the road. The river is close to the Northern Outdoors base, with just a 25-minute ride out and a 4-minute ride back. Pro tip: leave a change of clothing in the bus.
Unlike other raft companies, Northern Outdoors serves a real hot meal for lunch, right on the side of the river. Unlike the Kennebec site, which was beautiful but had just logs to sit on, the Penobscot site had picnic tables with shade. It was impressive how efficiently the staff worked to cook the food, eat with us, and clean up. You get a choice of steak, salmon, chicken, or veggie burger (which comes with cheese, onion, tomato, and lettuce), with stir-fried rice, trail mix, and cookies.
There's good variety through the day as well. You go through exciting rapids, then relax on a long stretch of flat water. Twice on these stretches our guide allowed us to swim in the water, next to the raft as we passed down the river. Pro tip: Getting yanked back into the boat can be uncomfortable. If you ask, your guide will pull the raft over to the edge of the river where it's shallow enough for you to get back in the raft the normal, standing up way. We also encountered a 12-foot "waterfall" (not a steep drop, but more of a slide down a ramp), where you can get out, haul the raft up, and do it again and again. We also "surfed", which is when water splooshes in one direction down off a rock, and then hits the bottom of the river and splooshes back the opposite way. These crosswise streams of water hold your raft steady, in a single place, while you and your raft mates get drenched and hoot.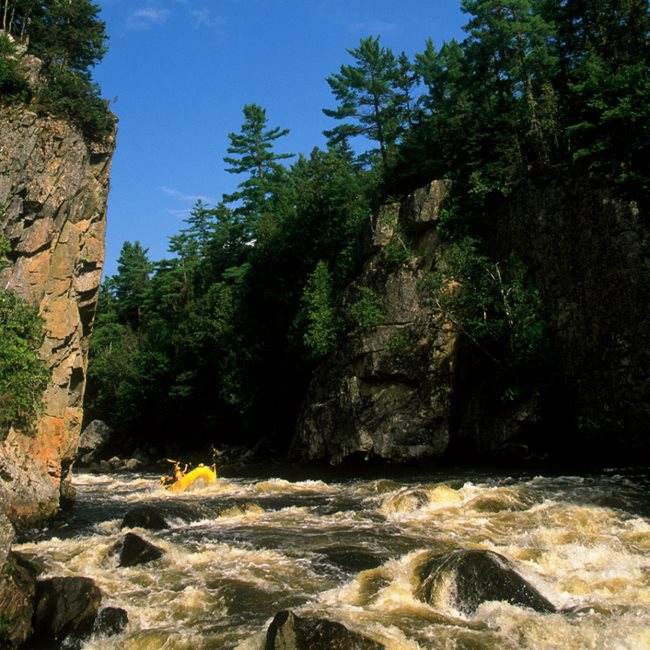 Most excitingly, we pulled over to a rock cascade, a sort of natural "water slide" with water streaming down large flat rocks, step by step. No rafts are used here. Instead, in your life vest, you do a trust fall backwards into deep water, and then the current rushes you down the slides as though it's a slide. We got plenty of photos.
Your experience will be far better if you are prepared. You're supposed to wear a water-resistant shirt, because a cotton t-shirt retains water and can make you cold even on a warm day. But at 79 degrees, t-shirts seemed to be no problem. You may want to wear a wet suit, but be warned — they can overheat you. In my case, not having a water-resistant shirt, I brought a light rain jacket. But then it got hot and I took it off, allowing myself to be sunburned.
Sunburn! My only complaint about our experience is that the guide might have brought and insisted that all his light skinned guests apply a sun protector. (They did have sunblock in the raft truck, but not in the raft.) Every one of us got burned, I noticed. (Of course, it's our own goddamned fault, but we're the amateurs. We shouldn't be expected to be competent.) I might have brought sunglasses. Todd noticed me squinting and kindly offered his without my asking. Thank you! Contact lenses are good, but you might want to bring a spare set, as your eyes will get dry after 9 hours. If you wear prescription glasses, or expensive sunglasses, bring a lanyard that tightens snug behind your head so they don't fall off. Bring water shoes, or at least sandals with a strong strap. If you must wear sneakers, expect to get them wet, and they may be a bit stinky like river water. The best way to wash and dry sneakers is to remove the shoe pad on the inside — it tends to retain water if left in during a clothes washer rinse cycle.
On a long outdoor rafting trip, especially in the middle of a tiring vacation, there is always a point where, as an amateur rather than committed naturist and athlete, I'm beat. I'm ready to get back to civilization. To most everyone, the trip was just right. To me, who is especially out of shape, the Northern Outdoors Penobscot River trip was perhaps 30 minutes too long, with a notably long stretch between the 2nd to last and the last whitewater rapids. That made me glad that they had previously saved us 45 minutes of river time by busing us forward at one spot in the day. Pro tip: if you get tuckered out, get your guide to tell you stories and cheerlead you.
We were glad that the bus ride back to base was short, and we arrived back around 2:30pm, 9 hours after we gathered there. Then the guides hold a party where they show off the video and photos from the trip, which of course you can buy. They also run a cash bar.
Whitewater rafting is the easiest activity that makes you look like a superhero. Anyone can do it, from old to young. Northern Outdoors is my favorite rafting company. Their hot meals are nurturing, the guides are safe, supportive, and fun, and the Penobscot River has both great thrills and great variety. I'm glad to give Northern Outdoors on the Penobscot River my rare 5 stars PLUS, the best whitewater rafting I've ever been on.
Make it a whole weekend or week and spend your extra time at the York Zoo, Old Orchard Beach, hiking Mount Katahdin, or the other many activities in Maine.
See northernoutdoors.com/rafting, and make sure to see their special deals and other activities such as ATV trails, fishing, hunting, and winter snowmobiling.