Whitewater Rafting with Northern Outdoors in Maine (5 stars)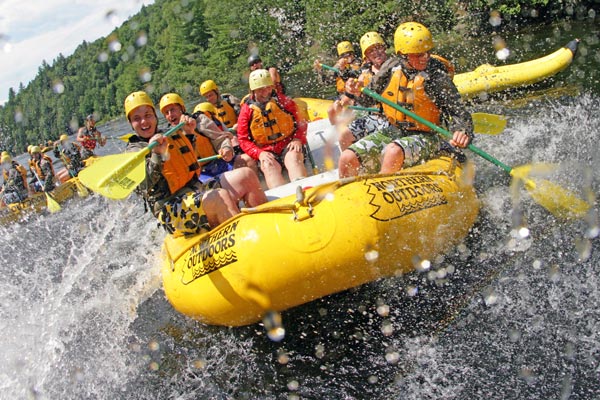 Northern Outdoors is the oldest and best adventure sport destination in upstate Maine, with a focus on whitewater rafting on the Kennebec River. Whitewater rafting is graded from I to VI, and the Kennebec is mostly a II or III, with one spot being a IV. So it's remarkably easy to do — you do not have to be an athlete at all — but looks great in photos and video. It's safe for young kids.
It begins from the Adventure Resort in The Forks, Maine. Northern Outdoors has the best center to relax before and after your trip, with a hot tub, pool, deck games, video games, a full bar, and a great restaurant. Make sure to get the chicken crunchers, an appetizer that is lightly fried on the outside and juicy and hearty on the inside. Northern Outdoors attracts families but avoids the extremes of shrieking children, and also attracts young people looking for adventure but not to get roaring drunk and rowdy. At night a DJ comes out with a dance floor. It's a comfortable and friendly environment. The raft guides even come around to your table and chat with you after hours. There's also a separate function room for a private party.
We stayed in a "cozy cabin", which despite the name was surprisingly large, with a high ceiling, a fan for summer and heater for winter, and a kitchen with a stove, oven, microwave, cookware, coffee maker, toaster, and refrigerator.
The decoration was cute without being cheesy. It's wonderfully clean, and the large room had plenty of space (and a sofa and coffee table) for lounging and resting. The cabin is free standing, several yards from the nearest cabin, with light-blocking window shades, and the full bed is comfortable, so you'll get complete quiet and a good night's rest. Parking is right in front and there's a grill outside for cooking, too. WiFi is only in the main lodge, but you get plenty of electrical outlets and a modern bathroom. Pro tip: look inside the coffee table for extra pillows and blankets. It's more than a room in a hotel; it's a little home away from home.
The key to a great whitewater rafting experience is the guides. The rafting companies compete in the Maine Guide Olympics, which Northern Outdoors won last year. We saw other rafting companies on the river with lower standards, including one guide smoking while rafting with his group. Guides act like camp counselors shouting to the guests and making even the safety instructions fun and communal with humor. Pro tip: ask in advance for a guide that matches your personality, from a calming influence who knows every detail of the woods up to thrill monster who will get you to hoot and holler. Our guide was Brent Arsenault, who with 16 years' experience knew everything about the river and led our group of paddlers to the precise places to get the most from our trip. Although he didn't have tons of stories about Maine history or wildlife, and was not one of the hooting guides, we felt exceptionally safe and cared for in his hands. I was glad that he allowed long silences for us just to enjoy the peaceful outdoors.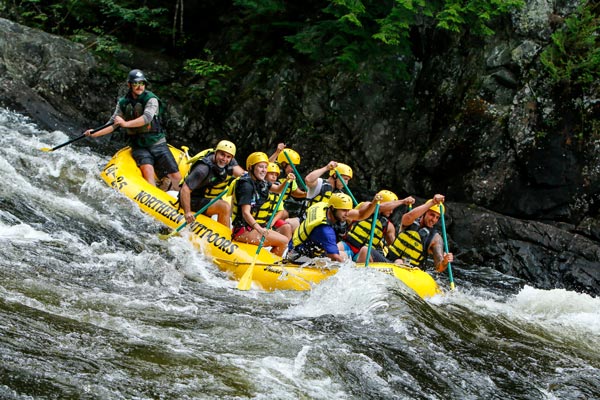 The trip is a 6-hour experience. You assemble at 8am, go through safety instructions and bus up to the head of the river, and get on the river before 10am when a monster torrent of water is released from the local dam. You ride the rapids of the Upper Kennebec, stop for lunch, ride the calmer Lower Kennebec, and return to camp by 2pm. Lunch was remarkably efficient, delivered without any delays. Instead of the hot dogs that you'd expect, we had a sophisticated choice of chicken, steak, or veggie burgers, with rice and mixed vegetables, and cookies, water or iced tea. It was delicious.
We happened to go on a cool day with lows in the 60s, but warmed ourselves by the hot coals as they grilled the food, and afterwards while the guides cleaned up. After the trip, race up to get a spot in the hot tub which will warm you right up, or return to your cabin for a hot shower. When it's even cooler they do have wet suits, with the rafting season extending from May to September.
Whitewater rafting is so highly recommended. We saw great views of trees and the river, and some geese. Professional photographers and videographers took great shots. Everyone who arrived anxious came out elated. And the guides know how to deliver comfort. They don't make you feel like you need to be macho. Pro tip: sit in back if you don't want to get soaked, and for less chance of falling overboard!
With the best guides, thrilling adventure, and the best accommodations and recreation center, Northern Outdoors is my favorite destination in Maine. In the summer they rent ATVs, and in the winter they rent snowmobiles. Maine has more trails than roads, so you can literally cross the state on forest trails with beautiful views and adventure. 5 stars.
See northernoutdoors.com.