White Horse Tavern is Mainly a Bar, But With Surprisingly Good Restaurant Food (4 stars)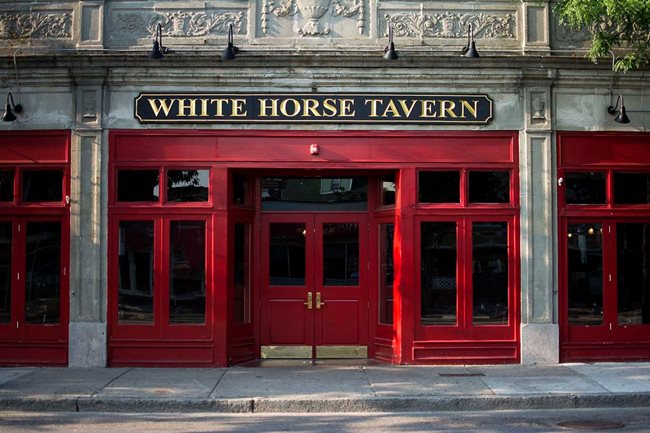 The Sunday that I visited the White Horse Tavern, it was mobbed with students. There was a long line of Boston University students there for a special brunch, and apparently I only caught the tail end of the madness. It was loud, and except for the staff, I was the oldest guy in the place by 20 years. While waiting for the manager, I looked around.
The place is huge, with seating for more than 100 people, including at the bar, but it holds 400 if they are standing and mixing around the pool tables. There are actually two bars: one that dominates one end of the restaurant and one that dominates the other end, with a projection TV showing sports, and sports televisions hanging all over. You'll even find a couple of video games hidden away. The heavily varnished tables, plus the neon beer signs, made me think very much of a pub that I'd normally avoid because I don't drink alcohol. I prefer to talk with whomever I'm with over dinner rather than be distracted by televisions.
Is there anything at White Horse Tavern for a guy like me who's not here to drink?
That's just what we're working on, I was told by William Johnson, the operator of the business. He'd recently returned from Chicago opening high-end bars, was previously the manager at Game On near Fenway Park, and was the youngest manager ever at Boston's Bennigans. Will was hired by the owner of the White Horse Tavern, Doug Bacon, to keep the fun going for college students — especially Thursdays, Fridays, and Saturdays, with trivia nights — but to add a new experience. They want "put the 'T' back in Tavern", Will says. They want to return to the traditional New England tavern to Boston.
What's a traditional Old Boston tavern? It's where you can get a hearty meal as well as drink, and where the atmosphere allows for socializing across the room, not just with your friends at one table. It's really too loud for conversation most nights after 11pm, but I'm told that early evenings or any time Mondays and Tuesdays are more relaxed times.
So they are changing their look — the neon beer signs are to come down, apparently — and expanding their menu as well. This is all a work in progress. Will came in last October and hired a new executive chef just in December. The changes that they are implenting are extensive. The bar food is completely gone, Will tells me. All their sauces are now made in house, everything is fresh and nothing comes frozen except the french fries, and they're working on that, too. Fridays & Saturdays the kitchen stays open to 1am, and they are working now on craft beers. (As a guy who does not drink, I do not let on that I do not know what craft beers are. Really smart beers, I guess. Crafty.) They often DJs spinning music and plan to use their license for live music as well.
Really? I asked, politely suggesting that Will is exaggerating. This is a pub. So your chicken nuggets don't come in frozen bags that you heat in a microwave? It's fresh?
Will and I go through the menu and select a few dishes that are unique and a few mainstream comfort foods. The brunch menu doesn't have many traditional brunch foods, like eggs and pancakes, although they do offer french toast. It's mainly nodified dinner foods, like breakfast hamburgers, breakfast pizza, and breakfast burritos. For dinners, they serve a variety of appetizers, sandwiches, salads, soups, but only five entrees.
It's absolutely fresh, he said. Okay, I reply skeptically. I took a look around at the B.U. students, all of whom are too young to remember a time before the Internet. Many of them look permanently hung over and some of them seem wired Cyborg-style to their handheld devices. As a pre-emptive measure, I politely mention that my refrigerator is full from the leftovers from recent reviews and I mean no disrepect if I'm unable to take home the food that remains after my sampling today. (What have I gotten myself into?)
I regret my skepticism with the very first meal. Their French toast is perfect. It comes folded over with a filling inside like a cinammon roll, served with strawberries and just enough syrup already on the plate. Let me say that again: PERFECT. Holy crap, I thought. Maybe they weren't exaggerating when they said that they wanted to serve really good food here.
I said as much to the executive chef, Matthew Bailey, who came out to chat and didn't seem put off by my assumption that a bar would of course offer bar food, not food food, never mind PERFECT food.
"We want the White Horse Tavern to still be a great college bar and hangout, but we're determined to create a sensation with our menu, to have a traditional tavern feel," he told me.
What kind of cuisine is that? It's not Irish specifically, but draws from Ireland, the UK, Canada, America, and even Central America. "If it's not fresh we're not serving it," he said. And they don't want an overly corporate feeling. This is not TGIF, where they decorate by putting crap on the walls with no heart or soul.
Instead of serving buffalo wings, they slow cook "buffalo lollipops" before their quick dip in the fryolater. You can hold the bone ending without getting your fingers dirty and the meat is chunky, interesting. Just don't take an up close sniff like I did. Wow! That is some sharp buffalo sauce, but that's sharp, not oily/disguisting like most buffalo wings. Yum.
They're not there yet, but they are nearly five months into a transition and there are definite signs of progress. Ron Abbott, another manager, speaks with me as well. "We've taken this transformation on as a big project, to recharge our batteries and fall back in love with the business", he says. "We want our bartenders to know the names of the regular customers, not just take the orders. People should feel like they're with friends when they're here." Right, I think, like Cheers, but for real, not a tourist trap. You want to go where everybody knows your name.
My favorite meal was the braised pork hash. This is the meal to order when you go. It's perfectly smooth and chewable pork meat with a texture that reminds me of sushi, and just a hint of grease. Watch out for the uncooked yolk though. I've always shied away from 'breakfast pizza' because eggs are heavy, and pizza crust is heavy. It's not usually a good combination, but somehow it works at White Horse Tavern. Even 20 minutes after being served — which is how long it took to chat with the staff — the pizza crust did not go hard to heavy. It was still soft, and not overcooked, with the toppings decently juicy. I'm sorry to say that the hamburger bun (from the Tavern Burger Breakfast Style) did go hard in that time, and I only nibbled at the egg and burger combo. See, egg is a meat. Hamburger is a meat. Maybe it's just me. I think hamburger toppings should be non-meats. Yet, I have to recommend the hash browns, served in a patty, like a pancake, rather than how they come at most other restaurants: in a heap running with oil. It was delicious! Their slaw doesn't have that bitter vinegar taste to it, or an overly mushy mayonnaise taste — both good things.
Although they are clearly still in a transition, I sense success in their goal to infuse an already popular bar with new energy and a new customer base that's perhaps a little older, perhaps not, but definitely including people like me who aren't looking for a buzz, just a comfortable spot to hang out with friends. As a restaurant, the White Horse Tavern's menu is too new and rough for my highest rating, and the atmosphere is still very much on the bar side of the scale. But in the cafe/pub category (learn more about our ratings), I am happy to give them an outstanding 3.5. You will find great food there!
On my way out, I make sure to have everything that's left packaged to go. My fridge is indeed full. But I will find room.
For more, see White Horse Tavern.