Warwick Castle is the UK's Best Castle (5 stars PLUS)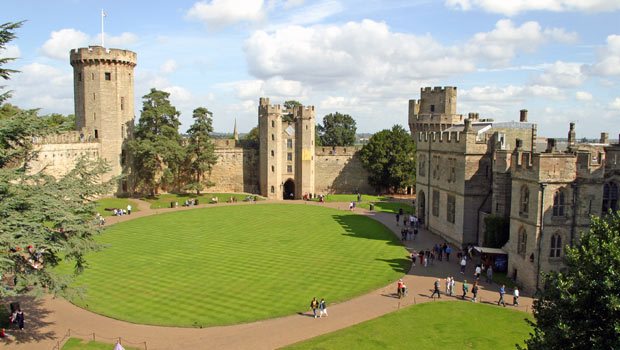 Warwick Castle is one of the largest castles in England, built an astonishing 1,000 years ago by William the Conqueror. I have toured dozens of historic homes and castles, and there's often a disconnect between the enthusiasm of the owners (who are overawed historians) and the visitors (who are exhausted tourists with only a passing interest in history). I consider myself an intellectual and yet, well, it's easy when you're on your feet all day to lose interest in a long list of names of the famous people who lived in a home, and their chairs, plates, and portraits.
That is the magic of Warwick Castle. Better than any other historic home I've ever been to, they connect you to the past in a way that is intelligent and classy, but also accessible and fun. It's owned by the same company that owns Madame Tussaud's Wax Museum, and you'll find dozens of wax mannequins posing as people from the past. They have the world's largest catapult (it's a trebuchet, for purists), giant birds of prey they fly, and so much more. The opposite of Blenheim Palace, where there was so much walking in-between attractions, at Warwick Castle you need only to step a few feet to find something remarkably new to explore. Signage was good and we never got lost. The place is not flooded with staff, but we always found someone to help when we had a question.
Just walking around Warwick Castle is lovely. It's not just a renaissance fair; it takes place on the grounds of a real castle. It's so beautiful. They've got what seems like a long pond, with hundreds of happy families and cute kids. The castle itself is giant, and old-timey. The grounds are full of activities, for example, a place where cute kids can try archery.
The trebuchet show had plenty of humor, and you get to learn about as well as see them fling a stone from the giant machine made of wood, which is 60 feet tall and is set next to a river. And you must see the Birds of Prey Show. My goodness! I had no idea that the bald eagle was so huge. Some of these birds are enormous, some with a wingspan of more than 10 feet, including a vulture. They fly all over on command, including right over the heads of the crowd. You can also go up close and see them in their pens in-between shows. You can buy VIP tickets for one-on-one falconry encounters, when you get to wear a giant leather glove and fly the birds yourself.
They also have a jousting event called the War of the Roses, which I suspect is a theme they change from year to year. I've been to several Renaissance Fair events in America with jousting, but I've never seen one before turned into a stage show with fire, fog effects, and sparks of steel! They even joust with rings of fire. There's quite a bit of good theatre, as the knights talk about their purpose and their backgrounds, but it's mixed in with action. There's a gender and racial diversity in the cast of knights riding horseback. They fall off of their horses, they battle with swords, and more. It is a true spectacle, although I have to admit the historical story was lost on us as Americans. (I'm sure it made perfect sense to the British who had learned a bit of context in school.) Thankfully, performers had microphones so there was no trouble hearing, and of course they riled up the crowd with cheering as one expects. They even have acrobatics such as a knight riding out on two horses, one foot on each horse. It was by far the best jousting event I have ever seen.
Inside the castle, there's a courtyard with plenty of food vendors. You can buy wooden swords of course, and turkey legs. We avoided a tour of the castle dungeon, because I don't like it when torture is played up for entertainment, although I suppose it might be classy and respectful. They also have a Wars of the Roses Escape Room, where they lock you in a puzzle room and you solve clues to escape.
We also saw the Horrible Histories Maze. It's comfortable, and paved for walking with a rubbery plastic. Although it's not much a maze to get lost in, it contains dioramas from history where you learn a little about the past. It's for kids, but as adults we also found it interesting. For example, you see a World War I bunker that you can climb around in, and twisted vines make a part of the garden. It's more delightful than a challenge, weird and educational. It's also truly arboreal, a kind of garden with an arched tunnel pathway.
Inside the castle, you can take a self-guided tour or you can take an official tour. It is genuinely fantastic on the inside. It's not just old suits armor, old furniture, and endless chairs and portraits. Instead, they've decorated it with dozens of lifelike mannequins and a stuffed bug bear. Most historical home tours are dry. You know, so and so was born in some bedroom, so and so pooped in this toilet, but at Warwick Castle there was so much to fascinate us. You could spend a two hours just on the guided tour, or you could walk through on your own at your own pace. It was by far the most interesting historic home we saw in the UK. You also have remarkable access to see up close a huge amount of artwork and furniture that by all rights should be fenced behind a rope.
Outside there's a waterfall and a lily pond, with a wonderful breeze. Warwick castle is such a delightful place even just as a garden, but then you add all the attractions, easy access to food, the helpful staff, the creative activities, the fantastic interior, and they have special evening events. Holy smoke! This is absolutely the place to go, if you can pull yourself away from Metro London on your UK trip.
This summer they'll have an evening called Dragon Slayer, a show with video projection combined with live actors, in which they'll do presumably swords fighting, maybe some jousting. It only takes place in August though, so we'll have to return! You can even stay overnight on the grounds.
Having been invited to an evening event at Warwick Castle, we had some time to kill after they closed for the day. So we popped across the road to St. Nicholas Park, and hired a swan boat from Hayden of Warwick Boats, who was encouraging. Although their last rental is 4:30pm, I read that they have evening events by appointment. It was such a joy to take our time and enjoy the beautiful river, paddling around. At the extent of the park we could see into the Warwick Castle grounds, although they are separate attractions. For more, see warwickboats.co.uk.
Next we attended the Grand Feast, one of Warwick Castle's themed dining events. It begins with a night time tour of what I assume is the dungeon, although we didn't confirm this. It's old-timey and interesting — they've got unique dioramas that engage you and aren't overloaded with facts. (As weary tourists, we care, but not that much. For example, we found the information in the Churchill War Room in London so overwhelming that it put us off learning just a little.)
The tour ends with a banquet hall that seems to be part of the dungeon museum, which I suppose during the day is full of mannequins pretending to have a feast. Then we had an actual feast there! We got to wear old timey tunics and pretend that we were celebrating before going off to war. This historical context broke quickly though in favor of comedy, some of it bawdy, and some calling up volunteers from the audience. They had three musicians playing percussive instruments, two of them the band Sloe Gin, http://www.sloe-gin.co.uk/, which specializes in medieval entertainment. The attendees were limited to no more than 50 people, so it was an intimate experience where performers spoke with us directly. For example, they took our questions and educated us about their instruments. Sadly, we had to leave before the magic show, which staff said was the highlight of the event.
The food was good and hearty, although they served food buffet style instead of having us choose from a menu. Well, that is authentic to history, I suppose, and all the foods we had were old-time themed. It began with a pork pastry, cheese, and onions, and also they served wines and soft beverages. They had green beans, carrots, gravy, potatoes, and a chicken pot pie. We shared the food at communal long tables with friendly other attendees, chatting with them and joking around with the staff. Kudos to the washer woman, who was having way too much fun and took us along with her excitement. Staff occasionally came over to check on us individually. With the bawdy humor, it was mostly for adults or teens, and we didn't see any kids there. The small size meant you could get individual attention from the performers.
Warwick Castle was beyond sensational. Any one piece of it could have merited 5 stars. Occasionally I will give an attraction a rate 5-stars PLUS. Now I'm tempted to create a 5-stars PLUS PLUS category. You have to see Warwick Castle, and check out the other Merlin Entertainment experiences in London, which include the London Eye, river cruises, Madame Tussaud's Wax Museum, Sea Life, Shrek's Adventure, and the London Dungeon (but again, I'm put off by torture chambers reinterpreted for entertainment).
For more, see warwick-castle.com.