Warner Bros. Studio Tour London is Heaven for Harry Potter Fans (5 stars)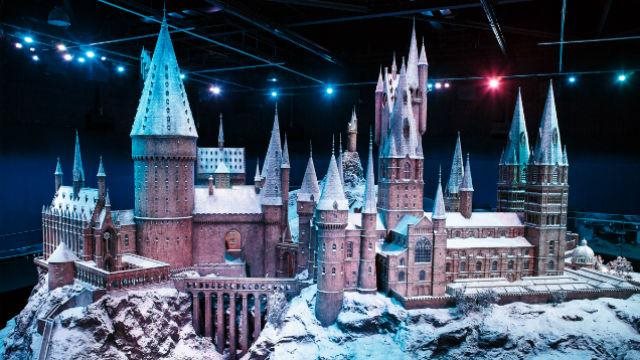 06/13/18 by
Johnny Monsarrat
Warner Bros. Studio London
Studio Tour Drive, Leavesden WD25 7LR, UK
The Harry Potter movies were shot near London, and you can visit Warner Bros. there and take the tour.
Parking was no problem and seemed to be free. The bag check was easy and professional, and we loved the air conditioning even just in the walkway going in. You arrive in a waiting center to begin your tour. There you'll find a lobby café with an extensive kids' menu that includes buffalo wings, baked jacket potatoes, homemade soup, chili and rice, ice cream sundaes, waffle on a stick, and sliced apple crumble. And they have full meals that are surprisingly good, including piri piri roasted chicken, chicken Caesar salad, smoked haddock, and a posh hotdog. It's not the most efficient café. There's also a Starbucks.
The guided part of the tour is rather short, but you can get an audio guide to the rest of the park. I find that an audio guide can separate you mentally from an experience, and we got plenty without it. First the give you a tour of the Great Hall from Hogwarts, the actual set where filming took place. It was built to last, unlike most movie sets, because they knew they'd have to use it for years. You'll find another 12 sets here, relocated to the visitors' center.
It's extensive and delightful. Seeing being the scenes educates you about how movies are made. Because it's a self-guided tour, you can take as long as you'd like. You can spend an hour here, or even two. You'll see hundreds of dioramas and props, including big sets that you can walk onto with fog effects. Or you can hop on the Harry Potter train and pretend that you're going to Hogwarts. You can walk through the Forbidden Forest set.
The indoor area with sets is not even the halfway point of the tour. You exit to find a back café, which seemed slightly higher quality than the cafe you encounter when you enter. You can get butter beer and they have curry, a chicken wrap, a burger, a fish burger, or a southern chicken burger, or refrigerated foods. the back café may be slightly better. Then you're in a whole outdoor area, including a natural bridge, then Harry's home on Privet Drive, and more. It's lovely and then you go back inside again for more of a museum experience!
For someone like me who's not a fan of Harry Potter, leaving the film's indoor and outdoor sets and going into the museum made things more interesting, and I was very glad that they had something more curated and not simply presented. You can see the costumes, creature effects, make up, and more. Some exhibits were interactive. For example, an 'expert' can teach you how to wave a wand correctly. There's a motion capture area where you can move your head, arms, and body, which animates a video projected Dobby creature, an exhibit that I also saw recently on the Warner Bros. Tour in Los Angeles.
Although many exhibits are protected by glass, so many others are just right out in the open for you to be really quite close to, without any barrier. Unlike Universal Studios, Harry Potter World is not hugely commercial and they don't try to sell you things at every turn. That is nice. We only saw a single advertisement for the upcoming Fantastic Beasts movies.
It just keeps going and going. You get to see the original concept art sketches and models that the computer graphics, costuming, stages, and sets were built form. And you can see in the models how the stages are meant to be taken apart and to have camera platforms placed. There's also a giant, room-sized model of Hogwarts that was used to film some of the flybys for the movies.
Remarkably, without any particular interest in Harry Potter, we spent nearly two delightful hours at Warner Bros. Studios London. Someone who's a real fan could easily spend up to five hours and would be floored. They have special events for Halloween and Christmas. So, five stars for Warner Bros. London Studios – The Harry Potter Tour. Fans just want a peek behind the scenes but they give you a mountain. It's so big! Of course, one must factor in the truly educational historic castles and London destinations… it causes one to hesitate to include Warner Bros. if you are only in the country for a week or less. But still, an amazing destination. We saw more behind-the-scenes stuff than I've ever seen anywhere, and I've been on the Los Angeles studio tours at Universal, Paramount, and Warner Bros. in Los Angeles.
So, 5 stars for Warner Bros. London.