Universal Studios Hollywood is The Place to Be in Los Angeles (5 stars PLUS)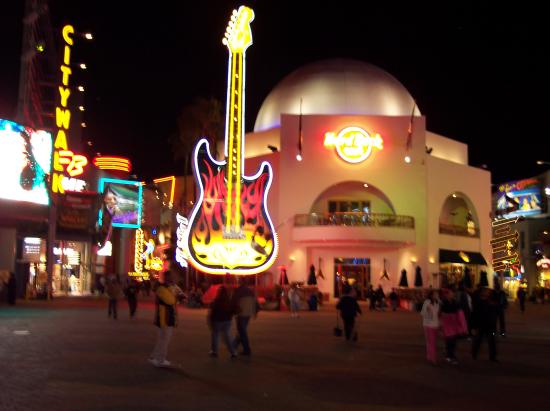 Universal Studios in Los Angeles is an entire world of entertainment. To offset Disneyland, Universal Studios draws its theme park rides from different sources. For example, The Walking Dead is owned by AMC, The Simpsons is owned by Fox, and Harry Potter is owned by Warner Bros., but you'll find all their rides at Universal. Also similar to Disneyland, Universal Studios Hollywood is smaller than its counterpart in Florida, Universal Studios Orlando.
You will definitely want to purchase an Express Pass, which allows you to bypass the long lines, especially if you go to Universal on a weekend.
The park is not hugely commercial. Certainly, you have a lot of options to spend money, but you don't feel — such as at Six Flags — that they are beating the money out of you. The food is reasonably priced. Photographers didn't hunt us down and demand money. Once inside, we didn't have to pay extra for rides. It's impressive how quickly they get people through the lines, and we never had trouble finding a staffer to ask directions from. Two of the staffers told me that people can bring through their support animals, usually dogs, but even a small horse is allowed!
CityWalk (4 stars)
Just walking in from the parking lot, you'll find the CityWalk, a series of restaurants and stores with giant statues and storefronts no doubt inspired by Times Square, New York. You'll find a fountain that you can run through, the Bubba Gump Shrimp Company, and more.
They got live music everywhere in the restaurants of the CityWalk. There and inside the theme park itself, it's nice just to walk around. In some places you can see for 40 miles out across Los Angeles, making you feel connected to the world, not in a completely enclosed and artificial environment, as Disneyland sometimes feels. You'll go through faster through the lines if you take in no bags.
You should really eat outside the main theme park, but you can eat inside too, of course. We ate at the Hollywood Diner, where we were so pleased to see many healthy options, including a stir-fried Asian chicken bowl, a grilled chicken sandwich, a roasted portabella mushroom, and a Chinese chicken salad. But you can also get a pizza, chicken tenders, a Hollywood burger, french fries, apple crumb pie, Oreo brownie, and more.
Water World, the Stage Show (4.5 stars)
Remarkably, although Water World, the 1990's science fiction film with Kevin Costner, was a financial flop, they've put together a remarkable stage show at Universal based on the film. It takes place on a set that is all water with some floating staging. It's a giant performance pool with a Water World themed flotation dock. It's like rusty and end-of-the-world themed. They've got a wave machine making waves like you're really in the ocean, and a waterfall too, with a lot of interesting detail on the stage.
You sit as the audience in the surrounding stadium, choosing whether to sit in the "soak zone", where you will get wet, or farther back from the stage, where you still might get wet. Actors in the pre-show come out and soak you, pulling up cute kids as volunteers. Then in the actual show, you'll find movie style stunts such as rappelling, and pyrotechnics! Unfortunately, a technical glitch stopped the show just before a jet ski was going to leap through the air (we think), but I'll give it 4.5 stars on extrapolating what we did get to see.
You don't need to show up too early, say 10 minutes before the show, if you have an express pass. There's no bad seat in the place.
The Walking Dead (3.5 stars)
I'm a fan of The Walking Dead, so we had to take that on first. You walk through it, like a Halloween haunted house, to find live actors playing both the zombies and the human survivors. They have theatre-level decorations and fire effects. It was a lot of fun, but not actually the best haunted house that I've ever been to in terms of its theatrical ambitions. Many of the sets were ordinary looking office, hospital spaces, or a prison. Of course, The Walking Dead takes place in the real world, but at a theme park you expect beyond the norm production values. Actors wore masks instead of elaborate makeup.
It seemed a bit disconnected from the genre. In The Walking Dead, the zombies chase you no matter what. So they might have put a waist-level barrier between us and the zombie actors, who got up so close that they should have attacked, if this were the TV show or comics. None of the characters from the comics or TV show appear, even in a displayed video. Once we got out of line and into the actual attraction, it was about five minutes long. It was an interesting twist to see actors portraying human survivors with guns defending against the zombies. It was better than the average haunted house, but given how high our expectations were for a theme park, it was disappointing. 3.5 stars.
Harry Potter and the Forbidden Journey (5 stars plus)
At Universal, they have an entire cutesy Victorian British town which is a great way to disguise a mall — but it is charming, not oppressively capitalist. You can buy everything Harry Potter, including Butter Beer, and feel immersed in the walking through the world, even if it is only for a couple of blocks. You'll find houses with brick work and fake snow on top, plus the magic Hogwarts train. Behind it all is Hogwarts Castle. It's a complete little village with maybe 20 small buildings.
Just waiting in line at Harry Potter is quite interesting with lots of video projections. The ride takes place in an old-seeming gothic stone building.
The Forbidden Journey by far the best theme park ride that I've ever been on. The seats are comfortable. As an official fat person I always worry about getting locked in with the safety bar crushing my chest, but I was fine. The ride is thrilling but doesn't jerk you around, so you won't get seriously rattled, and has comfortable handholds. (You might get a bit nauseous.)
A normal theme park ride is only as long as the track that it runs along. It's expensive to build tracks and dioramas in a ride, so these rides tend to be short. But, at three or four points in The Forbidden Journey, the ride stops moving along the track, and then they project video and you're suddenly in a simulator ride. You know what I mean. The chair rocks back and forth to match what's happening in the video, even though you're technically staying in place. This extends the length of the ride by double and is almost completely seamless. I had to try hard to sense when we were leaving the simulator and going back onto the tracks.
The ride gets you up so close to giant animatronics! And you'll find special effects like getting sprayed with water, or a dragon that roars with real heat lamps. It's super impressive even to a stoic like me who reviews theme parks. Of course it ends in a gift shop. It's irresistible. As usual with a fast-paced theme park ride, we couldn't quite follow the storyline. The kids from the Harry Potter movies tried to explain it, but the sound echoes a bit.
Universal Park Studio Tour (5 stars plus)
Before I give a rare rating of 5 stars PLUS, I need to say that the Universal Studio Tour is more of a theme park ride than a studio tour. At Warner Bros. and Paramount, the tour groups as small. You can ask questions to the tour guides, and get to step out and walk around real sets and prop rooms. You feel that you learn a lot about moviemaking.
With Universal, you board a giant bus, don't get off at any point, and don't get to really meet or ask any questions. (However, on the VIP tours, you're with a much smaller group, and can get out and walk around, still experiencing King Kong and the other "ride" experiences!) Part of the tour is just watching lackluster videos on the bus, which is hard to see in the bright sunlight. You'll see heavy-handed advertisements for Universal movies everywhere. There're a lot of landscapes, built to look like regular buildings, so they just look like regular buildings. You do need to enter the Universal Studios Theme Park to get on the studios tour.
That being said, it's a mind-blowing tour. Try to sit on the right-hand side to see more. You pass through real movie sets that have been preserved from famous films, and several times the tour really does become a theme park ride. First, your multi-stage bus drives into a tunnel. Rather like in a car wash, the bus's wheels get locked to a platform. Then they project video on the tunnel walls and the platform shakes. It's unreal! They even have one for King Kong with 3D glasses you wear. You'll also find a flash flood, sparks, fire, and explosions. In the Fast & Furious tunnel they projected video onto glass, so that you could see characters against a real room backdrop. That was impressive.
It's an extensive ride, running at least an hour long. At the Paramount studio tour, it feels like you're really connecting with the history. You even get out of the tour and walk around a little bit. With the Warner Bros. studio tour, there's a bit more flash, you also get to get out. But there's really nothing like the Universal Studio tour, which takes you through these sort of ride like themes and interesting sets such as a full airplane crash site.
Thus, it earns a rare 5 stars PLUS.
The Simpsons Ride (5 stars)
The Simpsons Ride may be the best-themed ride I've ever taken. Many times these theme park rides are only loosely based on the movies they're taken from (as I was complaining about The Walking Dead ride's zombie behavior). But on the Simpsons Ride you get a huge dose of The Simpsons, with the same intelligent and laugh-out-loud comedy that you expect of The Simpsons. They are not dialing it in. This ride gives and gives.
Even while you wait in line, video will keep you entertained, just as clever as you expect the Simpsons to be. There's a good story to it and it's genuinely funny. They even make fun of how theme parks work. Even before the ride started we were already having a great time. Also, unlike the Harry Potter ride, you could sort of follow the storyline, even though it was fast paced.
The actual ride is a "simulator", where you sit in a chair that doesn't move, but it sure seems to move from how it tilts back and forth in synchrony with a video being played. The creative content was remarkable. This was just a very substantive, story-driven ride. It was deliciously subversive and we didn't get as nauseous as with other rides.
Special Effects Show (5 stars PLUS)
The Special Effects Show is an all-indoor venue with stadium seating and tons of lights hung from the ceiling around a stage with a promenade projecting into the audience. I've been a lifelong fan of special effects in films, and have worked in computer graphics, so I wasn't expecting much from the Special Effects Show. I assumed it would present basic effects that I've seen before, such as if you keep the spaceship model still and move the camera backwards, the ship looks like it's flying forwards.
I was so pleased to be wrong. They had a stunt fight that lasted a full 60 seconds, something I've never seen before — in movies there is always a cut. Then they set a guy on fire. On fire! At first, I was worried for his safety. You don't have to try so hard to impress us! But then I learned that it's part of his stunt man training. So the poor guy they light on fire is progressing in his career, not just taking an insane risk to impress us.
They had a motion capture stunt (which must have been staged), and a high wire act. It was laugh-out-loud funny, and this from a stoic Bostonian who doesn't just laugh at everything. It's hard to describe without spoiling it. The acting was good. They called up volunteers. You got to see how sound effects and so much more is done. It was both hugely entertaining but also informative to those in the audience who genuinely wanted to learn about filmmaking. 5 stars PLUS.
Jurassic Park, The Ride (4.5 stars)
This is a water ride that does get you wet but not drenched, and it's a lot of fun. This ride was short but had great animatronics. You know what the story is. The dinosaurs escape again. There's a giant drop, and very convincing dinosaurs.
The Mummy, The Ride (3 stars)
This ride is a rollercoaster that goes up and then back. It's pretty good but it's almost all in darkness, so it's not really themed and made me nauseous. There were a few animatronics, but they didn't impress. It's not worth the length of the wait in line.
Overall
Overall, we had high expectations for Universal and they were exceeded! It may be the top destination in Los Angeles surpassing Disneyland. I give it a full 5 stars PLUS, but do some research and know where in the park to go. See universalstudioshollywood.com.