Tubing with Miami Watersports Paradise is So Easy and Fun (5 stars)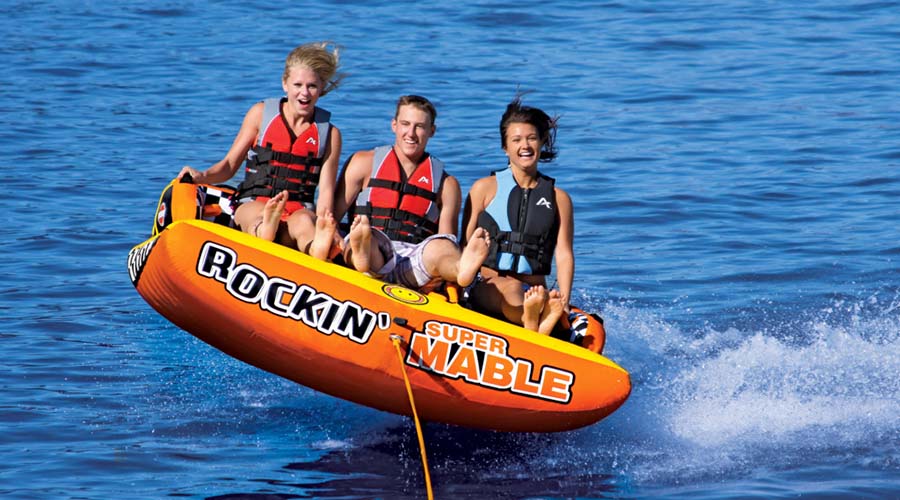 Tubing is a water sport where they put you in an inner tube and drag you behind a boat! It sounds almost comically simple, but actually it's so much fun. It that looks great in photos but is so easy and non-athletic that anyone can do it, even small kids.
Your best source is Miami Watersports Paradise, which can also hook you up with jet skiing, flyboarding, wakesurfing, wakeboarding, waterskiing, boat rentals, and a new kind of diving experience called Easybreath Snorkeling, where the air device fits over your entire face and doesn't require any mouthpiece or training.
Our guide was Sascha, who was wonderfully friendly and encouraging. He put us right at ease and made everything even more fun with his high energy, helpful attitude. Getting set up was ridiculously easy. You climb onto his small boat, put on a life vest, and then crawl from the back of the boat onto the "tube". It's actually not an inner tube, but a large orange floating sofa-looking thing. It's a floating sofa. It seats up to three people.
Then Sascha tows you behind the boat quickly, oh so quickly! The system is completely safe. The floating sofa has great handholds and even if you were to fall off, you're only doing at most 20 mph behind the boat, so you would happily skid on the water. We gripped those handholds and didn't come close to falling.
Our adventure was set in a marina, where there weren't many waves, but we did bounce on the wake of the boat, and got thrown around a lot, laughing and laughing. It's so simple. It's so fun. Don't bring sunglasses, a hat, a camera, or anything else on the sofa or you might lose them. You do get a little wet in your butt region as water inevitably splashes onto the sofa, making a small puddle. But we didn't get seriously wet otherwise.
Tubing is good for people of all ages, even small kids. You can impress your friends with photos and video, but it requires very little actual courage.
Sascha was beyond helpful, and frequently checked in with us, giving the OK sign and looking for our OK sign back. He didn't make us feel that we had to be manly and that it was okay to be a little afraid or idiotically thrilled. He took care to make sure that our OK sign really meant we were okay.
Tubing is just being dragged around in a boat, so what's the big deal? Well, doing it feels like more than that. You laugh, you bounce around, you trade thumbs up/down signs with the guide asking for more speed or less speed. You're on the water, and it's sunny. This is Miami.
Tubing was simple and came without a tour, without food or drink, without much in the way of creative or unusual flourish. But it couldn't have been a better experience, and the use of a sofa instead of an actual tube made it even easier to stay seated. (Or you could ask for a "banana boat", a giant inflatable banana that when you sit on it and get towed behind a boat, is meant for you to fall off spectacularly and harmlessly.)
A full 5 stars for Miami Watersports Paradise and see our article about their partner's jet ski rentals too.