The Truman Gillet House B&B Combines Comfort and Service (5 stars)

The Truman Gillet House in Granby, Connecticut, which is between Springfield, Massachusetts and Hartford, is a historic home from 1805 now run as a Bed and Breakfast by Kim and Wayne Cahoon, who also run Aircraft Engravers, which produce for example the metal labels that aircraft gauges need. https://www.engravers.net
Wayne and Kim are very knowledgeable about the history of the house and full of ideas for where tourists should go. Their grounds are small, but the location is beautiful and timeless, especially during fall foliage season or fresh snow. Delightfully, the location is easy to find and the entrance well-marked, even if you arrive after dark.
It's uniquely New England, at least in America, to stay in a home with so much history. Its original owner, Truman Gillet, was a cooper building barrels for shipping. His barrels transported goods around the world. At that time, the Granby area had many grist mills producing flour and crushed oats to be exported, and his barrels also packaged crackers, cake, vinegar, pickles, whale oil, dried beef, dried apples and much more. Because water was often unsafe to drink, everyone drank "near beer", a beverage with very little alcohol in it, even children. Unlike cardboard boxes, barrels are watertight and airtight, and a large barrel can be rolled up a ramp onto a wagon by a single person, whereas an equally sized box would need four people to lift it.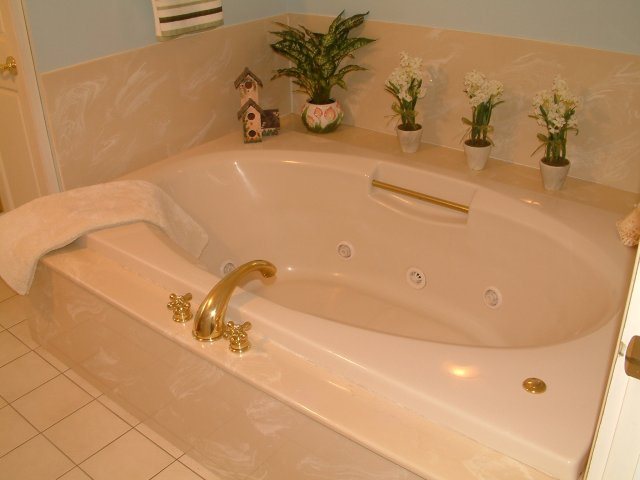 The location has two rooms, but ask for the large room, and comes with an oversized bathroom featuring two sinks and a jacuzzi bathtub. I was grateful to find a large oval toilet, a separate shower with soap and shampoo dispenser, and plenty of towels. The four-post bed was comfortable and had no footboard, which is good for tall people. The room is decorated in a grandma style with doilies and dolls, which I didn't mind, and has a mini-fridge and microwave, and a window air conditioner.
The room itself was a good size, very clean, old-looking as befits a historic home, but with fragile end tables and no lock on the door. An inquisitive dog came into the room uninvited after I'd just showered, but didn't jump up and all over me.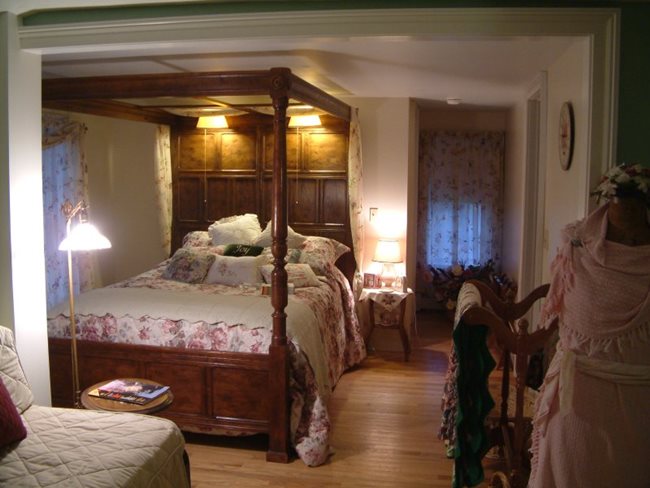 Kim and Wayne are natural hosts, people people, who are clearly drawn to a service business from taking a genuine interest in the people who pass through their house. They had a good sense for whether we wanted to chat or be quiet. They were available but spoke with us instead of talking at us. For breakfast, they served Greek vanilla yogurt with strawberries, sausage, blueberry pancakes with butter, and orange juice. It wasn't extravagant, but it was delicious, hot, and you get plenty of it, with local maple syrup. As a keepsake, they gave us tiny keychain flashlights.
Hotels have amenities, but you can feel processed and isolated. You stay at a bed and breakfast to make friends with its hosts, and to have a warm and authentically local experience away from tourists and the tourist industry. Wayne and Kim will become your fast friends, and oh, that Jacuzzi tub! Its prices are below average, too — at least for now, book your room right away! I'll give an easy 5 stars to the Truman Gillet House, and do hope I have an excuse to travel overnight between Springfield and Hartford again. Make sure to see the Old New-Gate Mine and Prison while you're in the area — it is far more interesting that you would suppose from their website.
For more, see The Truman Gillet House.