Trail of Terror is New England's Longest Woods Walk and a Good Cause (4.5 stars)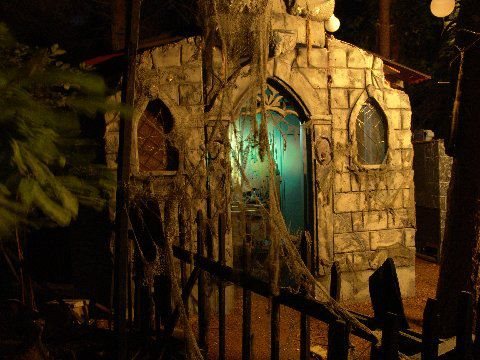 Trail of Terror is a haunted woods walk that takes place every Halloween just south of Hartford in Connecticut. It's run by Scare Crew Productions, which over 25 years has raised more than $2 million for drug prevention, children's centers, needy families, animal shelters, and more! Every year they give a third of their income, more than $100,000, to charity and they are now building a second destination, Armory of Darkness, which in 2020 will not only be a haunt in October but a year-round safe space open to everyone.
Although you can just show up at Trail of Terror, it's smart to buy a timed ticket in advance, giving you entrance at a specific time, which means less waiting in line. At the entrance, you can get a hot dog, nachos, candy, and popcorn. Parking is $8; it's for a good cause.
Their one attraction is a long walk through the woods that is 48 minutes not counting time stopped in the middle. So if you're walking slowly, at 2 miles per hour, that is some 2 miles of trail that they've filled with actors and spooky content! There is so much to see. You start by walking through a spooky carnival with ultraviolet paint, carnival music, a whole tunnel just for spiderwebs, a child's merry-go-round, mirror funhouse, and a clown selling popcorn.
You step up into and through an old school bus, then into an underground crypt where that guy from Hellraiser hangs out with his torture chamber buddies. There's a spooky Victorian London town with shops, including an apothecary with a ghoul behind the counter mixing potions, and an old mansion with a spooky clock. You pass through an extensive graveyard, with evil nuns and vampire mausoleums draped with ivy, a seance table with candles, and crypts all around you as though you're underground.
In places, the path has impressive set design, but more importantly, there is always something interesting to see: it rarely falls to the level of junk filler (as it unfortunately did in our review eight years ago). Only occasionally will you see unthemed areas of scrap wood or foam tubes. My recommendation would be to copy what other haunted woods walks do, which is to have a trail that is largely bare. Just walking through an undecorated forest is spooky enough! Rather than having walls and decorations along every step of a 2-mile pathway, that would allow the creative effort to be consolidated into shacks and installations that dot the trail at intervals.
The attraction has plenty of actors, and thankfully, while some just growled, many had real lines to say, acting out a theatrical 5-second scene with you. Some sneaky actors hid under or behind mannequins. There are a few animatronics, but nothing noteworthy except one animatronic monster playing an organ. (The spookiest instrument!)
Kudos to the woman in street clothing who is so spooky, gleefully massaging a dismembered corpse. That's scary! Kudos to the gas station attendant who rushed us out! One actress was shrieking too much and should be told to save her voice.
Least interesting was the two-story mansion with laundry clotheslines and homeware junk in the yard. Most impressive was Frankenstein's Laboratory with chemistry equipment, electrical effects, and a scientist and monster coming to life on a raised platform! Wow!
There are plenty of creative themes on the trail. There's an extensive area based on the movie 'Predator', with creatively dressed aliens. Also impressive was an extensive pirate ship that you walk through. One diorama pretends is a giant "fish tank aquarium" with skeleton fish and a skeleton human inside. There's a shack devoted to "It", the movie, and evil Sesame Street characters, including a spooky Swedish chef (from the TV show, The Muppet Show).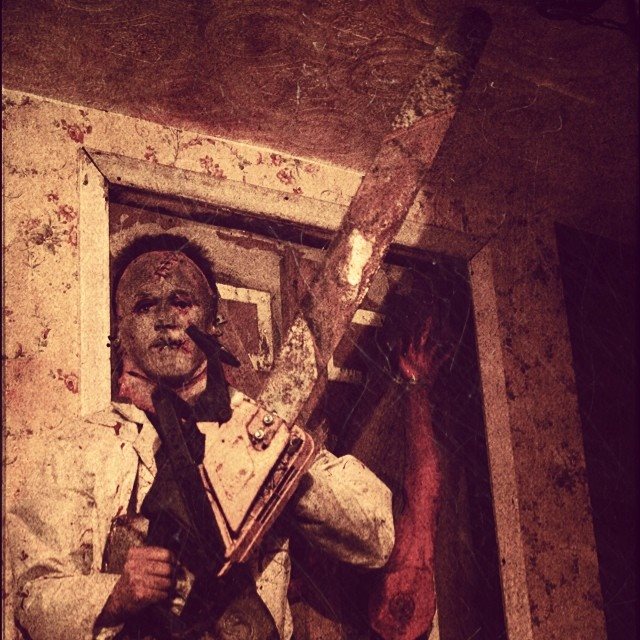 The trail doesn't have many special effects such as fog, but the laser lake with a spinning mystery ball was great. A laser lake is when you shoot a laser through a vertical cylinder, making it spread out into a horizontal plane. You add fog so it's visible, and it creates a spooky glowing "lake surface" that you wade through. There should have been monsters hiding unseen beneath the plane of green light. There's also a "Vortex" a walkway that goes through a room-sized cylinder of cloth that spins around you, although it wasn't operating at the time we went through.
There were a few hiccups along the path. As I remembered from my review eight years ago, there were areas where you suddenly step down two inches or more, which could be a stumbling hazard. There's one placed just after the room with chemistry flasks, one after the beehives, another after the Swedish Chef, and others. One passage is lined with inflatable left and right walls that balloon towards the center, so that you have to squeeze through them. Pushing my face and body through it, I always wonder how often such things are washed. I stubbed my toe painfully on a small hot water radiator in one of the shacks.
There was a crawl space where, being a massive guy of 6'4″, a monster kindly allowed me to bypass it through a secret door on the side. A second crawl space did not have a monster giving that option, and should. When you crawl through it, you get an electric shock, which to me is startling but more annoying than fun. This tunnel requires you to put your hands and knees on the dirt to exit and stand up, so a washable pad would have been nice, or even a railing for giants like me to grab onto and haul myself upright.
Perhaps because I arrived towards the end of the evening, we did unfortunately get bunched up right away, and remained bunched up through much of the trail. This is problematic because, if you can see where the monsters jump out to scare the group in front of you, then it ruins the surprise. Thankfully, towards the middle of the trail, a staffer holds up the line so that she can let small groups continue with a gap in-between. There could have been more staffers performing this function along the route — and if there is no bunching, they don't even get noticed by guests.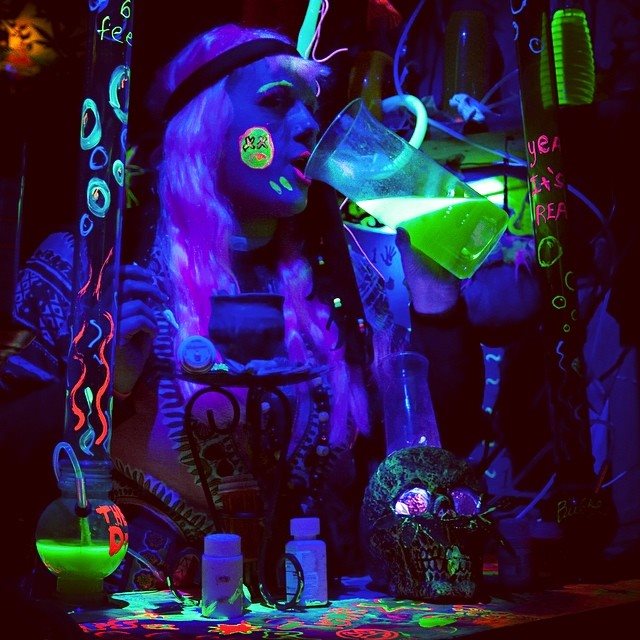 Even better, since the Trail of Terror is so long, they could do what other attractions have done and break the trail into multiple named attractions. For example, nearby Legends of Fear has five "attractions" but they're really just stops along a single woods walk. This would allow Trail of Terror to advertise having numerous attractions, and give guests the expectation that they'll need to wait a bit in-between each one.
So configured, it would allow guests to stop, take a break, buy some food, hang out at a fire pit, in-between the attractions. Pro tip: Just after the sign saying Sanderson Witch Museum, you will find a bench! I sat for a moment and it felt great. This area also has an actual candy store, a cauldron of bubbling, glowing water, shelving with carved, lit pumpkins, and the most impressive set piece in the attraction: a 12-foot-tall statue whose base is a mound of pumpkin skeletons and whose top is a giant, oversized evil pumpkin.
When you exit the trail, there's a charity booth and concession stand where you can get soda, bottled water, hot chocolate, hot cider, candy, chips, and popcorn.
Overall, though it doesn't rise to heights for long stretches, the Trail of Terror has some genuinely creative themes. While it comes largely without special effects and animatronics, there are plenty of actors, and actors often have brief theatrical scenes to act out with you. Its 48 minutes of length is even longer than the Haunted Graveyard at Lake Compounce (45 minutes), making it I believe the longest woods walk in New England! That's long enough to go head-to-head with other haunts that have "multiple", but shorter attractions, though Trail of Terror doesn't have the variety of that other attractions do, such as a hay ride, a 3D maze, a bonfire, extensive food offerings and a place to sit and eat, a gift shop, or carnival games.
I'm glad to give Trail of Terror 4.5 stars, which is exceptional for a charity attraction.
See the Trail of Terror website, and you can also find information about the charity and the Armory of Darkness coming next year to Meriden, CT on the Scare Crew Productions website.