Tips for Creative, Adventurous Fun in Las Vegas

Note: This overview was researched before the global pandemic. Check each venue to make sure they are still operational.
Las Vegas has been nicknamed the Entertainment Capital of the World. It would be hard to find anywhere on earth with the same variety of shows, events and experiences that Sin City espouses. Most famous for its Casino's, Vegas draws people in from all over the world to enjoy some of the most impressive themed attractions anywhere. However, gambling is not the only thing to done in this dessert paradise. Below are some of the coolest and unique attractions in Las Vegas.
Best Views
Las Vegas has numerous ways to get high. For those that want to do so and get an amazing view of the city you have plenty of options. Listed here are three great ways to go up and away and see just how amazing and beautiful Las Vegas truly is. There is a fourth way to do this, but I save the best for last since it is both a spectacular view and a must see attraction, so keep reading till the end.
The Linq High Roller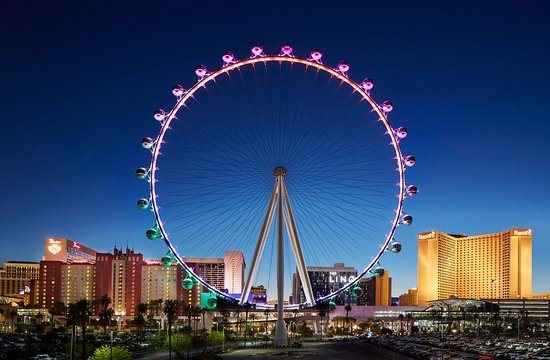 Looming off in the distance is what appears to be a giant Ferris wheel, dotted at its end not by small carriages that resemble large bubbled domes. These luxury boxes offer comfy couches to sit down on as well as 360 degree views of the surrounding area. You are free to walk around the spacious cabin as you ascend 550 feet in the air making it the highest observation wheel in the world. The location of the High Roller is right in the middle of the Las Vegas Strip which allows for you to see nearly all of the most well-known casinos and the stunning architectural styles that they represent.
You are welcome to bring your own drinks or food. Alcohol is permitted pretty much everywhere in Las Vegas and the High Roller is no exception. They encourage you getting a beverage before you go on since the entire experience is over half an hour long. Should you want a more VIP experience they offer a special car that has its own open bar. You are allowed to drink as many beverages as you want for the duration of the tour. The nice thing about the High Roller is that it is a curated tour. While you are in your carriage an announcers plays a prerecorded guide to interesting facts about the city of Las Vegas.
Eiffel Tower at Paris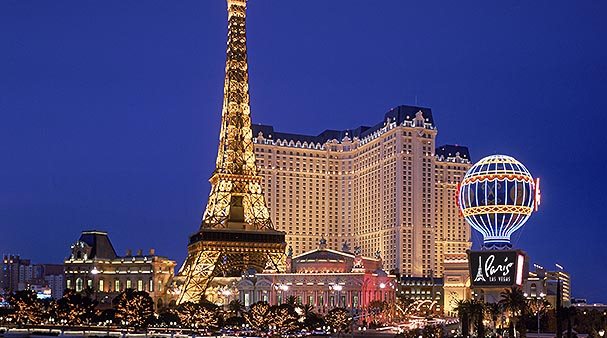 Las Vegas brings the world to its door. You can visit an Egyptian Pyramid at the Luxor. You can travel the canals of Venice at the Venetian. And you can tour imperial Rome at Caesars Palace. When you see the Eiffel Tower looming over the bright lights of the Las Vegas strip, you know you are in Paris. The Paris Casino brings French charms to the dessert. You walk through a replica of the Parisian streets where you can look up to see a sky like ceiling below the feet of the tower in the interior of the Casino. You then ascend the half sized replica to 540 feet to get a wonderful view of the city.
You can stay as long as you like to enjoy the view but be aware, you are exposed to the elements since you are effectively outdoors in a cage. The view is up close and personal. In fact, you get to see and hear another of Las Vega's great attractions – The Bellagio Fountains. If you get to see them at street level, you certainly see a spectacular show. However it is a much different experience from up high. The tour guide was very impressive and knowledgeable not just about the tower, but also about Las Vegas history. For those that want a tour that is a little more interactive, this is the one.
The Strat
The Strat (formerly the Stratosphere Casino) offers free views at a price. But they are worth it since it is the tallest structure in Las Vegas and centrally located to give a full view of both the Strip and the historic area of Las Vegas that has the older casinos. The 107 Skylounge is aptly located on the 107th floor. It is free to head up there so long as you are a paying customer. Stay as long as you want but drink up. Like many places in Vegas, they have a happy hour from 4 to 7pm in which you can enjoy discounted drinks and appetizers should you want to watch a romantic sunset. It's a great way to stretch your budget or perhaps save a few coins for the slot machines.
At the same level is the Top of the World Restaurant. If you are into fine dining and an excellent surf and turf menu then head on up but be aware, entrance requires that you buy a full meal to get the free view. However, if you want a great view of nearly all of Las Vegas, you get that here as your restaurant rotates around to give you a 360 degree view of the entire city.
For the absolute best view of Las Vegas, keep reading since it is both a great view and a must see attraction.
For Animal Lovers
You might expect a dessert to be populated by scorpions, rattlesnakes and coyotes. And I'm sure if you looked, you could find them out in the barren lands outside the city. Las Vegas however has animals galore. Much like everything in this town, animals from all over have made their home here and are ready to entertain.
Flamingos at the Flamingo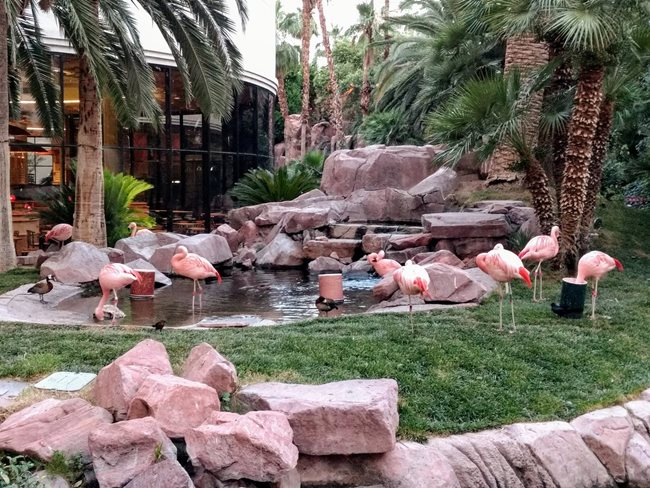 The Flamingo Hotel is one of the oldest Casinos on the Las Vegas Strip and one of the most legendary. The Flamingo was the nickname of underworld boss Bugsy Siegel's girlfriend, so named due to her long legs. Founded by mobsters the Flamingo symbolized the rise of Sin City. So what would you expect to see at the Flamingo other than actual real Flamingoes?
The Flamingo Wildlife Habitat is a free miniature zoo where you can see real Flamingoes and other stunning animals in the courtyard of the hotel. Located right next to the pool area, a waterfall beckons travelers to check out the exotic fish of the coy pond. Numerous ducks, pelicans and parrots are also featured. You can even get a photo taken with some of the avian exhibits. If you want a good educational experience, plenty of signs let you know which animals you are viewing.
Siegfried and Roy's Secret Garden
One of the most well-known performances that found a home in Vegas was the famous magic act of Siegfried and Roy. Known for their stunning white tigers and other big cats, the duos story took a turn for the worst when one of their prized animals attacked one of them on stage in front of the audience. Their show has been shuttered, however their legacy lives on.
You can still see their exotic animals as they are on display at the Siegfried and Roy's Secret Garden and Dolphin Habitat at the Mirage Hotel. The dolphins allow a close up and personal experience. They jump out of the water and will scoot onto the pools edge where you can get a good look as they work their trainers for tasty fish. For an even closer view, you can descend down to view the tanks underground where they swim right past the windows.
The big cats are on display as well. You can see the lions and tigers the magicians are so well known for as well as a cheetah and a leopard. The famous white tiger is there strutting about its cage. As a miniature zoo you can see it in a few hours. It is a great attraction to take in to fill in the gaps of your busy schedule.
The Golden Nugget Pool and Aquarium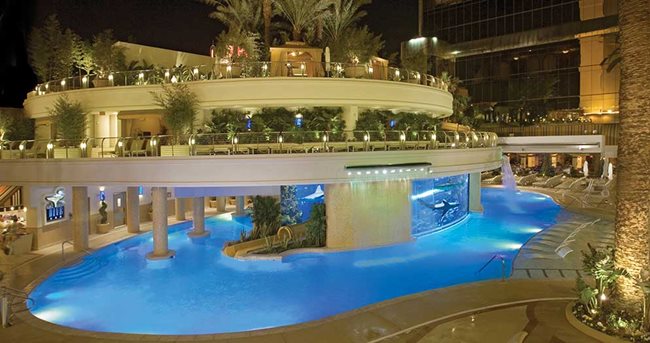 The Golden Nugget is one of the oldest casinos in Las Vegas in what is the oldest part of the City. Located on Fremont Street alongside the Glitter Gulch Dome (an attraction in and of itself), the Golden Nugget holds the charm of the old historic times of our pioneer heritage. It is home to the world's largest gold nugget and it features a unique experience for animal lovers!
Located near its central courtyard is a swimming pool with a massive aquarium alongside it. For those that love exotic fish, this is a true hidden gem (no pun intended). Best of all this aquarium lets you safely swim with the sharks as it features several of the predators in its tank. What is most impressive is that there is a waterslide that lets you slink through the fish tank as you slide down into the pool below. The pool is free to guests, but if you are not staying there, you can purchase a day pass to swim with the fishes.
Don't Miss These Gems!
Las Vegas can keep a person playing nonstop at their Casinos. However, many of the unique features that these Casinos showcase are true reasons to check out the city. If you spend all day at the slots or playing at the tables you might miss a few of these great attractions.
The Circus at Circus Circus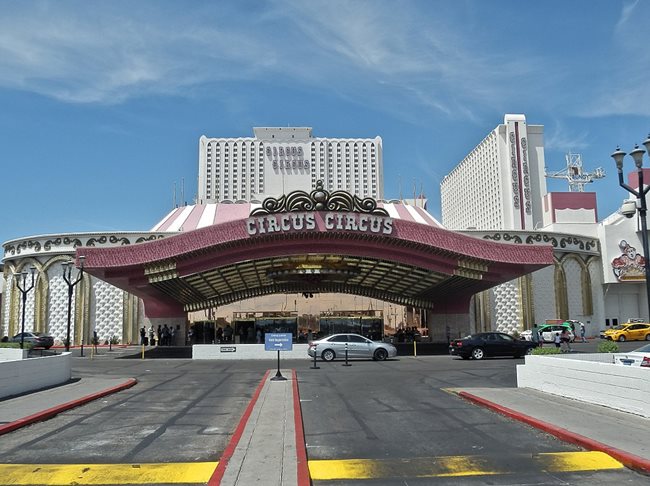 Who doesn't love a circus? At the Circus Circus Casino, you had better love clowns and cotton candy because that is the theme of the entire complex. Best of all there are free circus acts you can see throughout the day. At any given time you might get to see acrobats, trapeze artists and clowns. One unique act was Shell the Heavy Metal Chain Mistress who swung about on chains and performed amazing acts of contortion. All of this takes place in the midst of a carnival midway complete with arcades, games and vendors – just like a real circus.
The Adventuredome is a newly opened indoor amusement park that largely eliminates one of the worst aspects of going on a family outing – the weather. Not even Disneyland can boast being all inside, yet Adventuredome certainly can. Geared towards families, there is something for everyone. There are carnival games, roller coasters and kiddy rides. They have a special section for birthday parties and other events as well. If you have a family with kids – Circus Circus has more than any other casino to satisfy the little ones.
The Venetian Gives a Little of Italy (4 stars)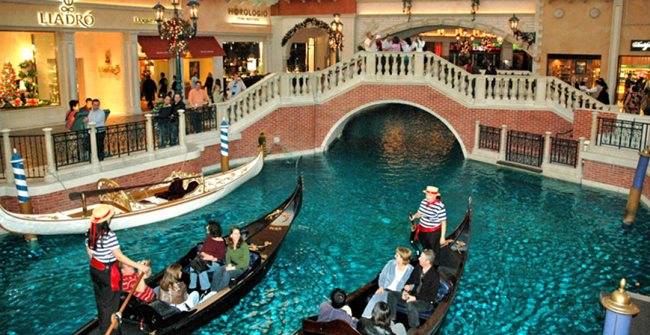 Anyone who has been to Venice knows there is no city like it. Crisscrossed by canals, Venice is a place for people to shop, eat and experience all things Italian. The Venetian on the Las Vegas Strip recreates this experience while also providing all the amenities of modernity. Inside they recreate the streets and plazas of Venice where you can get Gelato or shop for Italian fashion. There are no shortages of Italian eateries either so get ready for spaghetti and meatballs as well a glass of Chianti.
But the main attraction of the Venetian is the same as the real city of Venice – the canals! Otherwise, it wouldn't be the same. Here you can take a relaxing journey through the Casino as a real boat operator pilots a gondola through the waters. If you are lucky, you will have a romantic partner with you for the romantic ride. Some pilots will even serenade a couple with Italian songs. Okay, Dean Martin songs, but he is both an Italian American and a member of Las Vegas's famous Rat Pack so such a song fits right in.
Read our full review.
Dueling Pianos is One Rocking Party with Twice the Fun (5 stars)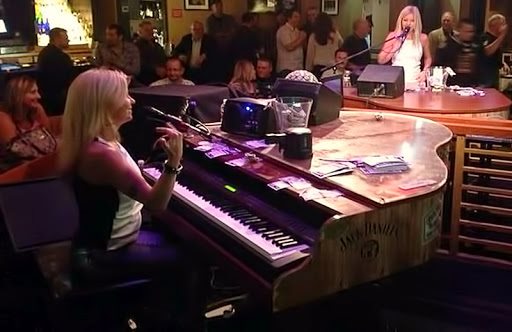 Dueling pianos have been around long enough to have become a staple of many entertainment venues. They boast of raucous crowds, popular sing along songs and lots of interactions. But only one can say that they have the only all-female Twin dueling piano show in the world! Harrah's Casino is home to the Twins Dueling Pianos show which is completely free to watch, listen and participate in.
Tamara and Kim have been playing at the strip for 17 years. They know all the favorite party songs so come ready with requests. Tips are welcome and in fact, usually mean they will play your song next. But these ladies know how to rock the crowd. So don't expect to a quiet evening. This show is for those that want to really engage and have a good time.
See our full review.
Fun and Fast Experiences
Not every experience in Vegas requires reservations and tickets. In fact some the best gems are things that you can just walk up to and check out without much fuss at any time of the day. Be sure to spend some time just seeing what's out there because no city has so many things to see and do. Here are a few fun and fast experiences to fill in the gaps of your days.
The Vegas Sign
There may be no more famous sign in the world then the one that welcomes newcomers to the Las Vegas Strip. "Welcome to Fabulous Las Vegas" the sign declares. Designed by Berry Willis and erected in 1959, the sign has become a historic landmark visited by hundreds per day. Flashing with neon by night, it is the very symbol of the city that is Vegas.
The sign is a half hour walk from the Mandalay Bay Casino which you can take public transportation to. (A tram extends all the way here from the Excalibur which is across from a Monorail station in the MGM Casino). It's a bit off the beaten path but there is some limited parking as well. It is completely free to visit, however there is often a line to get up front and get a picture. You can snap a selfie or pay a professional camera person who charges a fee to take your picture. Nothing says I am in Las Vegas quite like getting pic with the sign.
The Jerky Store
If you love beef jerky then this is the store for you! Located on the Freemont Street area of old Las Vegas the Jerky store is just what it says, a store that sells nothing but Jerky. They are not just limited to beef jerky since they also sell bacon jerky, chicken jerky, turkey jerky and even dried fish. This store is great for those on the Keto diet or any low carb diet since jerky tends to cut the carbs.
If meat is not your thing, don't worry. They got you covered. They sell a vast variety of dried fruits, nuts and even vegetables. So if you plan a hike through some of Nevada's mountains and hills, your trail mix is waiting for you here. I would say this store has something for everyone albeit dried and preserved so you can easily take it with you. Check them out at www.beefjerkystore.com
The M&M Store
M&Ms melt in your mouth, not in your hands. Who doesn't have fond memories of chomping down on a handful of these multicolored candies as a kid? If you are currently a fan or just want a nostalgic trip to world full of candy, then head to the M&M store located right at the corner of Tropicana and Las Vegas Boulevard.
When you enter you will see an entire wall of various types of M&M candies that you can you pick and choose from. So fill up your bag with your favorite types. They have the usual ones such as peanut and plain as well as flavors like Coco Krispies, hot chocolate and espresso bean to choose from. If you want something a bit more exotic, try pumpkin, mocha or cookies and cream as well. Spanning three floors you can buy toys, clothes and even souvenirs at this place. At the top there is a theatre that shows cartoons for kids at various times in the day. If that isn't enough sweets for you, you are across from a Hersey store and right next door to the Coca Cola store! https://www.mms.com
Must-See Exhibits
Las Vegas is the Entertainment Capital of the World. So do not miss out on what are some of the best attractions on Earth. There are so many shows and events it can be overwhelming. What is listed here are among the very best we encountered in Sin City. So make you sure experience at least or maybe even all of them.
Cirque Du Soleil: KA (5 stars PLUS)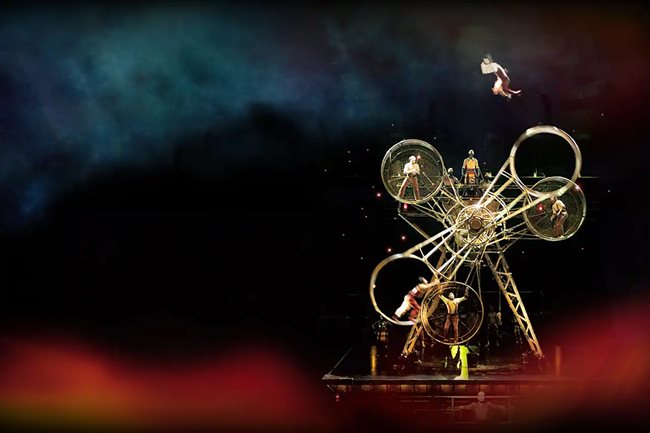 Everything about KA channels you into a mysterious and strange world full of action and adventure. Ka is one of the very few Cirque Du Soleil shows that has a story rather than just a theme. The story is simple, the bad guys attack the good guys and the good guys escape, but since it's Circus, there is nonstop acrobats and high flying Ariel action.
It is a mind blowing and amazing piece of theatre craft that combines martial arts, acrobatics and other death defying acts. Every time you think they can't do more, they go and top themselves. You walk into a theatre and away from your everyday life to be transported to a new world that will stay with you long after the show ends. It is a truly immersive experience that should not be missed.
See our full review.
Titanic Museum (5 stars)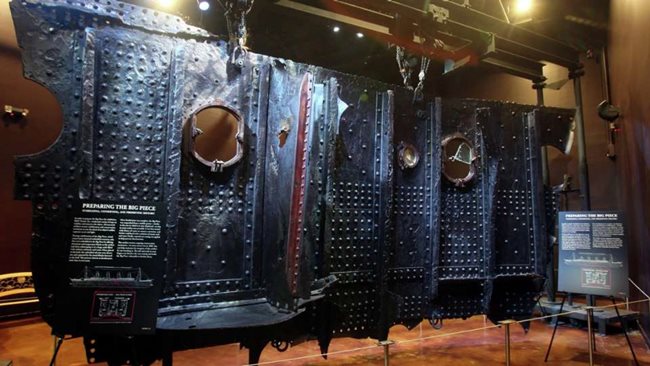 Nearly everyone over 25 remembers when they saw Leo and Kate on the bow of the massive ship pretending to fly as the mighty Titanic churns across the Ocean. And even the stoutest heart recalls a tear when Jack slipped below the icy waters (spoiler alert: the ship sinks). Now you can get a close up and very realistic experience of the Titanic when you walk through a museum dedicated to the worlds most infamous ship.
Located at the Luxor, the Titanic Museum showcased real artifacts taken from the bottom of the ocean that have been recovered from the wreck of the Titanic. Many parts of the Titanic itself have been recreated so you can walk its grand staircase and saunter across its deck. The museum is a moving and immersive tribute to the true life tragedy of the doomed ship. It is worth it as both a piece of history and culture to make a trip to this museum.
See our full review.
Maverick Helicopter Tours (5 stars PLUS)

If you have been reading so far then you got a good look at how Vegas has numerous ways to view the city. And we saved the very best for last. Maverick Helicopter tours offer an amazing view of the Las Vegas Strip that is simply beyond compare. Put this experience at the very top of your bucket list because it is totally worth it. Best of all, you get a champagne toast before you take off.
Located adjacent to the airport, Maverick Helicopter tours offer awesome nighttime rides that showcase the lights, glitz and glamour of Vegas. You see the entire strip and travel all the way up to historic Freemont Street and back again. And should you want a longer more comprehensive trip ask about how you can head to the Grand Canyon in copter. The helicopter ride is a fast, exhilarating ride that is so great, it should not be missed.
See our full review.