Ghost Ship Harbor Shames Historic USS Salem Museum with Fake News "Education" (3 stars)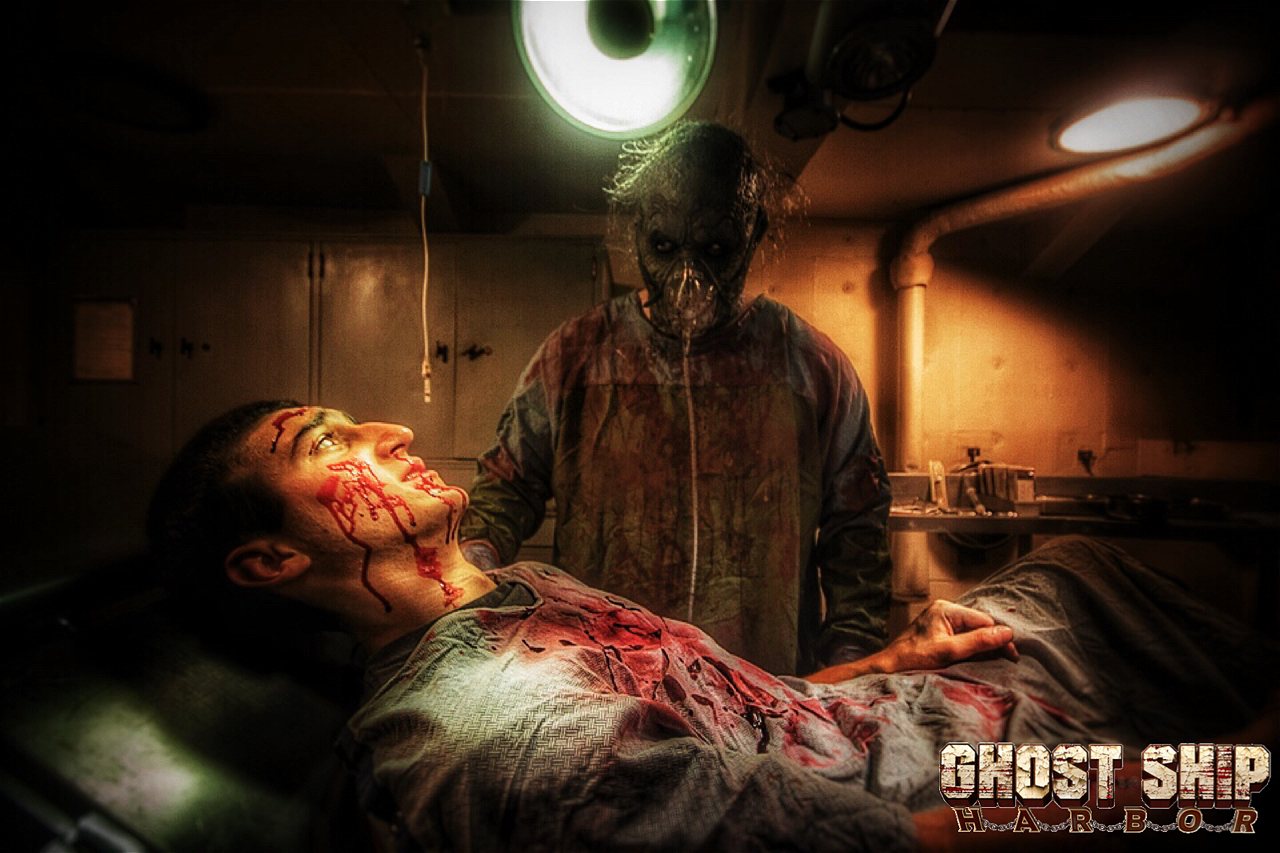 Ghost Ship Harbor is one of only three haunted attractions in the greater Boston area (the others being Haunted Somerville in Somerville and The 715 Haunted House in Canton) and by far the biggest budget. It takes place on the USS Salem, an actual heavy cruiser (call it a battleship for simplicity) from the 1950s that never saw war and is docked in Quincy. Since the 1990s, it's been a naval museum where, during daytime hours, you can learn about shipboard life, the lives and careers of the servicemen, and the few peacetime adventures that the ship had. It's inspiring and educational.
As you arrive, you'll find the setting beautiful. If the sky is clear, you'll see stars.
First try the Virtual Reality experience, which is only $5. You wear an HTC Vive virtual reality headset which gives you the illusion of taking an elevator to the top of a building and walking out onto the ledge. It's quite convincing and scary, and a tech treat if you've never tried a VR headset before.
The attractions are Contagion, a medical themed scare where you see infected creatures and doctors, Fear No Evil, and Plague, which strangely is also infection themed.
The star of the show is a laser lake where fog and laser affects make you feel like you are wading through a spooky pond. It's delightful and something I've only seen rarely elsewhere. The attractions have plenty of animatronics and many actors had real lines to say instead of just screaming. That being said, the attractions have a great deal of uninteresting "filler", hanging camouflage netting, bedsheets, and even laundry hung around. Whose idea was the laundry? Filler makes suspension of disbelief harder. Relative to other haunted attractions, it wasn't that scary.
But the ship itself is still a fascinating place to have a Halloween attraction. Watch your step. At the end you'll find a snack bar with hot chocolate, cotton candy, popcorn, waffle pops, and more. Then go to the "Bat Cave" bar area to get a drink, enjoy the rock music, and take photos with Halloween creatures — a good time.
I'm tempted to give Ghost Ship Harbor another 4.5 stars as I did last year, because of the beauty and history of the ship. Unfortunately, it seems that paranormal "ghost hunters" have taken over, chipping away at that history. Most people can separate fantasy from reality. In Halloween haunted houses, we pretend that actors are monsters, great fun and good for screams and laughs. If you had some random actor reading Tarot cards just for fun, then we can keep it all on the fantasy side.
But paranormal "professionals" don't care about reality. People who make their living spouting bullshit get a chip on their shoulder, a deep-seated need to convince attendees that it's all real. It was bad enough last year when I had to sit through a seance that should have been not-so-serious but left me feeling gross instead. This year they stepped it up to giving guests "equipment" and taking them on a ghost hunt, "educating" them about "science" and encouraging them to identify every tick and tock as a spirit. As part of a naval museum, a place of learning, it was horrifying.
During the demonstrations, I retreated to the back of the shipboard room and studied the museum cases of USS Salem's history instead. Two attendees came back to accost me and argue about my lack of belief. Really, they made it not okay to just be present without believing. This is odious. I get it, you secretly know it's all bogus, which makes you ashamed, and so you need to narcissistically demand approval from strangers, even when they say nothing and ask you to leave them alone. This was my third visit to Ghost Ship Harbor where they pressured and preached.
This kind of anti-intellectual "education", like science isn't real and like truth doesn't matter, is at best the pathway to muddy thinking that makes fake news effective and got Donald Trump elected. At worst, it's predatory, taking advantage of people with lost loved ones and asking for their money. One of the "investigators" told me he got caught up in it after his son passed away. Taking advantage of someone in grief is not cool. There's a Massachusetts law, MGL c.266 s.75, which prohibits fraudulently taking money by pretended fortune telling. It's a scam, far from harmless fun. 
I work to support the arts and take no joy or ego boost from saying something negative. Fortunately with a price of $70, the paranormal tour will be seen by few people. So I can justify giving Ghost Ship Harbor 3 stars this year. No other Halloween attraction has been taken over in this manner by lunatics. This is the real infection at Ghost Ship Harbor. The owners need to decide whether they are running an amusement park or a cult. The USS Salem is a museum dedicated to teaching history. Fake news "education" should have no place there.