The Mad Monkfish Has a Perfect Fusion of Sushi and Jazz (4.5 stars)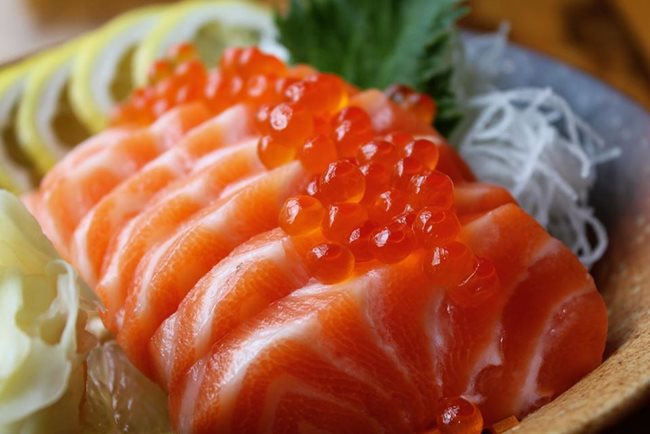 It's a scoop! Events INSIDER is first to review this destination, and the first thing that strikes you about Thelonius Monkfish is the clever name. Owner Jamme Chantler is not concerned about rights, since jazz legend Thelonius Monk has been dead now for 30 years. "I have conservative partners," he tells me, "who wanted a traditional name like 'Yellowtail', and I wanted to call it Monkfish. They sent me to a Chinese numerologist and fortune teller who didn't like Monkfish. The letters didn't have the right numbers for luck. So I thought and thought — I wanted to play jazz, and the letters behind Thelonius Monkfish are lucky, it turns out."
It's not an insane idea. While they don't have live music events, jazz plays on the speakers, and the King of Thailand is an accomplished jazz composer and musician. So: jazz and Thailand. They go together. Chef Chudapa Phomjun hails from Thailand and trained with a master chef at Haru Sushi in Boston, the reknowned sushi place.
Speaking of monks, Jamme fell in love with the Thai cuisine while visiting a friend in Thailand who was becoming a Buddhist monk. According to tradition, you have to be a monk for 3 months before getting married. (Scratch Buddhism off my list of alternative religions, but it's still better than compulsory military service in Greece or Israel.)
The interior is upscale but not formal, reminding me of nearby India Pavilion. You could be proud to bring your family or a date here, especially with the delightful short tables where you can sit Japanese-style on cushions! Yet, you would not be ashamed to wear shorts and a t-shirt here either. In fact, the staff are all somewhat dressed down in wrinkled shirts. I make a joke about ironing and Jamme tells me that they want to avoid the crisp, tucked in shirts that make a restaurant look formal. In fact, he confides to me, these shirts are designed to be wrinkled. This is either true or it is the most wonderfully daring bullshit that a restauranteur has ever laid on me. Either way, amusing!
There's a skylight, but it's dim inside. (I never get the point of intentional darkness, but it seems to be in vogue.) And despite the student pricing, where most entrees are $10-$13 and most expensive is $16, you get cloth napkins and a broad variety of choices.
The first thing they bring out is jasmine tea, which has a wonderful smell that's much preferable to green tea. Reviewing the menu, you'll see the traditional foods you'll expect, like Pineapple Fried Rice, but there are completely new dishes in the menu with fun names like "Mad Monk Noodles", "Seoul Train Fried Rice", and the "Volcano Roll" that is a "California roll topped with Scallion, eel sauce, and dynamite". Dynamite? It's a special sauce, Jamme tells me, not actual TNT. They also have "Gaga's Meat Dress Roll", which is 12 pieces of spicy seafood, wrapped with fresh tuna and served with a spicy sauce.
The first thing I try is the Robin Hood Sushi. Wow! Now this is sushi! I just did a review at Spice & Rice and felt guilty to call their sushi bland. Now I know that I was right. Served with shrimp, this is finger food rather than meant for chopsticks. It's spicy and complex, crunchy with really interesting soft rice.
The Spicy Red Dragon Sushi is perfect too, although a little confusing to eat since shrimp included the tails and it was breaded, so I wasn't sure how much of it I could safely bite into. It has tuna on top, which has a cooling effect offsetting the spicy roll itself. Delicious! You really have to try this!
The Crispy Duck Spring Rolls contain a smooth paste of meat (it's the fried roll that's crispy), served piping hot but not spicy, with a sweet sauce. The Razzmatazz Rolls have a strange spice like you'd find in sausages even though they are chicken — apparently that's curry I'm sensing. Both appetizers have portions of meat that are too small to really taste. The Zen Dream Soup is a standard asian broth that I didn't eat much of because it has squid in it. (One day I'm pretty sure they'll rise up. I've seen a lot of anime.)
I also tried the Cranberry Fried Rice, which has a cranberry sauce, instead of whole cranberries. I liked the scallion crunch but found the bits of egg and chicken too small to taste. And the meal's taste was masked by the oily sauce from the frying pan. Like all fried rice meals, it was perhaps a touch too greasy and heavy, and it felt small due to being served on a giant plate. It's like the opposite of the psychology of serving food on tiny plates to make yourself feel full.
I liked the Fig Jam Fried Rice better, it has a unique and invigorating smell. The walnuts were a nice counterpoint to the soft rice and it comes with drumstick chicken, so it feels like more of a meal, despite being served on the same giant plate.
The Pad Thai has real chunks of chicken, that are hearty, but avoids being too greasy or eggy. It will enliven you.
I hope they add live music, and I wouldn't give it the highest marks in the "fine dining" category (about our ratings). But in the 'restaurant' category, I must urge you to go, go, GO! to Thelonius Monkfish for sushi. And the Thai meals are worth a try, too (you have to cut some slack to a restaurant that has just opened), and I love the happy atmosphere. A lot of restaurants cut corners to make their ethnic cuisine accessible to Americans. Thelonius Monkfish turns that equation into an asset by embracing an American culture that is Thai as well.
For more, see The Mad Monkfish.