The New Hampshire Renaissance Faire recreates Olde England in the middle of New England – 4 Stars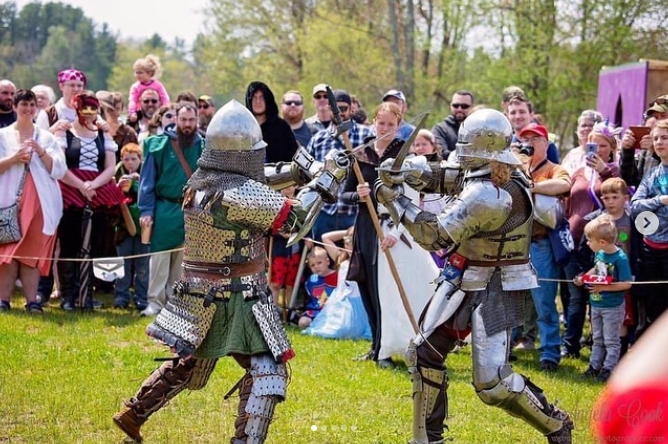 One feature of the olden days that had passed into the legend was the constant plagues that ancient people had to endure.  For much of living memory no such tragedies existed.  However, we just lived through one.  Though nothing like the Black Death which killed nearly a third of Europe, the recent pandemic disrupted life enough that gatherings such as faires and festivals were put on a temporary hold. 
But no more!  The New Hampshire Festival has opened its gate for 2022.  So join a jolly gang of bards, minstrels, merchants and knights as they entertain guests while providing a step back in time to the Ye Olden Days of yore. 
One of the unique features of this particular Renaissance Faire was a Joust featuring all female riders.  The ladies on horseback showed expert horsemanship or horse-women-ship as the case may be.  They equipped lances and struck targets as their enormous beasts galloped across the fields.  They took up swords and demonstrated how the control of a horse in positioning was paramount to sword fighting while riding into battle.  This was much different from other faires that have a clearly theatrical joust in which the knights stage a mock battle.  Expect something more of an educational experience then a dramatic one. 
However if fighting is your thing, there is plenty.  The Brotherhood of the Arrow and Sword don full suits of armor and hack and smash each other in an authentic medieval melee.  This too takes on an educational aspect as the goal seems to inform the audience through demonstrating the reality of armored combat.  The knights are also available in their camp to answer questions and demonstrate and display their armor and weapons.
Near the knights camp was a historical field kitchen which was cooking actual real food.  This was a nice touch that added to the historic atmosphere.  You could see and smell the food as you walked about.  Actors were quick to display and demonstrate the cooking techniques being utilized.
Next on the fighting list are Phoenix Swords, who go the theatrical route when clashing with weapons.  You might see a staff fight or a waif attack the tax collector in dagger battle.   Then you can watch a duo in a unique sword and frying pan fight.  Later this troupe lights up the stage with a display of fire spinning and dancing which culminates into a clash with flaming swords.
There was music a plenty.  You could listen to harpers and minstrels throughout the day.  Belly dancers moved and swayed to drummers while other musicians played drinking tunes.  The Harlot Queens sing bawdy songs suitable for adults only, yet clever enough to go over the heads of small children.   There were plenty of live tunes for those with an ear for live music.
Games were also a key activity at this faire.  You could throw axes and knives as well as take up a bow and try your hand at archery.  There was also an escape room like Dragon Academy that took in students to learn the ways of a wizard as they solved puzzles to make their way through.  Pirates gave kids sword fighting lessons using safe padded swords.  You had many choices should you decide you wanted to get in on the action. 
The shopping was extensive and showcased a variety of wares.  You could peruse tents full of weaponry both real and completely fake.  Foam prop weapons are right next to real ones forged of solid steel.  Armor made of high quality metal and leather is everywhere.  In fact many tents had so much leather you could smell it when walking by.  Pouches, belts and gloves are among the goods you can purchase.  Jewelry, art and much more were represented as well. 
Food was adequate and more akin to a modern carnival then the royal kitchen.  I personally tried the crab cakes and they were quite good.  The other foods we tasted were Italian ice, fresh made lemonade and fried dough.  Noticeably missing were turkey legs – a staple of renaissance festivals everywhere.  Plus the mead and ales that permeate other similar faires were nowhere to be found.  This is because the site was completely dry and devoid of adult beverages.  You won't starve since there is plenty to eat, but you would not also attend just for the fare.  For foodies, this is not the place to go.
Located only an hour from Boston, The New Hampshire Renaissance Faire offers great entertainment for all ages.  For those that like to shop for unique gifts and items, then you have no shortage of offerings here.  Come dressed up because costuming is highly encouraged as guests become part of the show.  Or wear your mundane clothes and buy a whole new outfit while watching a show.  The New Hampshire Renaissance Faire is open weekends May 14th,  15th, 21st and 22nd.
For more information please visit the website www.nhrenfaire.com 
Check out our video review